The Ultimate Muslim Guide To 6 Hard Rock Cafes In Japan
If you are a die-hard fan of Hard Rock Cafe, you might always want to set aside your time to visit the branch of this Cafe anywhere in the city that you visit. Be it just to chill and listen to the live music, buy the Hard Rock Cafe merchandise, or even just to take some pictures with the sign board (Anything for the instafans!). The merchandise shop is definitely a must to go to buy some signature souvenirs such as T-shirt, mug, tumbler, pins and other Hard Rock official merchandise for collectors or family members and friends!
Unfortunately, none of the Hard Rock cafes in Japan has Halal authentication so we advise you not to eat foods at the cafe. That is exactly why we want to guide you with the Halal foods and places to pray around the six Hard Rock Cafes all over Japan.
1. Hard Rock Cafe Roppongi
This branch of Hard Rock Cafe is dated back in 1983 and located in Roppongi district. The place is not exactly on the main road, but you can see the Hard Rock Shop from the opposite of Don Quijote Roppongi. There is a big guitar attached in the front of the building which is very Insta-worthy. Just like most of Hard Rock Cafe establishment, HRC Roppongi also display their collection of Memorabilia! You will be brought to stroll through the musical history of the display of personal pieces of the legendary musicians.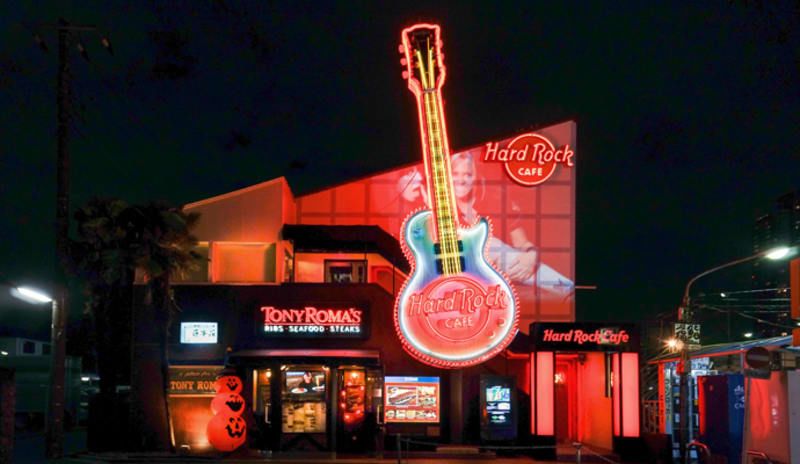 You can find Britney Spears's blouse that was worn in her "Baby One More Time" video, Rolling Stones guitarist's shirt during the Voodoo Lounge Tour in 1994-1995, Elvis Parsley's boots and a lot more! And of course, you can shop all the merchandise of the Roppongi branch in their Hard Rock shop!
Recommended Halal restaurants and prayer rooms nearby
Plenty of Halal foods are available around Roppongi station which is just a stone throw's away from the Hard Rock Cafe. One that we recommend is a Halal western restaurant Chicken Man near the Roppongi Station Exit 5. You can expect to find a wide range of western menus in this restaurant which is all Halal. From rotisserie chicken, sandwiches, noodles, pizza and other international menus. The price is also quite affordable from 500 - 2,000 yen!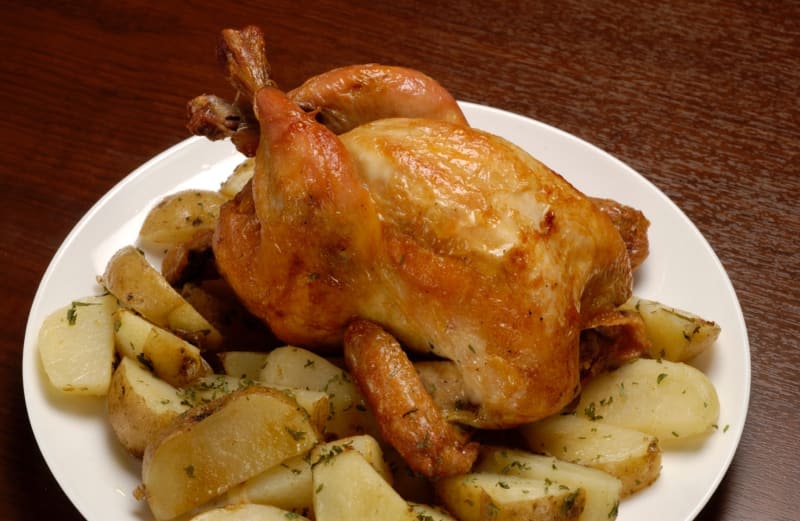 If you are also looking for a place to pray, there is a dedicated prayer room in Tokyo Midtwon (6 minutes walking distance from Roppongi station) with separated room for man and women. The woman prayer room is on the first floor while the man prayer room is on the third floor. The room can accommodate up to two people at a time, and prayer mats plus praying clothes from women are also provided.
Information on Hard Rock Cafe Roppongi Address: 5-4-20 Roppongi, Minato-ku, Tokyo Rock Shop Opening hours: 11am - 11pm (Sunday - Thursday) and 11am - 4am (Friday - Saturday) Halal restaurants nearby: Deniz Roppongi, Anatolia, Asian Kebab, Sahifa Kebab Biryani, and Chicken Man Prayer room nearby: Tokyo Midtown
2. Hard Rock Cafe Ueno Eki
The Hard Rock Cafe in Ueno is probably the most convenient choice to get some Hard Rock souvenirs while in Tokyo. The cafe is located inside the Ueno Station (near the central gate) in the heart of Tokyo which makes it very easy for you to commute. You can buy the original merchandise of Hard Rock Cafe from t-shirt, jacket, mug, Tumblr, hat and much more in their shop.
The original t-shirt is sold from 2,800 yen (not bad huh?!). The best part is there are quite a number of tourist attractions in Ueno. You can stop by at this place after exploring Ueno park, Tokyo National Museum. Ameyoko Shopping street, and many other attractions in Ueno.
Recommended Halal restaurants and prayer rooms nearby
There is actually a number of Halal food options in Ueno station itself, but we urge you to try a very famous Halal ramen restaurant in Okachimachi (10 minutes walk from Ueno station, or you can also drop by at Naka-Okachimachi station and the restaurant is right in front of it). It's Ayam-ya Okachimachi restaurant and they made it into our top 10 list of Halal Ramen in Japan! A variety of Halal Ramen is available here; from Shoyu Ramen (soy sauce flavour), Shio Ramen (salt flavour), Tsukumen (Cold noodle dipped in a bowl of soup), to Mazamen (dry Ramen). All the dishes they offer will cost you less than 1,000 yen! A very good bargain indeed!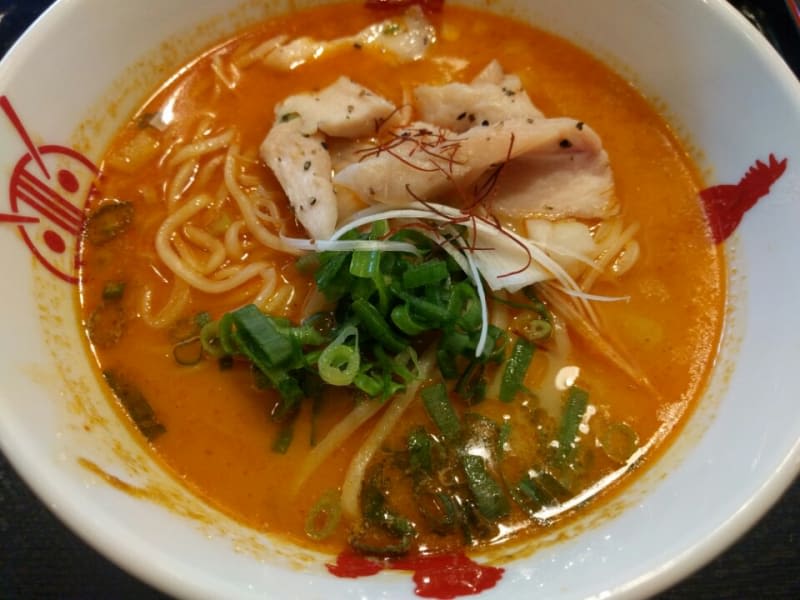 If you have decided to eat at Ayam-ya Okachimachi, then you should visit As-salam mosque as it is only a minute away from the restaurant. Especially if you come on Friday, it will be very convenient as the Masjid conduct Friday prayer.
Information on Hard Rock Cafe Uyeno Eki Address: Atre Ueno 1F, 7-1-1 Ueno Taito-ku, Tokyo Rock Shop Opening hours: 10am - 11pm (weekdays) and 9am - 11pm (weekend & holiday) Halal restaurants nearby: Chicken Man Ueno, Oskar Kebab, Mantra Halal restaurants, Ayam-ya Okachimachi Prayer room nearby: Assalam Mosque
3. Hard Rock Cafe Yokohama
Yokohama Hard Rock Cafe presents the customs of Japan and blends it beautifully with rock and roll style. This cafe is located right next to Japan tallest's building, the Landmark Tower. You can expect to get a great ambience with a nice bay scenery too. This branch does not have a stage area for live music though, but they will play music videos continually to not disappoint you.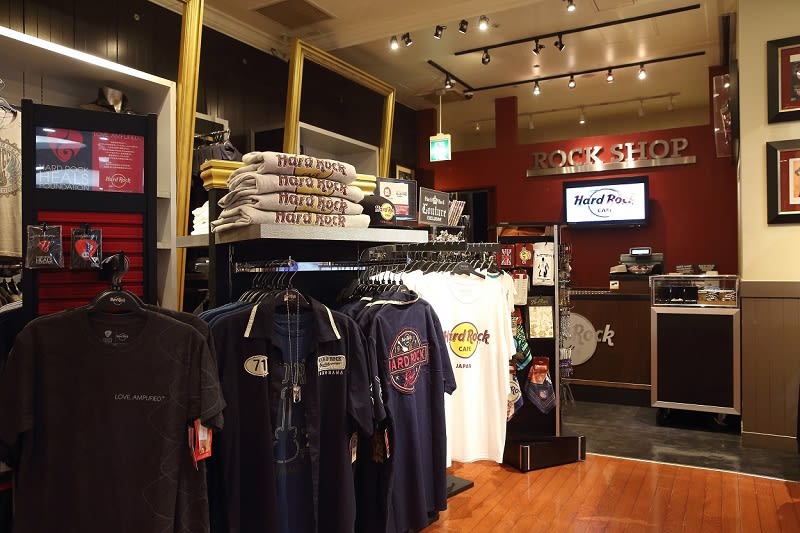 They also display their extensive collection of Memorabilia featuring items from the legend like Mc Jager, Nsync, and Marilyn Manson. The cafe is also close to some of the tourist attractions such as Yokohama Cosmo World, Yokohama Museum Art and Cup Noodle Musem.
Recommended Halal restaurants and prayer rooms nearby
A very famous Kyoto cuisine restaurant, Minokichi, is serving Muslim friendly menus for Muslim customers in four of their branches. Among them is in Yokohama Landmark Plaza! The restaurant is located on the 4th floor of the building. You can get a Muslim friendly lunch set for 2,700 yen which consists of tempura, grilled fish, soup noodle, rice, some salad and fruit. You can also order Kaiseki course which has two set options, one for 7,560 yen and the other one for 9,257 yen.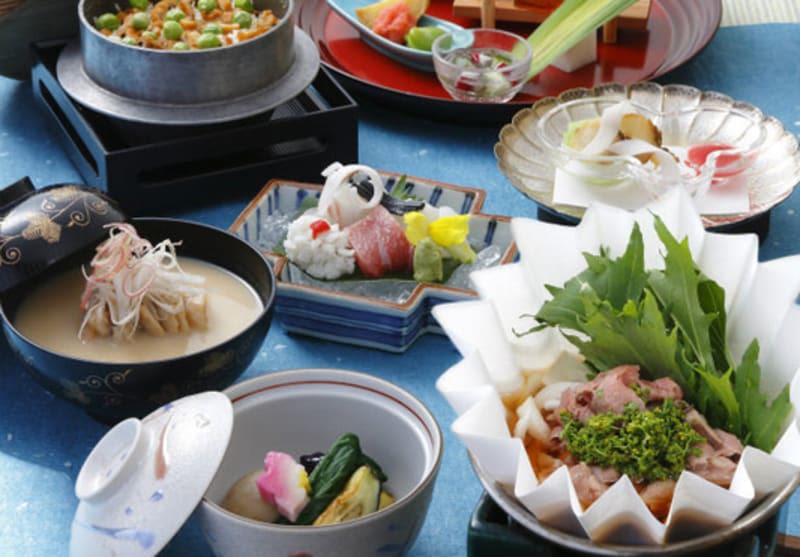 A prayer room is also available in Yokohama World Porters (15 minutes walk from Hard Rock Yokohama) on the 6th floor. The room will always be locked and you have to enter "2017" as the passcode then press the "E" sign to open it. The room also provides prayer matt and Qibla compass for you, just make sure to return it to the original place once you finish praying.
Information on Hard Rock Cafe Yokohama Address: Queen's Tower A1F, 2-3-1 Minatomirai, Nishi-ku, Yokohama Rock Shop Opening hours: 10am - 11pm Halal restaurants nearby: Khazana Minatomirai, Kissho Yokohama, Minokichi Prayer room nearby: Yokohama World Porters
4. Hard Rock Cafe Osaka
Now if you are planning a trip to Osaka and has put Osaka Castle in your itinerary, this Hard Rock Cafe Osaka can be an option. You can drop off at Honmachi station and take the Exit 9 to go to this branch. This cafe is located in a former bank and some of the bank interiors still remain there, such as the original bank vault is now turned into a private bar.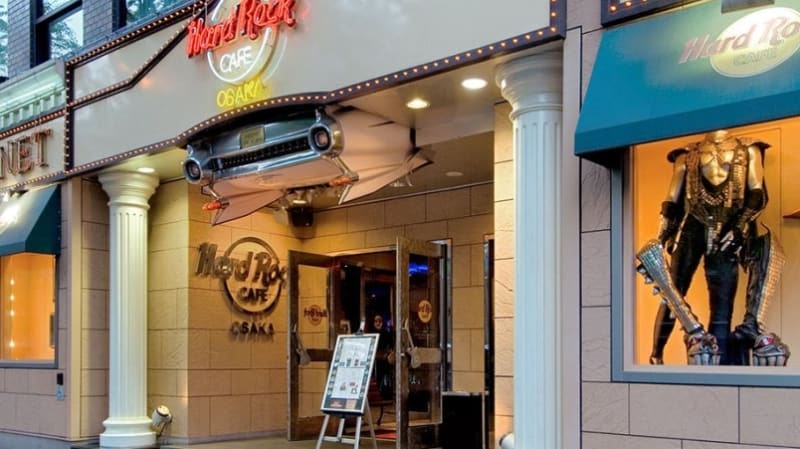 The hipster-ness doesn't stop there, there is a pink Cadillac at the front door which represents Shogun Hideyoshi's hallowed spot. Please note that the live music is not available every day though, it only plays on selected days of the week. But the shop is what you come for right? So just dive into their shop to get some signature merchandise!
Recommended Halal restaurants and prayer rooms nearby If you are keen to try Halal Japanese Shabu-Shabu and Yakiniku, just head to Yakiniku & Shabushabu Jin after getting Hard Rock Cafe Osaka souvenirs. It's just a 10 minutes walking distance from Honmachi station. This restaurant is operated by the same company as BULLS, a very popular yakiniku restaurant in Osaka. They also serve Halal Wagyu beef if you are curious to taste the original Japanese Wagyu beef. You can get an all you can eat menu for only 3,980 yen!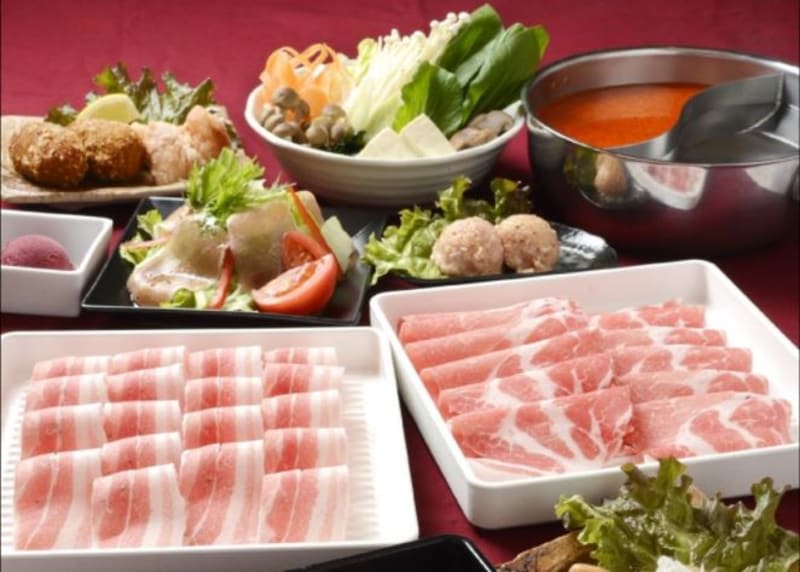 Another Halal food you should not miss around here is Halal Ramen in Naritaya Osaka! Although it's a station away from Hard Rock Cafe Osaka, the ramen that they have is too good to be missed. There is a number of Ramen you can try in this restaurant; from Miso ramen, Ethnic curry ramen, soupless ramen, and special Naritaya ramen. If a bowl of ramen is not enough to satisfy your tummy, they also have rice based menus and side dishes such Karaage, Dumpling and Croquette. What's more? Halal Navi is giving out free kara-age to our users *yay!*. Find out how to claim it here.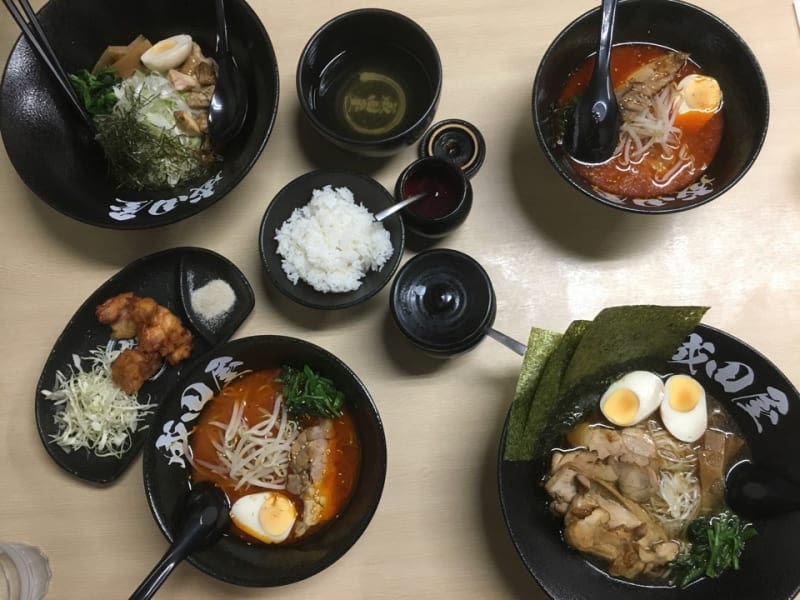 Another good news in this Hard Rock Cafe branch is they can provide a prayer room for their Muslim customers upon request. You will have to notify and ask the staff to use a special room to pray. Do note that the room may not be available at all times though!
Information on Hard Rock Cafe Osaka Address: Ito Building, 1F, 3-6-14 Minami-Hommachi, Chuo-ku Osaka Rock Shop Opening hours: 11.30am - 11pm (Mon - Thurs), 11.30am - 12am (Friday, weekend & public holiday) Halal restaurants nearby: Istanbul Sultan, Al-Sahara, Yakiniku & Shabushabu Jin, Naritaya Osaka Prayer room nearby: Hard Rock Cafe Osaka
5. Hard Rock Cafe Osaka Universal
Raise your hand if you are excited to visit the Wizarding World of Harry Potter in Universal Studio Japan! This is probably the solid reason why you come all the way to Osaka (admit it!). After finish trying all the rides and attractions inside USJ, you can drop by at Hard Rock Cafe Osaka universal in the Universal City Walk right in front of the USJ main gate. There are so many collectable souvenirs at the shop you definitely should buy to commemorate your visit to Osaka! The memorabilia at the shop also display some of the pieces from your favourite musician such as Lady Gaga, Katty Perry and Alicia Keys!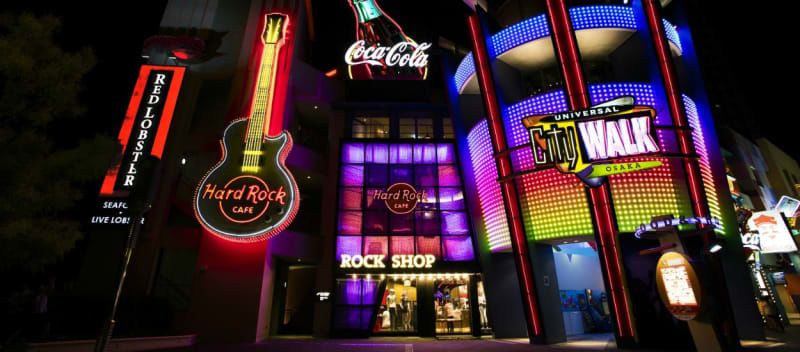 Recommended Halal restaurants nearby
In the same building of Universal City Walk, you can find a Halal food option at the seafood-heaven Red Lobster Osaka restaurant. You can find all kind of seafood eateries in the menu from lobster, crab, claw, oysters and a lot more! This restaurant serves Halal dishes and uses separate utensils and cookwares for the Halal menu. However, some non-Halal menus are also served, so make sure to only pick Halal dishes from the menu. Find more Halal friendly menus at Red Lobster in this article.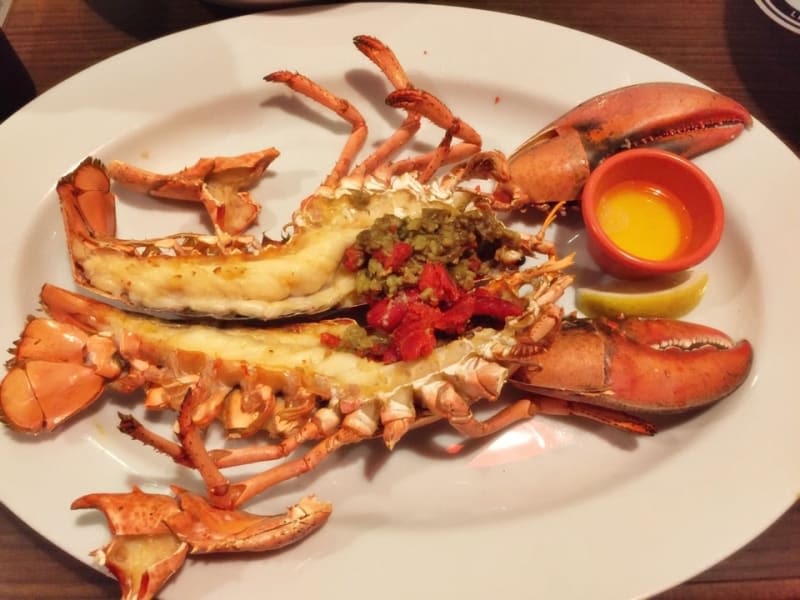 Information on Hard Rock Cafe Osaka Universal Address: Universal CityWalk Osaka 3F & 4F 6-2-61 Shimaya, Konokana-ku, Osaka Rock Shop Opening hours: 10am - 11pm Halal restaurants nearby: Red Lobster Osaka
6. Hard Rock Cafe Fukuoka
The last Hard Rock Cafe branch you can find in Japan is in Fukuoka City! Since April 2016, the cafe has moved to Hakata Station which makes it even easier for you to access it. The Hakata station is a major station of the city so you could just drop by at the Hard Rock Shop when you pass by the station. The location on the second floor with glass panels for exterior walls, giving it a great atmosphere to chill. Don't forget to grab some Hard Rock Fukuoka T-shirt especially the rock-themed Hakata Yamakasa float one!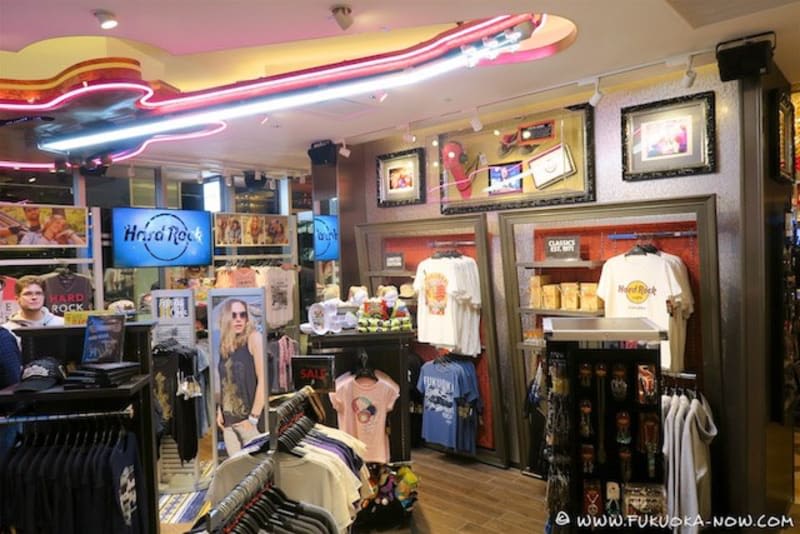 Recommended Halal restaurants nearby
You can find a halal friendly Thailand Coca restaurant in Amu Plaza Hakata right next to Hakata station. Do ask for a Halal menu to the waitress when you are at this restaurant and they can prepare it especially for you. Don't worry about lost in translation though because the Staff can speak English quite well. Sometimes the pronounce Halal as Haral, so try to mention Haral to them. They have a variety of Thai signature dish and it averagely costs around 1,000 yen!
Information on Hard Rock Cafe Fukuoka Address: RJP Hakata Bldg. 2F, 8-1 Hakataeki Chuogai, Hakata-ku, Fukuoka Rock Shop Opening hours: 10am - 12am Halal restaurants nearby: Coca restaurant, Magoruya
---
So those are six branches of Hard Rock Cafe all around Japan. We hope our Halal foods and prayer rooms guide can accompany your journey hunting all those official Hard Rock merchandises! Don't forget to bookmark all of those restaurants and mosques in Halal Navi app so you can just open them later when you are already in Japan. Travelling to Japan has never been this easy!