BEST 10 WINTER ILLUMINATION SPOTS IN TOKYO WITH HALAL RESTAURANT INFO!
What would you like to do in winter in Japan? Of course, hot spring, ski and snowboard is nice, but you should not miss the gorgeous winter illumination that brilliantly blight up the city. Don't know where to go? Here is the best 10 illumination spots to visit in Tokyo area.  Pictures taken with these romantic illumination must be photo-worthy, so it would be very good for Instagram!
1.Yebisu Garden Place
One of the famous winter illumination spots, Yebisu Garden Place, features the big Christmas tree located at the entrance. Here you can enjoy not only this amazing Christmas tree, but also incredible Baccarat Chandelier in romantic champagne gold color, European style Christmas market with foods and drinks.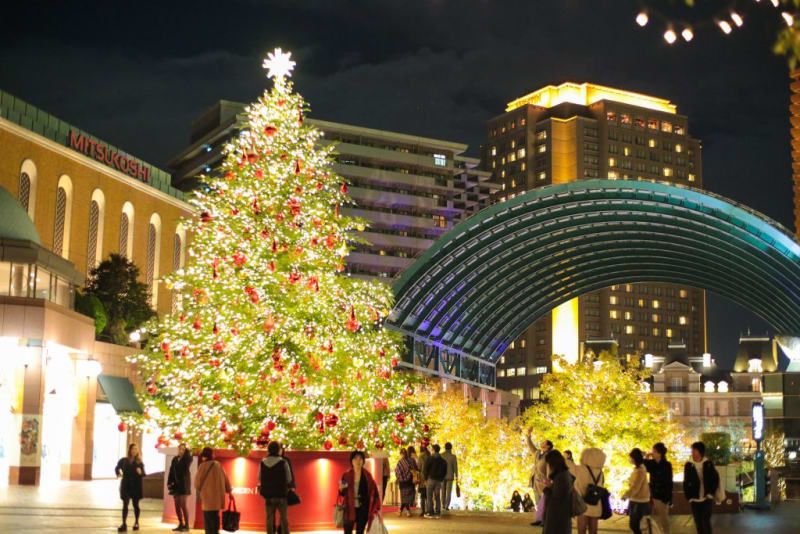 Photo by Norio Nakayama used under CC
Information
2.Tokyo Midtown
Tokyo Midtown, a complex building with many shops, restaurants, and cafes, holds an annual Christmas event "Midtown Christmas". Tokyo Midtown is decorated with Christmas ornaments and illuminations during the season, but the highlight is "Starlight Garden" located in the park behind the main building. Look at the picture below, over 5,000,000 blue LEDs are beyond description.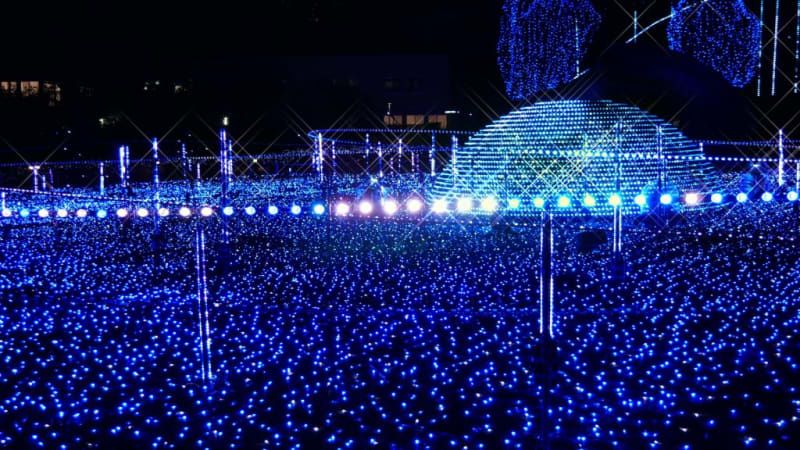 Information
3.Omotesando
The gold-yellow lights are lightning up the Zelkova trees standing on both sides of the poplar shopping street. As about 1.1 km street holds many shops and cafes,  Omotesando would be a perfect place to enjoy shopping and seeing the illumination at once. Lucky for you, it is near from the tourist districts such as Shibuya and Harajuku area, so visit here if you're around!
Information
4.Ao no Dokutsu/Blue Cave
Blue Cave called Ao no Do-kutsu in Japanese is about 800 meters street from Shibuya station to Yoyogi park, illuminated with thousands of blue LED lights. You can either walk from Shibuya station or Yoyogi park, but be sure that the best part of this illumination is at the Yoyogi park end. Isn't it so romantic if you're surrounded by this amazing illumination?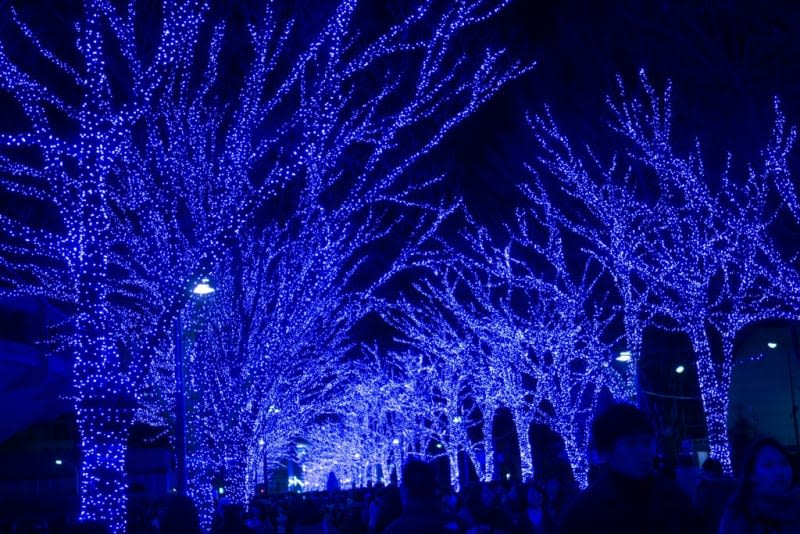 Information
5.Meguro River
Meguro River is well known for its best cherry blossom viewing spot in spring, but it also turns into one of the best winter illumination spots.  So, the LEDs lit up the trees alongside the Meguro River are pink which reminds people of cherry blossoms during the season. Enjoy walking the street seeing over 400,000 cherry-colored LEDs!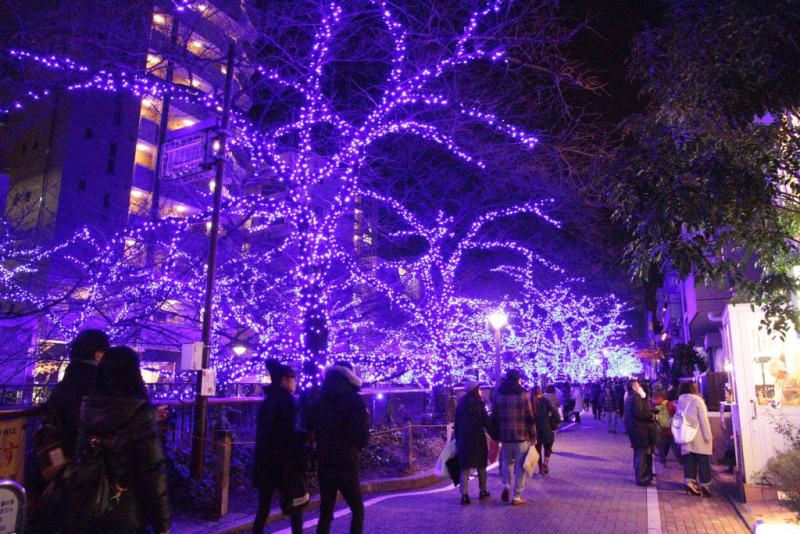 Information
6.Yokohama Red Blick Christmas Market
It is not located in Tokyo, but not so far from the central Tokyo. You can easily access to Yokohama within 30 minutes by train. This is German traditional style Christmas Market offering sausage, hot wine and hot chocolate and so on. The Christmas Market opens in the daytime and night, but we recommend you visit there in the evening as the decorative illuminations will make you feel like you visit Europe's Christmas Market!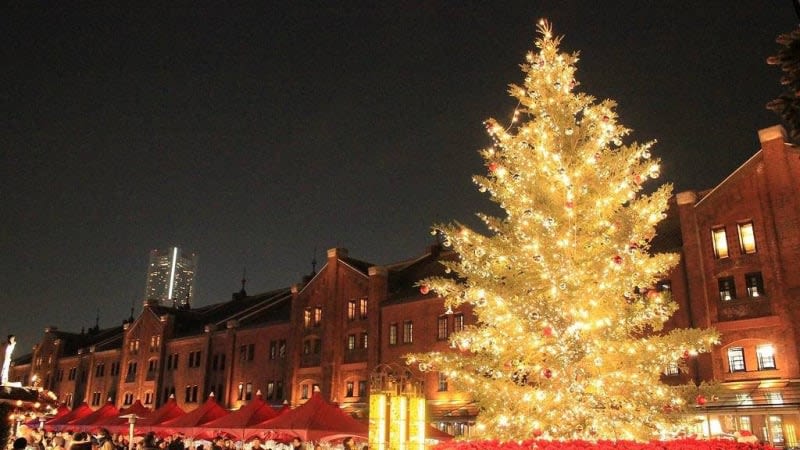 Information
7.Marunouchi
Over 200 trees along Marunouchi's 1.2km-long Nakado-ri street are covered with millions of champagne-gold LED bulbs. Since all the energy used to light up the city all comes from solar and wind power, this illumination event is called as"Eco illumination". Don't worry, the lighting here is as brilliant as other illumination spots. Isn't it good to see beautiful light up that is friendly to our environment?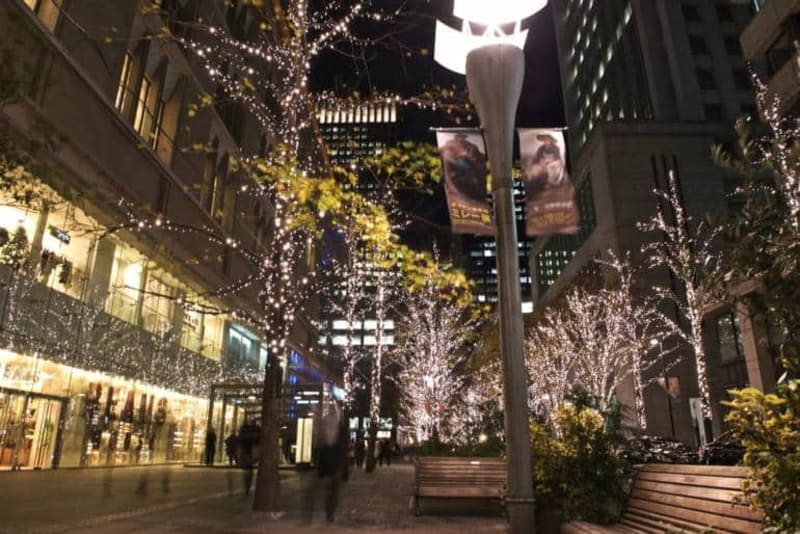 Information
8.White Kitte
White Kitte, a Christmas event will be held at JP(Japan Post) Tower KITTE. People are fascinated by this beautiful white Christmas tree which is located on the 1st floor in KITTE as the white one is kind of rare. Some other events such as musical performances are held in front of the tree. We are sure that you can enjoy this Christmas event with your friends, family, and the one you care about.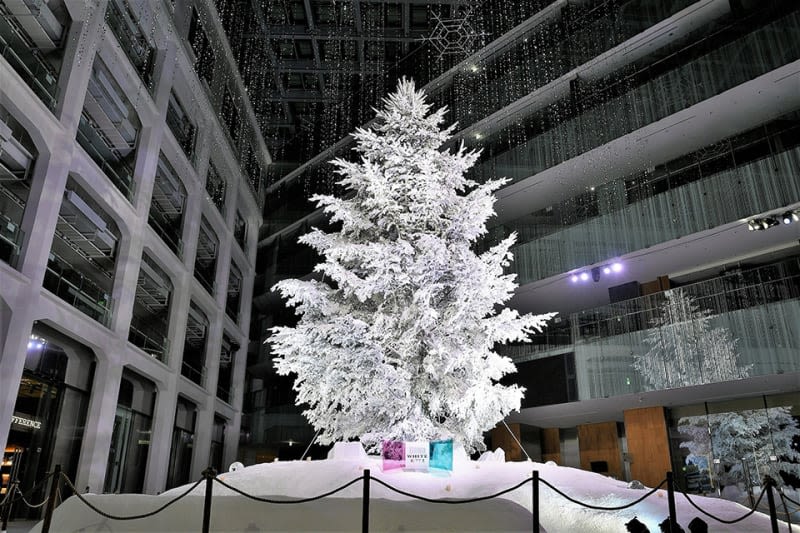 InformationInformation
9.Caretta Shiodome
Caretta Shiodome is a big shopping mall that consists of many shops, cafes, and restaurants, which is located in Shinbashi area. You can easily access here as it is not so far from central Tokyo such as JR Tokyo Station. Caretta Shiodome's illumination has been collaborated with Disney's movies in the past years, attracting many people who visit here. Do not miss the romantic collaboration with the fantastic illumination and the soundtrack of the movies!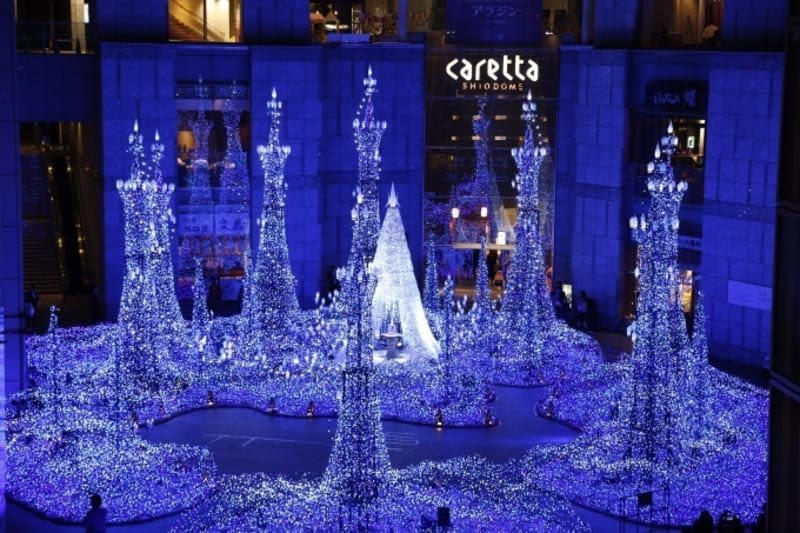 Information
10.Yomiuri Land
Yomiuri land is an amusement park which is located in Inagi-City, Tokyo, where approximately 45 minutes from JR Tokyo Station. Its illumination is called"Jewellumination" as the shining light up looks like jewels by its brightness. Have you ever seen such amusement park that is decorated with thousands of lights? You will definitely be impressed by the illumination throughout  the park.
Information
So, which winter illumination spot do you like the most? If you spend your time in Tokyo around Christmas season, visit there and find your favorite one!