The Best Sakura Hanami Spots In Japan
First of, what is sakura hanami?
Sakura (桜), also known as cherry blossoms, are the symbol of Japan and their unofficial national flower. What makes sakura unique is the pretty view you can admire with various hues of whites and pinks. Sakuras typically bloom for only about 1 to 2 weeks, somewhere between March to May.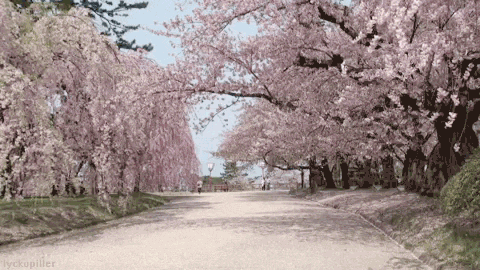 In Japan, Hanami (sakura viewing party) is a custom that has been around for over a thousand years, celebrated with family and friends, accompanied by snacks and drinks. Come Spring, it is one of the most anticipated event in Japan annually!
If you are a tourist and want to delve in the hanami tradition for an unforgettable holiday, we have listed down the best spots for sakura hanami in major cities and tourist attraction places that you'd most probably be!
1) Himeji Castle, Himeji
This UNESCO World Heritage Site has gone through great wars and earthquakes since 1333. The craftsmanship of this castle showcases the quality of work from the Feudal Empire so get ready with your Yukata and stroll around the castle or rent a boat (inspired by the Edo era) enjoying your surrounding like an Emperor or an Empress with many blossoming sakura trees nearby.
| | |
| --- | --- |
| Address | 68 Honmachi, Himeji, Hyōgo 670-0012, Japan |
| Contact Number | +81 79-285-1146 |
| Opening Hours | 9am - 4pm |
| Admission Fees | 1,040 yen for adults and 360 yen for elementary and junior high school students |
| Nearby Halal Restaurant | Thai Siam Himeji |
2) Lake Kawaguchiko, Shizuoka
Want to kill two birds with one stone when travelling to Japan? How 'bout visiting Mount Fuji in Spring?! Sounds like a good plan! Head on over to Lake Kawaguchiko out of the Fuji Five Lakes for a spectacular view of the great Mount Fuji and all of the cherry blossoms surrounding the lake.  If you wish for a higher peak of hanami and the mountain, climb up the 398 steps to the iconic Chureito Pagoda where the hilltop is facing the serene cherry blossoms and Mount Fuji.
3) Chidoriga-fuchi Moat, Tokyo
Are you a city traveler or a Tokyoites yourself? It is almost a MUST for you to get on a boat ride here for the most scenic hanami spot in Tokyo. Sakuras lined 700-meter-long around this Imperial Palace moat during Spring. The sakura trees and fallen petals reflect the river into an ethereal pink of a fairytale. In light of the Chiyoda Sakura Festival, the trees will glow with beaming pastel pink sakuras at night. Prepare to be lit! Mark your calendar as the sakura forecast is expected to bloom on the 22nd of March 2019 (four days earlier than average) and reach a full within a period of one week.
4) Expo Commemorative Park '70, Osaka
The name of the park was given in commemoration of the Japan World Exposition in 1970. The park has the most spacious land surrounded by 5000 sakura trees. If you are in Osaka, be sure to check this place out as it is Osaka's most popular hanami spots around early April and a little birdy told us that the sakuras will bloom on the 27th of April 2019! So get set and head to the entrance that you won't miss as there is a Tower of the Sun installation, a 70 meter high artwork that looks over the park's main entrance!
5) Nakajima Park, Hokkaido
Photo credit: https://bit.ly/2RYmpwP
Located at the capital city of Hokkaido, Nakajima Park is one of the most beautiful park around! If you are around the area, drop by to this park and witness double layer of sakura trees and plum blossoms which forecasted to bloom on the 5th of April 2019! What better way of doing your hanami than renting a boat and row your way around the lake for a spectacular view of the surroundings! Fun fact: plum blossoms (ume) was the first hanami custom started during the Nara period (710–794) for the elite of the Imperial Court which then shifted to sakura hanami during the Heian period (794–1185).
6) Philosopher's Path (Tetsugaku-no-michi), Kyoto
The name of this road was named after the discovery that hundreds of thousands of writers have walked along this road. This spot was given the appreciation of it and was selected as one of the Top 100 Roads of Japan. Around 500 sakura trees rooted along the trail and will ensure a tunnel of bloomed pillowy sakuras by 25th March 2019 as forecasted!
7) Miyajima -Itsukushima Shrine, Hiroshima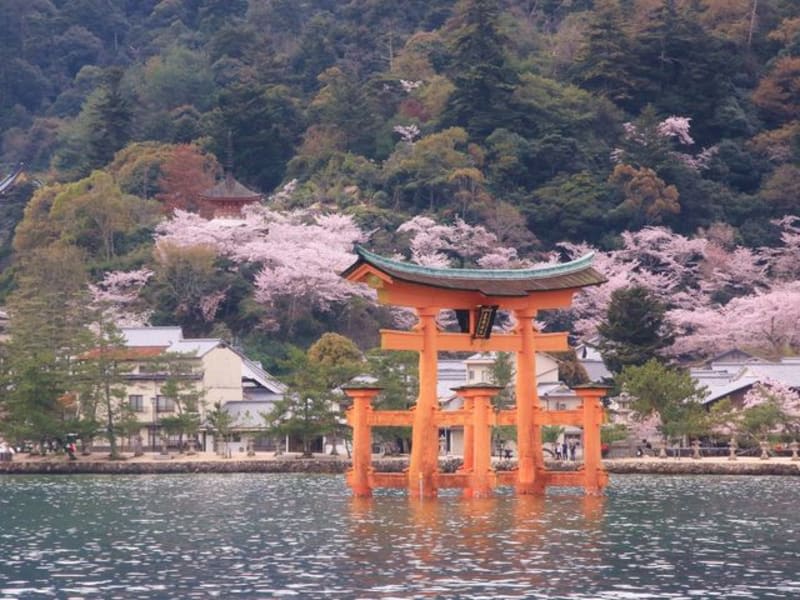 Miyajima is one of the most beautiful scenery in Japan, and it is also one of the three great views of Japan. There is Itsukushima Shrine in Miyajima. It was built in 593. (It has very long history!) Through extantion and restoration, Itsukusima Shrine was certified as world Heritage in 1996. You can enjoy beautiful sakura with the historical scenery!
Address

1-1 Miyajima, Hatsukaichi-City 739-0588, Hiroshima, Japan

Contact Number
+81 829-30-9141
Opening Hours
Depends on Seasons
Access Charge
180 yen (From Miyajimaguchi Sta. to Miyajima by ferry)
Nearby Halal Restaurants
Yamadaya,

Umeyama
Have your eyes fluttered with pinks hues already?! We know you do *wink* so start planning your blossom-cation early to get the best air ticket to Japan during Spring!
Be sure to check out Halal Navi blog for everything Japan and don't forget to download Halal Navi to be your personal guide, halal restaurants, and mosques near you ❤️