Top 6 Things You Should Not Miss In USJ Osaka (With Prayer Space & Halal Food Guide)
No matter what time of the year is, everyone wants to visit Universal Studios Japan (USJ) Osaka! We know you are just too excited and want to try every ride in USJ. But USJ Osaka is so huge, it is almost impossible to try all attractions in just one day. Just in case you are running out of time, make sure to at least try these top activities before leaving USJ. And not to worry, there is something for everyone, even those who are not huge fans of extreme rides *wink*! Ready?
Credit to Giphy
1. The thrilling and extreme roller coasters
There are many roller coasters at USJ from ones that will leave you wondering how did you even get there (?) to those that filled with cute and lovely Minion. Here are the two most popular roller coasters of all time in USJ Osaka you absolutely must try.
Jurrasic Park - The Flying Dinosaur
This ride is definitely not for the faint of heart. It will make you scream your heads off and gives you that adrenaline rush you need. You will literally feel like flying through the sky with these dinosaurs! A Pteranodon will grab you from the back and lift you up to the sky where you will be hanging out for the next 3 minutes in 360 degrees rotation*yikes!*. If that's not enough to convince you, then let us also mention that this ride has the World's longest track and biggest initial drop! It was opened in March last year but has instantly become the top favourite rides which make the queue unbelievably long. So make sure to purchase the Universal Express Pass to skip the hours of waiting! You can even purchase one here before going to Japan!
Hollywood Dream the Ride Backdrop
If you imagine yourself being elevated to the front and enjoy the ride as you would normally do in any other roller coasters in this ride, then you are totally wrong! You will be lifted to a height of 43 meters FROM BACKWARD, unable to see or guess what's coming and just leave your fate to God while riding this rollercoaster #Nooo. Make sure you don't come with a full stomach, or else you would regret it. If you are calm enough while riding this, you can see an amazing view of Osaka when your roller coaster is heading up to the top.
2. Experience your favourite movies in a real life
A fan of Harry Potter and Spiderman and want to experience living the movie yourself? these 4K3D shows should definitely on your bucket list. It does not only offer a show on the screen but let you be a part of the movie!
Harry Potter and the Forbidden Journey
Calling all Harry Potter fans, this is a ride you especially don't want to miss! It will take you to a 3D tour through Hogwarts castle that replicates everything from the movies. You will have the chance to enter Dumbledore's office, Gryffindor common room, the famous defence against the dark arts classroom, and other areas that you only used to see in the movie. The 3K4D technology used in this ride makes you feel so real and alive in the Harry Potter world. This ride has been listed as the world's best ride for five consecutive years, so you better not to miss it!
The Amazing Adventures of Spider-Man
Been following the superhero Peter Parker and his act of saving the world? Now you can stand on his shoes by entering the world of Spider-Man and see everything as he sees it! This ride is a mix of an indoor roller coaster with a 4D movie and makes you a part of the storyline. You will be brought to the chaotic New York City and join Spiderman in battling the Sinister Syndicates. Although the ride only lasts for five minutes, it's enough to give you a goosebump. The effects created by 4K3D graphic will leave you to wonder whether it's really a screen or reality *goosebump*.
3.  Exploring the Universe with Space Fantasy
Always a space lover? Space fantasy gives you the chance to explore the expanse of our universe in a spinning roller coaster ride. Sit back on your personal spaceship to save the sun and prepare for wild turns and a heart-stopping high-speed flying!  You are also able to interact with the screen that collects stardust cloud to help power the sun. The complete dark atmosphere let you feel the excitement of the wide space in the galaxy with all its amazing stars. As if this is not all, at the end, you will head directly into the sun! (No worries, you're not gonna burn :p)
4. Enjoy Your Time With Your Little Kids in the 4D Movies
Bringing your kids along and need something a little easy on the stomach? These shows can be a good alternative. You can enjoy a great time watching the movie with your children and let them be stunned with all the 4D effects during the entire show! And not only for your kids, if you were a fan of Elmo and Shrek when you were kids, this is a perfect time to release your inner child spirit!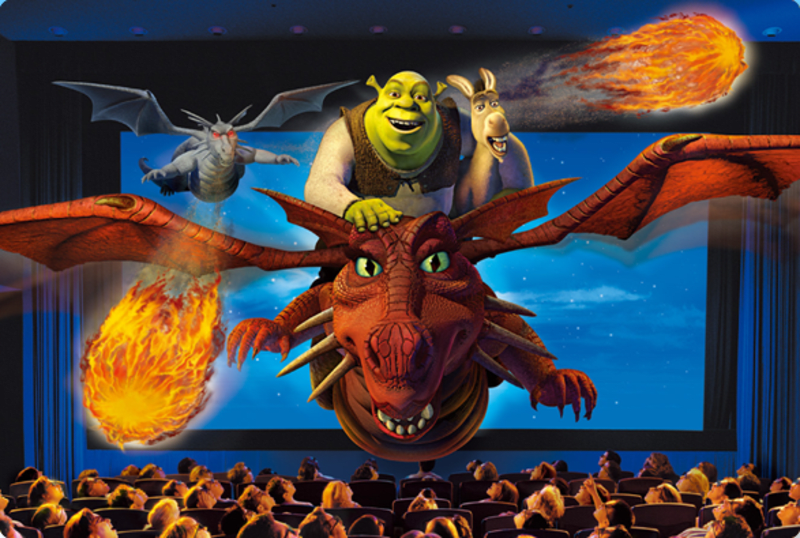 Credit to USJThere are two 4D movies you can choose in USJ Osaka; Sesame Street or Shrek's Adventure. Both movies share the same theatre near the entrance of the park, but they have different queue line in front of the theatre. Don't miss the chance to take a picture with Sesame Street characters by purchasing a photo opportunity ticket beforehand.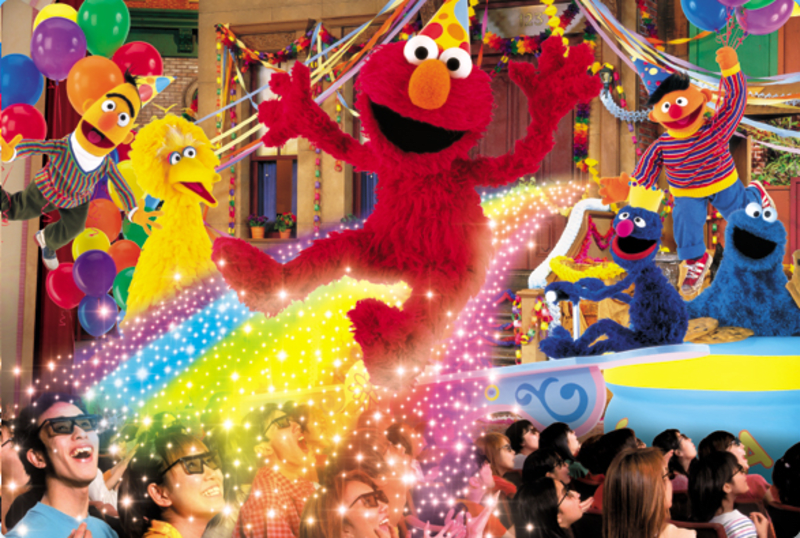 Credit to USJ
5. The Wizarding World of Harry Potter!
Do you always dream of going into Hogwarts castle and be a wizard for one day? The Wizarding World of Harry Potter will make your dream comes true. You can see the portrait room with its talking photos, walk through the Dumbledore's office, pass through the Gryffindor's common room and everything you've seen on the screen before. And don't miss the Expecto Patronum Night Show where you can see the magical battle between Dementors and the students of Hogwarts. The show is held from 30 minutes after the sunset until the close of the park.Check herefor more information on the locations and the calendar of the show.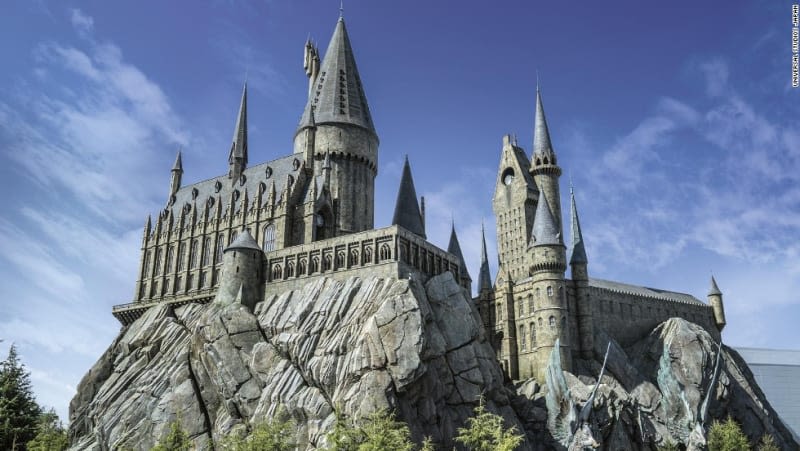 Credit to CNN
6. Enjoy Halal meal at Red Lobster Universal City Osaka
All of this fun will probably have left you exhausted. Time to energise! Located just in front of the USJ Osaka gate, you can conveniently walk into this restaurant for a dinner after a tiring but exciting day at USJ. If you are a seafood lover, this is absolutely your food heaven! You can find all kind of seafood eateries in the menu from lobster, crab, claw, oysters and a lot more! This restaurant serves Halal dishes and uses separate utensils and cookwares for the Halal menu. However, some non-Halal menus are also served, so be careful when ordering and make sure to only pick Halal dishes from the menu.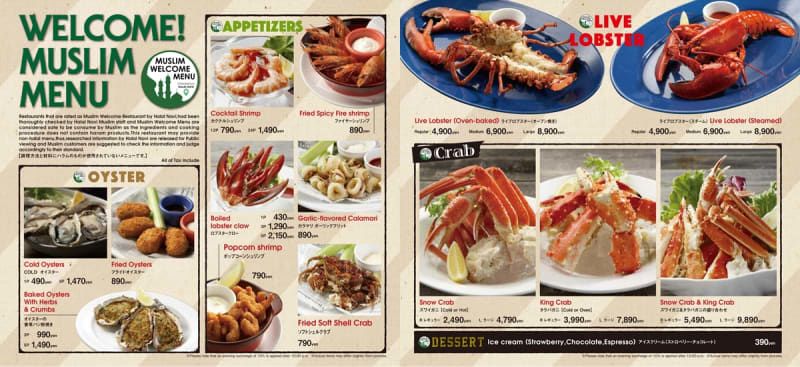 Halal menu in Red Lobster Universal City Osaka via redlobster.jp
Review in Halal Navi
Muhammad Izaan Bin Azman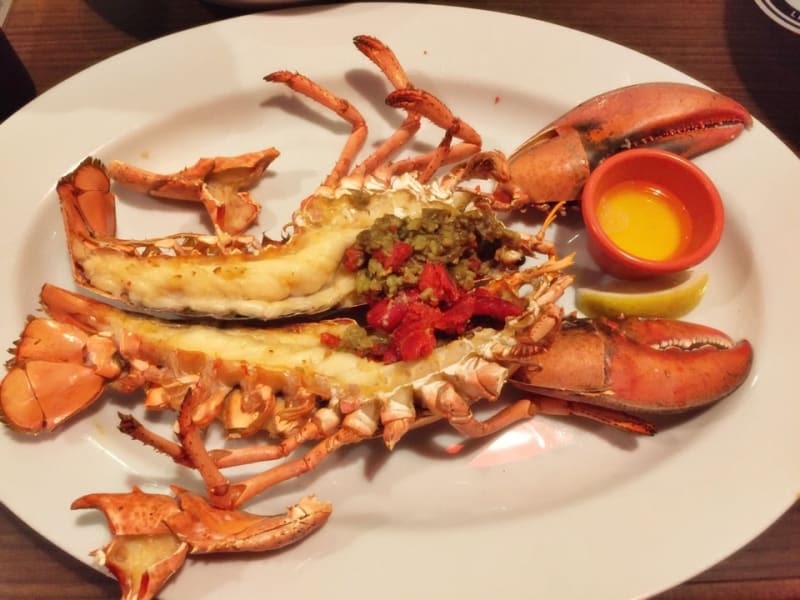 Live lobster oven baked by Halal Navi user; Muhammad Izaan Bin Azman
Restaurant informationAddress: 5F Universal City Walk Osaka, 6-2-61 Shimaya, Konohana, Osaka (5 min walk from Universal City Station) Phone number: 066-940-6351 Price range: 2,000 - 10,000 yen Halal Tips: Halal dishes are available upon request, some non-Halal menu are served, alcohol is served More info onRed Lobster
Information on Prayer Space
We know you want to try as many attractions as possible while in USJ, but don't forget our obligation as a Muslim to perform prayer. Since USJ does not provide a dedicated prayer room for visitors, here are a few spots you can go to pray conveniently:
If you are bold and wouldn't shy away of praying in public, Picnic area might be a possibility Location: Outside of the main gate, near the parking lot
For ladies only, you can use the nursing rooms to pray (if nobody uses it) that fits one person to pray Location: Near Sesame Street Kids Stare (next to Hello Kitty)
You may ask the staffs in guest service for a room to pray. They will direct you to a room that can be used to pray. Location: Near the entrance gate #Tips: Since there is no toilet in guest service, we advise you to take wudhu before asking the staff for a prayer room
Information on USJ Osaka
How to get there:From Osaka station, take JR Osaka Loop Line to Nishikujo Station. From there change to JR Yumesaki Line and stop at Universal City Station. You can just walk to USJ Osaka for 5 minutes from this station.Ticket Price:
There is also the 'Universal Express' pass that you can purchase which helps you get into popular rides with a shorter waiting time. Find the price for this passhere.Where to buy the tickets:To save your time queuing in the ticket booth (which can be very frustrating!), we highly recommend you to purchase the ticket beforehand fromKlook. You can print or save the ticket in your mobile phone and enter the attraction directly with the voucher. You can also purchase theUniversal Express passfrom them! P.S: If you are a first time user on KLOOK,  you can use our code to get a US$3.2 discounts! *Yay*
DISCOUNT CODE : E7903
---
Now you might be wondering you can't just leave Osaka after visiting USJ! There is so much to explore in Osaka and Kansai area. Plan your trip ahead and don't forget to put where to eat and where to pray in your itinerary.
You can easily find Halal restaurants and prayer rooms nearby the tourist attractions or station in Halal Navi app. Just type in the location you want to go and we will give you a complete list of Halal eateries and prayer rooms surrounding the area. Have a blissful trip to Osaka!