7 Must See Fireworks Festivals In Japan This Summer
Summer is finally here! It's probably not our favourite season of the year because it gets you hot and sweaty, but there are just so many festivals to attend during summer in Japan that you should not miss! And of course, one you should not miss this summer is the fireworks festival (or also known as Hanabi)! There is an endless list of Fireworks festival throughout Japan that you might confuse of which one to attend. But we know you have such a short time, so we especially pick you these seven Hanabi festivals for your perfect summer getaway.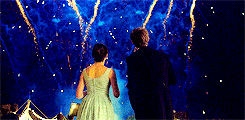 1. Sumidagawa Fireworks Festival, Tokyo
This fireworks festival in Sumida river Tokyo is one of the biggest and oldest in Tokyo. The first fireworks in Sumida were started back in the year 1732 (that's almost 300 years ago, wow!). It was initially created to entertain people and distract them from revolution. What makes this festival special and remain among the top Hanabi festivals in Tokyo is not only that it features more than 20,000 fireworks, but it is also in the heart of the city that let us see the beautiful fireworks with Tokyo Skytree as a backdrop. Do come early to reserve a seat as a huge crowd of local and foreign tourist will come to see this festival.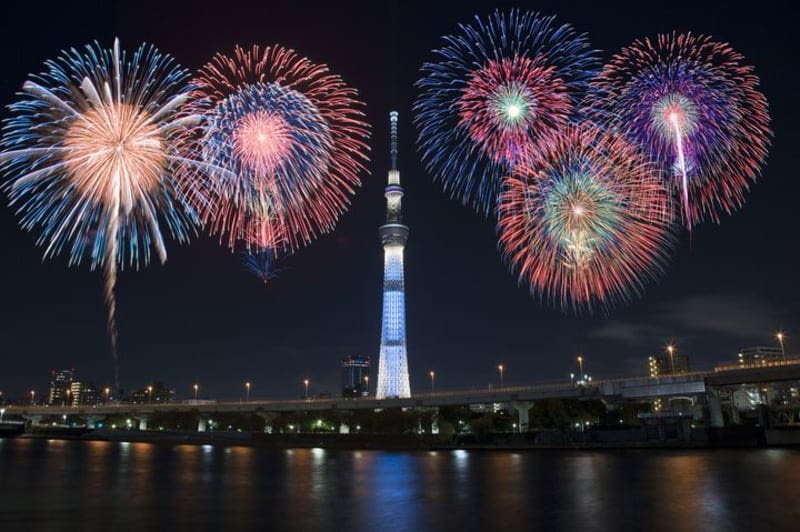 Credit to retrip.jp
Information Schedule: 29 July 2017 from 7.00 pm - 8.30 pmLocation: Along the Sumida river, Sumida, Tokyo Admission fee: Free Nearest station: Asakusa and Kuramae Station Website: Sumidagawa Hanabi Halal restaurants nearby: The Kebab Factory, Sekai Cafe, Mov's Kitchen
2.  Nagaoka Fireworks Festival, Niigata
Now, if you really are a die hard fans of fireworks, travelling 2 hours from Tokyo to Niigata Prefecture is really worth it. The Nagaoka firework is probably the biggest show in Japan. This festival features 20,000 small fireworks and one final huge firework that can reach up to 600 meters and span up to two kilometres of the Shinano river (it's the widest span of fireworks in the world!). The event will be held for two nights and you can enjoy the beauty of these fireworks for two hours in each night. Besides these magnificent fireworks, the festival also held Toro Nagashi or Paper lantern floating event as a symbol of mourning for the deceased of 2004 Niigata Earthquake victims.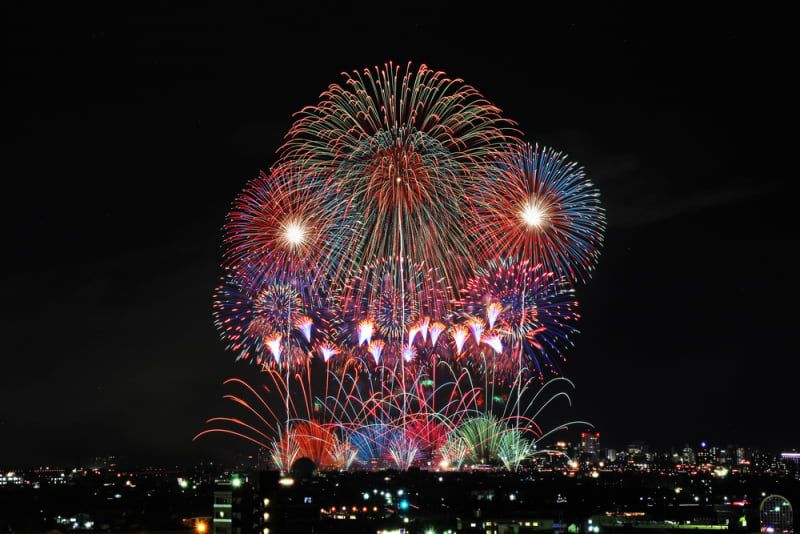 Credit to fastjapan.com
Information Schedule: 2-3 August 2017 from 7:25pm - 9:10pmLocation: Along the Shinano river, Nagaoka, Niigata Nearest station: Nagaoka Station Admission fee: Free Website: Nagaoka Matsuri Halal restaurants nearby: Seoul Nagaoka
3. Miyajima Water Fireworks Festival, Hiroshima
You might never have heard of water fireworks before, these fireworks in Miyajima are designed to explode underwater (mind blowing!). And not only that, the fireworks are set behind the iconic Torii gate of Itsukushima Shrine that has become UNESCO World Heritage Site. Imagine seeing all those colourful fireworks rise up from under the water and light up the Torri from behind! It's probably the most stunning view of fireworks you would ever see. To get here, you will have to ride the ferry from the mainland to Miyajima which will cost you 180 yen for one way, but it is covered by the JR pass if you purchase one.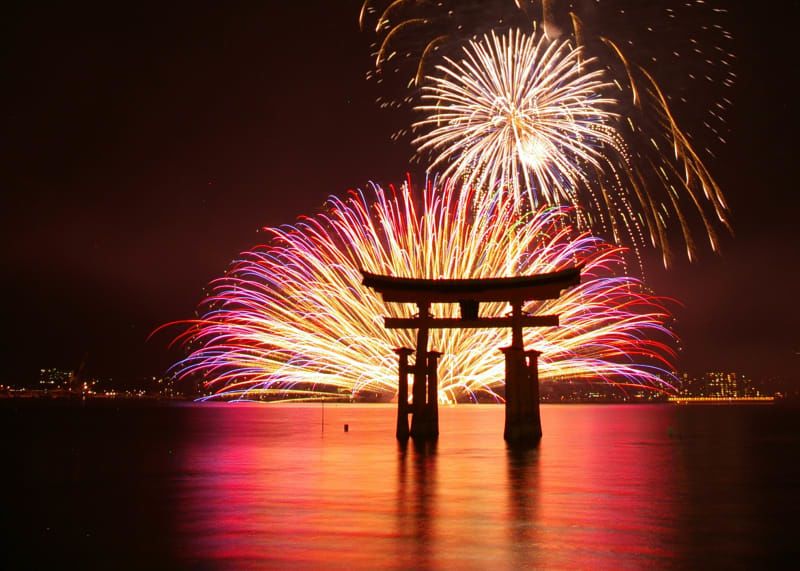 Credit to japancheapo.com
Information Schedule: 26 August 2017 (7.40pm - 8.40pm) Location: Itsukushima Shrine, Miyajimaguchi, Hiroshima Admission fee: Free Nearest station: Miyajimaguchi Station Website: Miyajima
4. Omagari Fireworks Competition, Akita
Seeing just one big firework can already put a smile on our face, now imagine seeing a lot of wonderful fireworks competes in one event? Wow! Omagori fireworks competition is an annual event that invites only the best teams of pyrotechnic from the whole country. Thousands of fireworks shells are launched night and day during the competition. However as the location is kind of remote, we suggest you book a tour package to go to this event. Although it might be a bit pricey, there is certainly a reason why hundreds of thousands people keep coming to see this competition every year. Make sure you are among them!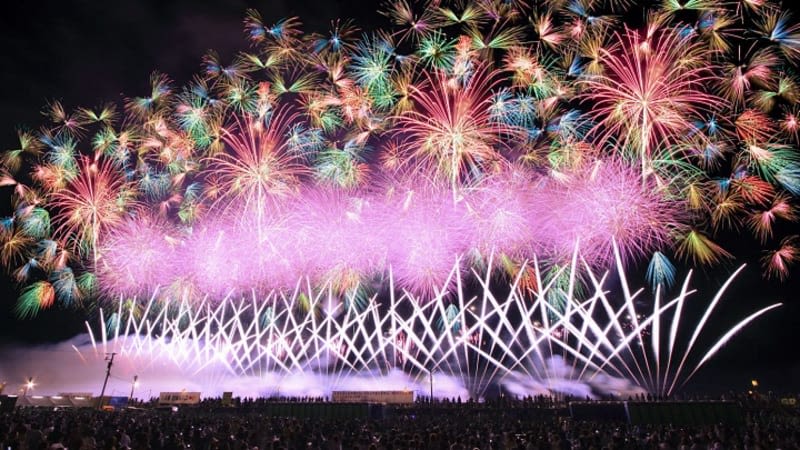 Credit to Ikidane-nippon.com
Information Schedule: 26 August 2017 (Start from 5.30pm for daytime show and 6.50pm for night time show) Location: Alongside the Omono River, Daisen City, Akita Admission fee: 15,000 - 20,000 yen (limited free spaces are also available) Website: Oomagari-hanabi Nearest station: Omagari Station
5. Chikugogawa River Fireworks, Fukuoka
Chikugo is the largest river in Kyushu region (western part of Japan) which is home to a big Hanabi festival every summer. A total of 18,000 fireworks will be launched in two different locations (Sasayama & Kyomachi Shrine) along the Chikugogawa river during this festival. The colourful fireworks are reflected beautifully in the clear water of Chukugogawa. The visitors can view it along the riverside for free. This fireworks festival is one of the best in western Japan. While in Fukuoka, we also recommend you to visit the Space World theme park before or after this festival, especially if you are a space lover at heart!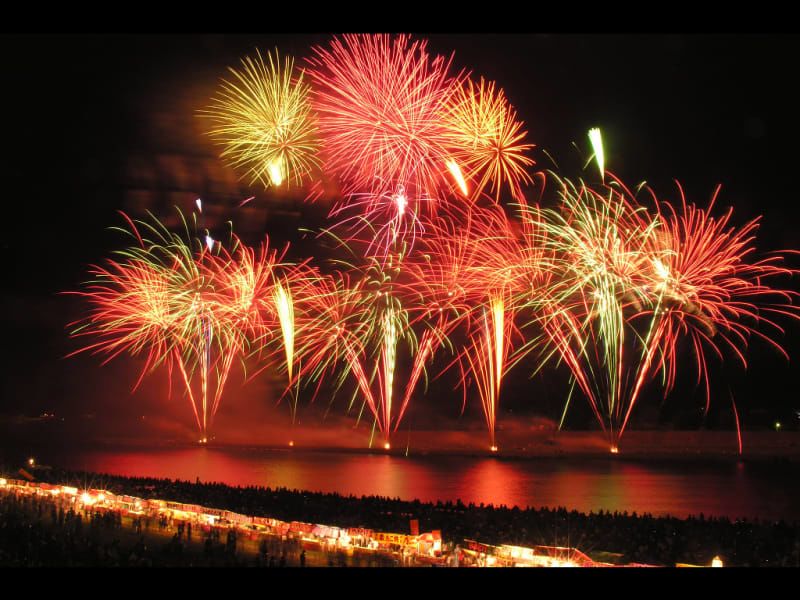 Credit to yakei-kabegami.com
Information Schedule: 5 August 2017 (7.40pm - 9.10pm) Location: Alongside Chikugo River, Kurume City, Fukuoka Admission fee: free Website: Kurume MatsuriNearest station: Kurume Station
6. Minato Kobe Kaijou, Kobe
Even without any special event, the view of port Kobe at night is a sight to behold. During this festival, the -already- beautiful port is accompanied by 10,000 fireworks launched from the sea creating such a breathtaking bay view. And not to worry, you can access the event easily as it is in a walking distance from JR Kobe station (only one hour away from Osaka by train). If you are planning a summer holiday in Kansai, you should not miss this one night in your itinerary.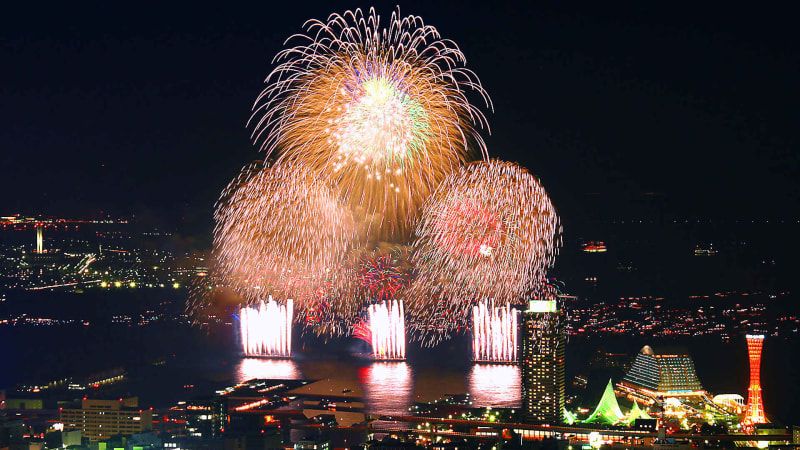 Credit to kabegamiphoto.com
Information Schedule: 5 August 2017 (7.30pm - 8.30 pm) Location: Kobe Meriken Park, 2-2 Hatobacho, Chuo, Kobe, Hyogo Nearest station: JR Kobe station, Motomachi Station, Kosoku-kobe Station Admission fee: Free Website: Kobe Hanabi Halal restaurant nearby: Mezban
7. Naniwa Yodogawa, Osaka
This festival was initially a community project where the locals volunteer to display their homemade fireworks. It is still supported by a donation from the local companies and organised by the local volunteer up to now, only that it is much bigger than its first event in the year 1989. Now, it's one of the biggest fireworks events in Osaka and attracts thousands of visitors every year. The locals will dress in Yukata and come since early in the morning to this event. So remember to come early to get a nice spot with a good view.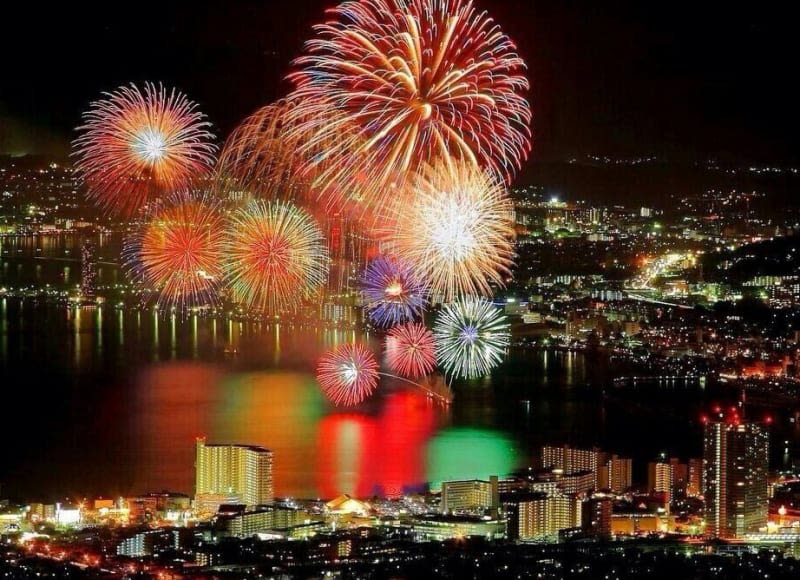 Credit to tripclap.jp
Information Schedule: 5 August 2017 (7.40pm - 8.40 pm) Location: Yodo River, Yodogawa, Osaka Nearest station: Nakatsu, Tsukamoto and Juso Station Admission fee: Free (Pay seat available from 1,000 - 8,000 yen) Website: Yodohanabi Halal restaurant nearby: Pyramids, Bagus, Shalimar Nakatsu
So those are seven fireworks festival throughout Japan you can enjoy this summer. Have you made any decision of which to visit? Whichever it is, don't forget to plan your trip ahead and check the Halal eateries around the venue with Halal Navi app. We're sure you don't want to watch the beautiful Hanabi with an empty stomach. Have a wonderful fire vacation!