11 Tokyo's Top Architectural Masterpieces You Must See! (with Halal Restaurant Info)
Done sightseeing in Tokyo? Are you sure? Check back whether you have checked out Tokyo's best works of architecture or not. If not yet, we have listed some of the most unique and interesting skyscrapers!  Most of the buildings are also conveniently located in Omotesando so you can see lots of them in one go! Without further ado, here are the masterpieces…..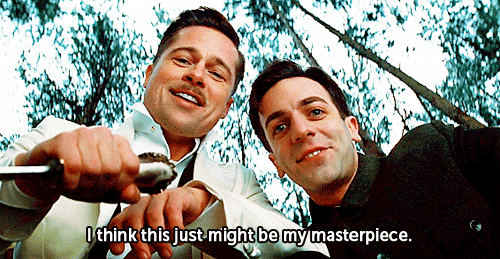 1. Venus Fort Interior, Odaiba
When you step into this shopping mall in Odaiba, it is easy to forget that you are in Japan as you are immediately teleported to ancient Greece. Venus Fort portrays a medieval European village, and if look up you can enjoy the sky art! They also have an illumination event that starts at the beginning of November, so be sure to check out the fantastic display of lights.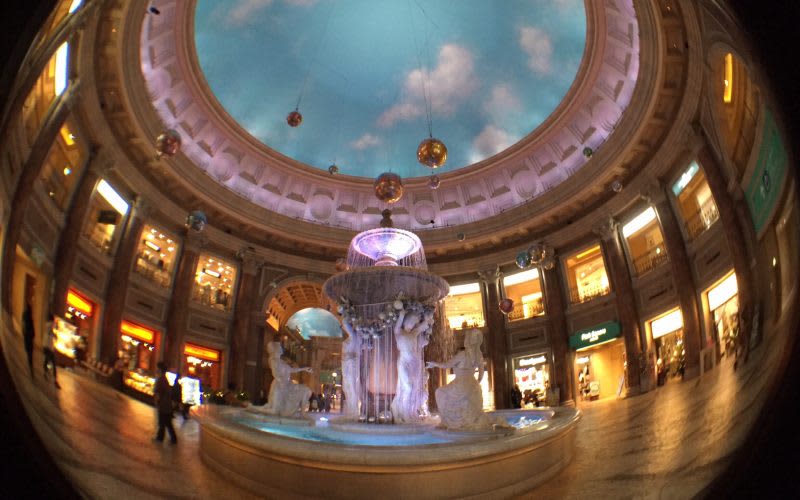 Information
Address
1 Chome-3-15 Aomi, Koto, Tokyo 135-0064

Access
22 min from Shinjuku to Tokyo Teleport
28 min from Akihabara to Tokyo Teleport
21 min from Ginza to Tokyo Teleport
15 min from Maihama (Tokyo Disney Resort) to Tokyo Teleport

Phone
03-3599-0700

Opening Hours
Everyday 11:00 – 21:00

Halal Food Nearby
Sojibo Diver City Plaza
2. Reiyukai Shakaden Temple, Minato
If you are a huge fan of sci-fi, Star Wars, Star Trek or anything of that sort, you must check out the surreal Star Wars like spaceship temple in the middle of Tokyo! Unlike any other traditional temples and shrines you find in Japan, a Facebook picture of this gigantic sci-fi temple will be sure to impress your friends.  "May the force be with you."
Since it's just 5-minute walk from Tokyo Tower, why not visit both on the same day! Get a pass here.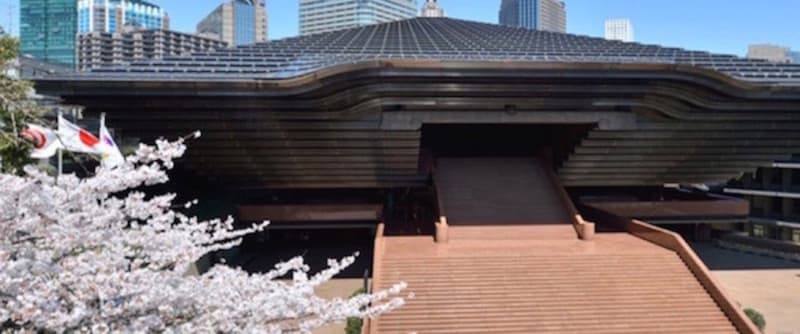 Information
Address
1-7-8 Azabudai, Minato-ku, Tokyo

Access
5 min walk from Tokyo Tower
Take Hibiya Line to Kamiyacho, then walking southward for 5 minutes

Phone
03-5563-2500

Opening Hours
Everyday 6:00-17:00

Halal Food Nearby
Sumiyakiya Nishiazabu
3. Tokyo Station, Marunouchi
If you're into historical landmarks, it is very hard to miss this 1914 building that was renovated and restored to look as it were in the pre-war years! Besides being the busiest station in Tokyo, this station also has a hotel, restaurants, art gallery and even prayer space for Muslims!
Psstt! You can also check out this Muslim friendly guide to exploring Tokyo Station here.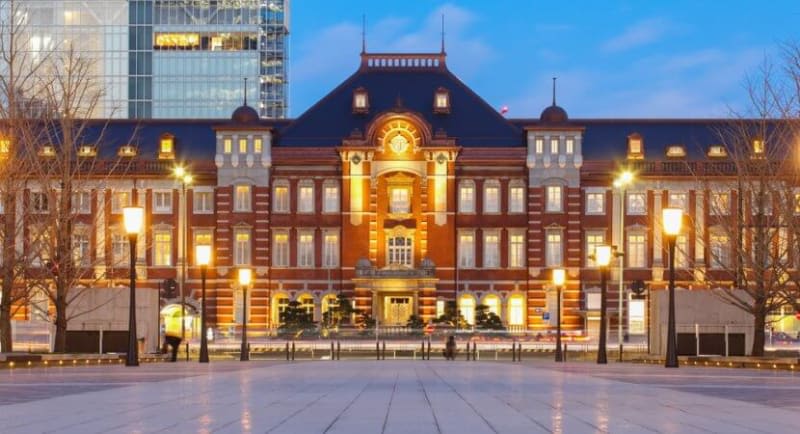 Information
Address
1 Chome Marunouchi, Chiyoda, Tokyo, Japan

Access
Using Tokyo Metro Marunouchi Line to Tokyo Station
Using Tokyo Metro Tozai Line Otemachi Station

Phone
Not Available

Opening Hours
Everyday 6:00-17:00

Halal Food Nearby
Zenmai Halal Bento
4. Prada Boutique, Aoyama
Created by Swiss architects Herzog & de Meuron, Prada Aoyama is one of the most unique works of architecture in Tokyo. This six-story building is difficult to miss with its diamond-shaped glass grid outer structure. It's a spatial and technical wonder for contemporary architecture fanatics!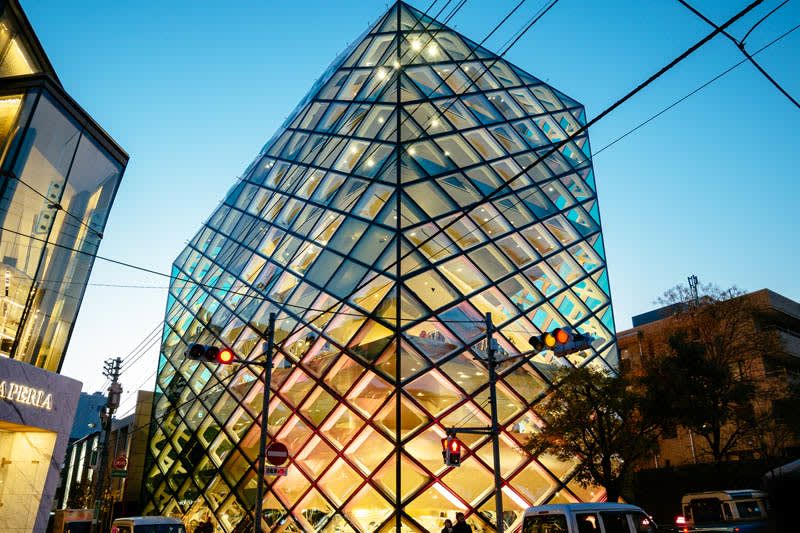 Information
Address
5-2-6, Minami-Aoyama, Minato-Ku, Tokyo

Access
4 min walk from Omote-Sando Station

Phone
03-6418-040

Opening Hours
11:00 – 21:00 – Tue, Wed
10:00 – 20:00 – Mon, Thu, Fri, Sat, Sun

Halal Food Nearby
Shinjuku Gyoen Ramen Ouka
5. Hugo Boss, Jingumae
Shaped like an hourglass, this building has an impressive structure that you don't want to miss taking a shot of! (we suggest taking a picture from the bottom in order to recreate the grandeur of the hourglass shape). The building showcases elegance and class just like the brand.  With its glass windows, viewers from the opposite side of the street can also window shop the luxury brand as well!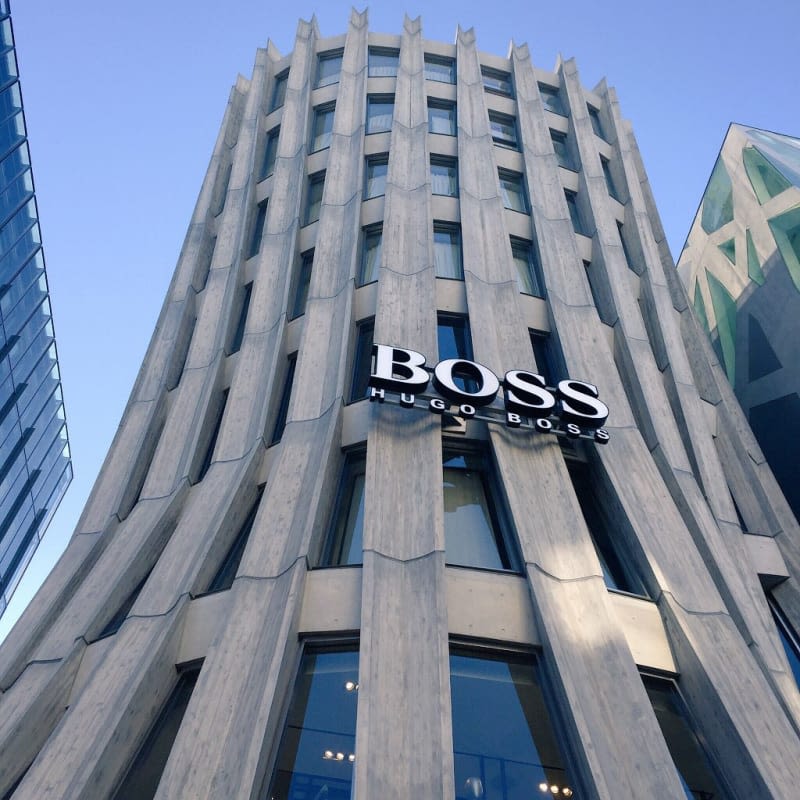 Information
Address
5 Chome-13 Jingumae, Shibuya, Tokyo

Access
3 min walk from Omote-Sando Station

Phone
03-6418-9365

Opening Hours
Everyday 11:00 – 21:00

Halal Food Nearby
Yasai-ya Mei Omotesando
6. Sunny Hills, Minami-Aoyama
Sunny Hills is made up of criss-cross patterns of wooden logs, essentially imitating a basket-like appearance. This three-story building differs from the others that are in Omotesando as it does not offer luxury clothing or accessories but instead specializes in making Taiwanese pineapple cakes.
So, if you are tired and want to take a break from shopping, this is the place you want to visit. Sit down and relax! Get some pineapple cake and enjoy this bright and comfortable wooden atmosphere.
Check the ingredients of the Pineapple cake by showing our Muslim Dietary Card.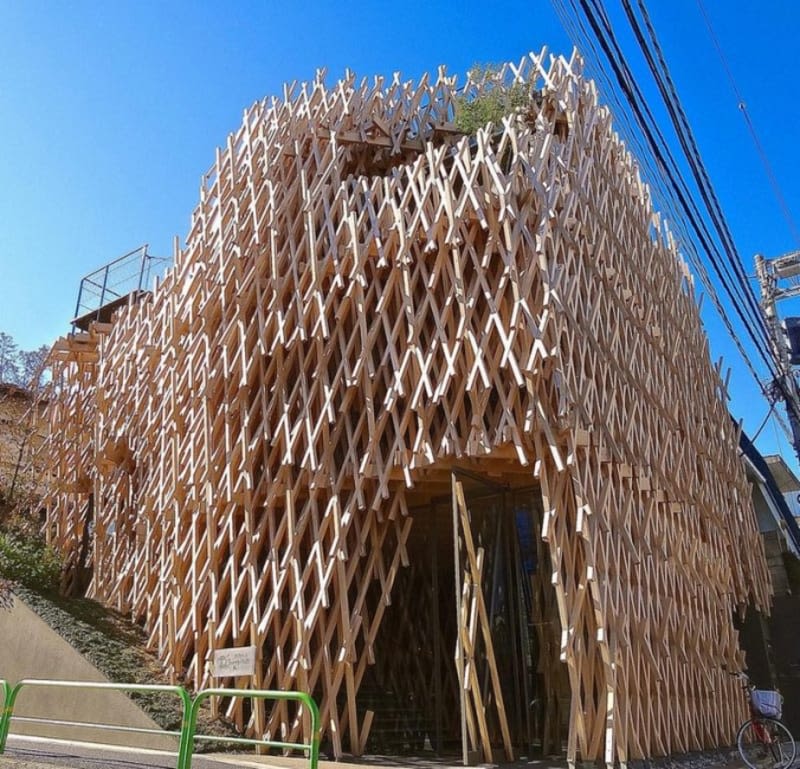 Information
Address
3 Chome-10-20 Minamiaoyama, Minato, Tokyo
Access
6 min walk from Omote-Sando Station
Phone
03-3408-7778
Opening Hours
Everyday 11:00 – 19:00
Halal Food Nearby
Not Available
7. Audi Forum, Omotesando
This building looks like an iceberg and  it's the reason for the formation of its nickname, "the iceberg." Audi Forum is actually a showroom for the automobile company's latest models. We suggest you visit during the night as you will be able to check out Audi's glazing blue lights!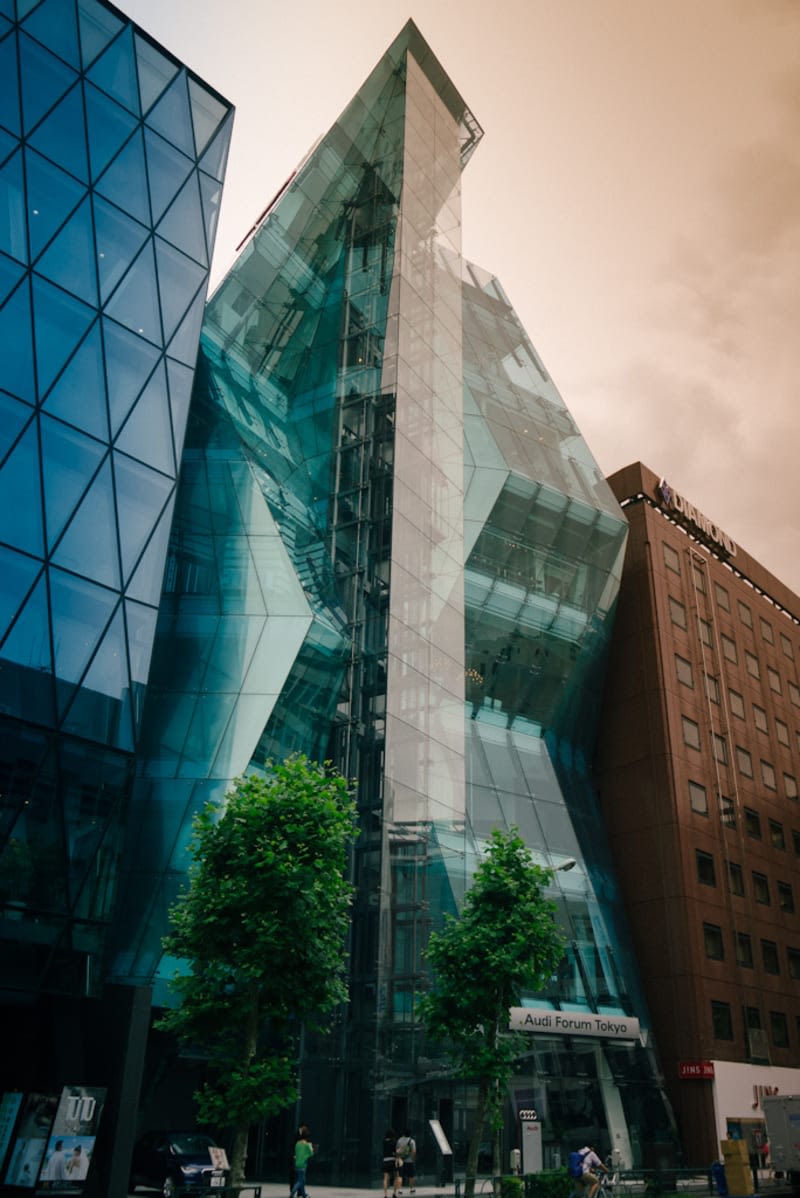 Information
Address
6-12-18 Jingumae Shibuya, Tokyo

Access
7 min walk from Harajuku Station

Phone
03-5464-7200

Opening Hours
Everyday 10:00 – 19:00

Halal Food Nearby
Kebab Box J
8. Tod's, Omotesando
Tod's was designed by 2013 Pritzker winner, Toyo Ito, imitating a jungle with its crisscrossed concrete bars on top of the white glass! At night, the light projected from the inside of the store creates an even more elegant view of this striking landmark. Doesn't this look like something that will come out from Twilight movies?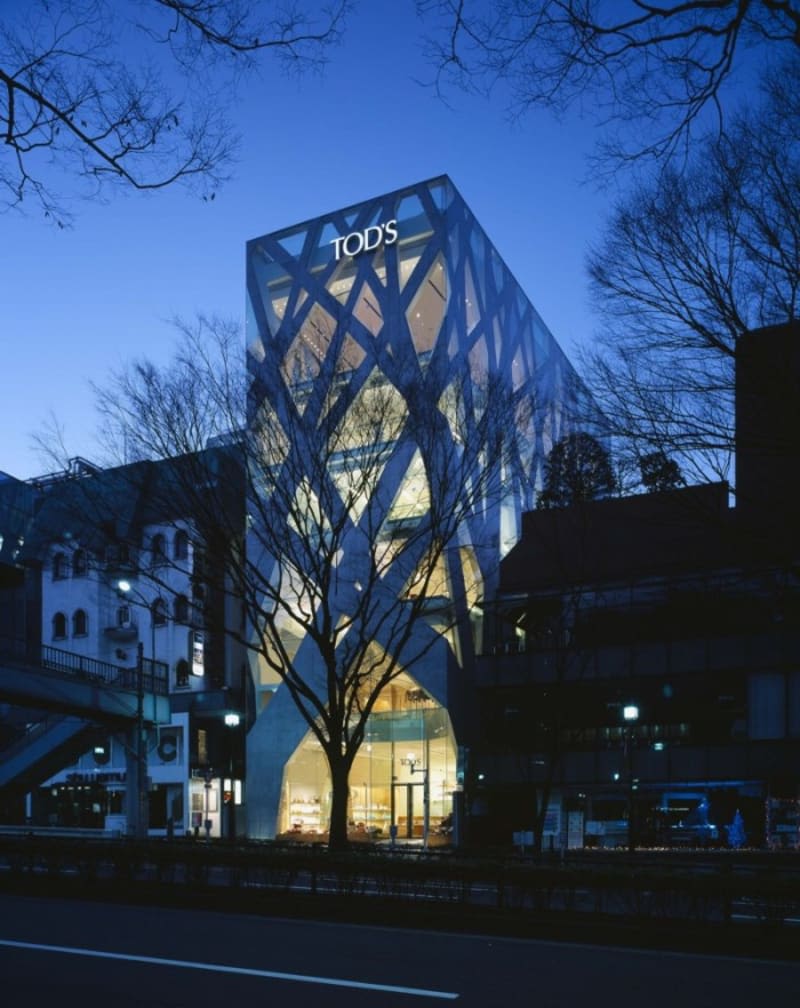 Information
Address
5-1-5 Jingumae Shibuya, Tokyo

Access
2 min walk from Omote-Sando Station

Phone
03-6419-2055

Opening Hours
Everyday 11:00 – 20:00

Halal Food Nearby
Singapore Holic Laksa
9. Louis Vuitton Matsuya, Ginza
The Louis Vuitton building in Ginza is a must-see at night time with its sleek and shiny patterned exterior shell design that represents the brand's monogram. This design also represents the history of Ginza through its art deco design. If you are planning to visit during the daytime, be prepared to be amazed by silver/golden hue!
If you are looking for praying spaces around the area, Laox Ginza provide a prayer space on 5th and 6th floor!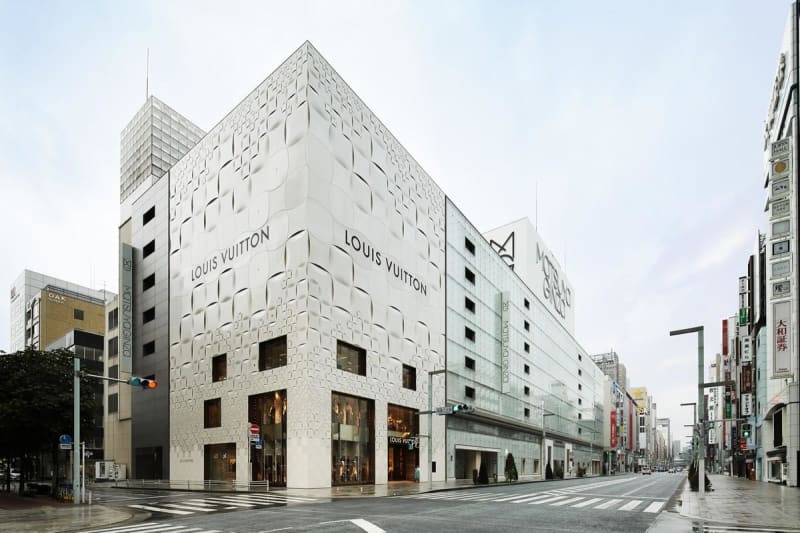 Information
Address
3 Chome-6-1 Ginza, Chuo, Tokyo

Access
4 min walk from Ginza Station

Phone
03-3567-1211

Opening Hours
Everyday 10:00 – 20:00

Halal Food Nearby
Rasa Malaysia
10. Tokyo Camii
For all Muslims and non-Muslims, if you have only time to visit one of these works of architecture, then let it be this one. Trust us, you will be quite surprised by the remarkable elegance and beauty of this magnificent structure in the middle of Tokyo!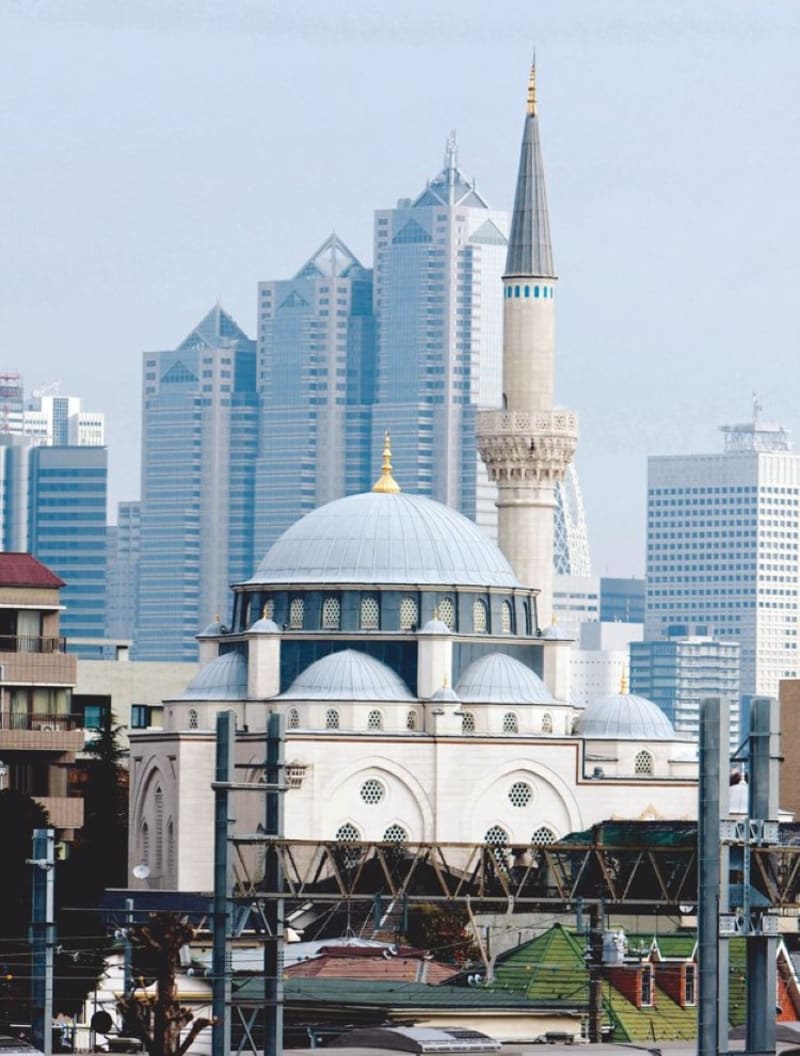 Walking up the stairs from the outside/inside of the building will lead you to the prayer area for men and if you walk up one more flight of stairs inside the building, you will arrive at the praying area for women. Non-Muslims are allowed to visit the inside of the mosque as long as they maintain proper clothing etiquette and remain considerate of others who are praying inside. And of course, please do enjoy the exquisitely detailed artwork on the roof and the walls of the inner praying area as well as the beautiful and rare stained glass windows!

Information
Address
1-19 Oyama-cho, Shibuya-ku, Tokyo

Access
6 min walk from Yoyogi-Uehara Station

Phone
03-5790-0760

Opening Hours
The mosque is open for all five daily prayers; Turkish Culture Center is only open 10:00 – 18:00 every day

Halal Food Nearby
Maharaja Biryani
11. Asakusa Culture Tourist Information Center
This is a contemporary piece of artwork with its sheen wooden bars stacked on top of the glass panels. Located near the outer gate to the Senso-Ji Temple,this place is a must visit if you love a rooftop view! The tower has 8 floors with sloping ceilings in its conference rooms and exhibition space.  There are also balconies located on the two upper floors to give you a magnificent night view of the Sky Tree and its surroundings! And of course, if you visit there, you can also get much information about tourism in Asakusa.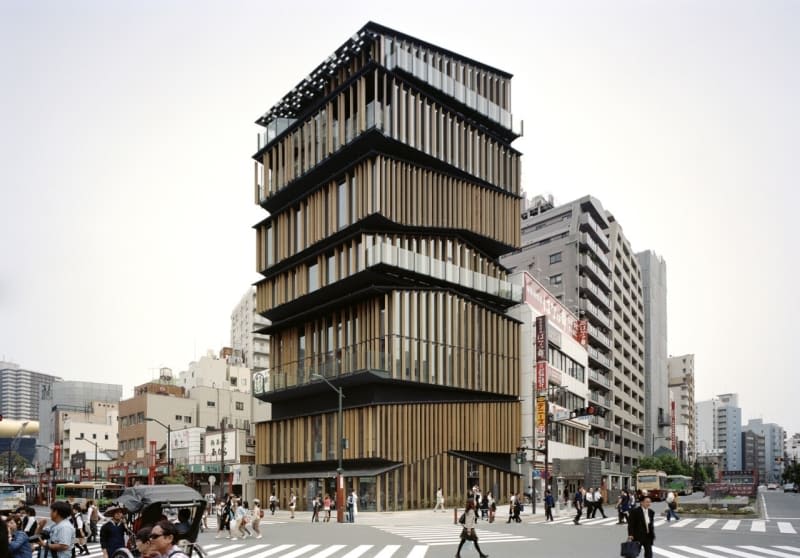 Information
Address
2 Chome-18-9 Kaminarimon, Taito, Tokyo

Access
3 min walk from Asakusa Station

Phone
03-3842-5566

Opening Hours
Everyday 9:00 – 20:00

Halal Food Nearby
Naritaya Asakusa
–
Now that you've checked out these stunning structures, its time to hit the streets and get going! There are more to discover along the way! To experience Tokyo's main highlights within a day, you can get the tour ticket through Klook here.
Don't get lost! Download Halal Navi app, your Muslim travel companion that available on Play Store and App Store!