10 EXCITING THINGS YOU CAN ENJOY IN ASAKUSA, TOKYO, Halal Ramen Included!
Asakusa is one of the most popular sightseeing  spots in Tokyo, which has been the center of commerce from long time ago.  You will see the traditional atmosphere still remains there. There are many exciting things to both do and see here, so here we would like to introduce 10 things you can enjoy in Asakusa. Hope you enjoy the trip in Asakusa!
1.Explore Old Temple/Senso-ji
Senso-ji Temple is the oldest temple which built in 7th century. The Kaminarimon in the picture is internationally well known for its big red paper lantern. It is a large main entrance gate that leads to Senso-ji Tenple main hall.  Taking pictures with this Kaminarimon will be nice as this is surely the significant symbol of Asakusa.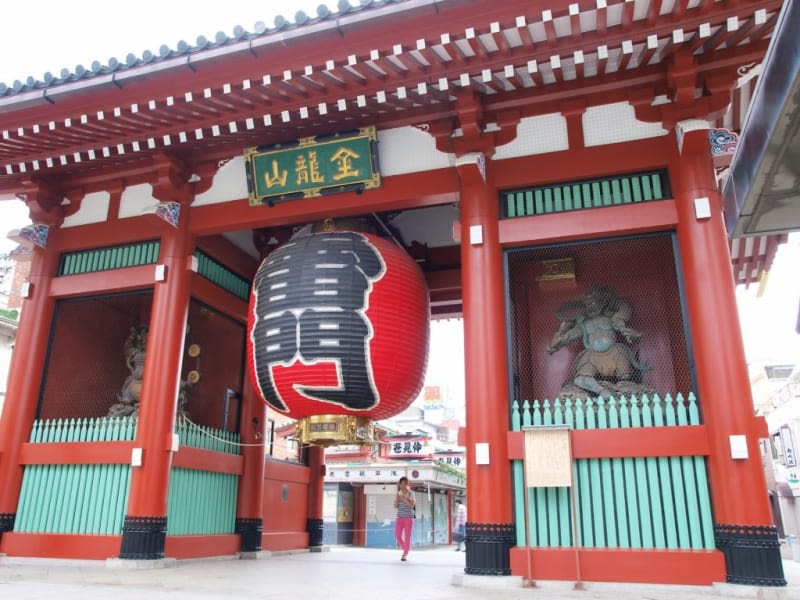 "Kaminarimon" the main entrance of Senso-ji TempleSenso-ji TempleAddress:     2-3-1 Asakusa, Taito-ku, Tokyo Tel:           03-3842-0181Web site:       http://www.senso-ji.jp/ (Japanese only)
2.Walk through Nakamise-dori
To reach main hall of Senso-ji Temple from Kaminarimon, you will walk through Nakamise Street (Nakamise-dori), which is a 250m shopping street.  Over 80 shops that sell Japanese sweets, souvenirs and craft products stand on both sides of the street. Just walking through the street is fun, but you may find interesting Japanese souvenirs if you hop around the stores.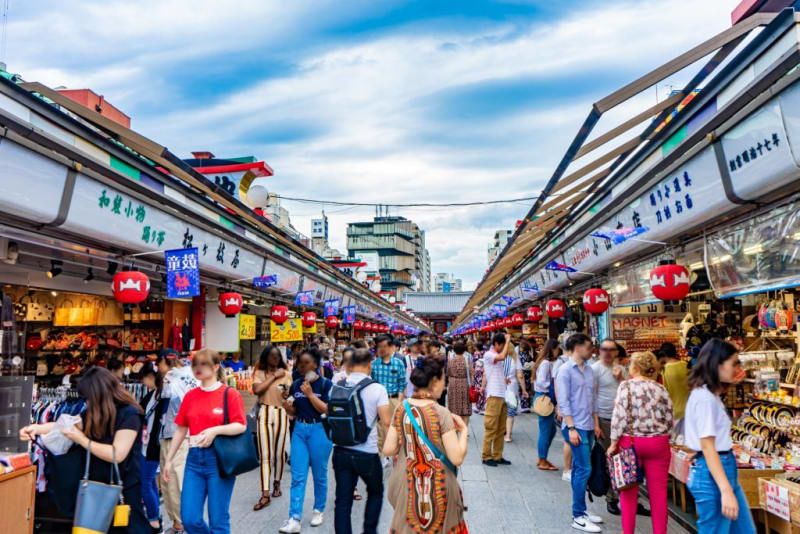 Nakamise-dori (Same as above)Address:     2-3-1 Asakusa, Taito-ku, Tokyo Tel:           03-3842-0181Web site:       http://www.senso-ji.jp/ (Japanese only)
3.Wear a Kimono
You may have seen beautiful colorful clothes called Kimono in Japan.  Oh, you want to wear it? Yes, you can rental Kimono at JIDAIYA and feel the spirit of Japanese. Just bring yourself, qualified Kimono advisers will dress you up in 20~30 minutes per person. You must be excited because varieties of Kimonos from traditional designs to modern ones are prepared for you at JIDAIYA. Choose your favorite Kimono, obi, and hair arrangement ornaments and so on, then you will be ready to dressed up.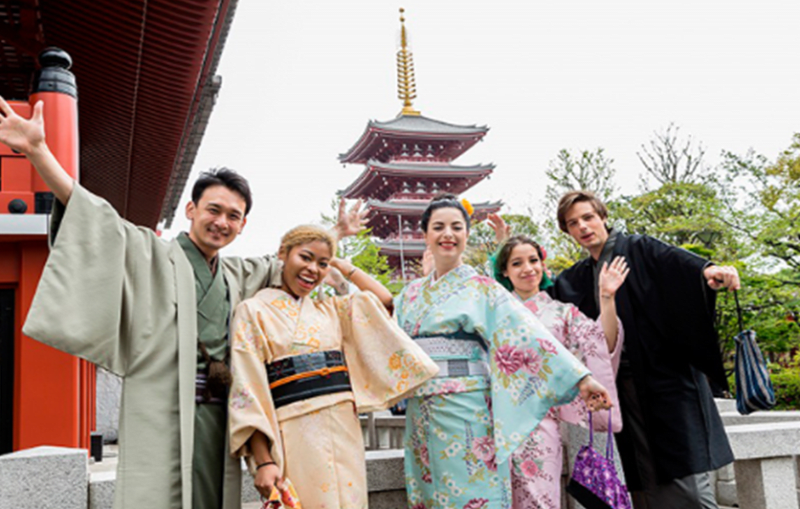 Book here right now, and enjoy walking around Asakusa area wearing beautiful Kimono! It must be an amazing Japanese memory.
JIDAIYA-Asakusa Jidaiya Meijikan Building
Address:       2-3-5, Kaminarimon, Taito-ku, TokyoTel:          03-3843-0890 Web site:         Jidaiya Kimono Rental
4.Visit Hanayashiki Amusement Park
Hanayashiki is located near the Senso-ji Temple in Asakusa, Tokyo, which is the oldest amusement park in Japan. There are over 20 attractions and most of them are family-friendly rides such as roller coasters, merry-go-rounds, and haunted house for all ages.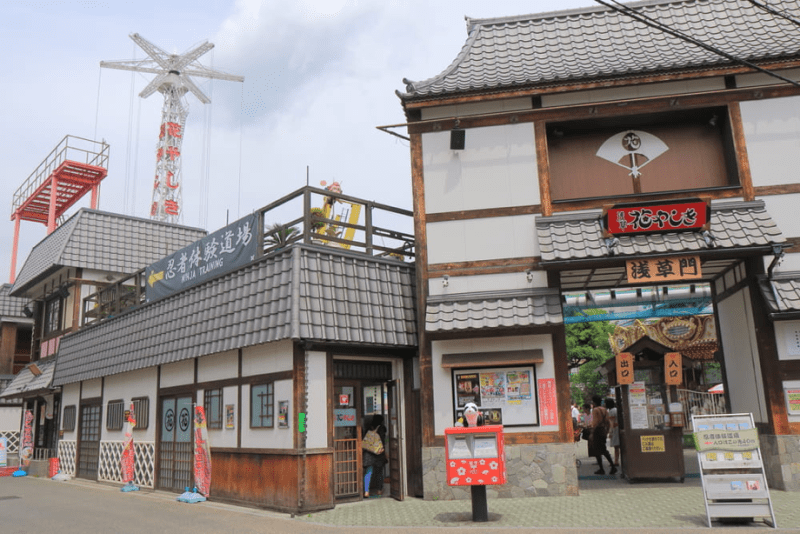 To enjoy Hanayashiki, it is necessary to purchase two separate tickets; the admission fee and the tickets for rides. We highly recommend you get Free Ride ticket instead of purchasing tickets for each ride as it is more money's worth!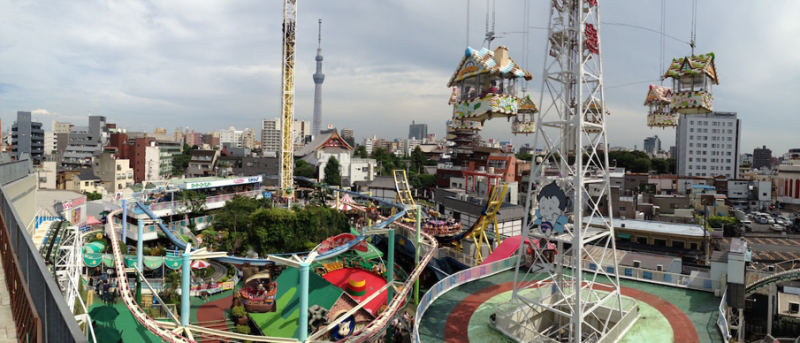 Hanayashiki Amusement Park
Hours: 10:00~18:00
Address: 2-28-1 Asakusa, Taito-ku, Tokyo 111-0032
Admission Fee:
Free - for disabled person/ children 6 years old and below
500 Yen - for 7 years old– 12 years old and over 65 years old
1,000 Yen - for 13 Years old above

Unlimited Pass:
1,800 Yen - for children 6 years old and below
1,800 Yen - for over 65 Years old
2,000 Yen - for 7 years old – 12 years old
2,300 Yen - for 13 years old above

Ride Tickets: 1 Ticket for 100 Yen | 11 Tickets for 1,000 Yen
Only cash is accepted
Website: https://www.hanayashiki.net/en
5.Try Goldfish Scooping (Kingyosukui)
Have you ever tried Kingyosukui which is one of the popular stalls at Japanese summer festival? It is a game you scoop goldfish with a paper scoop called poi from a water tank. Although you are not going to Tokyo in summer, you can try Kingyosukui all year round at this store. It only costs 300 yen per 2 paper scoops, and you can try scooping goldfish until the scoop rips. How many goldfishes can you scoop?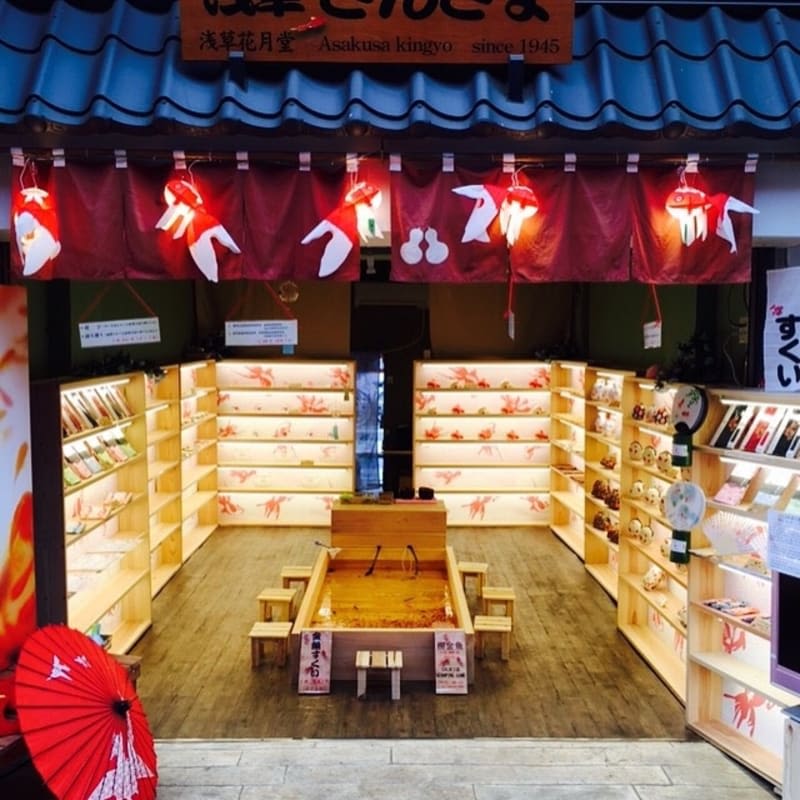 You probably cannot take your eye's off on cute goldfish-themed goods surrounding the tank in the store.  Among these, wind chimes called Furin in Japanese and Japanese style wallet are very cute and the most suitable souvenir from Japan. Have a look as much as you want to select the best one for yourself and others!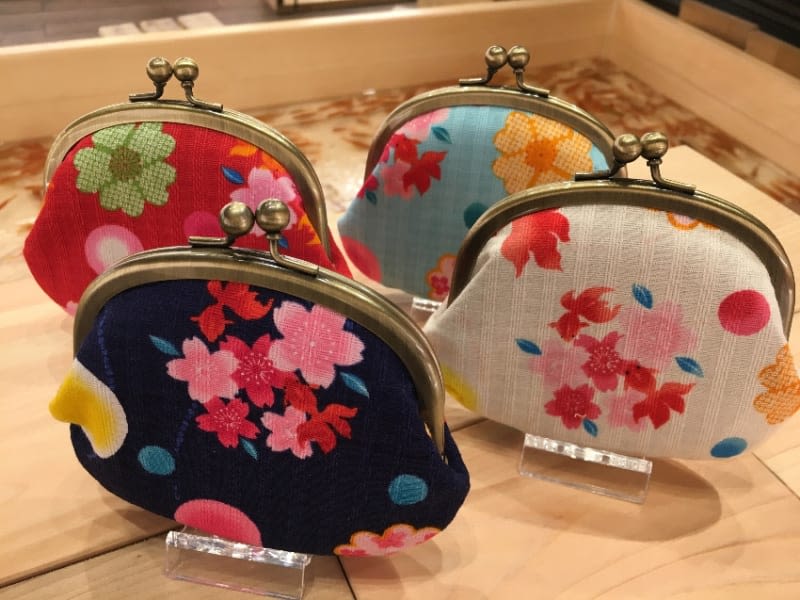 photo credit to Asakusa Kingyo
Asakusa Kingyo
Address             2-7-13 Asakusa, Taito-ku, Tokyo, 111-0032Hours:         9:00~16:30Phone number:   03-3847-5251Web site:        https://asakusa-kingyo.crayonsite.net/ (Japanese only)
6. Enjoy Riding on Rickshaw (Jinrikisya)
Too hot to walk around the city? Whether it is or not, riding on Jinrikisya would be an interesting way to enjoy sightseeing in Asakusa. Jinrikisya is a man-powered vehicle pulled by a man with two large wheels and a seat for two passengers. If you would like to ride on Jinrikisya, visit JIDAIYA as mentioned in No.3 rental kimono. The pick up and drop off points are flexible so you can freely go wherever you want!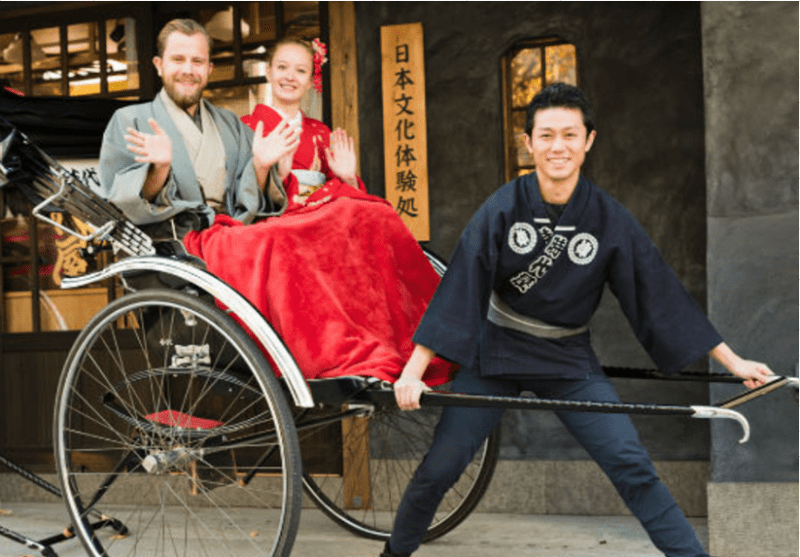 JIDAIYA-Asakusa Jidaiya Meijikan Building
Address:2-3-5, Kaminarimon, Taito-ku, Tokyo
Tel: 03-3843-0890
7.Go to Tokyo Sky Tree- the tallest tower in Japan
How tall do you think is Tokyo Skytree in meters? 500 meters? More taller, it's 634 meters! Tokyo Skytree is Japan's tallest tower build in People who have a fear of heights might be scared going up the top, but the view from the viewing deck is amazing. Why not go up Tokyo Skytree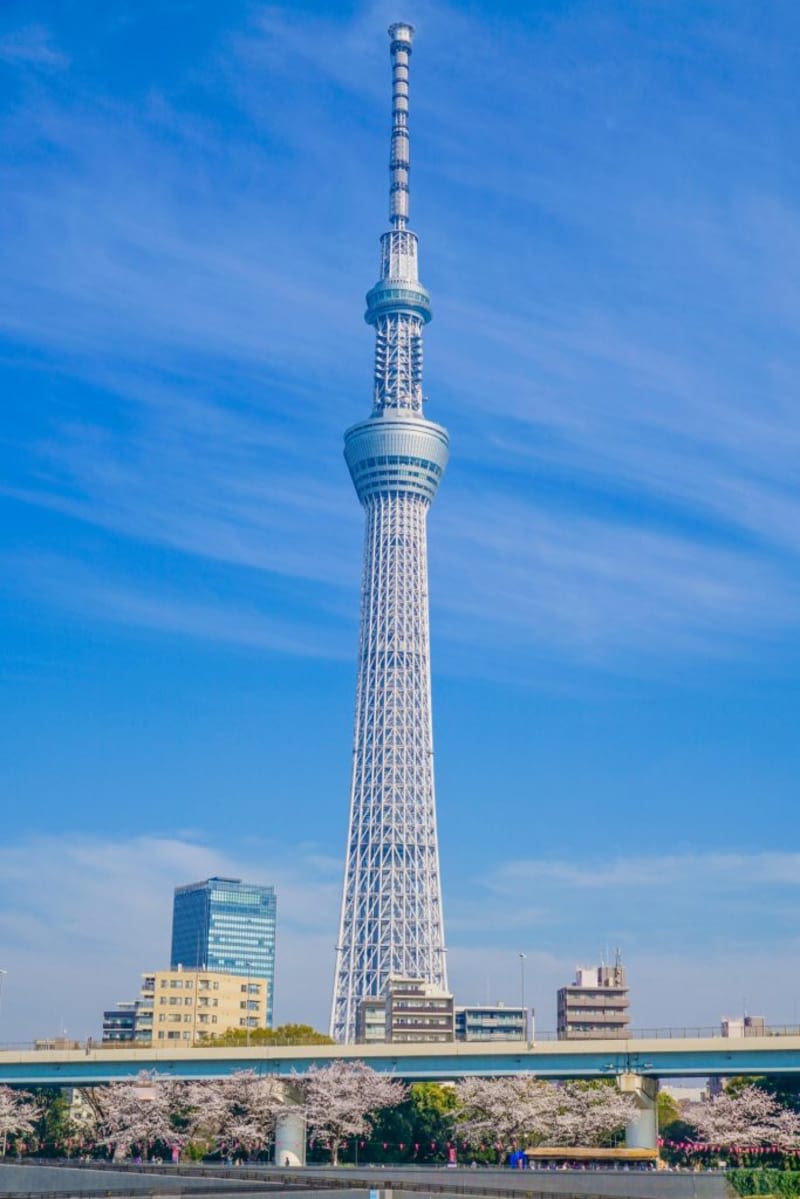 If you would love to take instagrammable pictures in Tokyo here would be the best spot for you. You can enjoy taking pictures in two ways since the tower is brilliantly illuminated in the evening , so visitors can enjoy the the view not only in the daytime but also in the night. How amazing? Do not miss to see the beautiful Tokyo Skytree that Japan is proud of!
Address:1-1-2 Oshiage, Sumida-ku, Tokyo 131-0045
Hours:8:00~21:00
Web site:http://www.tokyo-skytree.jp/en/
8.See the nice view from Asakusa Tourist Culture Center
Asakusa Culture Tourist Information Center is where you can find any information you want to know about Asakusa area. Tourists can visit here not only to take information about Asakusa, but also enjoy the view from the deck on the 8th floor. The view is very nice especially in the sunny weather, and Tokyo Skytree can be seen clearly from there.If you do not have any plan or know where to go in Asakusa, visit here and enjoy the view from the viewing deck! Seeing the nice view from there, you may come up with a good idea where to go next.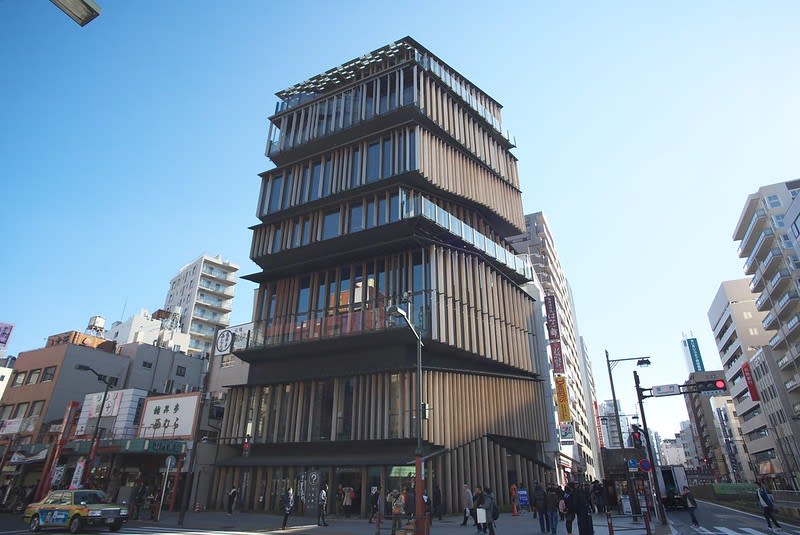 Asakusa Culture Information Tourist Center
Address:2-18-9, Kaminarimon, Taito-ku, Tokyo 111-0034
Hours:9:00~20:00Tel:03-3842-5566Web site:http://authentic-tokyo.com/
9.Eat Halal Ramen in "Ramen Honolu Asakusa"
Ramen is one of the famous food in Japan, but we know it is somehow difficult for Muslims to find Halal restaurant in Non-Muslim country. Gave up finding Halal restaurant in Tokyo? You don't have to. Good news is that you can eat Halal Ramen in "Ramen Honolu Asakusa"!They use Halal ingredients, and furthermore, do have praying space for Muslims on second floor in their restaurant.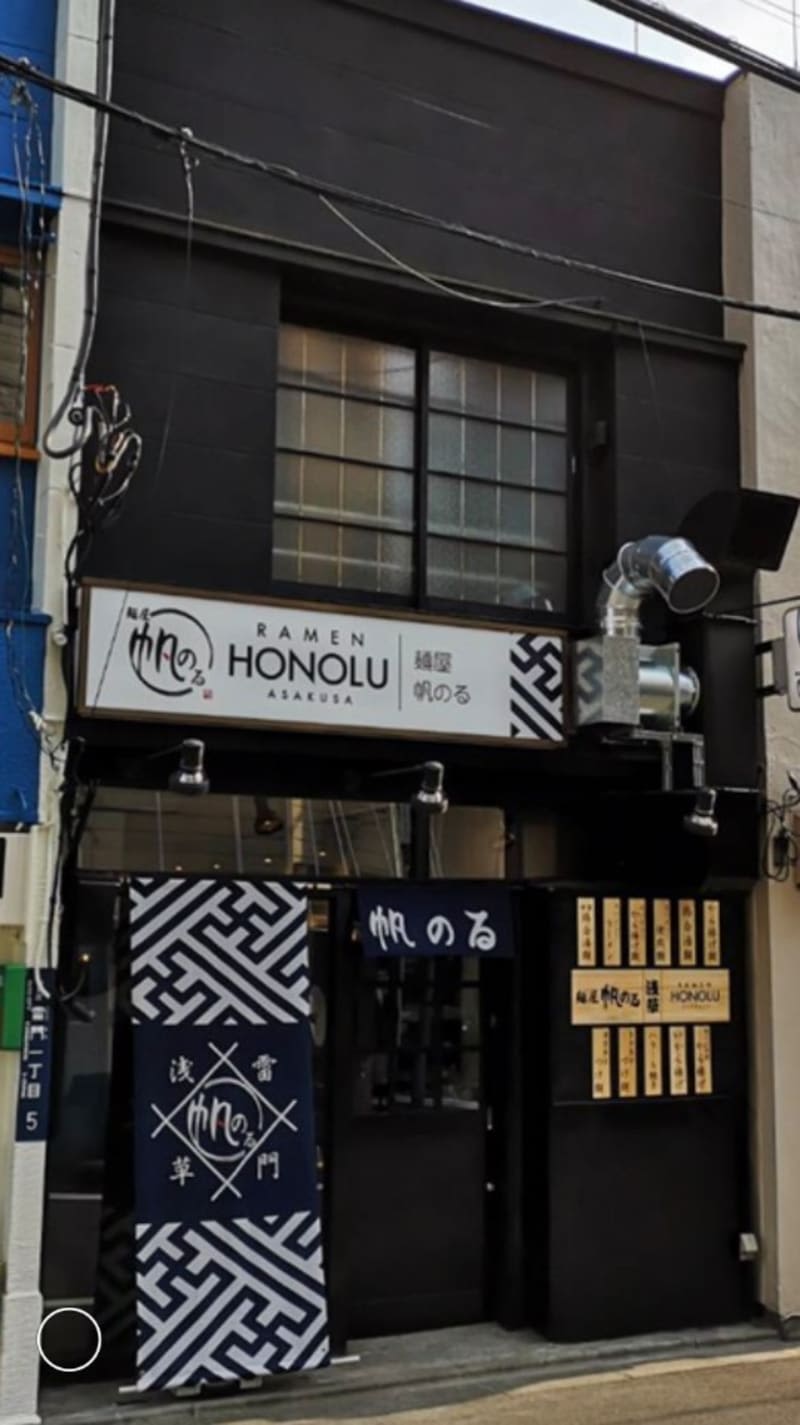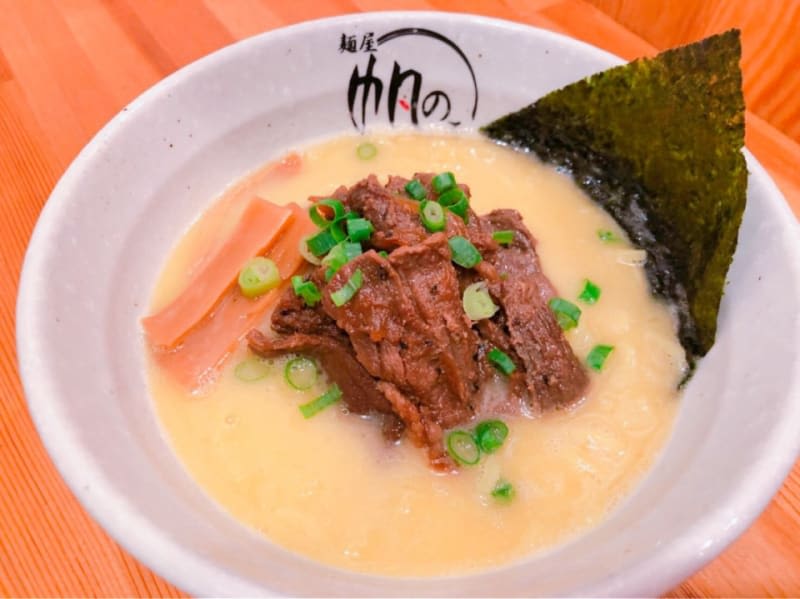 Now, you don't need to worry about what to eat during the trip in Asakusa, right? Try Halal Ramen in Ramen Honolu, and share your comments in Halal Navi App!
Ramen Honolu Asakusa
Address:1-5-11 Kaminarimon, Taito-ku, Tokyo 111-0034
Hours:Lunch 11:30~14:30 | Dinner 17:00~22:0 | Closed on Mondays
Web site:Honolu Ramen Asakusa
10.Get a Halal Sweet for Souvenir-Kaminariokoshi
As well as finding Halal restaurant, it is sometimes hard for Muslims to find Halal sweets because you are not sure if it is Halal certified or not. Luckily, there is a Halal sweet that you can get in Asakusa and it's suitable for souvenirs. It is called "Thunder rice cracker" since "Kaminari" means thunder in Japanese, and is a Japanese snack which is made by mixing roasted rice with peanuts and forming them into a shape with sugar and starch syrup. It's also well known as popular Asakusa souvenir.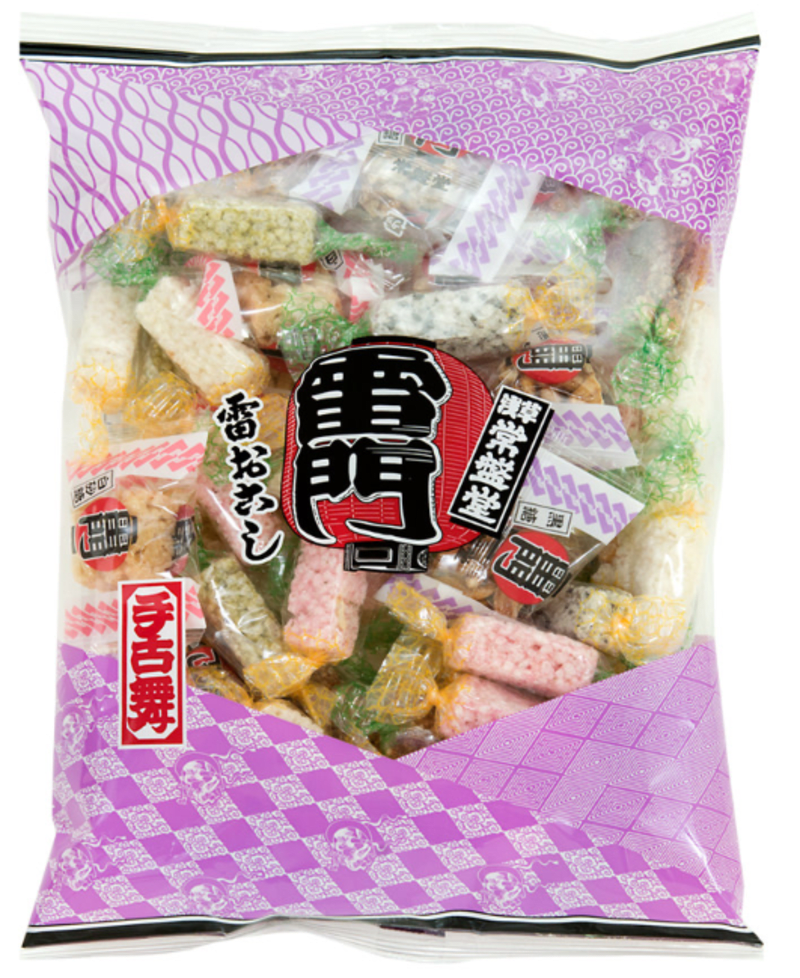 The store that sells Tokiwado Kaminariokoshi Honpo is right next to Kaminarimon, so you will find it easily. Try some, and get if you liked it!
Tokiwado Kaminariokoshi Honpo
Address:1-3-2, Asakusa Taito-ku, Tokyo, 111-0032
Hours:9:00~20:30
Web site: http://tokiwado.tokyo/ (Japanese only)