15 Free Things To Do In Tokyo
Who doesn't love free stuff? Especially if you are that type of backpackers who are reckless enough to fly for a new adventure even though you don't have excessive pennies for trips like other (normal) travellers do *sobs*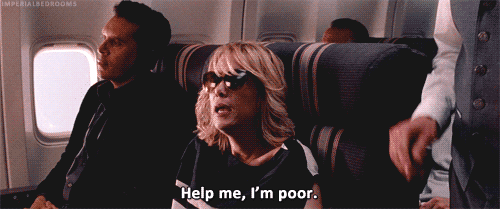 Don't worry be happy because Tokyo is a perfect gateway for budget travellers! You can enjoy Tokyo with a very minimum budget by enjoying these free but unquestionably exciting activities. Who said you need money to buy happiness? Because all of these free stuff are the ultimate happiness for (poor) travellers like us!
1. Pose in Traditional Kimonos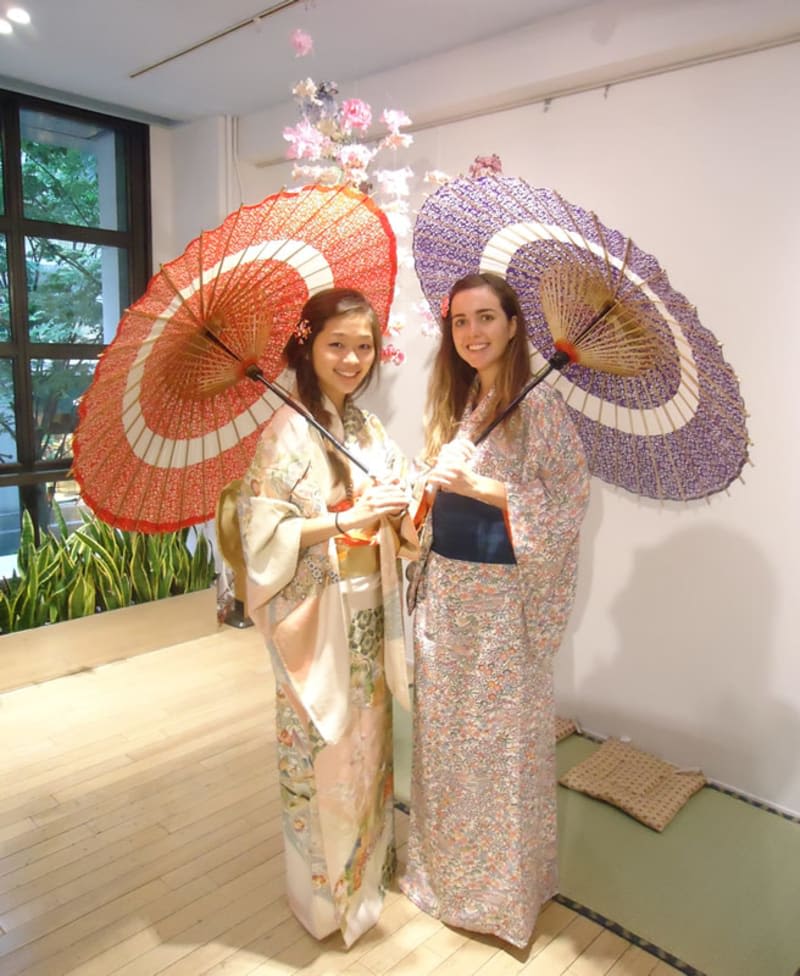 Credit to JNTO
Been dreaming of posing with a pretty traditional kimono in Tokyo? Head on to Japan National Tourism Organization (JNTO) office and you can borrow them for free! (Yes, FREE!)  You will also get a hand to help you put the kimono on. There is also Japan 2017 calendar for free as a bonus while the stock last. Take a picture or two, and upload it on your Instagram! It's not every day you get to be Japanese.
Opening hours Everyday 9 am - 5 pm

Address 1st Floor, Shin-Tokyo Building, 3-3-1, Marunouchi, Chiyoda-ku, Tokyo (Exit 6 of JR Tokyo Station)

Muslim friendly restaurant nearby Zenmai (Turkish)
2. Meiji Shrine (Meiji Jingu)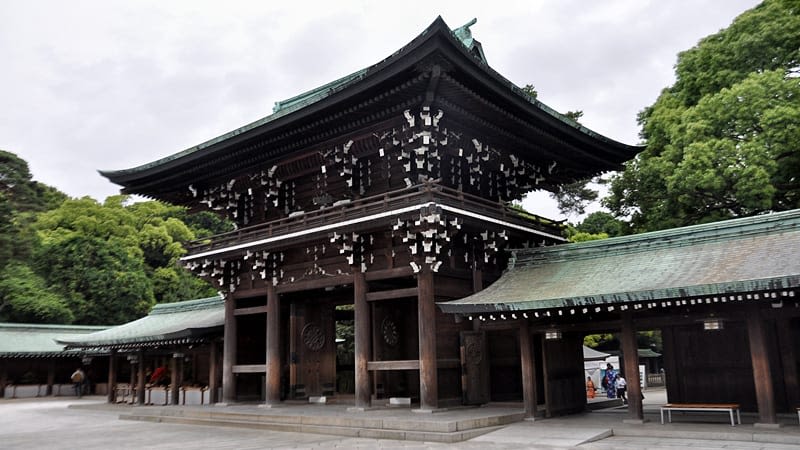 Credit to Broketourist
Located inside a tranquil forest, Meiji Shrine will make you forget you are in a busy city. Don't be surprised if you come during new year and there's a crowd. The hatsumode (first prayer in the temple of the year) attracts more than three million visitors to this temple every year! Guessing it's something like Eid-Ul Fitr Prayers? If you're not here during the new year, worry not as for the rest of the year, a traditional Shinto wedding ceremony is often held here. It'll be an exciting experience if you haven't seen one. This temple is less crowded as compared to Sensoji shrine, it'll let you experience the calm and sacred atmosphere of the temple.
Opening hour Everyday from sunrise to sunset

Address 1-1 Yoyogikamizonocho, Shibuya, Tokyo (Walking distance from Harajuku and Meiji-jingu-mae Station)

Muslim friendly restaurant nearby Singapore Holic Laksa (Singaporean)
3. Tsukiji Fish Market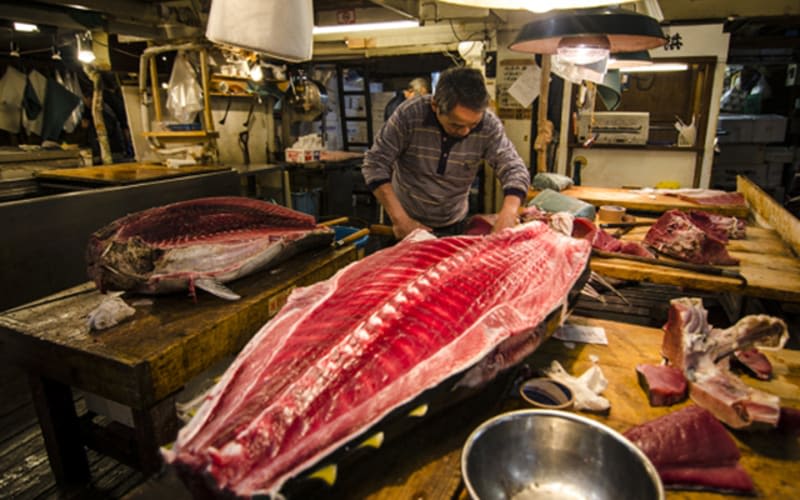 Credit to govoyagin
You'll be amazed by the sight of fresh seafood, vegetables, and fruits displayed in this market. This isn't just your ordinary market. It has become one of the top tourist attraction in Tokyo. We recommend you to visit tuna auction early in the morning from 5.15 am - 6.30 am. However as the visitors for this auction is limited to 120 people only, you should register at Osakana Fukyu Center at the Kachidoki Gate starting from 5.00am with a first-come first serve basis. Even if you miss the oh-so-famous tuna auction and slicing show, the walk through this wet market is enough to make you crave for sashimi (this one might not be free, but some even offer free tastings!)
Opening hour Everyday 5 am - 2 pm

Address 5-2-1 Tsukiji, Chūō-ku, Tōkyō-to (Walking distance from Tsukiji and Tsukiji-Shijo Station

Muslim friendly restaurant nearby Luna Hala (Hotel cafe)
4.  Statue of Liberty Replica Odaiba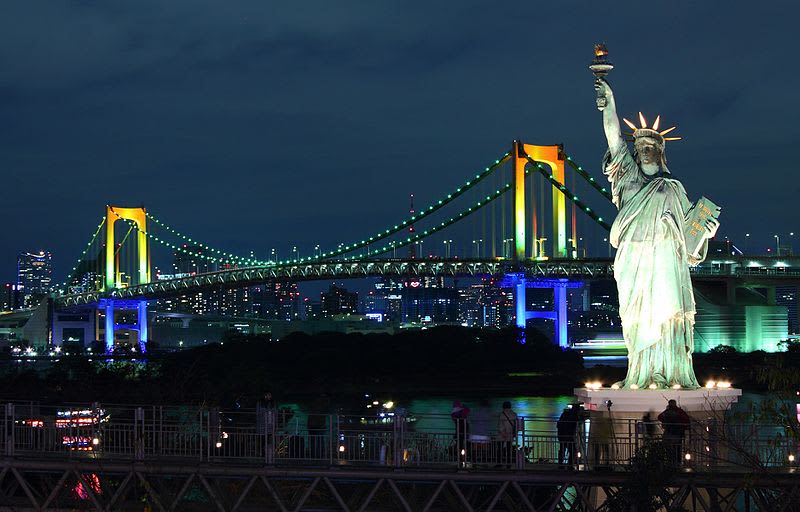 Credit to Kakidai on Wikipedia
If you are crazy of New York, you definitely should go to the replica of the famous liberty statue in Odaiba. The architect is so thoughtful that it looks so much bigger in photos than it actually is due to the proximity from walkway. With the rainbow bridge as a background, your followers in Instagram might have mistaken it as the real Statue of Liberty! This place is definitely a romantic spot too if you're on your honeymoon!
| | |
| --- | --- |
| Address | 1-4 Daiba, Minato, Tokyo (Walking distance from Odaiba-kaihinkoen and Daiba Station ) |
| Muslim friendly restaurant nearby | The Oven Aquacity Odaiba (Western buffet) |
5.  Imperial Palace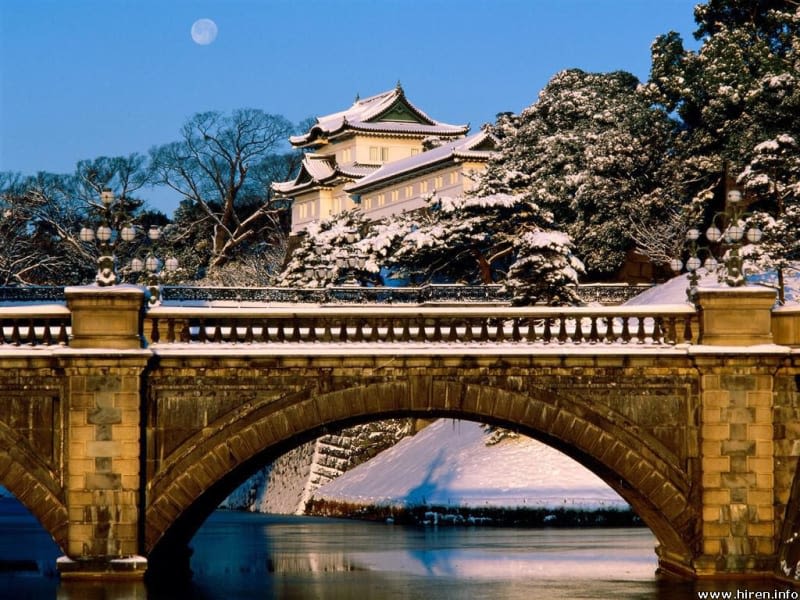 Credit to Dekstopdress
This palace is where the real majestic Emperor of Japan resides. Located in the heart of the city, Imperial Palace is surrounded by a huge moat (which btw looks more like a river) and green park. You can observe the magnificent palace by jogging around the outer and east garden for free! The inner area of the palace is generally not open to the public. Only on 2 January (New year greeting) and 23 December (Emperor's birthday) visitors are allowed to enter the inner ground and see the imperial family that will greet from the balcony. The park nearby though, is a very beautiful place to chill and enjoy the greener side of Tokyo while letting your camera snap away!
| | |
| --- | --- |
| Address | 1-1 Chiyoda, Tokyo (Walking distance from Tokyo Station ) |
| Halal friendly restaurant nearby | Bosphorus Hasan Ichigaya (Turkish) |
6.  Yoyogi Park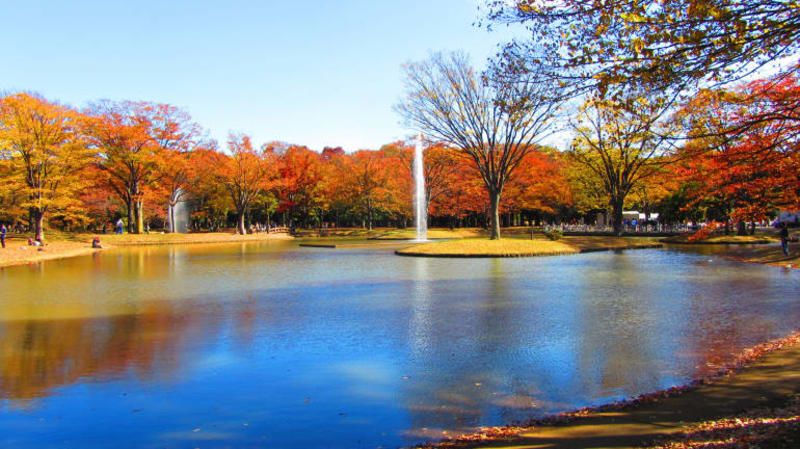 Credit to Thomas Woodtli on Flickr
Yoyogi Park is one of the largest city park in Tokyo which suits best for a picnic, jogging, bird watching and other outdoor activities. The park is known for its Ginko tree forest which will turn the land to an epic gold during autumn. They also have athletics stadium, soccer pitch and other facilities that often used for events and concerts on weekend. You can visit this park and Meiji Shrine at the same time as they are in the same area.
| | |
| --- | --- |
| Address | 2-1 Yoyogikamizonocho, Shibuya, Tokyo (Walking distance from Harajuku Station ) |
| Muslim friendly restaurant nearby | Kebab Box (Turkish) |
7. Tokyo Metropolitan Government Building Observation Deck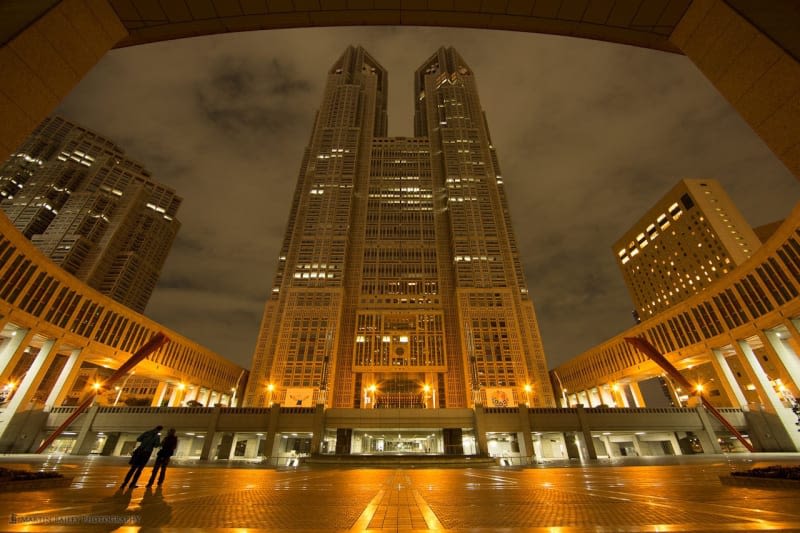 Credit to Martin Bailey Photography
This was the highest building in Tokyo until it was replaced by Midtown tower in 2007. Tourist will come to the observation deck of this building in the height of 202 meters. From this deck, you can have a clear sight of Kanto region as well as the legendary Mount Fuji. There is also a tourist information centre which provides complete Japan tourism information that you could possibly need. Sometimes they also conduct events, exhibition and showcase the local products.
| | |
| --- | --- |
| Opening hours | North Observatory: 9:30 am to 11 pm (Closed on Second and fourth Monday of every month ) South Observatory: 9:30 am to 5:30 pm (Closed on First and third Tuesday of every month) |
| Address | 2-8-1 Nishishinjuku, Shinjuku, Tokyo (Walking distance from Shinjuku and Tocho-mae Station ) |
| Muslim friendly restaurant nearby | Minokichi Keio Shinjuku (Japanese Kaiseki) |
8. Watch Sumo Practice at Arashio-Beya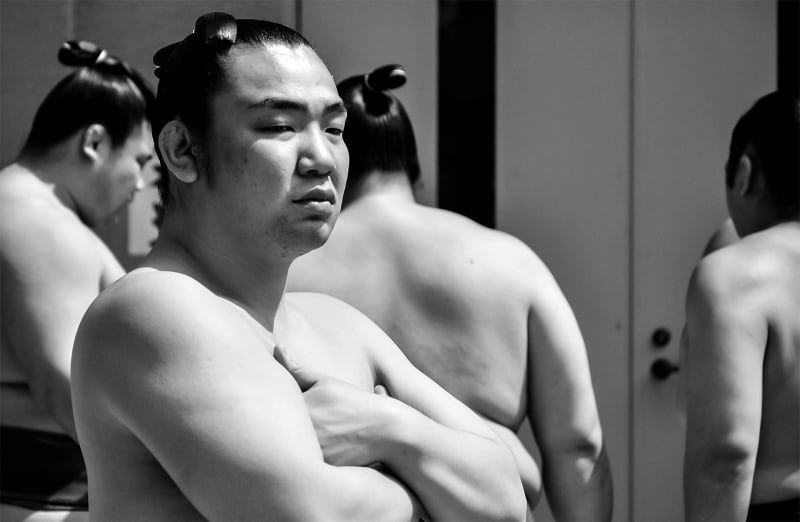 Credit to Chripstopher Mascurak
Some of you might be quite familiar with Sumo (wrestling) from Japanese TV show and you might have wanted to see them in live for so long. Try to go to Sumo beya (stable) in town and check their daily morning practice everyday. You can go to one of the big and famous Arashio beya for this. They do not allow visitors to enter the practice arena for safety purpose, but you can watch them through the large windows along the roadside.
| | |
| --- | --- |
| Opening hours | Everyday 7:30 am - 10:00 am . Except for March, July, November, and each one week after the grand tournaments. |
| Address | 2-47-2 Nihonbashihamacho, Chuo, Tokyo (Walking distance from Hamacho Station ) |
| Muslim friendly restaurant nearby | Siddique Nihonbashi Hamacho (Indian) |
9. Meguro Parasitological Museum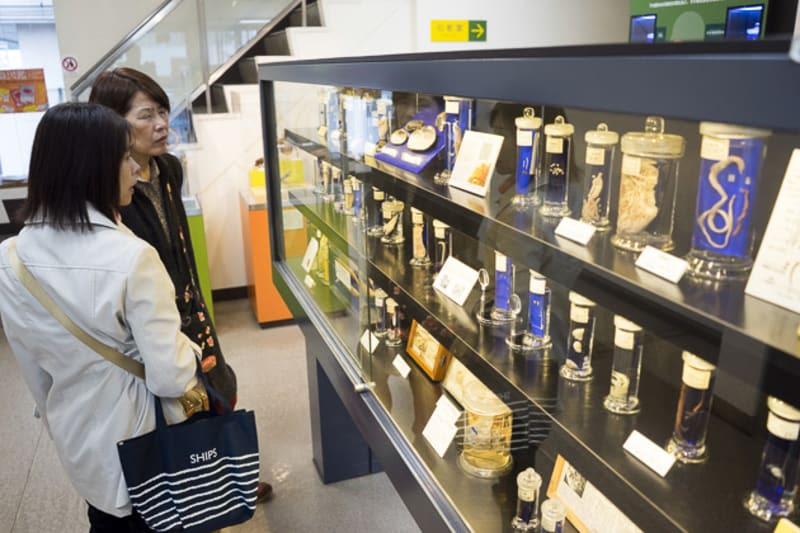 Credit to Japantimes
For those who love bizarre and weird stuff, this place really should be on your Tokyo itinerary. When you heard about the parasite, all you might think of is little tiny evil creatures. But this museum will introduce you to parasite world without the feeling of fear and disgust. The museum has a total of 60,000 parasite specimens collection that will blow your mind. Information is also provided in English so you don't have to worry this time.
| | |
| --- | --- |
| Opening hours | 10:00 am - 5:00 pm Closed on Monday and Tuesday |
| Address | 4-1-1 Shimomeguro, Meguro, Tokyo (Walking distance from Meguro Station ) |
| Muslim friendly restaurant nearby | Cabe Meguro (Indonesian) |
10. Carrot Tower Observation Deck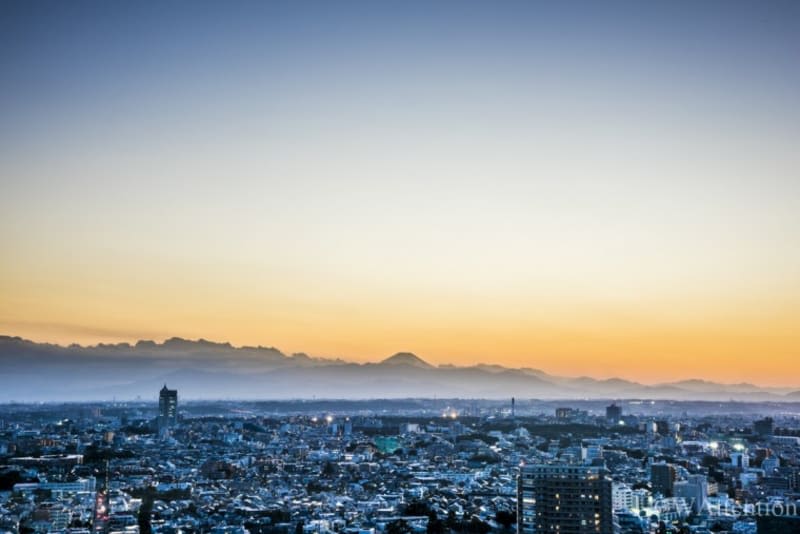 View from Carrot Tower credi to Wattention
Tokyo sight is just too pretty for you to miss. Among the things you should put in your bucket list is to see the beauty of Tokyo from far above so you could get the perfect look of the city. Being on the 46th and 47th floor of a shopping and office complex, Carrot Tower observation desk is a perfect place to see the magnificent scenary above. If you happen to come on December, do not forget to check the romantic christmas illumination displayed on the base of the building.
| | |
| --- | --- |
| Opening hour | Everyday 11 am - 11 pm |
| Address | 1-8-2 Higashi Shimbashi, Minato-ku, Tokyo (Walking distance from Sangenjaya station ) |
| Muslim friendly restaurant nearby | Hanasakaji-san (Japanese Shabu-Shabu) |
11. Flea Market at Hanazono Shrine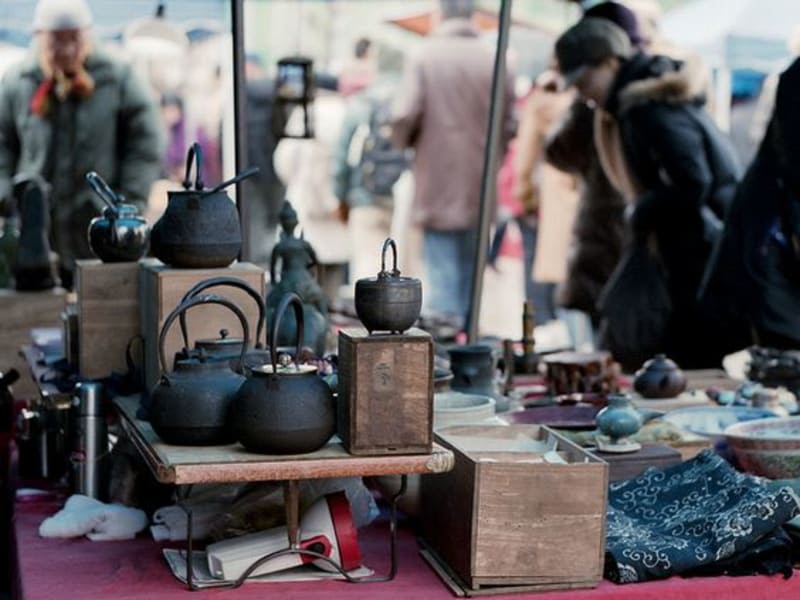 Credit to peter-rabbit on Flickr
This place is paradise for vintage and antiques hunters. This flea market has a wide selection of antiques ranging from old furnitures, kimono, old coins, used books, paintings, accessories, ewer, and the list goes on and on. Around 25 - 30 antiques booths are participated in this flea market and you can visit Hanazono Shrine after you finish your shopping hunt.
| | |
| --- | --- |
| Opening hour | Every Sun from Sunrise - Sunset (Closed on Shrine activity days and rainy days) |
| Address | 5-17-3 Shinjuku, Shinjuku-ku, Tokyo (Walking distance from Shinjuku-sanchome station ) |
| Muslim friendly restaurant nearby | Pamukkale Shinjuku (Turkish) |
12. Asakusa Culture Tourist Information Center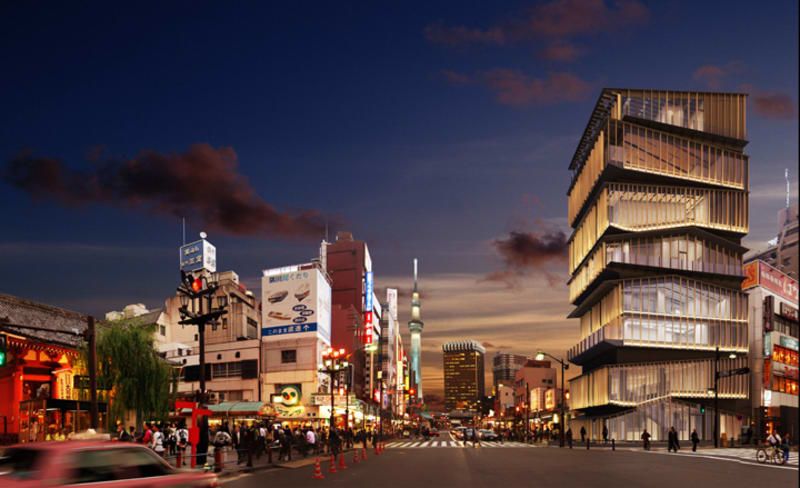 Credit to Wallpaper
This is not just any ordinary tourist information center. This center building is so famous with its architecture. It looks like smaller buildings stacked into one with sloping ceiling and roof. The two balconies on upper floors complete the sublime design of this building perfectly. And as a tourist information center, you can expect to get everything you need to know about Japan here.
| | |
| --- | --- |
| Opening hour | Everyday 9am - 8pm (Observation Terrace is open until 10pm) |
| Address | 2-18-9 Kaminarimon, Daito-ku, Tokyo-to (Walking distance from Asakusa station ) |
| Muslim friendly restaurant nearby | Basashiya Masashi (Japanese) |
13. Korean Town Shinokubo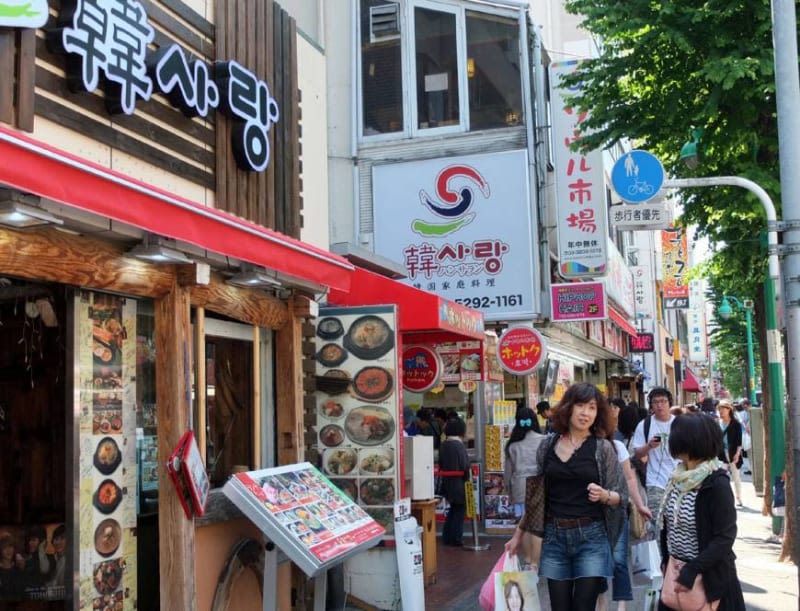 Credit to Japantimes
Lets have a walk a bit to the west part of Tokyo, don't be panic if you suddenly feel lost and can't find any sign of Japan, OMG! Located near to Shinjuku area, Korean town shinokubo will totally make you feel like you are set in a Kdrama. The street foods, markets, restaurant, shops and even the road sign totally portray a South Korean vibe. So why not get a 2 in 1 holiday from your Tokyo trip here?
| | |
| --- | --- |
| Address | Shinokubo, Tokyo (Walking distance from Shin-Okubo station ) |
| Muslim friendly restaurant nearby | Merah Putih Cafe (Indonesian) |
14.  3331 Arts Chiyoda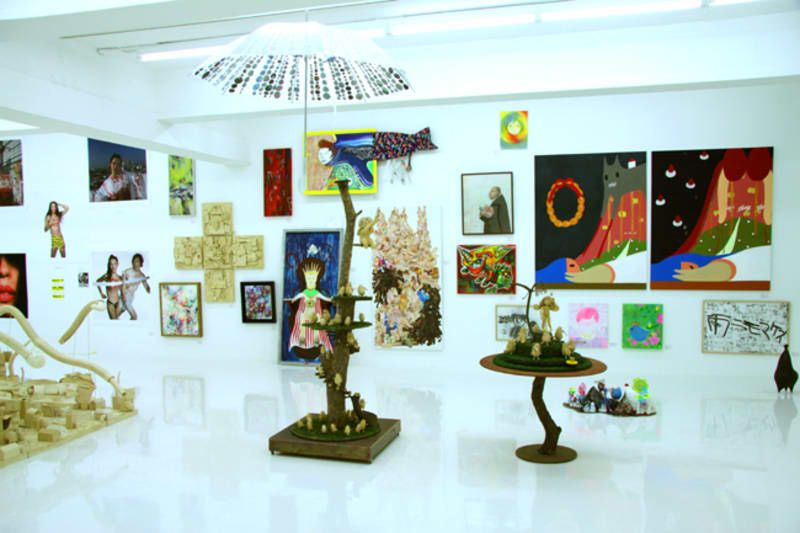 Credit to 3331
If you are into arts be it the modern or classical, this is one of the place that could satisfy your passion. 3331 Arts is a cultural art gallery located in Chiyoda that hosts a wide range of events and exhibitions. It was a junior high school before converted into an art studio in year 2010. While walking through the floor and enjoying the beauty of arts displayed you can feel the creative energy fueled up your whole body.
| | |
| --- | --- |
| Opening hour | 10am - 9pm Closed New Year & Obon Holiday |
| Address | 6-11-14 Sotokanda, Chiyoda-Ku Tokyo (Walking distance from Tokyo Metro Ginza Line Suehirocho station ) |
| Muslim friendly restaurant nearby | Star Kebab (Turkish) |
15.  Origami Kaikan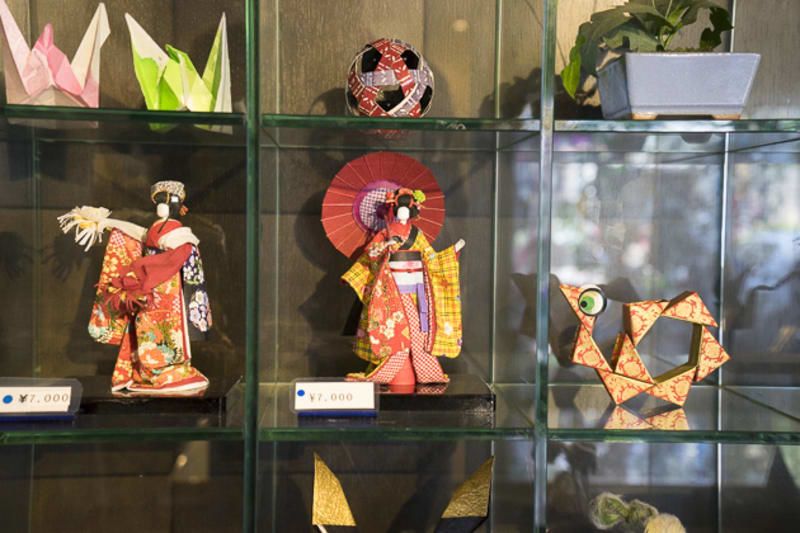 Credit to tokyo for 91 days
Are you a Japanese wanna-be? Not that easy. You have to master the Japanese art of paper-folding or so-called Origami before you could become one.  But nothing is ever impossible for us, we force you to visit Origami Kaikan and learn the lesson from the maestro here. There is also a demonstration of origami by a sensei which the skill is just fantastic!
Opening hour
9:30 am - 6 pm (Closed on Sundays, public holidays)
Address
1-7-14 Yushima, Bunkyo-ku, Tokyo (Walking distance from Ochanomizu Station )
Muslim friendly restaurant nearby

Malika Yushima

(Indian)
Are you counting how much money you can save knowing you can enjoy Tokyo by doing all those fun and (most importantly) free activities? LoL. Why not use the money you have saved to enjoy the halal delicacy in Tokyo? Find the most popular halal restaurant in Tokyo with the help of Muslim foodies in Halal Navi. Don't be left out and download the apps now!