Credit to forthefirsttimer
Musim Dingin
1. Serunya Sapporo Snow Festival
Tentunya, kalau musim dingin salah satu event yang tidak boleh kamu lewatkan adalah Sapporo Snow Festival! Festival tahunan yang diadakan di kota Sapporo ini menampilkan berbagai macam patung yang terbuat dari es dan salju. Tidak cuma sekedar patung, kamu bisa menikmati pertunjukan yang berbeda di setiap patungnya pada malam hari lho. Semarak lampu dan berbagai cerita yang ditampilkan pada setiap patung yang diwakilkan akan mengundang decak kagummu!
Credit: Japancheapo.com
Tahukah kamu kalau patung es di festival ini, terutama yang berada di lokasi taman Odori bisa setinggi 15 meter dengan lebar 25 meter, lho. Besar sekali kan? Jadi jangan khawatir gak kebagian spot foto, lebar sekali kok spot fotonya ini! Dan setiap musim dingin, hampir sebanyak 2 juta orang, baik lokal maupun manca negara datang untuk melihat festival salju di Sapporo ini, sekaligus mengabadikan lebih dari 250 patung es dan salju yang ditampilkan pada festival ini.
#Tips: Kamu bisa coba naik ke Menara TV Sapporo saat malam hari untuk melihat kerlap kerlip permainan lampu di area festival ini dari atas cukup dengan 720 yen
Informasi
| | |
| --- | --- |
| Locakasi dan Jam Buka | Odori Park (9.00- 22.00) Odori Nishi 1-12 chome, Chuo-ku, Sapporo Tsudome (9.00 - 17.00) 885-1 Sakaemachi, Higashi, Sapporo Susukino (9.00 - 23.00) 4-4-4, Minami 4 Jonishi, Chuo-ku, Sapporo |
| Jadwal | 1 - 12 Feb 2018 |
| Harga tiket | Gratis |
| Restoran Halal terdekat | Warung Jawa |
| Info lebih lanjut | Sapporo Snow Festival |
2. Otaru Snow Light Festival
Otaru, kota kecil nan cantik yang hanya berjarak 45 menit saja dari Sapporo dengan kereta lokal dan bisa kamu kelilingi dengan jalan kaki. Setiap jengkal kota ini, wajib kamu foto dan dibuatkan framenya! Kota kecil ini tampak lebih cantik lagi saat diadakannya festival iluminasi yang diadakan selama 10 hari. Saat acara ini berlangsung, kota Otaru dipenuhi dengan kerlap kerlip lampu dekorasi yang indah dan kamu juga bisa menemukan patung-patung salju berukuran kecil menghiasi seluruh kota. Biasanya festival ini diadakan bersamaan dengan Festival Salju Sapporo, sehingga pengunjung dapat menikmati 2 event sekaligus di dua tempat yang berbeda.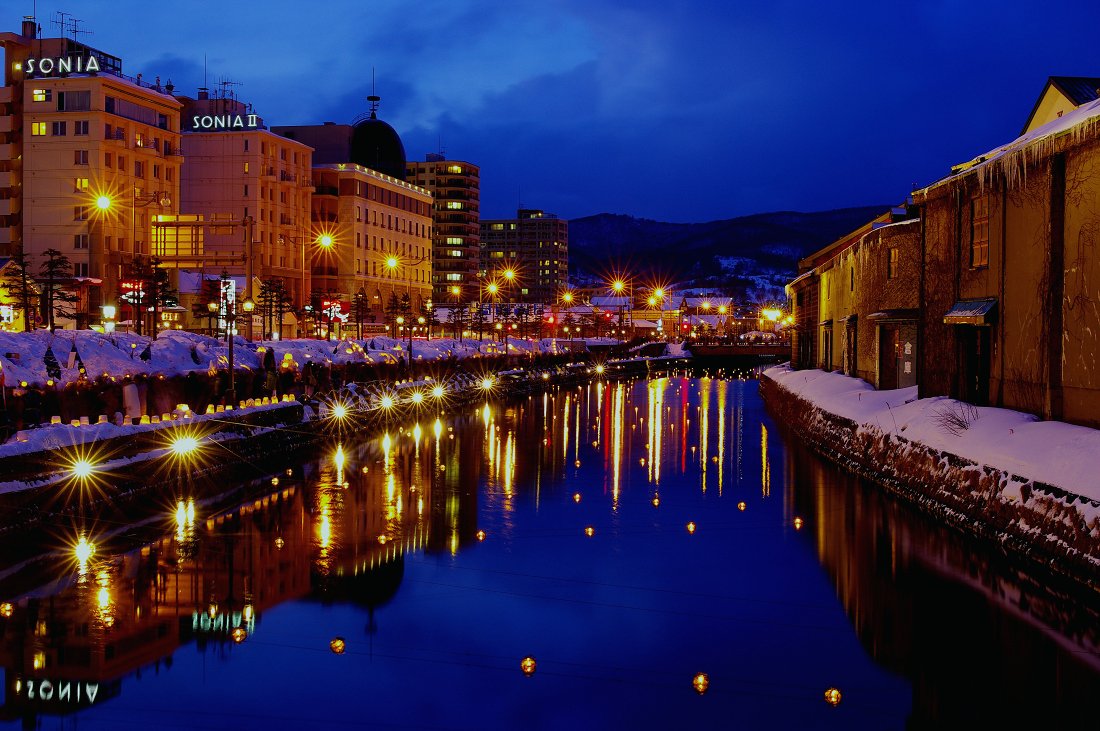 Credit : ykchamp.exblog.jp
Ada 2 area yang dijadikan pusat iluminasi, yaitu area Unga Kaijo dan Temiyasen Kaijo. Lampu-lampu mulai dinyalakan pada pukul 5 sore hingga 9 malam. Gemerlap lampu di sekeliling kota tampak lebih indah lagi dengan adanya lampion-lampion yang dipasang oleh warga lokal di depan toko ataupun di depan rumah masing-masing.
Credit : Discover Nippon on Youtube
Akses :
Area Unga Kaijo berada persis di dekat kanal Otaru. Berjarak hanya sekitar 10 menit jalan kaki menyusuri jalan utama dari stasiun Otaru. Sementara Temiyasen Kaijo, berada di antara stasiun dan kanal. Kamu bisa menikmati iluminasi indahnya sepanjang jalan menuju kanal.
Informasi
Musim Semi
3. Benteng Goryokaku di Hakodate
Hakodate, merupakan salah satu kota kecil di selatan Hokkaido. Kalau sebelumnya kalian lebih sering mendengar kota Sapporo, sebenarnya kota Hakodate ini tidak kalah indahnya dengan Sapporo. Banyak destinasi wisata yang bisa dikunjungi di Hakodate, salah satunya, Goryokaku. Goryokaku sejatinya adalah sebuah benteng jaman perang dahulu yang berbentuk bintang. Saat ini, Goryokaku telah dijadikan situs bersejarah dan menjadi sebuah taman yang saat musim semi, bunga sakura bermekaran indah di sekelilingnya.
Credit: 1zoom.net
Paling kece kalau kamu punya drone saat datang kemari, kenapa? Karena taman Goryokaku ini memiliki bentuk yang unik dan sangat cantik bila dilihat dari atas. Tapi tenang saja, bagi kalian yang tidak memiliki drone, tetap bisa kok menikmati indahnya taman Goryokaku secara keseluruhan dari atas dengan mengunjungi Menara Observasi Goryokaku cukup dengan 900 yen.
Informasi
| | |
| --- | --- |
| Alamat | 43-9 Goryokaku-cho, Hakodate |
| Jam buka | 08.00 – 2.00 |
| Harga tiket | 840 yen |
| Info lebih lanjut | Goryokaku |
4. Tulip Ala Belanda di Monbetsu
Tulip, tidak hanya di Belanda, di Jepang pun bunga cantik satu ini menjadi primadona saat musim semi tiba. Setelah sakura, warna-warni bunga tulip inilah yang bisa membuat para wisatawan jatuh cinta. Di dataran Hokkaido, bagi kamu yang ingin melihat indahnya bunga tulip warna-warni, wajib datang ke daerah Monbetsu.
Credit: hokkaidoliker.com
Setiap musim semi, Kamiyubetsu Tulip Park, atau Taman Tulip Kamiyubetsu di daerah Monbetsu ini menampilkan lebih dari 1200 jenis tulip yang bisa kamu lihat. Dengan latar windmill atau kincir angin ala negeri Belanda, kamu bisa merasakan nuansa berbeda di taman ini, Jepang ala Belanda. Kamu bisa menemukan berbagai spot menarik untuk mengambil foto di taman ini. Biasanya festival tulip ini diadakan dari awal Mei hingga pertengahan Juni.
Informasi
| | |
| --- | --- |
| Alamat | Kamiyubetsu Tulip Park, Tondenshigaichi, Monbetsu-gun, Yubetsu-cho, Hokkaido |
| Jam buka | 08.00 – 18.00 |
| Tiket masuk | 500 yen |
| Info lebh lanjut | Kamiyubetsu Tulip Park |
5. Abashiri Shibazakura
Shibazakura, sakura kecil yang 'merumput' ini memang salah satu ciri khas musim semi di Jepang. Tidak hanya di dataran utama, Honshu, tapi Hokkaido pun memiliki lokasi sendiri untuk menikmati shibazakura, yaitu di daerah Abashiri. Sebuah taman bunga bernama Higashimokoto di daerah Abashiri menjadi primadona saat musim semi tiba.
Credit: kyuhoshi.com
Taman yang berbukit-bukit dan pemandangan hijau di sekitarnya akan menyelimutimu sengan semangat musim semi di Jepang. Disini, kalian bisa berfoto dengan background ladang bunga dengan variasi warna putih, pink, dan ungu yang cantik-cantik. Karena lokasinya yang berbukit-bukit, tanjakan, tangga, bahkan jalan setapak pun dikelilingi oleh bunga sakura 'rumput' yang mungil nan cantik ini.
Information
| | |
| --- | --- |
| Alamat | 393 Higashimokotosuehiro, Abashiri, Hokkaido |
| Jam buka | 08.00 – 17.00 |
| Tiket masuk | 500 yen |
| Info lebih lanjut | Shibazakura |
Musim Panas
6. Mendaki Asahidake
Jangan heran kalau pendakian di Jepang rata-rata dibuka saat musim panas. Karena kalau tidak, bisa-bisa kamu membeku di pegunungan hehehe. Gunung Asahidake merupakan gunung tertinggi di Hokkaido. Tidak sulit mendaki gunung Asahidake ini, kamu pun bisa menggunakan ropeway untuk mendakinya sekaligus menikmati pemandangannya dengan santai.
Credit: miriadna.com
Tepat di bawah puncaknya, kamu bisa mengunjungi kolam Sugatami. Nah, kolam ini nih yang sering jadi spot keren untuk mengambil lanskap gunung Asahidake, karena dari kolam yang tenang ini pantulan bayangan gunung Asahidake yang cantik tergambar dengan jelas. Akses : Untuk menuju gunung Asahidake ini, Kamu bisa naik kereta lokal dari Sapporo menuju stasiun Asahikawa (Tiket PP sekitar 5000 JPY). Setelah sampai di Asahikawa, naik bus menuju Asahidake Onsenyang berada tepat di kaki gunung.
Informasi Asahidake Ropeway
7. Adu Tinggi dengan bunga Matahari di Himawari no Sato
Gak berasa musim panas di luar negeri kalau kamu belum adu tinggi dengan bunga matahari yang menjulang. Di Hokkaido, ada sebuah ladang bunga matahari yang kalau kamu kalah tinggi, bisa-bisa kamu tersesat lho. Iya, tersesat dalam keindahan ladang bunga matahari! Lokasinya yaitu di daerah Hokuryu-cho, kurang lebih 2 jam dengan kereta lokal dari kota Sapporo dan 1 jam berkendara dari Furano.
Credit: Kyuhoshi.com
Udara segar, jauh dari hiruk pikuk perkotaan, dan dikelilingi dengan pepohonan, ladang bunga matahari satu ini wajib kamu kunjungi saat musim panas. Himawari no Sato sendiri merupakan ladang bunga matahari terbesar se-Jepang, dengan jumlah bunga lebih dari 1.5 juta batang! Ladang bunga ini mengadakan festival yang dimulai dari pertengahan Juli sampai dengan akhir Agustus. Pada acara tersebut, kamu bisa menikmati labirin bunga matahari setinggi manusia dan bersepeda mengelilingi ladang bunga sejauh mata memandang. Akses : Lokasinya yaitu di daerah Hokuryu-cho, kurang lebih 2 jam dengan kereta lokal dari kota Sapporo dan 1 jam berkendara dari Furano.
Informasi
| | |
| --- | --- |
| Alamat | 143-2 Itaya, Hokuryu-cho, Uryu-gun, Hokkaido |
| Jam buka | 09.00 - 17.00 |
| Tiket masuk | Gratis (maze admissions 300 yen, the scenic rides 500 yen) |
8. Jalan-Jalan di Padang Lavender Furano
Padang lavender Furano ini sangat terkenal loh di kalangan para turis sampe-sampe fungsi utamanya sebagai produk pertanian sudah dialihfungsikan sebagai atraksi wisata. Salah satu padang yang paling terkenal adalah Farm Tomita yang berada di dekat Lavender station. Bunga lavender di sini mulai bermekaran sekitar pertengahan July hingga awal Agustus. Siap-siap ya karena di tanggal segitu pasti Furano bakal rame banget sama tuis asing yang semuanya pengen berfoto di tengah hamparan ladang ungu ini. Nah selama bulan Juli-Agustus ini ada Shuttle bus yang bisa membawa kalian tur keliling Furano dari Furano Winery, Rokkatei (pabrik permen terkenal di Hokkaido), Pabrik jus anggur dan Farm Tomita ini.
Credit to mygola.com
Akses
:  Sebuah kereta khusus ke Furano - Biei beroperasi selama musim panas yang akan berhenti di Lavender Farm station, stasiun ini hanya bejarak sekitar 8 menit jalan kaki dari Farm Tomita. Untuk naik kereta ini kalian bisa pergi dari stasiun Furano atau stasiun Asahikawa.
Informasi Farm Tomita
| | |
| --- | --- |
| Alamat | 15 Sorachi District, Furano, Hokkaido |
| Jam Buka | 08.30 - 17.00 |
| Harga tiket masuk | Gratis (vehicles are subject to fees) |
| Info lebih lanjut | Farm Tomita |
Musim Gugur
9. Shakotan
Shakotan, adalah sebuah semenanjung yang terdapat di timur Hokkaido. Kamu tidak akan menyangka kalau di Hokkaido, akan menemukan surga tersembunyi, lho! Di Shakotan ini, kamu bisa menemukan laut yang super indah, dengan gradasi warna biru dan hijau. Kalau kamu memilih datang saat musim gugur, maka langit musim guur yang ciamik bisa menjadi background kece untuk foto-foto serumu di spot indah ini!
Credit: dronestagr.am
Akses
: Perlu waktu sekitar 2 jam berkendara untuk mencapai semenanjung Shakotan dari pusat kota Sapporo. Ada pula bus Chuo Bus yang langsung bisa membawamu ke teluk Kamui di semenanjung Shakotan ini. Untuk jadwal lengkap busnya, bisa dilihat
di sini
10. Lake Toya
Danau Toya, merupakan bagian dari Taman Nasional Shikotsu Toya. Daerah dimana terdapat danau Toya ini juga terkenal akan onsen atau pemandian air panas alaminya, yang didapat dari Gunung Usu. Salah satu gunung yang bisa kamu jelajahi juga berbarengan dengan trip ke danau Toya.
Credit: JNTO
Jangan takut bakal kecapekan naik gunung, karena ada ropeway yang senantiasa dapat membawamu melihat pemandangan gunung Usu dari atas, sekaligus untuk menikmati kawah Usuzan yang memiliki air berwarna hijau yang cantik. Kenapa kamu harus datang saat musim gugur? Karena dedaunan yang berubah warna dan gradasinya yang indah bisa menambah nilai plus keindahan gunung Usu dan danau Toya ini.
Akses
: Dari Sapporo menuju danau Toya, kamu harus berkendara sekitar 2 jam ke daerah Selatan. Kamu bisa naik JR Sapporo menuju stasiun JR Toya Muroran. Selanjutnya, naiklah bus menuju danau Toya yang biasanya selalu ada setiap 1 jam di stasiun Toya Muroran.
---
Jadi, sudah ada dong list rekomendasi tempat anti mainstream buat foto-foto keren di Hokkaido yang jarang kamu temui di dataran utama Jepang. Siapkan kameramu dan jangan lupa lengkapi persiapanmu dengan aplikasi Halal Navi. Karena selama jalan-jalan di Hokkaido, tempat sholat dan restoran halal juga banyak bisa ditemui lho. Dan semua itu akan lebih mudah dicari dengan halal navi. Yuk ke Hokkaido!
Eat • Pray • Connect
| | |
| --- | --- |
| | Author: Gita Pramesari Born and raised in a multicultural and an archipelago country like Indonesia, made me an explorer. I love to walk, stares, and share stories. Meet the new people, new environment, new culture, new point of view. Life is not about walking to some point, it's about how I reach that point and learn everything that earned on the way and how that journey made me as I am now. Also, really love to cook and to eat!! A journey and Life itself is also about food, right?! |