13 Things To Do During Spring In Japan -Updated in 2019!-
Japan never fails to impress us on each of its seasons but spring seems to have its own charm. Tourists from around the world come to Japan to see Sakura trees blooming. Not only that, many interesting attractions and festivals are also held during spring. And since it's already March, let's see these 13 things you can do during spring in Japan!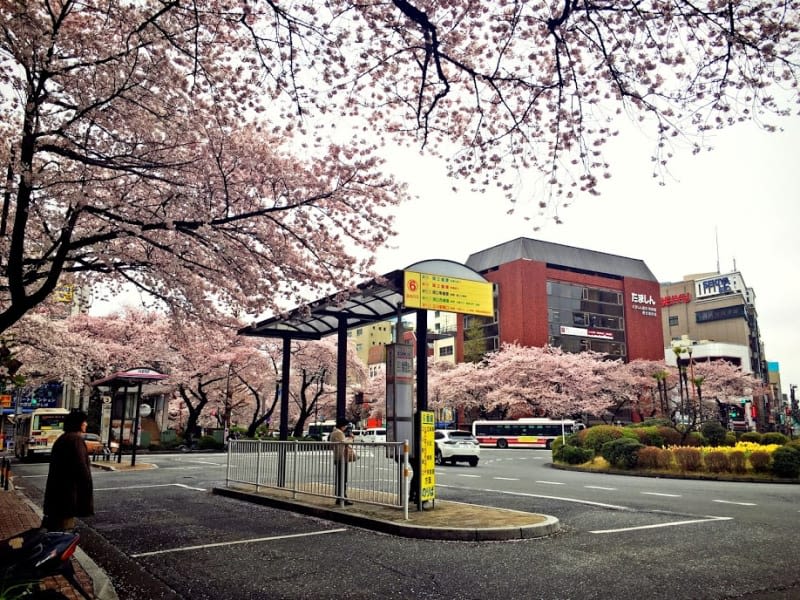 Spring in Japan via author's personal collection
1. Enjoy Sakura Hanami
It is no surprise that the main attraction of spring at this land of the rising sun is seeing a blooming Sakura or often called as Hanami. Sakura blooms differently across Japan but it generally fully blooms from late March to early April. You can find many good spots to enjoy Sakura across Tokyo, Kansai (Kyoto, Osaka and Kobe) and other cities in Japan! Japanese people usually use this occasion of Hanami to freely express themselves and have fun, including having a drink during the day (something they won't normally do).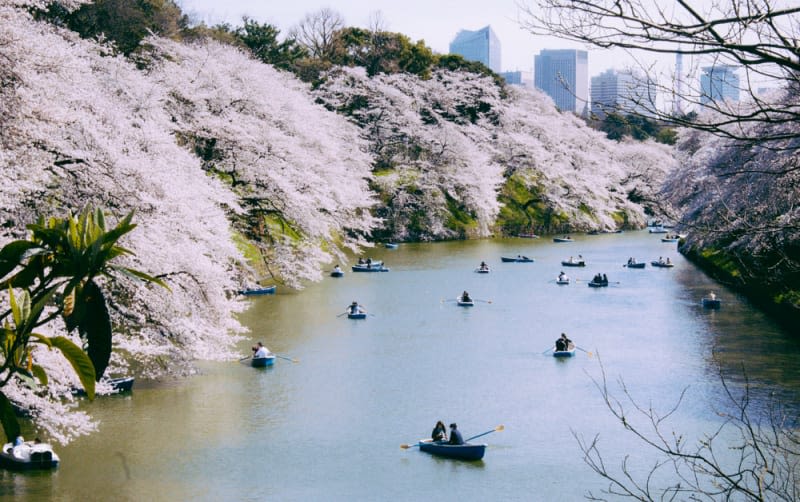 Credit to Krmr
Prepare the picnic carpet, come early, and don't forget to grab some foods before you hanami. Tips: those who want to save some money, bring Onigiri for your picnic with only 100-150 yen! But make sure you buy the seafood or vegetables filling because the meat or chicken variants are not Halal. Check this article to know how to read Halal Onigiri wrappers so you won't buy the wrong variant.Information on Chidorigafuchi moat
| | |
| --- | --- |
| Address | Kudan Minami 2-chome—Sanbancho, Chiyoda-ku, Tokyo |
| Boat rental | ¥500 (regular season) and ¥800 (hanami season) |
| Opening hour | 11.00 to 17.30 |
2. The Magnificient Fuji Shibazakura, Yamanashi
Mount Fuji, one of the famous landmark that you should not miss while visiting Japan! Located in Yamanashi prefecture, about 2-3 hours from Tokyo, there is a lake called Kawaguchiko at the foot of Mount Fuji. The Fuji Shibazakura festival is held near the lake every spring on April and May.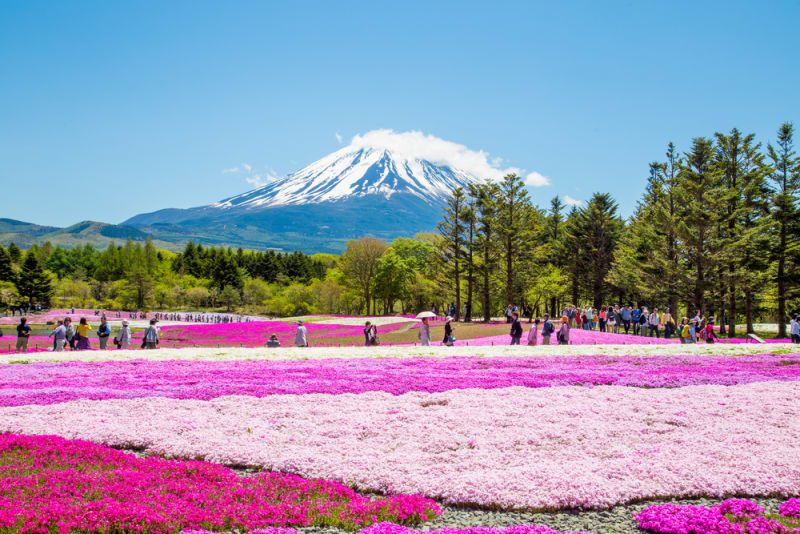 Sakura land in Fuji Shibazakura via MtFuji-JP
In contrast to regular Sakura view, there are no cherry blossom trees in this festival! You will see a large land of colorful flowers surrounding the lake with Mount Fuji as a background behind it! Definitely the perfect photo spot for your Japan trip during spring! Information on Fuji Shibazakura
| | |
| --- | --- |
| Address | Fujikawaguchiko-machi, 富士河口湖町Motosu, 212, Minamitsuru, Yamaganashii (Map) |
| Schedule | 15 April - 28 May 2017, 8am - 5pm |
| Ticket | 600 yen (adult) and 250 yen (kids) |
| Website | http://www.shibazakura.jp/eng/ |
3. All Kind of Sakura-theme Foods!
During spring season, a lot of shops began serving meals and pastries with cherry ornament on it. Some of which you must try is Sakura Mochi and Sakura Dango! Mochi which usually filled with red beans is wrapped in cherry leaves. Distinctive flavor from the cherry leaves and mocha beans unites quite well and makes it as if there is some cherry blossom festival in your mouth!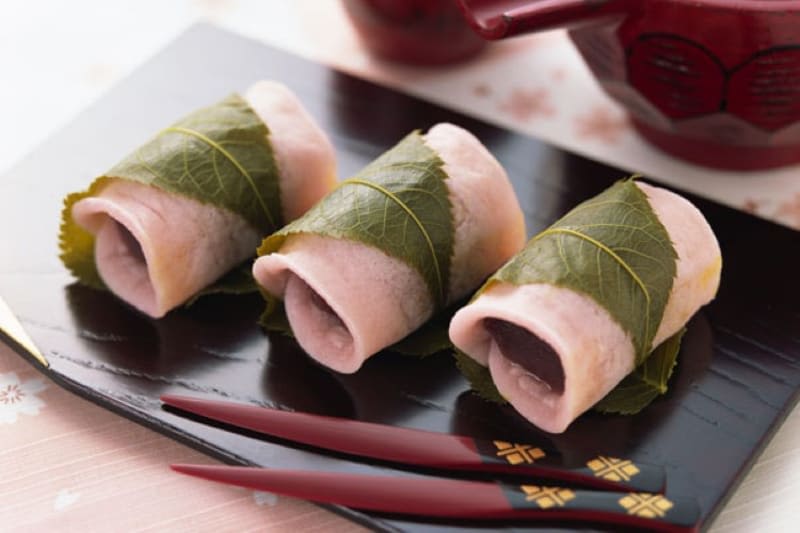 Sakura Mochi with real Sakura leaves on top of it via Jpninfo
It tastes quite good and unique and you won't find this special seasonal food in any other days other than spring. There is also Sakura Dango, other cakes and puddings that uses real cherry leaf in it. You should try at least one of them. But becareful as not all of the food mentioned above is Halal friendly, so don't forget to use our muslim dietary card before purchasing one.
4. Must-try Sakura Latte!
Starbucks also grace Sakura season with their Sakura Latte menu. The drinks were spiked with cherry powder and cherry flavors in its whipped cream and only available during spring season. In addition to the drinks, there is a special Starbucks card, mug and tumbler with spring theme as well. If you are a fan of Starbucks, these items should not be spared from your list.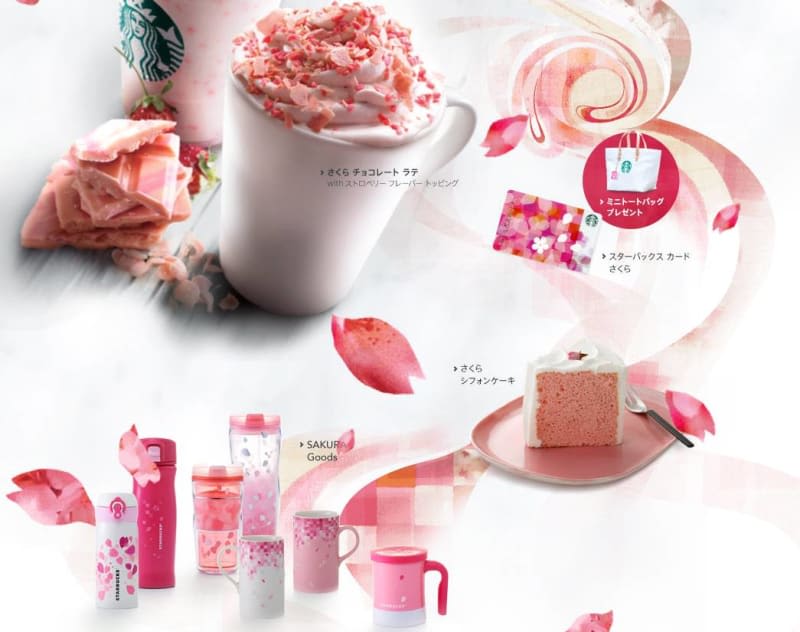 Starbucks with Sakura theme via Everythinghapa
Information
Drinks
Sakura Blossom Cream Frappuccino with Crispy Swirls

570 yen (tall), 610 yen (grande), 650 yen (venti)Sakura Blossom Latte

430 yen (short), 470 yen (tall), 510 yen (grande), 550 yen (venti) Availability: Usually sold in the end of February (Please check

Starbucks Homepage)
Souvenir
Price starts from 620 - 4,500 yen Availability: Usually sold in the end of February (Please check

Starbucks Homepage)
5. Bunkyo Azalea Festival in Nezu Shrine, Tokyo
If you start your spring journey in Tokyo, take some times to stop by at the Nezu shrine between early April and early May. Nezu shrine is perhaps somewhat unfamiliar to your ear, but this temple is very pretty during spring with its blooming Azalea flowers! The temple itself is actually located in the central area of Tokyo. It has a mini 'Fushimi Inari' like the 1,000 gates shrine of Fushimi Inari in Kyoto (This means you don't have to go all the way to Kyoto for the Inari shots if you're in Tokyo!)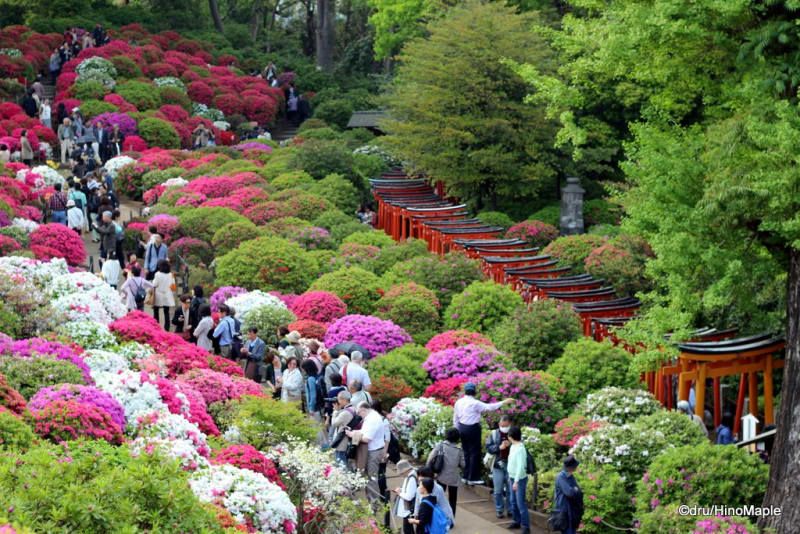 Azalea flower and mini Fushimi Inari in Nezu shrine via HinoMaple
Information on Bunkyo Azalea Festival
Address
1-28-9 Nedu, Bunkyo, Tokyo (Map)
Schedule
8 April - 5 Mei 2017
Website
Nedu Shrine
Halal restaurant nearby
Nezunoya

(vegetarian)
6. It's Time for Koi Nobori!
Children's Day, or actually just for the boys, is celebrated on May 5 in Japan since 1948. While for the girls, the day is commemorated by Hina Matsuri (doll festival) every year on March 3. This children's day is a chance for you to see the Koi Nobori decoration or carp streamer in almost everywhere. In Japanese culture, the carp symbolizes courage and strength because of its ability to swim up a waterfall. This is to express a hope that each boy in Japan will grow up healthy and strong like carps. Don't miss out on this colorful carps as you can only see it once a year!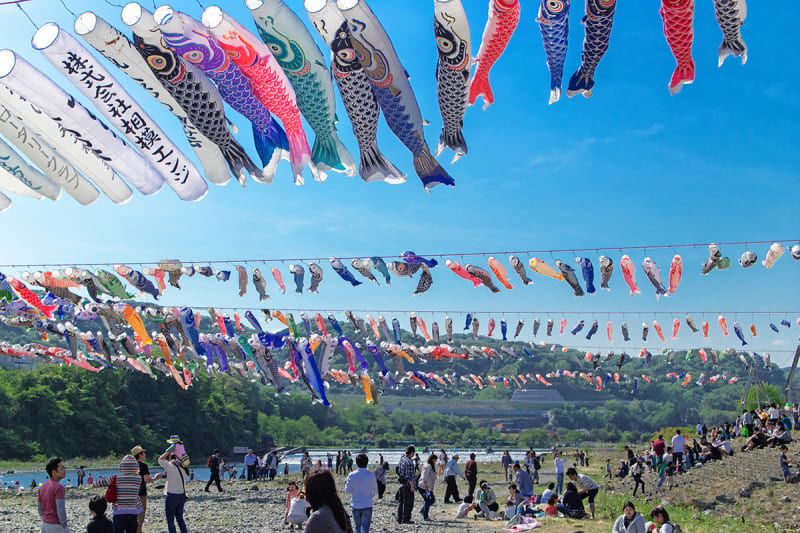 Koi Nobori in Samagihara via Metropolis
7. Sanja Matsuri, Tokyo
You have been quite familiar with Asakusa, haven't you? It's one of the tourist spots that never sleeps! Located not too far from the Tokyo Sky Tree ( 2 attractions in one!). Each year on May 13-15, Asakusa temple held Sanja Matsuri festival. A festival that is held for 3 days in a row! Be prepared to be amazed with all the parades and performance in this festival.
Sanja Matsuri Festival via Supergenki Japan
Among them are the appearance of Geisha, the pageantry (Mikoshi) of a miniature temple, also the thrill of Taiko sound (traditional drum). But you should be prepared to jostle with millions of viewers both local and foreigner that wants to see one of the biggest festivals in Japan.
Information on Sanja Matsuri
Address
2 Chome-3-1 Asakusa, Taitō-ku, Tōkyō (Map)
Schedule
13 - 15 Mei 2017
Halal restaurants nearby
Naritaya Asakusa

(Ramen)
8. Watch Geisha Performance, Kyoto
There are two famous performance of Gesiha in Kyoto; Myako Odori and Kamogawa Odori. Miyako Odori is held in Gion Kaburenjo theater not too far from Gion station. The performance is not only restricted to dance but sometimes will also include singing and mini drama accompanied by traditional Japanese instrument. Tips: be there one hour prior to the show so you get to wander around the beautiful garden in the theater area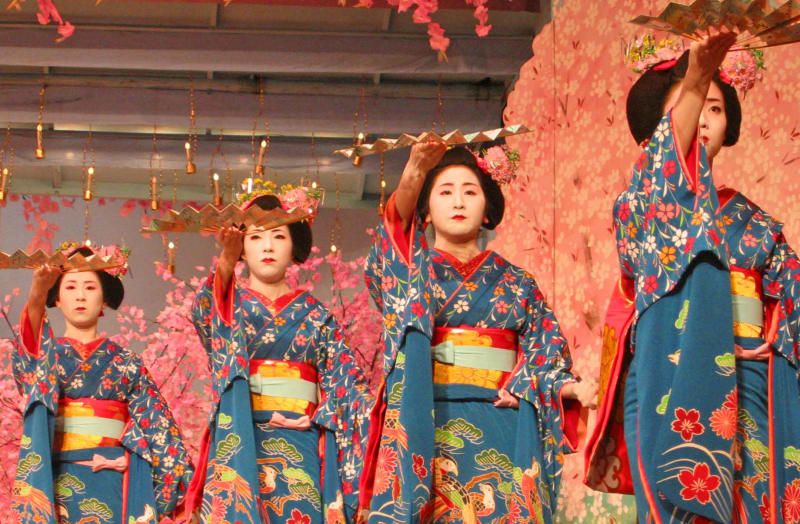 Geisha Performance in Miyako Odori via Insidejapantours
This event is so exclusive and only held once a year on 1 April. For those who miss the date, alternatively you may come to Kamogawa Odori that is held from 1-24 May. The show is held in Pontocho Kaburenjo theater and was started back in year 1872. The dance performance features historical stories about Kyoto and Japan. Sometimes male player also take a part and act as Samurai. The show last for 1 hour 15 minutes and closed with the appearance of all Geiko wearing kimono and twirling around the audience.
Information on Miyako Odori
| | |
| --- | --- |
| Address | Gion Kaburenjo Theater 5-7-0 2, Higashiyama-ku, Kyōto-shi, Kyōto-fu |
| Ticket | ¥ 2000 – 4500 |
| Schedule | 1 April 2017 |
| Ticket reservation | http://www.miyako-odori.jp |
| Halal restaurant nearby | Naritaya Gion (Ramen) |
Information on Kamogawa Odori
9. Tateyama Kurobe Alpine Route, Nagano-Toyama
Tateyama Kurobe Alpine is a route through stunning scenery mountains which is a combination of rail lines, bus and cable car. This route usually becomes popular among tourist during mid-April to mid-June when the snow corridor area is opened.
Snow corridor in Tateyama Kurobe Alpine Route via JNTO
The snow corridor lane which has a 20 meter high snow walls can be traversed on foot or by riding a bus. In addition, there are many other things you can do here such as hiking, camping, exploring the woods and enjoy the sight of  the highest dam in Japan. Information on Tateyama Kurobe Alpine Route
| | |
| --- | --- |
| Access | There are two starting points to take this route: from Shinan-Omachi station (Nagano) and Dentetsu-Toyama station (Toyama) |
| Website | https://www.alpen-route.com/en/ |
10. The Hanging Wisteria in Ashikaga Flower Park, Tochigi
Ashikaga Flower Park is a large park that is famous for its variety of themes. The park is open all year round with eight different themes each year. During the spring from mid-April to mid-May, this park features Wisteria story with its beautiful hanging wisteria flowers. In the evening the Wisteria will glow with its illumination that makes it looks more stunning.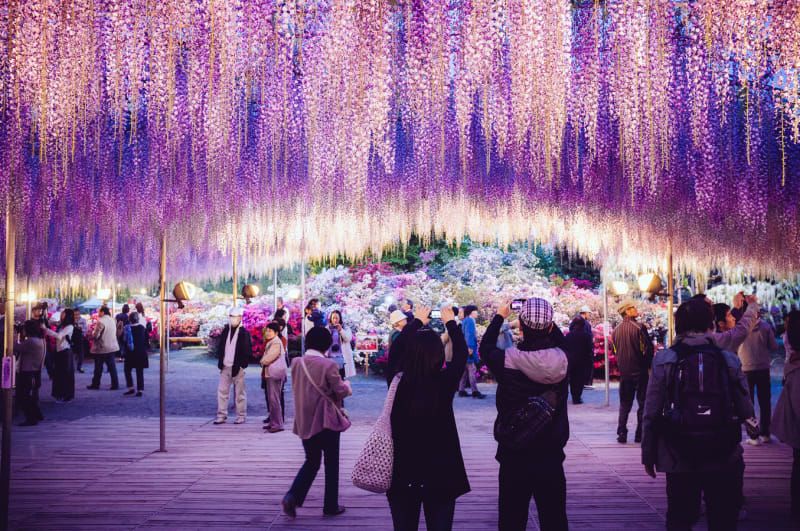 Wisteria Flower in Ashikaga via Reddit
Information on Wisteria Festival
| | |
| --- | --- |
| Address | 607 Hasama-cho, Ashikaga city, Tochigi |
| Schedule | Mid of April - Mid of May |
| Opening hours | 7am - 9pm |
| Ticket | 900 - 1700 yen |
| Website | Ashikaga Flower Park |
11. Aoi Matsuri, Kyoto
If you ever wonder how was the ancient Japanese dressed hundreds years ago, Aoi Matsuri will answer your curiosity. It is a large parade with more than 500 people dressed in the Heian Period (794 – 1185) costume and traditional make up walking from Imperial palace to Kamo Shrines. Aoi Matsuri itself literally means Aoi (hollyhock) leaves. It is named after the leaves as they are used as ornaments on the people's, cow's and horses costumes.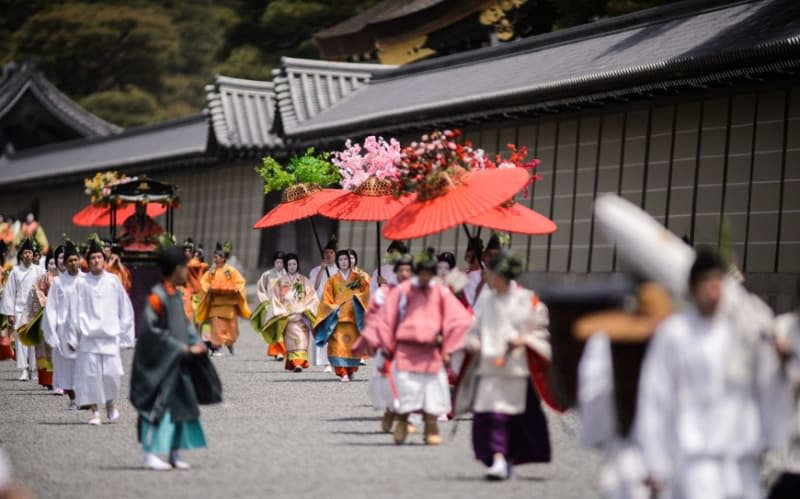 Aoi Matsuri parade via Regex
The main highlight of the parade is the group of woman accompanying the imperial princess serving the deities. The princes proxy must dress in imperial court costume with 12 layers of kimono which weigh more than 30 kg. Tips : Watch this festival from Shimagamo & Kamigamo Shrines as you would have a perfect sight of the parade from these spots.Information on Aoi Matsuri
Address
Shimagomo Shrine

5-9, Izumigawacho, Shimogamo, Sakyo Ward, Kyoto, Kyoto

Kamigamo Shrines

339 Kamigamo Motoyama, Kita Ward, Kyoto, Kyoto
Ticket
¥1000 – 5000 (You can buy the ticket in any travel website)
Halal restaurant nearby
Nanzan (Yakiniku)
12. Sumo Tournament in Ryogoku Kokugikan, Tokyo
For those who likes to watch Sumo wrestling in Japanese TV show, spring is the perfect time to watch Sumo tournament in Tokyo. Many Sumo tournaments are held in different places with different schedules throughout the country, check out the full schedule here. While on April-May, there will be a tournament held in Ryogoku Kokugikan Tokyo. During this four weeks periods the tournament takes place from morning to, evening, starting with the preliminary round until the final round. It's not everyday you get to see a real sumo tournament 😉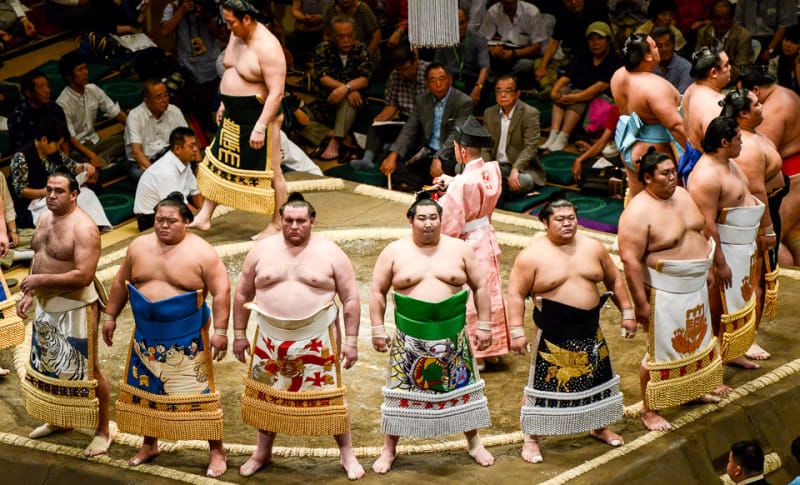 Opening of Sumo tournament via Bookmaker
Information on Sumo Tournament at Ryogoku Kokugikan
| | |
| --- | --- |
| Address | 1-3-28 Yokoami, Sumida, Tokyo |
| Schedule | 8 April - 1 Mei |
| Ticket | ¥3,800 |
| Website | Ticket Information |
13. Earth Day Celebration, Tokyo
Have you ever celebrated the earth day before? If not, try and check the huge celebration of earth day in Tokyo. During the two days from April 23 to 24,  a massive celebration is held in Yoyogi park to commemorate Earth Day. There is a live music, healthy food bazaar booth and also environmental NGO booth take a part in this celebration. The show is very exciting and crowded with at least 100,000 participant each year joining the celebration.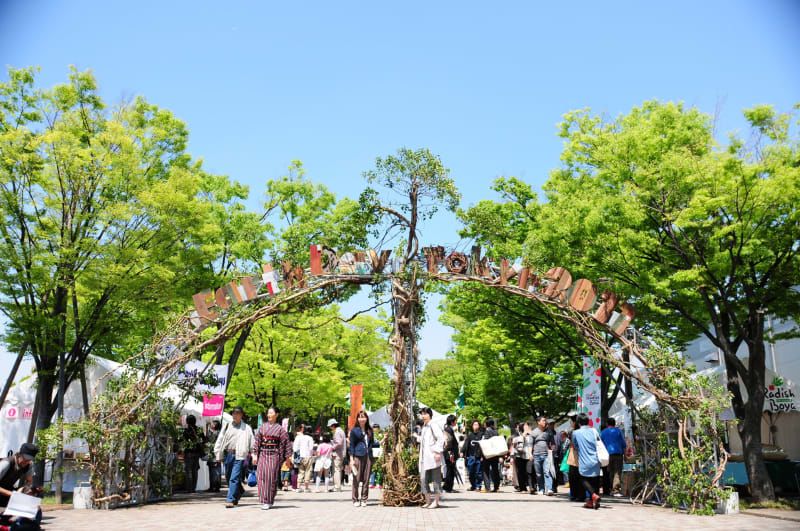 Earth day celebration in 2011 via Japan Times
Information on Earth Day 2017 Celebration
So do you get any idea on what to do during spring in Japan later? Don't forget to bring along your jacket because early spring is quite cold just like winter. Save the prayer rooms and Halal restaurants in the area you plan to visit in Halal Navi to make your journey easier later on. Stay healthy and have fun traveling in Japan! P.S : Have any stories about Japan that you want to share? Send your article to [email protected] to be featured!