7 Best Spots to See Sakura In Tokyo
Winter almost ends, Olaf and friends have started to sing a farewell song and wave their hand. But don't be sad and laugh away your sorrow because just like an old saying "An end of a journey is the beginning of a new adventure!".  
So what makes us so confident that you will enjoy spring just as much as you did in winter? Have a peek at this cutie pie then you'll know what we keep as a surprise.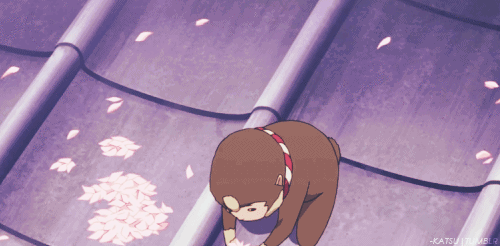 Look at that red cheeks and happy face! We know you can't resist playing with Sakura just like that, after all, there is a reason why Japan is called the Land of Sakura right? Soooo to welcome spring, we have decided to write series of article on the best spots to see cherry blossom around Japan. Yessss! Are you excited? Because we can't even hold our excitement 😀 We will start with the top spots we recommend to experience Hanami (Read: Japanese custom of enjoying the beauty of flowers) to the fullest in Tokyo. Ready?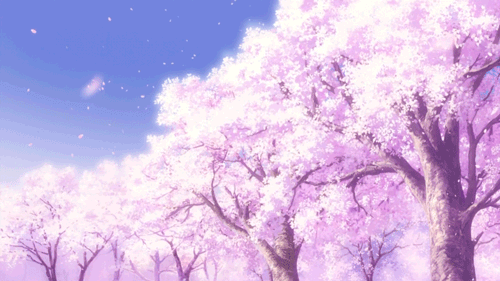 Tokyo Sakura Forecast 2017: Expected first bloom March 22 - full bloom March 30 (Source: JNTO)
1. Chidorigafuchi Moat, Chiyoda
Credit to Krmr
A picture says a thousand words, look at that breath-taking scenery! You can see this surreal view with your own eyes at Chidorigafuchi Moat in Imperial Palace.  The outer garden of Imperial Palace has hundreds of cherry blossom trees and in late of the season, the moat surface will be covered with cherry blossom petals. You can rent a boat just like in the picture but be ready to queue a long line especially during the full bloom of Sakura. However, if you just want to have a walk, the pedestrian path surrounding the palace will offer you no less romantic view.
Credit to Japan-talk
Information Address : Kudan Minami 2-chome—Sanbancho, Chiyoda-ku, Tokyo Nearby Station : Kudanshita, Hanzomon, Toei Ichigaya and Takebashi StationBoat rental : ¥500 for 30 minutes (regular season) and ¥800 for 30 minutes (hanami season) Opening hour : 11am to 5.30pm Nearby Muslim friendly restaurant : Bosphorus Hasan Ichigaya (Turkish)
2. Shinjuku Gyoen Park, Shinjuku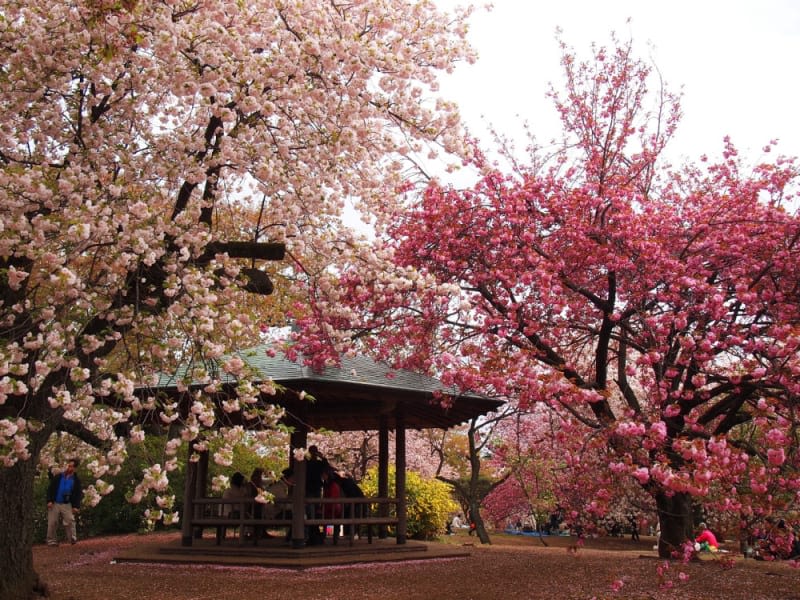 Credit to Lifetoreset
Shinjuku Gyoen is a huge park that habitats more than 1500 cherry blossom trees with a dozen of different varieties. These varieties of trees bloom in different dates which let you enjoy hanami longer than in any other places. Especially if you miss the main season by one or two weeks, this park will give you a second chance ;).  With a size of more than 17 hectares, it is possible for you to find a quiet spot to enjoy hanami while having a picnic with your travel mates.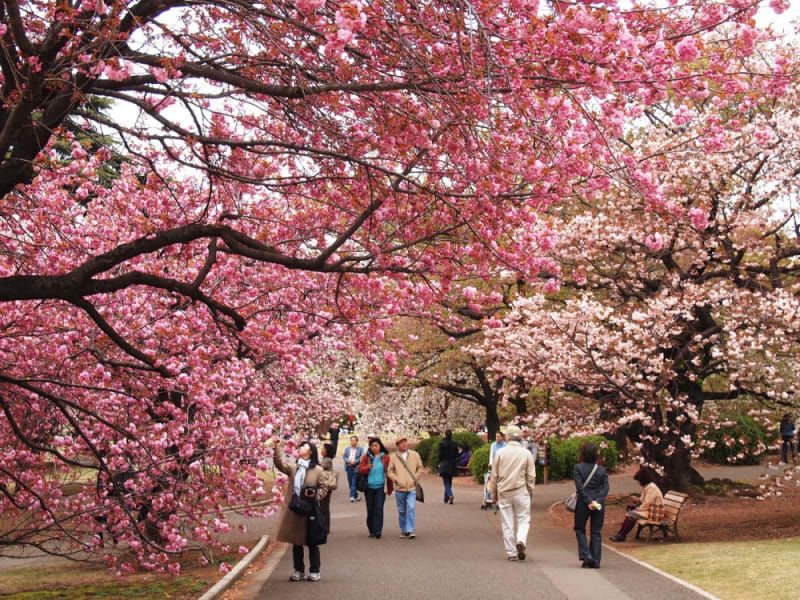 Credit to Lifetoreset
Information Address : 11 Naitōmachi, Shinjuku-ku, Tōkyō Nearby Station : Yoyogi, Sendagaya, and Shinjku-sanchome Station Entrance Fee : ¥200 Opening hours : 9am to 4.30pm (No entry after 4pm) Nearby Muslim friendly restaurant : Shinjuku Gyouen Ramen Ouka (Ramen)
3. Meguro River, Meguro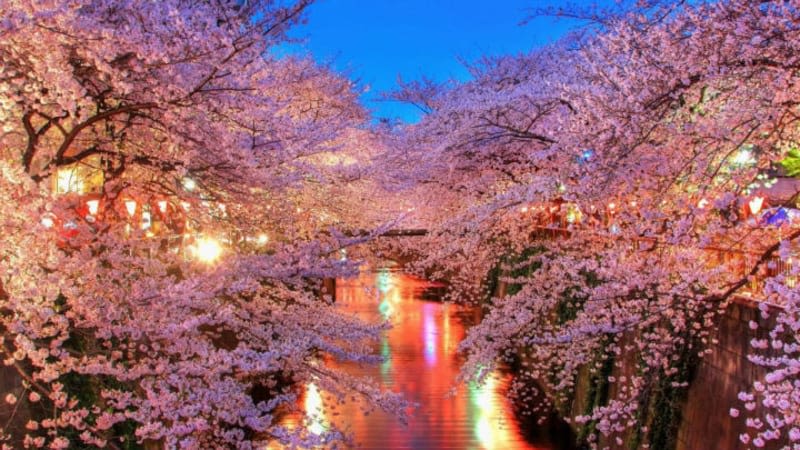 Credit to Ikidane-nippon
Meguro River walk is the most famous hanami spot to enjoy Yozakura (Night view of cherry blossom). About 800 Sakura trees line Meguro river with the length for around 4KM between Gotanda and Shibuya. During the blooming season, Nakameguro Sakura Festival is held on early-April every year. It's definitely a good place for a walk while enjoying hanami. You can also find several shops, cafes and restaurants in the area to stop by.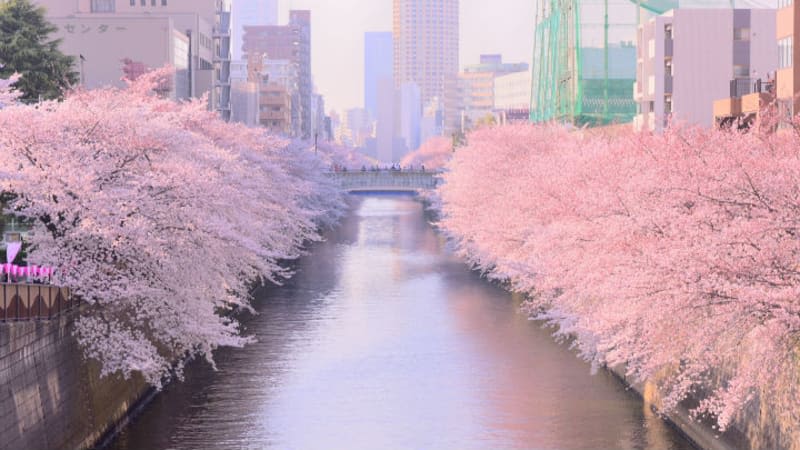 Credit to Phoenixyz
Information Address : Nakameguro, Meguro, Tokyo Nearby Station : Nakameguro and Meguro Station Nearby Muslim friendly restaurant : Cabe Meguro(Indonesian)
4. Inokashira Park, Musashino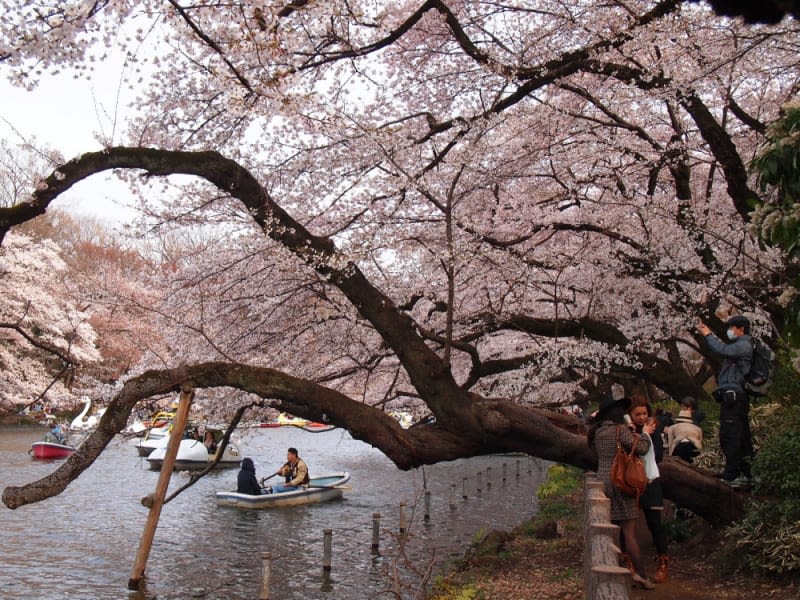 Credit to Lifetoreset
Are you going to Japan for a honeymoon or a trip with your spouse? Try rowing or paddling a boat during spring in Inokashira park. The romantic scenery of the sky filled with cherry blossom will surely mesmerised you. Even the locals come here to bring their date. Although there is a legend that couples who ride a boat in Inokashira Pond are doomed to break up, but you don't believe in a myth, do you? :p Nevertheless, this is a perfect spot to enjoy a blissful hanami in Tokyo *ignoring myths*.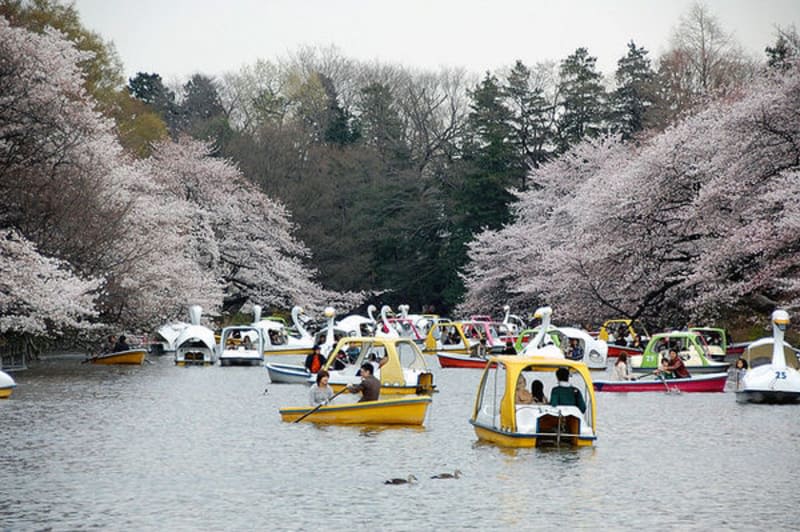 Credit to Japan-talk
Information Address : 1-18-31 Gotenyama, Musashino-shi, Tōkyō-to Nearby Station : Inokashirakoen, Kichijoji and Mitaka Station Boat rental : Row boat ¥600 for 60 minutes and Pedal boat  ¥600 for 30 minutes Opening hours : 9.30am to 4.00pm Nearby Muslim friendly restaurant : Courage Musashino (Vegetarian)
5. Koishikawa Karakouen Garden, Bunkyo
Credit to Keanpoh
Koishikawa Botanical Garden is a few quiet hanami spot in Tokyo. As visitors need to pay an admission fee, the park is generally not so crowded and even among favourite place for a picnic. It suits those who want to enjoy the beauty and serenity of cherry blossom solemnly in the busiest city in the country. Koshikawa Garden is also a Japanese landscape garden that has been existing for almost 400 years. The landscape of the park is enough to release your stress and get the full relaxation therapy from your everyday routine.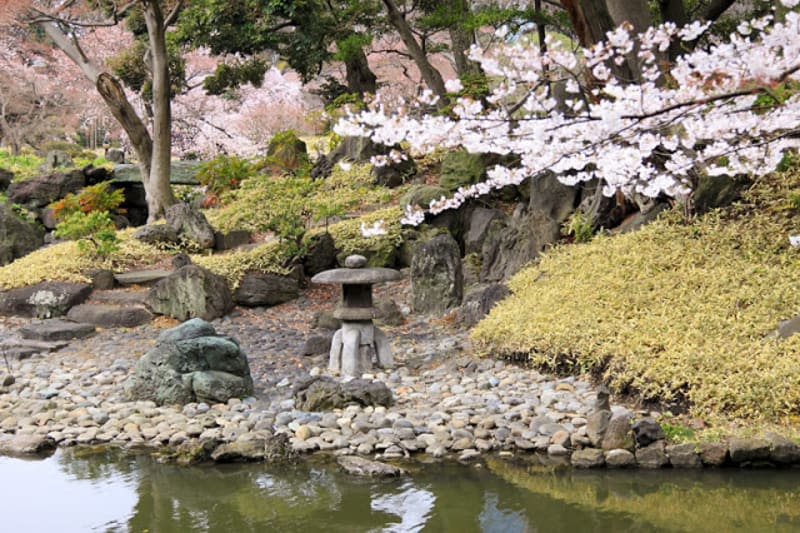 Credit to Keanpoh
Information Address : 1-6-6 Koraku, Bunkyo-ku, Tokyo Nearby Station : Kasuga,  Korakuen, and Toei Kasuga Station Admission Fee : ¥300 Opening hours : 9am to 5pm Nearby Muslim friendly restaurant : Sultan Iidabashi (Indian)
6. Ueno Park, Ueno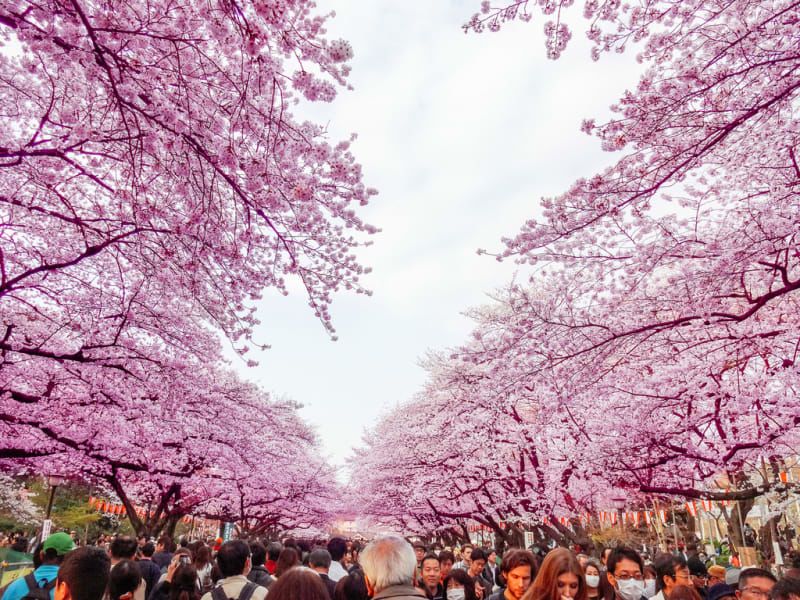 Credit to Thomas John on Flickr
If you'd like to feel the excitement of hanami, this could the best place for it. Ueno Park is the most crowded hanami spot in Tokyo with around 1000 cherry blossom trees in it. The cherry blossom trees here bloom at the same time on the early season (1-3 days ahead of blooming season in Tokyo). So pay attention to the forecast guys! We recommend you to come on afternoon towards sunset because the night view of cherry blossom in Ueno park is just something you can't miss.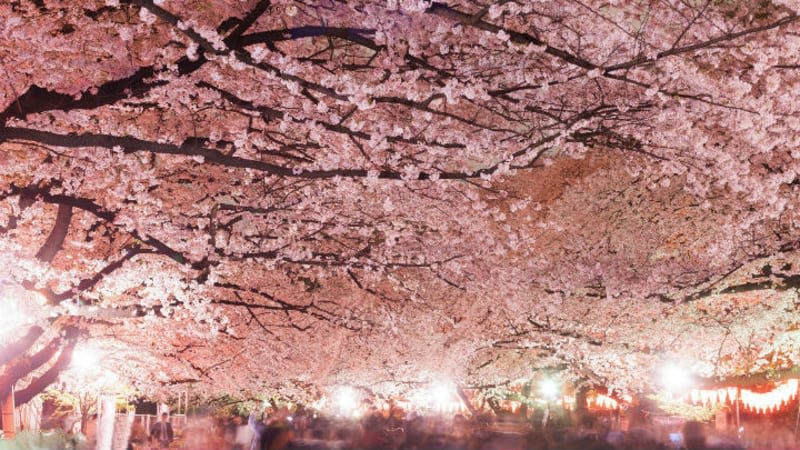 Credit to Ikidane-nippon
Information Address : 5-20 Uenokoen, Taito, Tokyo Nearby Station : Higashien, Nishien, and Ueno Station Entrance Fee : Free Nearby Muslim friendly restaurant : Chicken Man Ueno (Fried Chicken)
7. Sumida Park, Sumida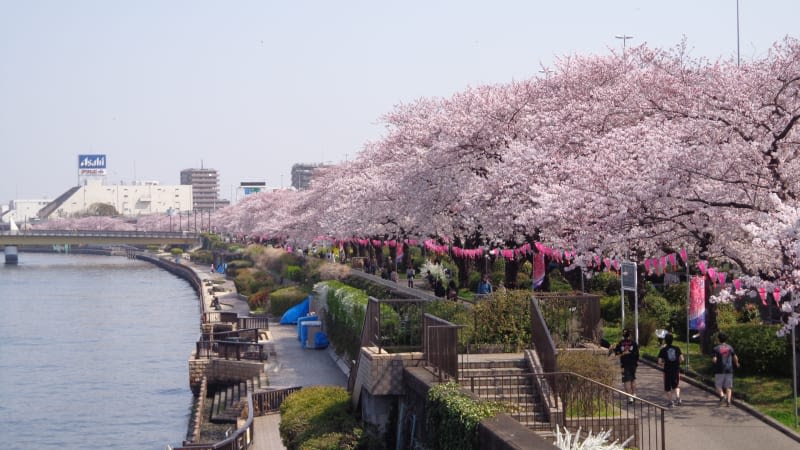 Credit toJsjapan
This park is located across the Sumida River in Asakusa, close to Sensoji Shrine and Tokyo Sky Tree Tower. Location wise, it's just a perfect spot after a whole day visiting those attraction places. The park is stretched for a few hundreds meters along the river and line for more than 1000 Sakura trees. You can enjoy the Sakura by riding river cruise that goes from Asakusa to Hama Rikyu Garden or just walking along Sumida riverside.  Some food stands are also available in the park. When evening comes, the trees will lit up with a great light up.
Credit to Jsjapan
Information Address : 1 Mukojima, Sumida, Tokyo Nearby Station :  Tokyo Sky Tree and Asakusa Station Cruise Fee : ¥980 for 35 minutes Nearby Muslim friendly restaurant : Basashiya Masashi (Japanese)
So which spot would you like to stop by to enjoy hanami this spring in Tokyo? We know you are excited just as we are! But don't forget to take care of your lil tummy by bookmarking Muslim friendly restaurants above in Halal Navi so you can navigate easily when you are there. Or even better, you can search more Halal friendly restaurants nearby in our apps that suit your taste!