8 Beautiful Blossoms You Should Not Miss When Visiting Japan
Bored with your everyday routine? there is no better way to cure your boredom than a mother nature vacation! All you need is some greenery and natural beauty to relax your mind before heading back to your cubical desk. Well for that, Japan is unquestionably a perfect destination to feast your eyes with its blooming destinations!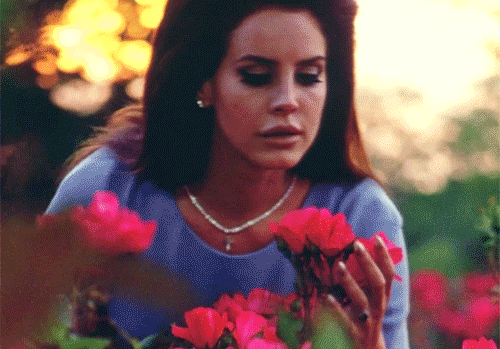 1. Nemophila, Hitachi Seaside Park
Imagine seeing a panoramic view of blue-flower ocean as far as your eyes can see. Hitachi Seaside Park in Ibaraki features the iconic Blue Nemophila flower that blooms beautifully during Spring. During this period, you can stroll around 4.5 million of this baby blue eyes flower that fills up this 3.5-hectare Miharashi hills park. Located only 58 meters above the sea level, this park allows you to see the magnificent natural view of the blue from the Nemophila blooms, the clear sky and the Pacific Ocean as the backdrop.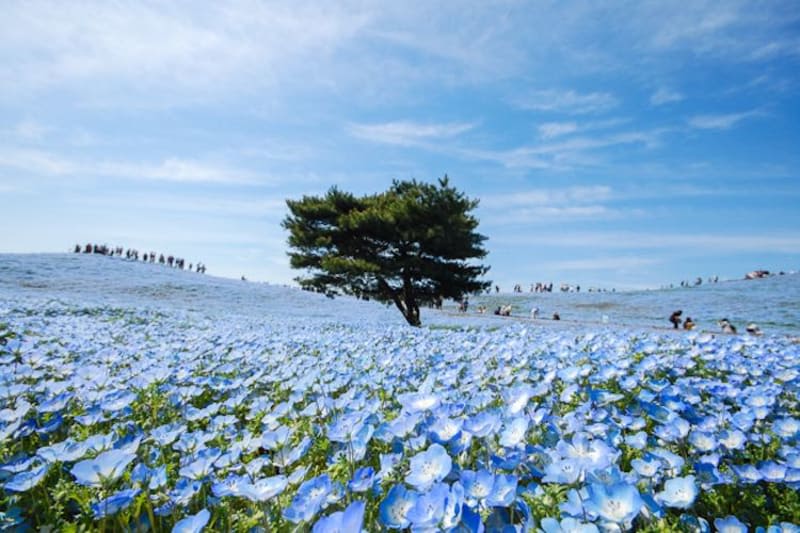 Credit picture to Hitachi Park
Want to get around without draining your energy? Rent a bike for only 400 yen and you can cycle it to wander around the park for the whole day. There is a special path for cycling, so don't worry about crushing this beautiful blue flowers. You can also ride the train provided by the park to enjoy the scenic view comfortably in your seat.
Access: Take JR Joban Line from Ueno Station to Katsuta Station for 70 minutes that will cost you 7,640 yen for two ways. But if you already buy the JR Pass, this ticket is already covered. Once you arrived at Katsuta Station, hop on to Ibaraki Kotsu bus for about 15 minutes and drop off at Hitachi Seaside Park.
Information Address: 605-4 Onuma-aza, Mawatari, Hitachinaka, Ibaraki. Best time to visit: Middle of April - Middle of May Opening hours: 09.30 – 17.00 (Closed on Monday) Entrance fee: 410 yen (adult) and 80 yen (child) Nearby Halal restaurants: Rittsun More info on Hitachi Park
2. Kochia, Hitachi Seaside Park
All you might think about autumn was probably the fall of autumn leaves or Ginko which you often see on TV. But Hitachi Seaside Park is ready to offer a different autumn experience for you with its wonderful Kochia. Kochia is green bushes that can grow up to 90 centimetres tall and it's shaped like ball clumps which are so cute (OMG!). Over 30,000 Kochia bushes will turn their leaves to a vibrant red during autumn and create this breath-taking scenery covering the hill into crimson carpet.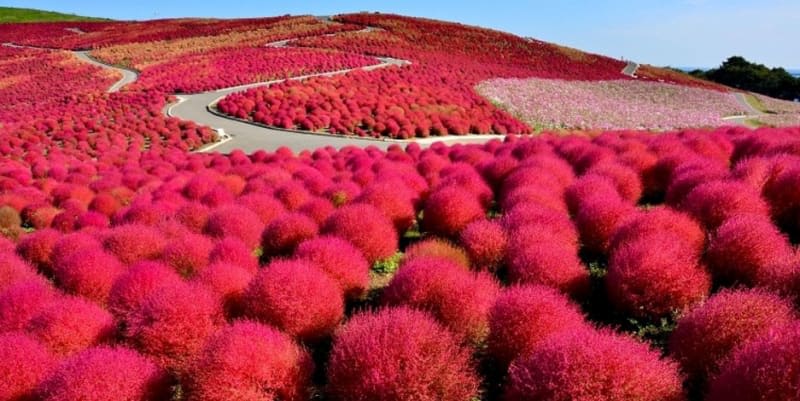 Credit picture to triplerin
This cutie pie herb is not only good in the picture but it does have a functional purpose! It is used in some traditional herbal medicines and the seeds are processed as vegetarian caviar in some part of Japan (known as tonburi).
Information Best time to visit: September - October
3. Sunflower, Hokuryu Himawari No Sato
Summer is finally here! Speaking of summer, sunflower has long been known as a symbol of Summer in Japan. Thus, visiting this sunflower field in Hokuryu city, Hokkaido is a must! Hokuryu itself is a city of sunflowers where people from all over Japan gather to see 1.5 million sunflowers blossoms during summer. It is located 1 hour south-west of Asahikawa-shi and 1.5 hours north of Sapporo-shi.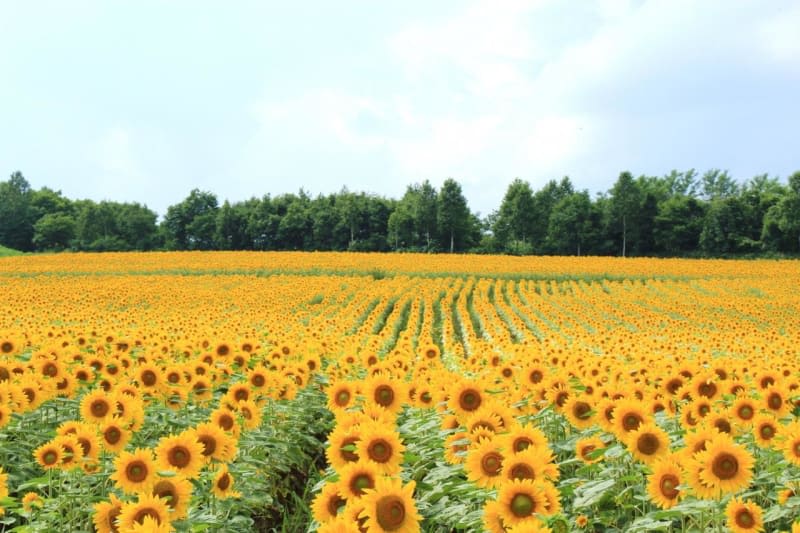 Credit picture to 4travel
During summer, the sunflower field Hokuryu Himawari No Sato held an annual sunflower festival that starts from mid-July until the end of August every year. During the festival, you can enjoy walking in the sunflower labyrinth with the stems that can be as tall as you, so be careful of getting lost while walking down the maze okay? Access: You can ride Hokuryu Chuo Bus that bound from JR Hakodate Honsen Station for about 40 minutes and get off at Hokuryu Chugakko Mae. From there, you can walk to the sunflower field for about 3 minutes. Information Address: 143-2 Itaya, Hokuryu-cho, Uryu-Gun, Hokkaido Best time to visit: 16 July - 21 August Opening hours: 09.00 - 17.00 Entrance fee: 300 yen Halal restaurants nearby: Warung Jawa, Taj Mahal Chitose, Jyoti More info on Hokuryu Himawari no Sato
4. Shibazakura, Hitsujiyama Park
Who doesn't know Sakura! It is the iconic flowers that have become one of top tourist attractions in Japan. But do you know what is Shibazakura? As a contrast to a regular Sakura, Shibazakura is cherry lawn stretched horizontally on the ground that turns the land into a beautiful pink and white carpet. Hitsujiyama Park in Saitama is one of the most popular Shibazakura fields in Japan.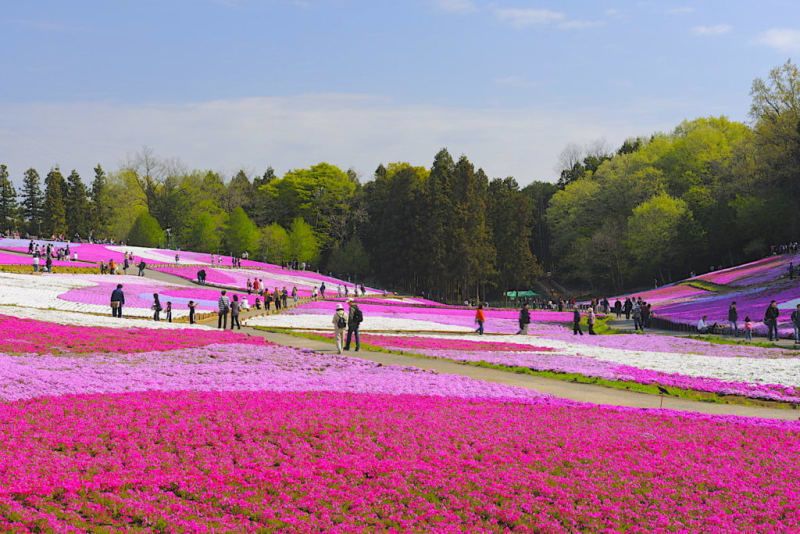 Credit picture to savvytokyo
During the golden week (late April to early May) this park can be very crowded with foreign and local visitors that come from Tokyo to enjoy the beautiful landscape of Hitsujiyama. Don't worry about not getting any spot to relax though, the park is so huge and it features about 400,000 cherry lawn flowers scattered around its 17,600 square meters area.
Access: You can ride a local train to Seibu-chichibu or Yakoza station. From this station, you can continue riding a bus or you can also walk for about 20 minutes to the park area. Information Address: 6360 Oyama, Chichibu 368-0023, Saitama Prefecture Best time to visit: Early April to early May Opening hours: 8.00 - 17.00 Everyday Entrance fee: 300 yen during the blooming season Halal restaurant nearby: New Maharaja, Maharaja Honkawagoe, Iririki CAFE & BAR HALAL FOOD More info on Hitsujiyama Park
5. Wisteria Tunnels, Kawachi Fuji Garden
It is almost impossible to walk through this wisteria tunnels without imagining yourself living a dream life in a fairytale. Kawachi Wisteria Garden that is located in the wooded hills at the south of Kitakyushu is very famous for its pastel-coloured passageway wisteria tunnels. The park is open to the public during the wisteria season which usually peaks around late April to mid-May.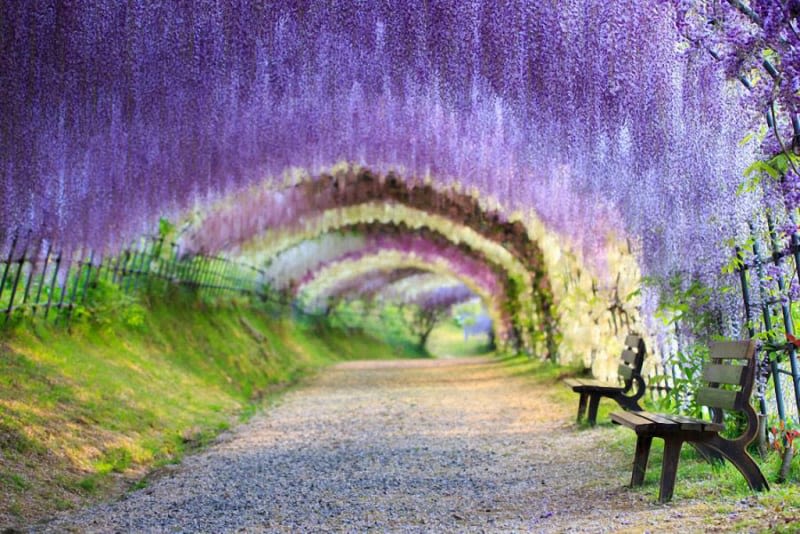 Credit to thebackpackers
Imagine sitting on that bench under the beautiful tunnels, we guarantee you won't want to go back to your real life! If you come during this peak season, be sure to buy the tickets beforehand because visitors without tickets will not be allowed to enter the garden! Tickets can be purchased through ticket machines at 7-Eleven outlets and Family Mart starting from March 15th every year.
Access: You can stop at JR Yahata Station and continue by riding a shuttle bus to Kawachi Wisteria Garden (Only operating during peak season between 22 April to 7 May)Information Address: 2-2-46 Kawachi, Yawatahigashi-ku, Kitakyushu 805-0045, Fukuoka Prefecture Best time to visit: Middle of April to Middle of May Opening hours: 8.00 - 18.00 Entrance fee: 500 yen - 1500 yen (Depending on season) Halal restaurant nearby: Pain Stock, Habibie, Marhaba Fukouka, Mr. Kebab More info on Kawachi Wisteria Garden
6. Azalea, Mifuneyama Garden
Near to the hustle bustle city of Tokyo, there is a hidden mountain covered with cute and adorable Azalea balls. It is Mifuneyama Rakuen, the largest park in Saga Prefecture with an area of more than 500,000 square meters that filled with 50,000 azaleas which turn the green mountain to a colourful land during spring. The name of Mifuneyama itself is taken from the Mifuneyama mountain which is home to this beautiful park.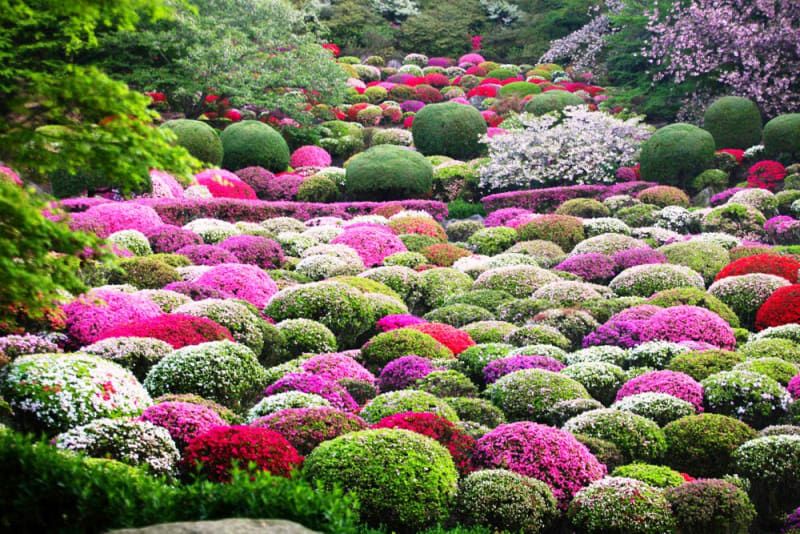 Credit to traveldreamscapes
These colourful flowers that form a ball shape like broccoli combined with a steep cliff background of Mifuneyama mountain will surely make you stunned. Make sure to come on the right time around April-May to get the perfect sight of this.
Access: Drop off at Takeo-Onsen Station on JR Sasebo Line and continue riding a JR Bus that bound for Ureshino Onsen and stop at Mifuneyama Rakuen. Information Address: 4100 Takeo, Takeo-chō, Takeo-shi, Saga Best time to visit : April to May Opening Hours: 8.00 - 17.00 Everyday (Closed on 17.30 from 1 April to  5 May)Entrance fee: 400 yen (regular season) and 800 yen (peak season)Halal restaurant nearby: Bishnu Saga Branch, Bishnu tosu, Vege Herb Saga More info on Mifunayama Garden
7. Lavender, Kuju Hana Koen
For those of you who want to dive into the Lavender Garden, Kuju Hana Koen that is located at the Kuju plateau in Oita can be an option. The soft purple colour of Lavender with its relaxing fragrance is perfect for a short run away from your trouble. Every early June to July, this park will hold a lavender flower festival where more than 30,000 lavender flowers fill up the garden.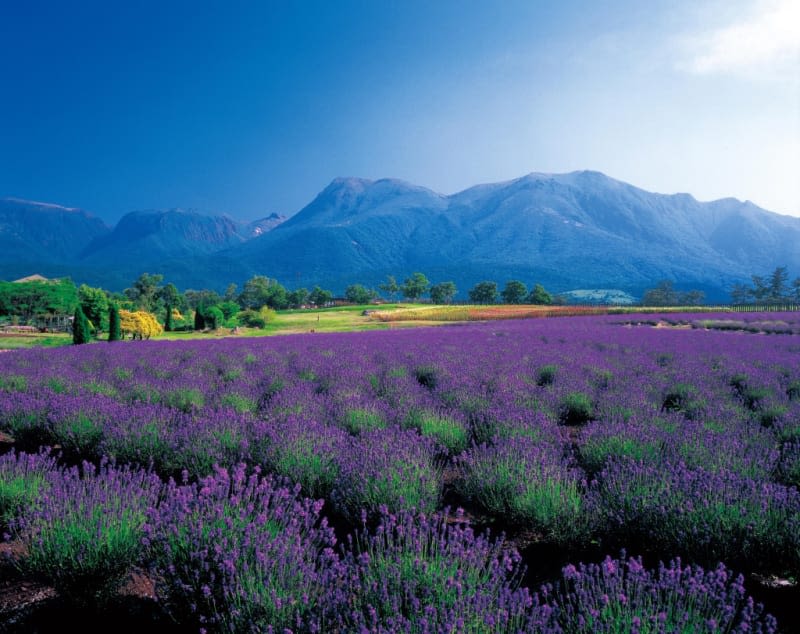 Credit to japanontour
Besides the lavender garden as the main attraction, Oita is also famous for its various historical sites and hot springs that you can go after enjoying the lavender garden. Your short trip to Oita who will definitely relax your body and mind after having hectic days in your everyday routine. Information Address: 4050 Oaza Kuju, Kuju-machi, Taketa, Oita Best time to visit: Early June to July Opening hours: 8.30 - 17.30 Entrance fee: 1300 yen Halal restaurant nearby: Purunima,Yusha Restaurant & Halal Food shopMore info on Kuju Hana Koen
8. Cosmos, Kinen Park
Who thought you can see this beautiful blooms of Cosmos in Tokyo! This cosmos field is such a wonder to behold. The ideal time to enjoy to visit the park is from September where the hilly park will be filled with multicolour scenery. With the dazzling trees, fountains, bike trails, bird sanctuaries and many more facilities, this park definitely offers a great short vacation in the midst of the busy city of Tokyo.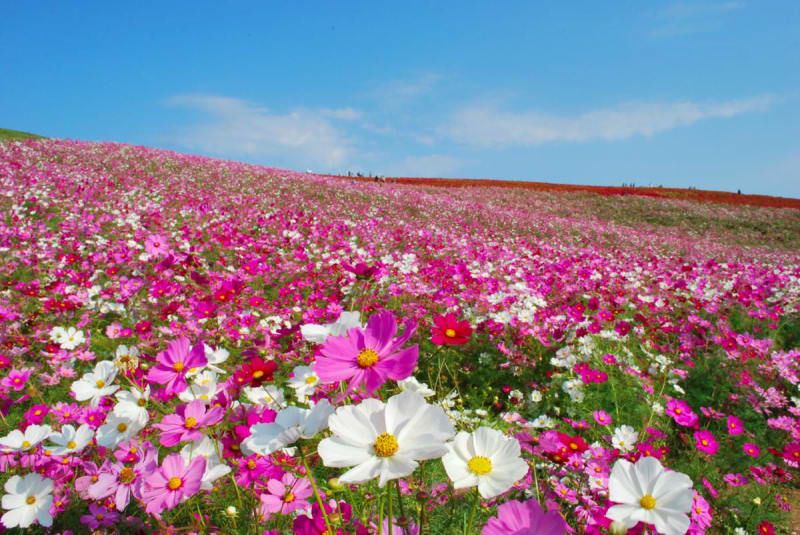 Credit to jmdtour
The park covers an area of 20,000 meters with around 5.5 million different variety of cosmos flowers. This allows you to enjoy the variety of Cosmos colours that bloom differently from September to November. Information Address: 3173 Midoricho, Tachikawa, Tokyo 190-0014, Japan Best time to visit: Middle of September to November Opening hours: 09.30-17.00 Entrance fee: 400 yen Halal restaurant nearby: Grazie Garden, Asian Dining and bar Manakamana Oyama,Red Lobster Kamiitabashi
More info on Kinen Park We know you are just as excited as we are to see all those flowers bloom beautifully in Japan! Complete your journey by trying halal local delicacies all around Japan with the help of Muslim foodies in Halal Navi. Don't be left out and download the app now!