7 Fantastic Railway Pass In Japan And Where To Find Them
Alhamdulilah, I had an opportunity to travel Japan from the end of the North (Hokkaido) till the tip of the South (Okinawa Island). Coinciding with this travel opportunity, I had the chance to try many different types of trains in the country! Want to know what kind of  train did I take? Check this out 🙂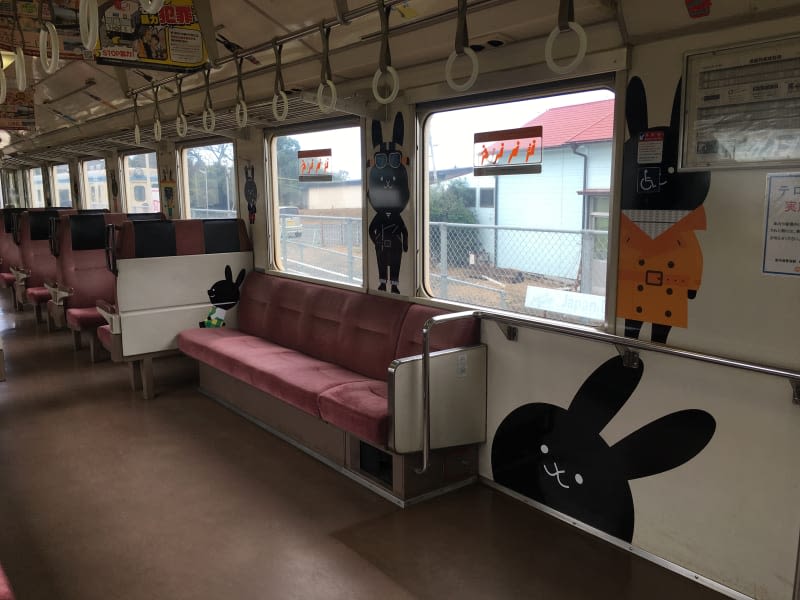 1. REGULAR TRAIN TICKET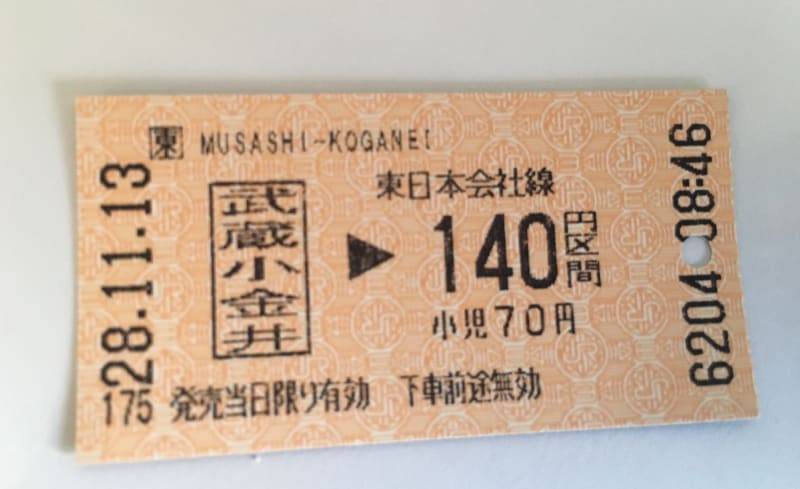 These tickets can be used for trips within a city. In Tokyo, you can buy tickets like the picture above in automatic ticket machines at all stations. Lowest fare for each ticket is different for each region. For Tokyo itself prices starts from ¥ 140.
You can check the route you want to take as well as the ticket price in a large banner at each station, usually it's placed just above the automatic ticket machines. Or if you don't want to be troubled with this, you can buy tickets at the lowest price, and then recharge in the "Price Adjustment" machine  which usually located near the gate.
2. IC CARD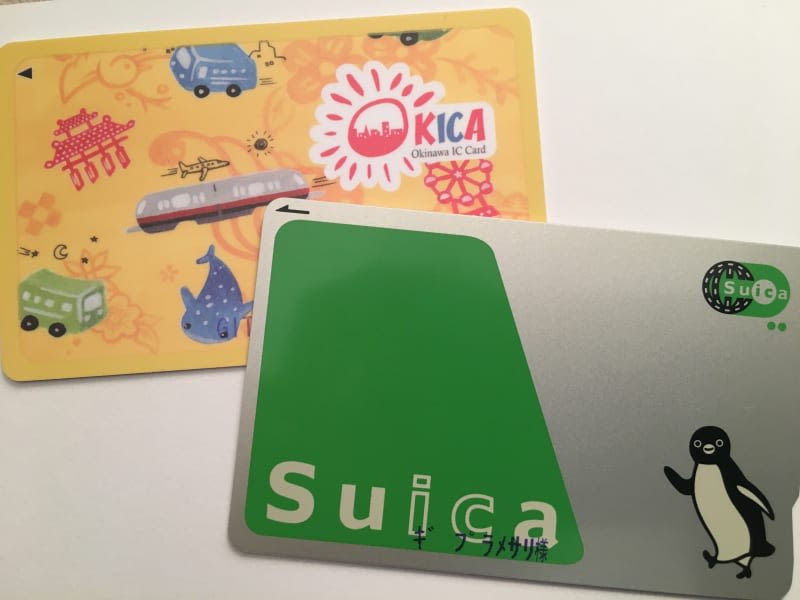 IC Card is a prepaid card that you can tap directly at the gate whenever you want to (but make sure you have enough credit okay!) and then you can just amble in to the train. You can buy IC Card, again at the automatic ticket machines at all stations. Do not worry if you don't speak Japanese, you can select English menu  in the machine 🙂
IC Card has various names in different places throughout Japan. In Tokyo itself is called SUICA, KITACA (Hokkaido), Icoca (Kyoto-Osaka-Kansai Area), NIMOCA, SUGOCA, OKICA, etc. Prices start from ¥ 1,000 and already includes ¥ 500 deposit. And the best part is you can write your name on this card!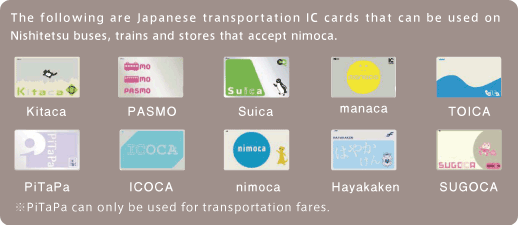 So what's the advantage of this IC Card?
¥ 5-10 cheaper price than normal prices
Can be used when buying on vending machine (Jidohanbaiki)
Can be used when shopping at some supermarkets and franchise stores
Not only can be used on JR trains (public), but also private companies such as Tokyo Metro trains and several other trains like monorail
Not only for the train, several buses also allow payment by IC Card, so practically it's like a one stop card for almost everything 🙂
Since each region has a different card, there are times when you can not use a card at certain area in different region. But don't be panic, just check out the full information here.
3. SEISHUN 18 KIPPU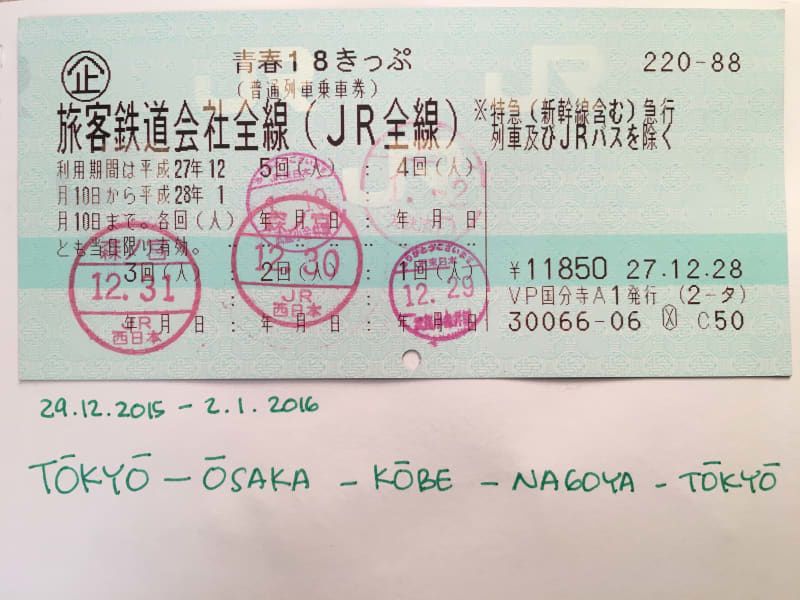 What kind of ticket is this that has a very long name? Seishun 18 ticket kippu is a cheaper option for you who want to venture Japan from north to south with LOCAL TRAIN! We repeat, local trains! You can not travel by Shinkansen or special rapid with this ticket.
I use this ticket for travelling from Tokyo to Osaka. You know how long? Jorudan (application to check train schedules) told me it was going to be about 8 hours, apparently, it took me 12 hours to travel from Tokyo-Osaka! It was very tiring, but the scenery along the journey was really fantastic and I did not regret it!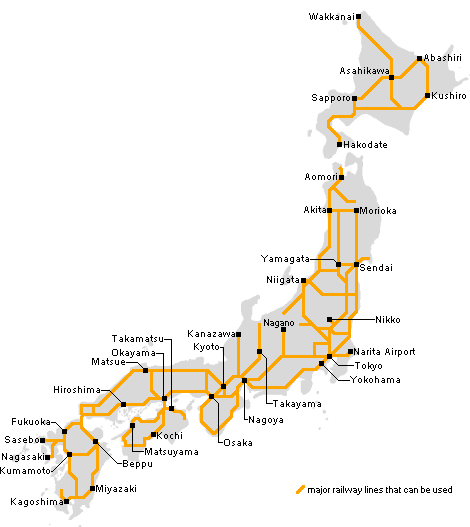 This Seishun 18 Kippu has certain periods to buy, it's not for sale throughout the year, only during the holiday season. It's only valid for 3 months during the summer and only one month during the winter. You can purchase this ticket with  ¥ 11,850 for 5 times use during the period specified. This ticket can be used by anyone who holds it, does not necessarily the person who buys it!
So let's say, you buy an 18 Kippu ticket but only used it for three times, you can give it to your friend to use the rest. Or you can also use the 5 tickets in one day if you bring 5 friends along with you. 1 person is counted as 1 time used. Confused? Please check more details on their official web.
4. JAPAN RAIL PASS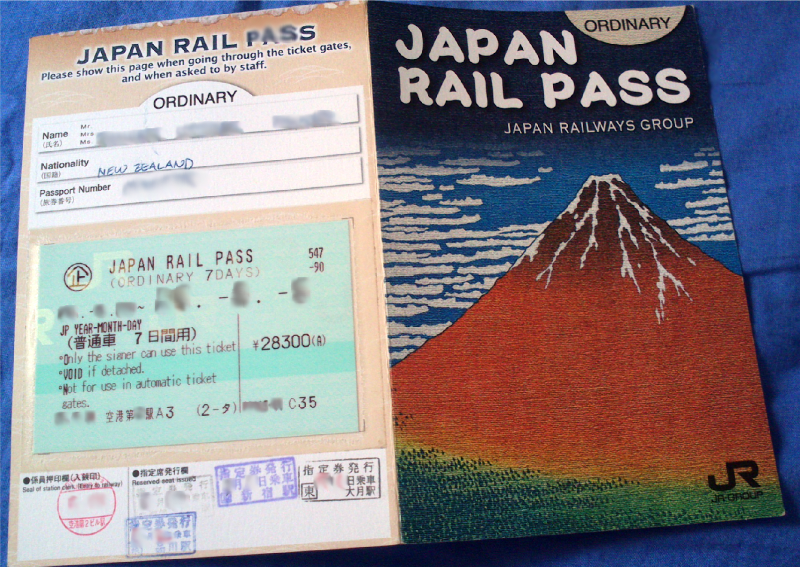 This type of ticket is very famous among those who travel or are planning a trip to Japan. This card is sold outside Japan to be used later when you arrive in Japan with a starting price ¥ 38,880 for 7, 14 and 21 days duration. JR Pass is sold by many travel agents outside Japan, you can activate them directly in certain major stations once you arrive in Japan. You can use the card on all JR trains from the south end to the north end of Japan.
Apart from that, you can use this to ride a variety of public transportation in Japan from the local train, rapid, special rapid, express, and even Shinkansen. But you can not use it for the super fast Shinkansen like Nozomi and Mizuho. You can not use this pass on subway trains and buses either.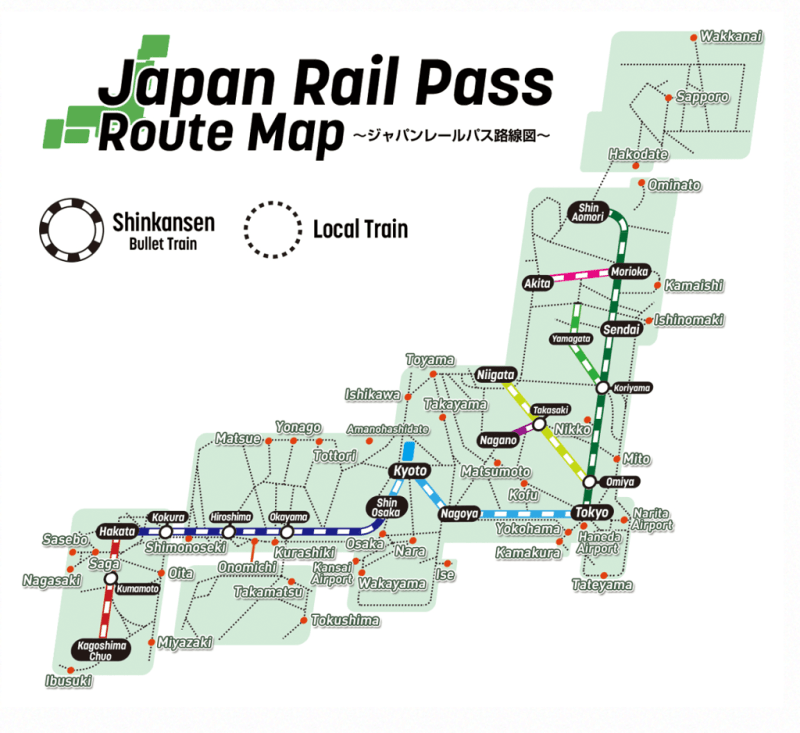 And by the way, this pass can take you to Hokkaido in just 4 hours which is pretty awesome. However it only takes you up to Shikoku-Ehime regions, and unfortunately, the southern part can't be reached by Shinkansen.
What about seat reservation? By showing JR Pass you can ask for seat reservation in Shinkansen ticket counter or in ticket office (in Japanese: Midori no Madoguchi - み ど り の 窓 口) in any station. You can reserve the seat even on the same day of departure without any additional cost! Check their website for more info.
5. JR TOKYO WIDE PASS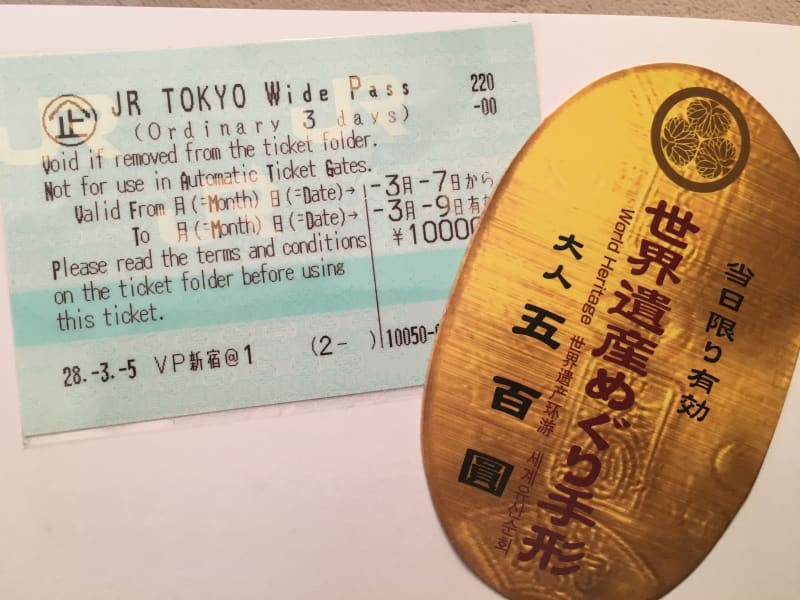 This card is a special pass for Tokyo, Kanto and surrounding areas. It can be purchased even for those who live in Japan with a residency visa 🙂 These tickets usually become popular during the winter. Because one of the ski spot Gala Yuzawa can be reached using this Wide Pass.
By ¥ 10,000 course, You can already reach various tourist spots in Tokyo and Kanto! You just need a passport that proves you are a tourist then you can use these tickets for 3 days in a row. Unfortunately, since this is only applicable in Tokyo and Kanto area, you can not ride Tokaido Shinkansen or another Shinkansen outside Kanto with this ticket. For more details, you can check here.
6. SPECIAL PASS
What is special pass? Special Pass is a special season ticket to commute between two spots in a specific area and period that is much cheaper than if you buy single tickets! I used the special pass for Kichijoji Station (Tokyo) to Kawaguchi-ko before. This special pass only cost me ¥ 4,300 for the round trip, while if you buy one-way ticket it will cost you ¥ 3,300.
Not only that, this special pass can also be used for the red and blue bus from Kawaguchiko to various tourist spots in Kawaguchi Lake. You can purchase tickets in ticket machines at almost all stations. As Kawaguchiko is one of the tourist attraction, the ticket machine highlight this location.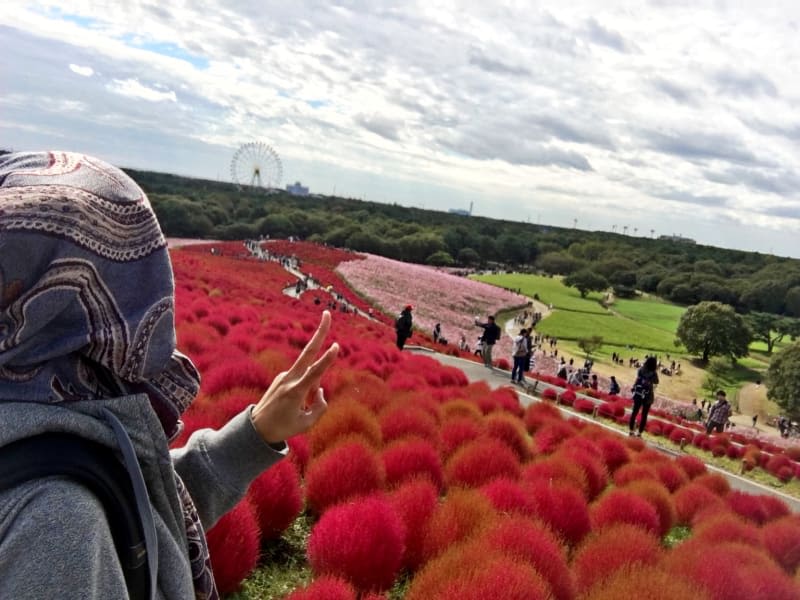 Besides, I've got a special ticket pass when I went to Hitachi Seaside Park. It's a large garden with red grass during autumn. With only ¥ 1,100, I already got one day pass for the train back and forth from Katsuta station to the nearest station from Hitachi Seaside Park as well as the admission ticket of this garden! There is even a free shuttle bus from the station to the park on weekend. Check here to find out how to purchase this pass.
7. SUBWAY PASS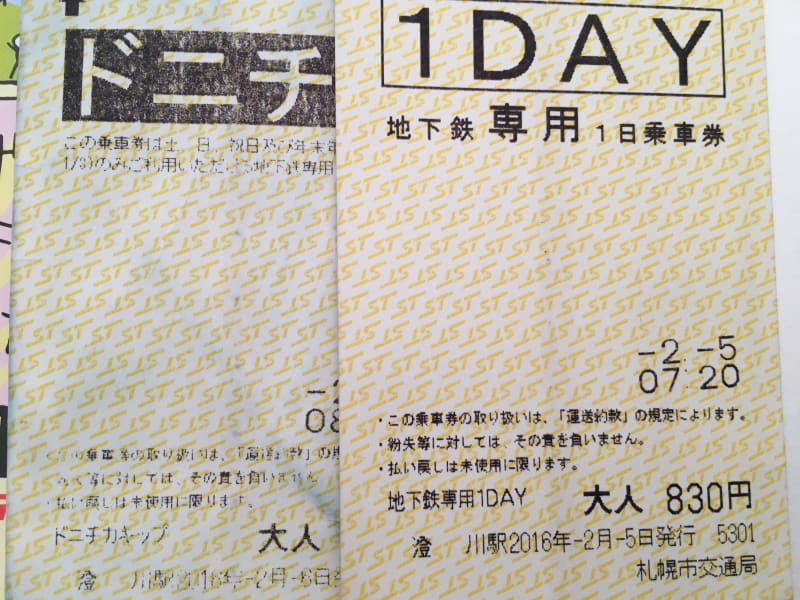 As the name suggests, this ticket is a special season ticket for all the subway in some specific areas. For example, Tokyo has this Tokyo metro line 1 day pass. You can also find one in Hokkaido, as most places in Hokkaido are accessible by Subway. This 1 Day pass can be purchased at Subway ticket machines. Please make sure you don't buy from a regular JR train. You can find the ticket counters outside the gate at any subway stations.
So, are you ready to venture Japan with these rail passes?  We know you are excited, but don't forget your obligations as a Muslim to pray on time! Don't worry because you can find mosques and mushola nearby in Halal Navi Apps. Not only that, you can also find Halal restaurants near your place too. Now you can put your mind at ease while travelling to Japan!
P.S : Have any stories about Japan that you want to share? Send your article to [email protected] to be featured!