6 Scenic Spots to Visit in Fukuoka Prefecture
Fukuoka Prefecture is located at the northern Kyushu with Fukuoka City as its capital. It is close to other Asian countries including South Korea. The thousand-year-old historical landmarks still exist in modern and industrial times.
What makes Fukuoka Prefecture as currently one of the must-visit regions in Japan to visit is its bountiful nature filled with majestic mountains, tranquil seas and luscious greeneries.
Check out these 6 scenic spots which its wondrous natural views of Fukuoka Prefecture will take your breath away.
1) Itoshima
Want to enjoy a coastal drive for a day? This lovely seaside town welcomes you with the white sandy beaches and tranquil waters along Genkai Sea.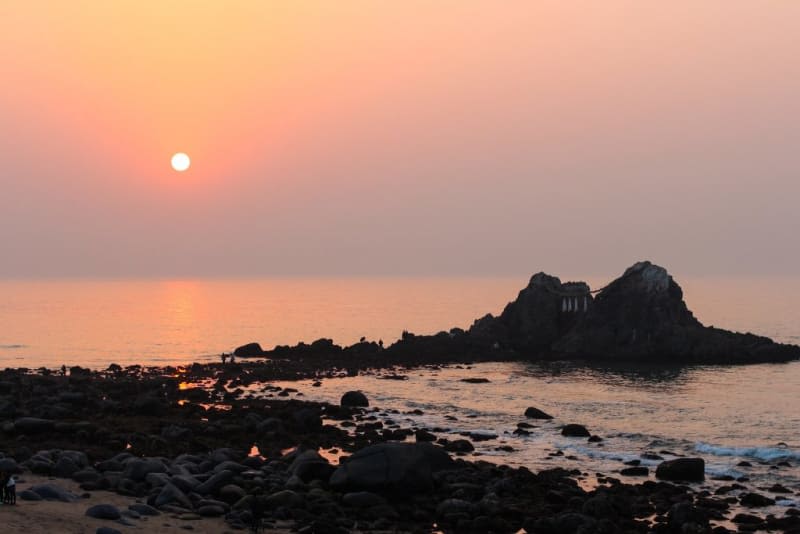 (Photo Credit: otsukaekun, CC BY-NC 2.0)
Wind down and splash in the waters by the Shiraito Falls, located at Mt. Hageyama. This 24-meter waterfall is surrounded by 300-years-old Japanese maple trees. If you plan to come in May, you will get to have loads of fun at a trout fishing festival.
End your trip by making your way to Sakurai Futamigaura of Meoto-iwa, known as "couple rocks", at Futamigaura Beach. Enjoy watching the beautiful sun setting between two large Meoto-iwa rocks, joined by a Shinto rope.
| | |
| --- | --- |
| Getting there: | 30-minute drive from Fukuoka City or 40-minutes train ride along the Kuko Line from Hakata Station |
| Address: | Sakurai Futamigaura of Meoto-iwa – Shimasakurai, Itoshima, Fukuoka 819-1304, Japan |
2) Yanagawa
Known as the "Venice of Kyushu", this picturesque town has its 470 kilometres of canals which were built hundreds of years ago for irrigation.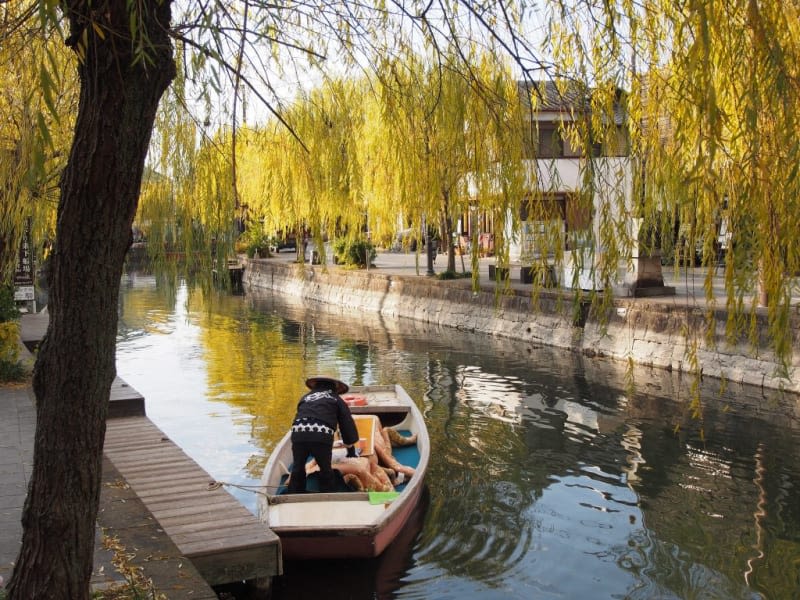 (Photo Credit: sheldon0531, CC BY-NC-ND 2.0)
Originally a castle town, Yanagawa is popular for its river cruising by donkobune (low flatboats rowed by local boatmen with poles) and kawakudari which takes you around the canals.
This 40 – 60-minute boat ride will take you through the gorgeous surrounding nature and town for about 4km. The majestic Yanagawa Castle (known as the "Water Castle", built in 1588), Namako Walls and Yaemon Bridge are the breath-taking sights not to be missed.
During the cruise, these local boatmen entertain the guests by singing nursery rhymes (written by local poet Hakushu Kitahara) and show off their talented rowing skills.
| | |
| --- | --- |
| Getting there: | 50-minute train ride from Hakata Station |
| Admission fee for boat ride: | 1,000 – 1,500 yen |
3) Nokonoshima Island Park
In the 1960s, 19-year-old Kubota Kosaku designed Nokonoshima Island Park, a garden filled with magnificent ranges of flowers planted throughout the seasons.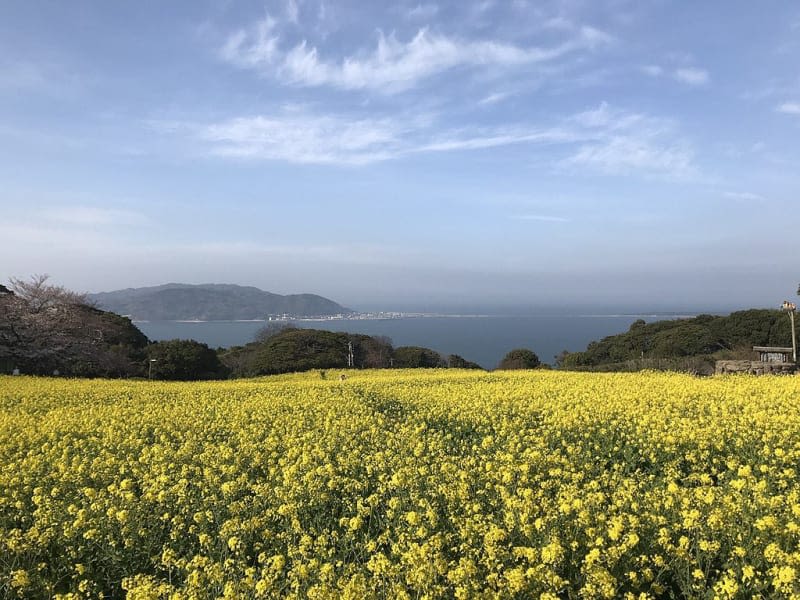 (Photo Credit: そらみみ)
It takes about 2 – 3 hours to explore the park. Besides taking strolls, enjoy playing fun-filled activities such as Nokonokoball (a 9-hole game which is a mix of golf and croquet), get creative by making pottery, and making friends at the mini zoo.
Love camping in the natural wonders? Spend your holiday at the Nokonokoshima Camping Grounds from May to September. Enjoy your camping trip by staying in one of the cottages, having meals at the barbecue pits and renting free banana boats. Only ten cottages at the site, the spots are taken quickly so you have to book early. The reservations are opened from April 1 every year.
Getting there:
Hop on the bus 301 or 302 that takes you to the Meinohama Ferry Passenger Terminal where you will take a 10-minute ferry ride (one-way ferry ride – 230 yen) to the island. Due to limited buses, take a 90-minute walk to the park.
Address:

〒

819-0012 Fukuoka, Nishi Ward,

能古島

, Japan
Entrance fee:
1,000 yen
4) Uminonakamichi Seaside Park
Enjoy flower viewing but prefer to stay in the city? Uminonakamichi Seaside Park is located right next to Hakata Bay in the centre city of Fukuoka.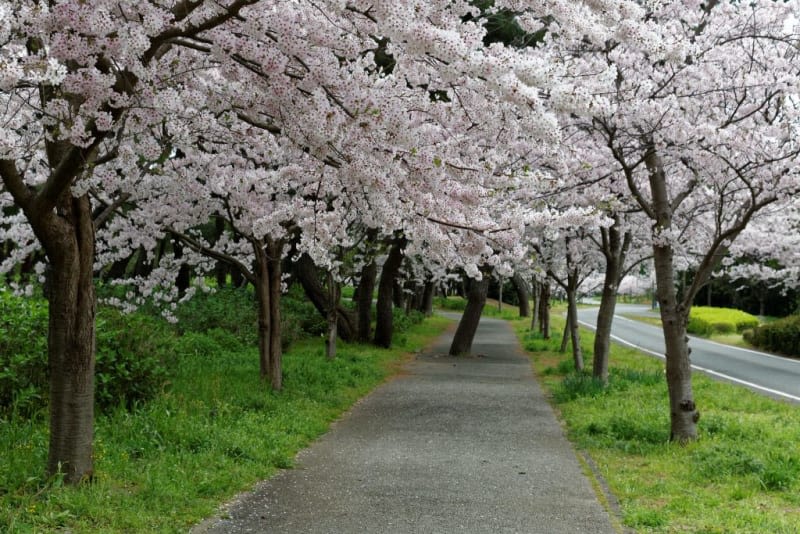 (Photo Credit: Kimon Berlin, CC BY-SA 2.0)
There are about millions of flowers planted around the park. Although different flowers are bloom in various times of the year, it is best to see them during the blooming season (mid-March to early autumn).
Cycle along the trails, surrounded by about 2,000 cherry trees. It is known as one of the best cherry blossom spots in Japan.
| | |
| --- | --- |
| Getting there: | Hop on the bus 301 or 302 that takes you to the Meinohama Ferry Passenger Terminal where you will take a 10-minute ferry ride (one-way ferry ride – 230 yen) to the island. Due to limited buses, take a 90-minute walk to the park. |
| Address: | 18 – 25, Saitozaki, Higashi Ward, Fukuoka, 811-0321, Japan |
| Entrance fee: | - |
5) Ohori Park
Ohori Park is a great place to rest your tired feet after having long walks around Fukuoka City. It is located within the city with a large pond at its centre. There is a walking path around the pond where it is popular for strolls, jogging and walking pets.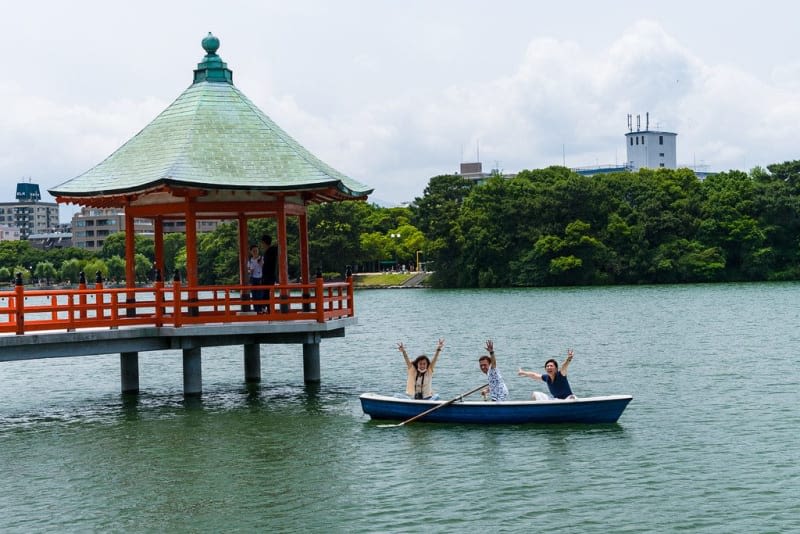 (Photo Credit: plynoi, CC BY-NC 2.0)
The pond used to serve as part of the moat system of the Fukuoka Castle. The park was built between 1926 and 1929. Its design is inspired by the West Lake's classical garden style in China. The three islands in the middle of the pond are connected to the mainland. Each island is connected with sophisticated stone bridges.
After relaxing by the pond, take a stroll around the park and visit Fukuoka Art Museum, Ohori Park Japanese Garden and Gokoku Shrine.
| | |
| --- | --- |
| Getting there: | A short walk from Ohori Koen Subway Station |
| Address: | 1 Ohorikoen, Chuo Ward, Fukuoka, 810-0051, Japan |
| Entrance fee: | - |
6) Sasaguri Kyudai Forest
Step into this luscious forest by the water (located near Kyushu University) where it has about 90 different types of broadleaved trees. Kamata Pond lies deep in the forest where you can relax at the pavilion and wooden benches.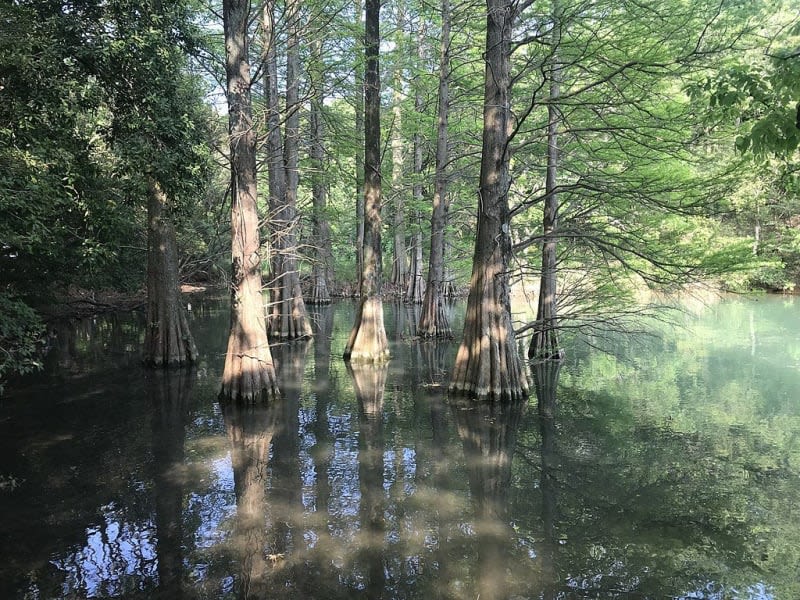 (Photo Credit: そらみみ)
The walkway invites you to enjoy peaceful strolls in the enchanting woods and around the pond.
The bald cypress trees standing tall within its natural surrounding is a beautiful sight that leaves you in awe.
Getting there:
20 minutes' train ride from Hakata Station to Sasaguri station via Sasaguri Line (Fukuhoku Yutaka Line) followed by a 35-minute walk or a 10-minute taxi ride to the forest
Address:
1009 Wada, Sasaguri-machi, Kasuya-gun
Entrance fee:
-
Opening hours:
April – September: 6 am – 6 pm;

November – March: 7 am – 5 pm
Are you mesmerised by these scenic views? We feel that you can't take your eyes off from the beauty of Fukuoka and wish to physically be there to embrace its abundance of nature. If you are an adventurer and a nature lover, then Fukuoka is the next place to explore its wondrous nature and
delightful towns. Remember to download Halal Navi app to keep you company throughout your journey.