5 Reasons Why You Should Visit Halal Sushi Ichizyu (With Discount Coupon)
"Irasshaimase ~"  
Your Japan trip will not be complete if you did not enjoy sushi but as we all know finding a Halal sushi restaurant can be hard. But worry not, as we found the perfect restaurant for you to not just enjoy Halal sushi but to learn how to make them on their own too!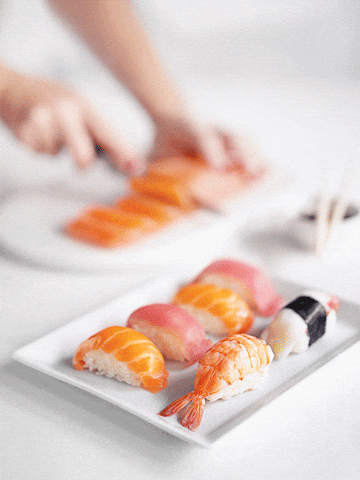 1.Walk-able distance from the station Located in Chiba-city, Sushi Ichizyu is THE place for you to head down to learn how to make Halal sushi from a professional Sushi Sensei. It's only 4 minutes of walk from Makuhari Hongo station making it very accessible if you're traveling around in Chiba on foot! If you're coming from Tokyo it's only about 40 minutes by train!
2.No worries about the Halal status
Finding Halal sushi and Halal Japanese food is hard, especially with sushi as they use mirin and alcohols (some shoyu/soy sauce have alcohol inside it too!) in the preparation. But at Sushi Ichizyu you don't need to worry about the Halal status as all food menu in Sushi Ichizyu (not just sushi but all the meat too!) is Halal Certified by Japan Halal Foundation, a legit Halal certification body in Japan. So you can nom away in peace!
3. Learn how to make different types of sushi, right off the counter from a professional sushi sensei!
Where would you get the chance to learn how to make your own sushi back in your hometown right? And instead of just the normal sushi, you will be able to learn how to make different types of sushi such as nigiri sushi (the normal sushi), 2 types of maki sushi (rolled sushi), and aburi sushi (seared sushi)! Most sushi class typically only teaches nigiri or maki but not aburi so here's your chance to be the true sushi master!
The best part about the sushi class is you'll be learning it over the counter and you'll be able to see how fresh the sashimi are! And to make you feel like a sushi chef, the chef will present you the sushi hat that you can bring back home as a souvenir. How cool is that? Like the chef says it's time to nigitte (grasp) , maite (roll) and abutte (sear)!
4. Enjoy the authentic Halal Japanese set with the sushi you made!
After the class, not only you'll be tasting your handmade sushi, but you'll be enjoying a whole lunch course too! Talk about a luxurious lunch! So not only you'll be paying for the experience but you'll get an authentic Halal Japanese cuisine such the zosui (soup dish), tempura, sea bream, appetizer, and miso soup! You will be so full once you walked out of the restaurant!
5. Enjoy other kinds of menu in Sushi Ichizyu without worries!
If your lunch set is not enough, you can always order other Japanese dish menus that is usually hard to come by, such as teriyaki unagi or beef steak. This menu is even hard to find in Tokyo hence you should not miss your chance to try them up. We also recommend you to try their Sukiyaki Dish as you can make it yourself with your friends and family!
6. BONUS Grab a Halal Bento to go!
Worried you won't find a Halal meal at your destination? Or you can't get enough of Sushi Ichizyu's delicious meals? Regardless, don't worry as Sushi Ichizyu got you covered with amazing affordable bento! The most popular bento is the Unagi and Chicken Teriyaki Bento and we can understand why.
Finding Halal Unagi Bento is hard as most "tare" sauce uses alcohol but now you have a chance to try it out for less than 2,000yen! They have other bento such as Meat Sushi with Sashimi Bento and The Rice Variety Bento that is as delicious as the Unagi Bento so don't forget to drop by and give it a try!
5% OFF TOTAL BILL
Get your sushi sets with a discount along with 70 other coupons that worths up to 50,000yen!Get Discounts
Restaurant information
Website: Sushi Ichizyu Chiba
Address: 6-27-13-1F/2F Makuhari Hongo, Hanamigawa, Chiba-shi, Chiba 262-0033
Tel: 043-305-5867
Open Hours:
Weekdays: 11am – 2pm, 5pm – 10pm
Weekend: 11am – 10pm