5 Cool Things You Can Buy with ¥500 In Japan
"Why is everything sooo expensive in Japan? Oh My Goodness!" Oops, we hear somebody's inner scream 😛 . We don't mean to be rude, but we can see that in your eyes. Every time you buy something in Yen, you start calculating and converting it to your home currency. You might even consider eating instant noodle for your whole trip in Japan.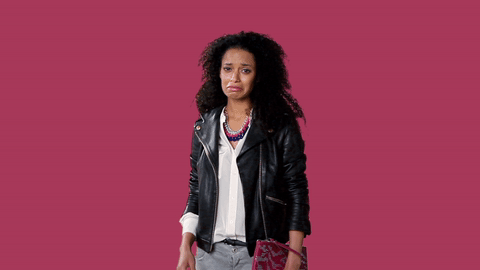 But hey, that's not always true. Yes, we repeat, not everything in Japan makes you broke. In fact, we have picked five cool things you can buy with or even less than ¥500 (No, we are not joking! You can buy stuff with A COIN!). So wipe away your tears, roll up your sleeves and be prepared to hunt this miraculously cheap stuff!
1. Items You Never Thought You'll Need from ¥100 Shops
Daiso is always the best buddy for budget travellers like us. There are just countless of cute and mind-blowing stuff you can buy as a souvenir from Daiso and other ¥100 Shops (Can-do, Seria, and etc). Some of you might think it is just the same Daiso that you have back home. We ensure you they are not! With such huge stores and endless rows of items, you can easily find Japan-Only products here. And the majority items, if not all, are priced ¥108! Does that enough to make you lose your breath? If no, here's some cool stuff we think you might want!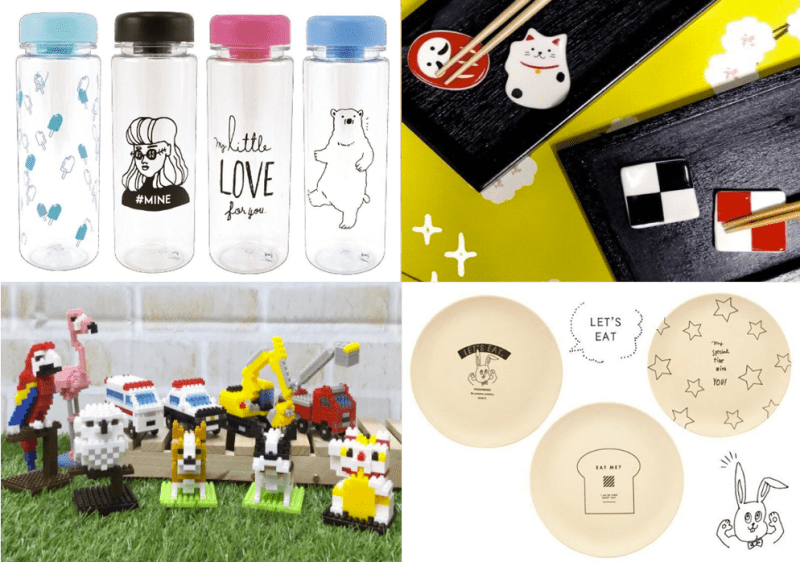 Credit to Daiso Japan
2. Kawaii Souvenirs from ¥300 Shops
Similar like Daiso, there is a bunch of ¥300 shops in Japan to get some cute accessories, clothes, bags or even kitchen and home appliance for you to bring back home. To name a few, there are 3Coins,  Illusie300, Sankyuu Mart, Mikazuki Momoko and many more. You can find them easily everywhere in the city and most items in the shop will cost you not more than ¥324(Only Sankyuu Mart starts from ¥390).  Check some of these kawaii stuffs we picked for you!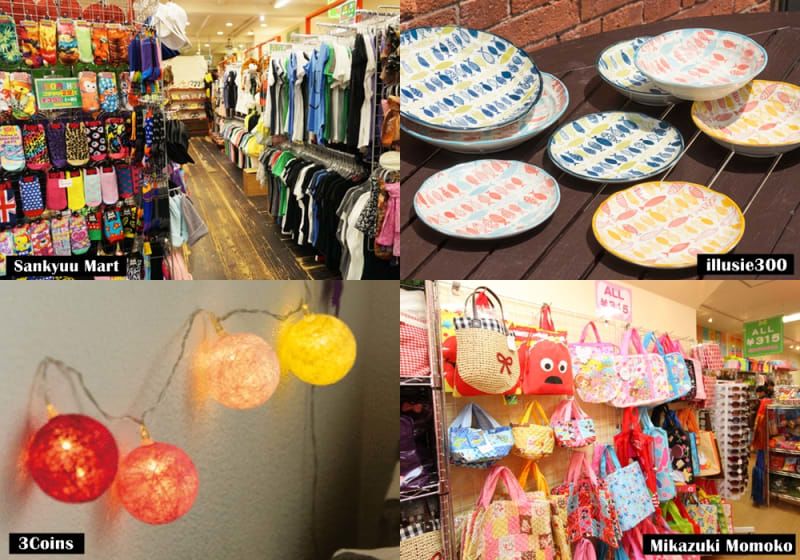 Credit to Sankyuu Mart, illusie300, 3coins and Mikazuki Momoko
3. The Oh-So-Famous Bourbon Alfort Chocolate
Chocolate on one side and biscuit on the other side, have you ever eaten anything like that? Bourbon chocolate is made from a perfect combination of whole wheat flour and rich milk chocolate. The sweet biscuit and the bitter taste of dark chocolate give you a malty sensation when eaten together, they are just a perfect match. And for fellow Muslim, you can put your mind at ease because this snack only uses Muslim friendly ingredients. What's more exciting? It only costs you ¥106 per package (if bought in a convenience store) and if you are lucky enough, you can find it sold for ¥69 in some drugstores(you really have to be lucky;)). No wonder it became one of the most wanted chocolate and haunted by tourists in Japan.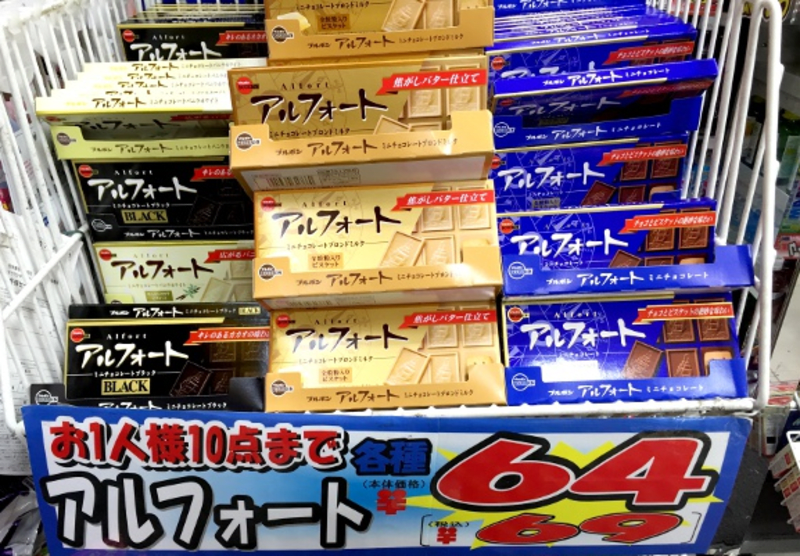 Credit to Rocketnews24
4. The Legendary Japanese Onigiri
If you have a very packed itinerary on your Japan trip, Onigiri is definitely the best on the go food to fuel up your energy. It comes in many variations and you can find them easily in any konbini (red: convenience store) across the city. The best part is you can get one for as cheap as ¥100 - ¥150! You can buy two or three for your lunch and that's enough to take care your tummy while adventuring in the city. However Muslim travellers, be careful and only pick seafood and vegetarian variants as the meat-based variant are most likely not halal. Check the picture below for your reference. If you are not confident enough, use our Muslim card and show it to the staff in konbini to help you pick the right variant.
Credit to JHPSM
5. Chicken rice!
Yes, you heard us right, that Chicken Rice! Meals in Japan can be very expensive and you might start missing home food after all the sashimi/sushi/onigiri hunting. Well, here in Pokok Pisang you can enjoy Nasi Ayam (or widely known as Hainanese Chicken Rice) for only ¥500 (np: ¥790)! And if you're there for lunch, you'll get a complimentary soup and drink!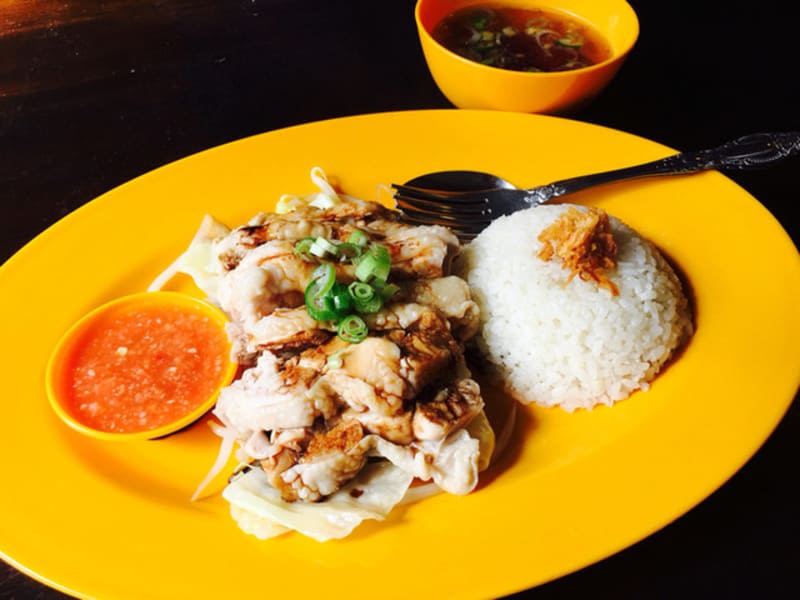 Pokok Pisang is a Malaysian restaurant in Ibaraki, and the meals are cooked by our own Malaysian Chef so you won't have to worry about getting a Japanese-altered Malaysian food. It is 100% Halal, and they do not serve alcohol. The best thing is that they even provide you with a praying space so you can enjoy your meal worry-free 😉
All you need to do is download our Halal Navi app (link below), and flash the coupon to the staff to fill up your stomach with some delicious Nasi Ayam 🙂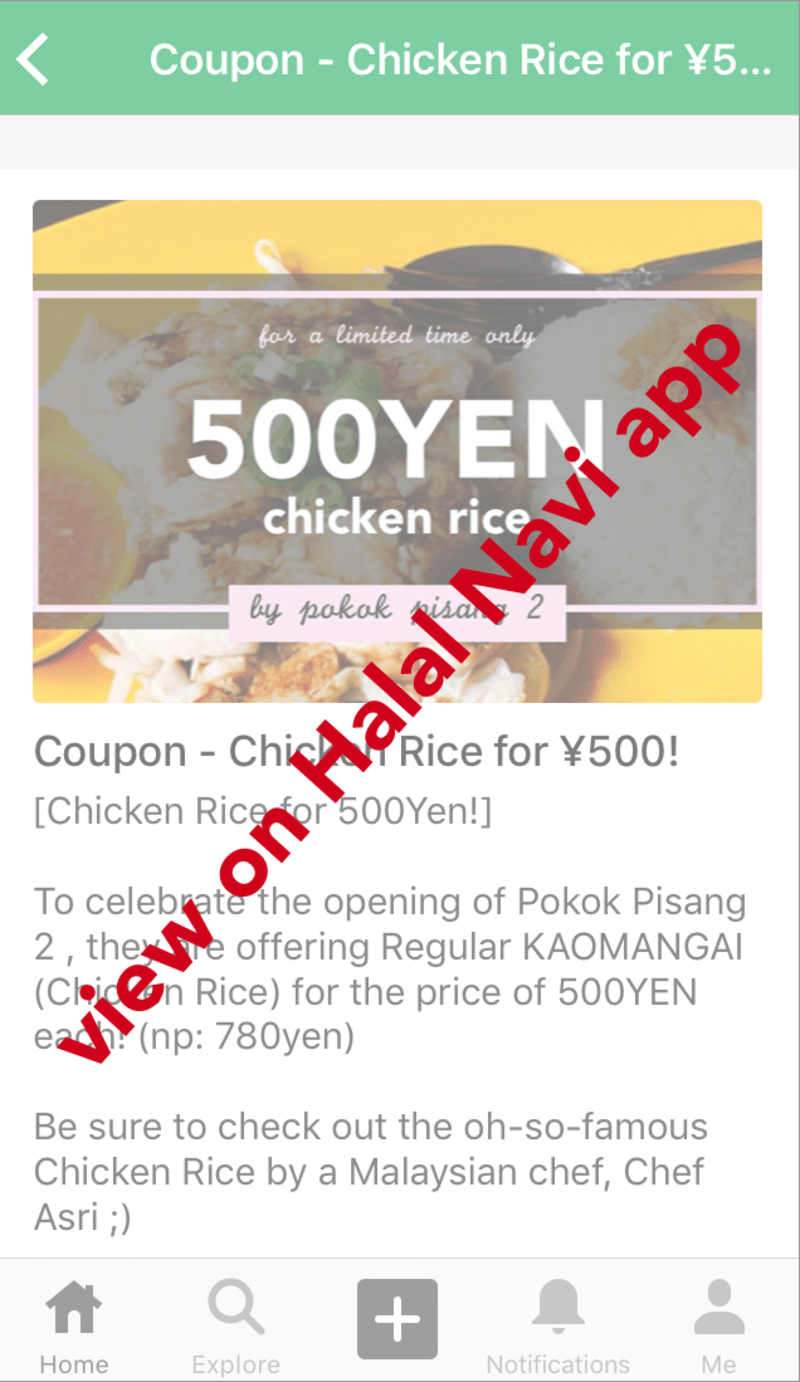 *this coupon is only valid until 19/2 so hurry and claim your Nasi Ayam!
| | |
| --- | --- |
| Address | 4-4-13 Omikacho, Hitachi-Shi, Ibaraki, 319-1221 Japan |
| Phone | +81294515257 |
| Halal Tips* | Muslim Owner and Chef. Praying spaces available. |
More info about Pokok Pisang Are these things enough to draw back a smile on your face? *wink*. But of course you don't want to eat Onigiri every single day during your Japan trip, do you? Find other cheap and delicious Muslim friendly foods in Halal Navi. You can ask advice from other Muslim foodies and check where are they having their meals in our apps.