Tokyo Fun with Kids: 5 Amazing Attractions!
Traveling with kids will surely be a challenge. But we know making memories with them are something more priceless. Tokyo is a city that is fill with so many exciting attractions. Be it for the adult or children. Most of the attractions are easily accessible with public transport so you don't have to worry about driving on your own and your kids will surely enjoy their train adventures. Looking for places to visit in Tokyo? Disneyland is so mainstream~ hop around and visit these attractions instead!
Ninja Trick House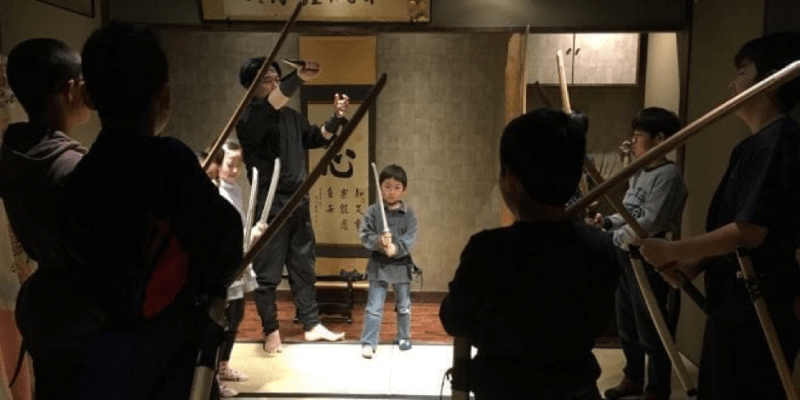 Deep in Tokyo city there is a place where you and your family can turn yourselves into a ninja. Yes, you read it right. NINJA!!! The Ninja Trick House is located in the middle of Kabukicho, just a walk away from the JR Shinjuku Station east Exit and the Seibu Line Shinjuku Station. Here, you and your family can unleash your ninja skills! Experience the chance to master the wall trick of a ninja, throwing shurikens and how to draw a sword as a ninja. Each session is around 40 minutes – 1 hour engaging ninja activities. Be sure to book in advance as the place can be fully occupied. Have a family fun ninja time!
Hours:
10:00–18:30

Mon, Thu, Fri, Sat, Sun

(Last admission is at 18:00.)
Fee:
1,100 Yen (Per Adult) Cash only

Free participation for children under 3 years old
Address:
2-28-13 Kabukicho | 1st Wako Bldg. 4F,

Shinjuku 160-0021, Tokyo
Website:
https://ninja-trick-house.com/en/
Fire Museum Tokyo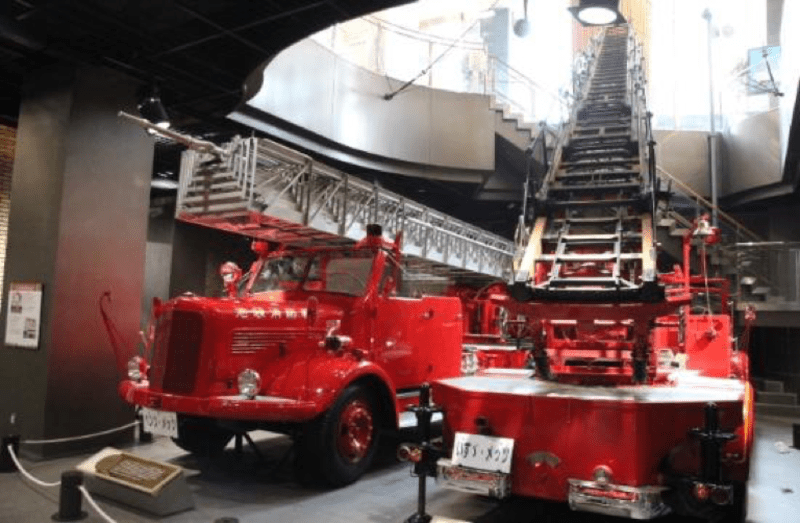 (Photo from Trip Advisor)If your kids are an avid fire-fighter fans, this is a must visit place. This museum is fully dedicated to the Tokyo's firefighting history from the Edo-era up until present. The entrance is in the basement which is connected to Yotsuya-sanchome station's Exit 2, Marunouchi Subway Line. Extra tips; take the lift way up to the highest floor and make your ways down through stairs.
The highest floor is the observation deck which is located on the 10th floor. Eating is permitted here and if you are lucky, on a clear day, you might even see Mt. Fuji. Make your way down and breeze through the collections of vintage fire-engines, fire-fighting helicopters, firefighting equipment and fire-fighter suits. There are even an actual helicopter on the 5th floor. You will see the evolution of fire-fighting history of Japan throughout the museum's exhibit.
The exhibits are educational and interactive. Kids can suit up in the fire-fighter gears, ride a helicopter simulation, put down fires through games, watch videos, look through dioramas and many more activities that involves fire-fighting. Most of the instructions are in Japanese but the configurations are simple to be understand. English pamphlets are available within the vicinity. Overall, this is a great place to spend an hour or two with your kids. Here's another plus point; THERE IS NO ENTRANCE FEE! It's free!
Setagaya Park
Setagaya Park is great for an inexpensive outdoor day adventure with your family! Located at the Setagaya Ward, 15 minutes away from Shibuya station by bus. The nearest train station is the Ikejiri-ohashi station which is 10 minutes walking distance from the park. While strolling on the street, you can have a glimpse of the locals' lifestyle and many interesting cafés. This beautiful park comes along with attraction facilities like the skate park, tennis court, walking tracks, and other fun things that will sure to keep your kids busy.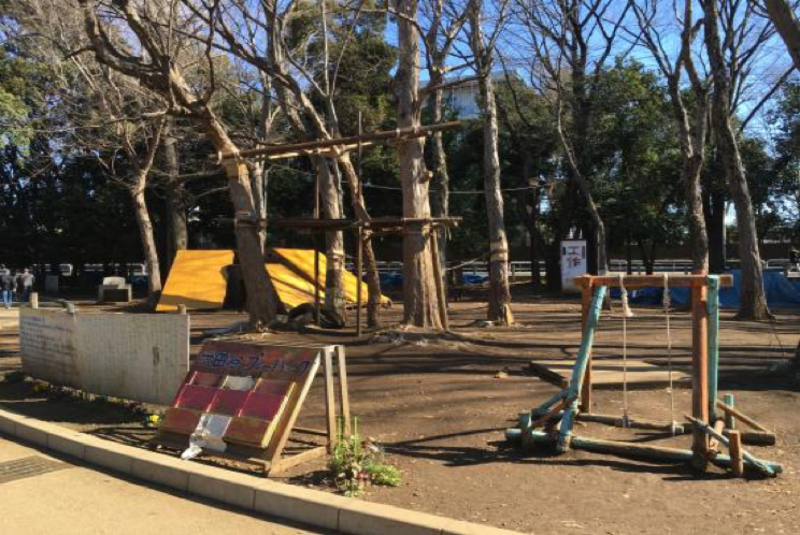 The play park area is handmade of woods that comes with obstacles perfect for the kids to burn their energy and live their childhood! The park even have rope swings, slides, and sandpit. Be prepare to get messy.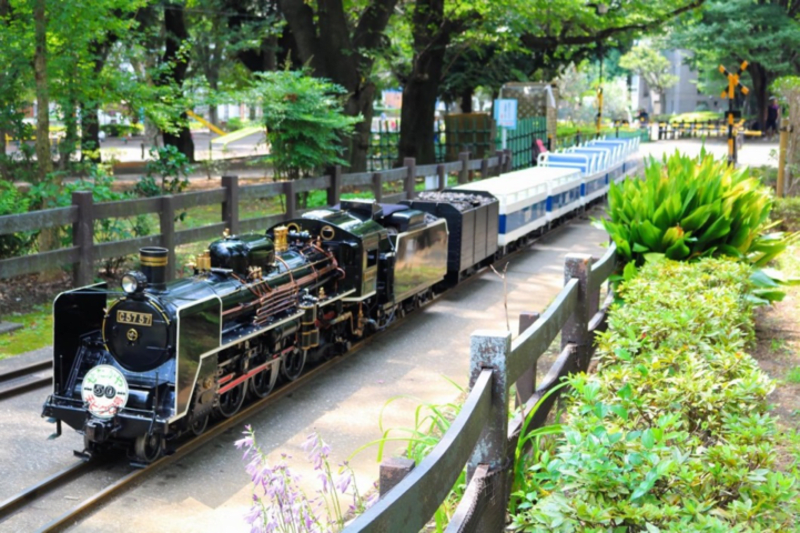 There is also a preserved locomotive steam-engine and mini trains that your toddlers can ride around the park. There are mini road tracks with intersections and traffic lights that your kids can venture on with the park's pedal cars. Did we mention that all of the rides are FREE for toddlers under the age of 6? Oh, there is a swimming pool that available during summer. Setagaya Park is a great outdoor adventure in Tokyo for the whole family
Ueno Park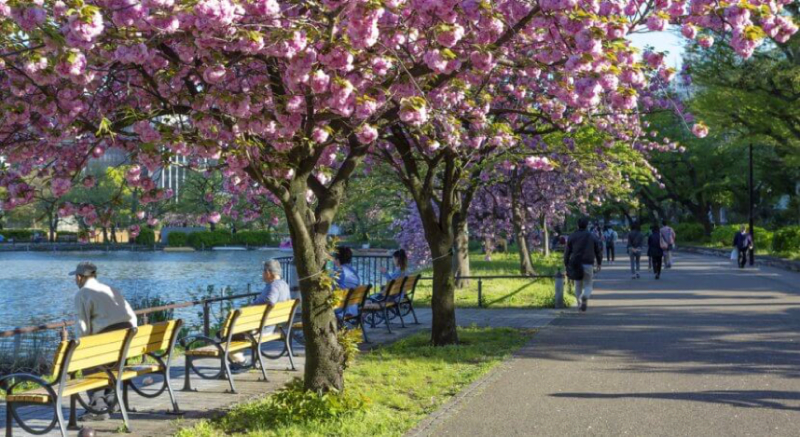 One of the most iconic public park in Tokyo is the Ueno Park (its official name is Ueno Onshi Kōen). This park is huge and located conveniently in the central Tokyo, next to the Ueno Station. It is one of the first public park in Japan that was established in 1873. Formerly the park belongs to the temple of Kan'ei-ji. There are a few other temples within the Ueno Park grounds. This park is one of the most favorite spot amongst the local and tourist during cherry blossoms season.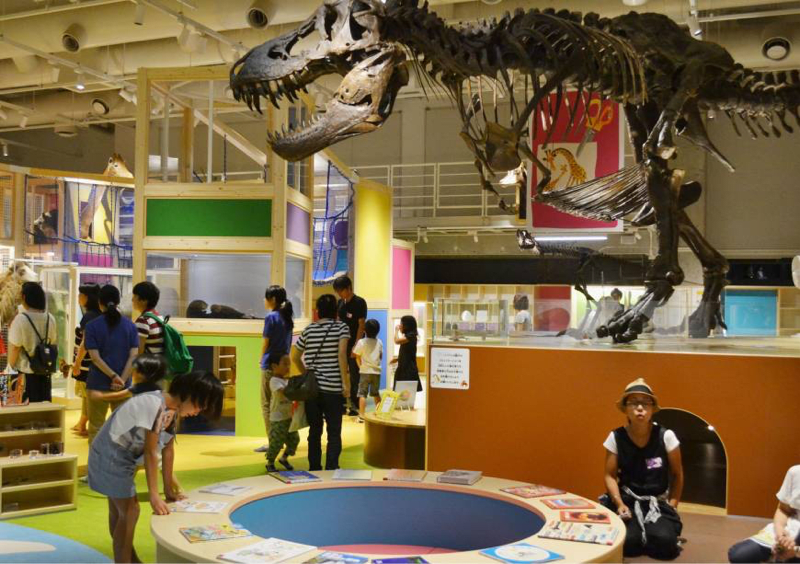 Ueno Park is also known to home many museums. One of the top pick among the kids of all age will be the National Museum of Science and Nature. Your kids can venture through natural history and science, with hands-on experiments on robots and physics. There's even an indoor playground! Admission fee is only 620 Yen for high schools and above. It opens daily from 9 am to 5 pm on weekdays and up until 8 pm during weekends.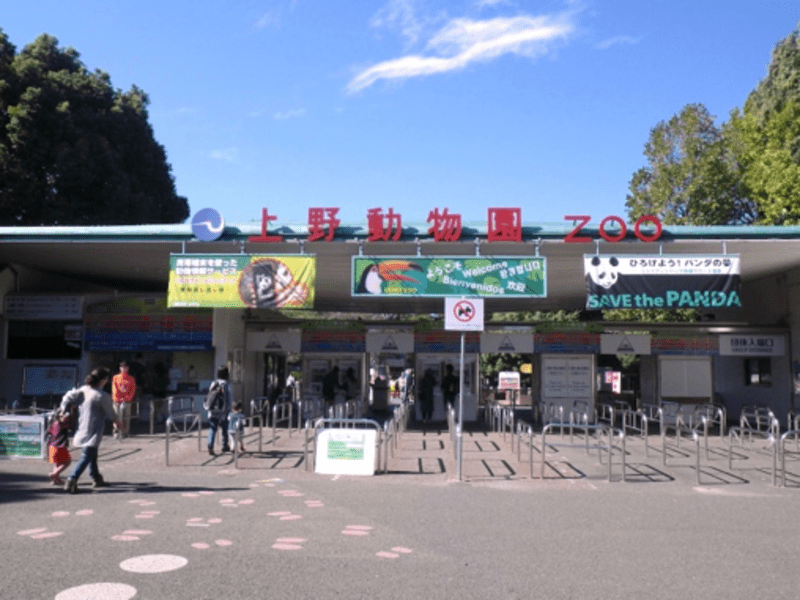 You can also spend some time at the oldest zoo in Japan, the Ueno Zoo. The entrance fee is free for children below 12 years old. There are over 3,000 animals from 400 different species to be seen. It is a definitely a fun trip for the kids.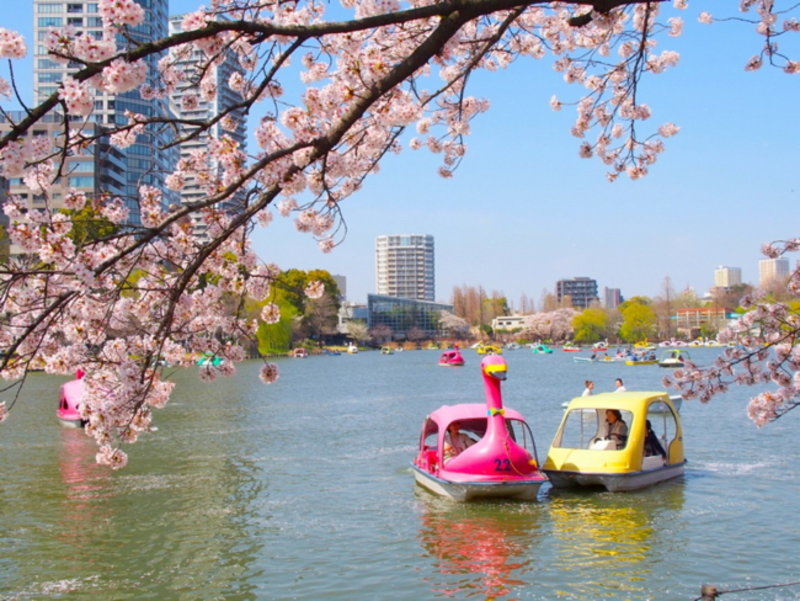 Stroll around the Shinobazu Lake. You can even ride a swan paddle boat or just enjoy your family time and have a picnic on the park. Definitely a place where all your family can have some quality times in Tokyo.
Hanayashiki Amusement Park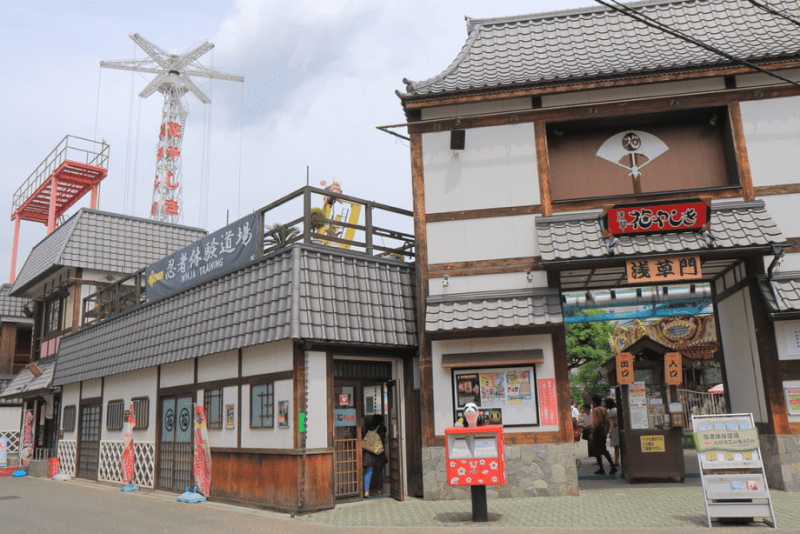 Looking for an affordable amusement park? Heads on to Hanayashiki Amusement Park. The oldest amusement park in Japan. Located in Asakusa and around 6 minutes walking distance from TX Asakusa Station. Originally in 1853, it was opened as a flower garden and later turned into an amusement park. It owns the oldest roller-coaster in Japan that is still running from 1953. This park will give you the nostalgic vibes with more than 20 retro attractions like the haunted house, merry-go-rounds, disk-o and others.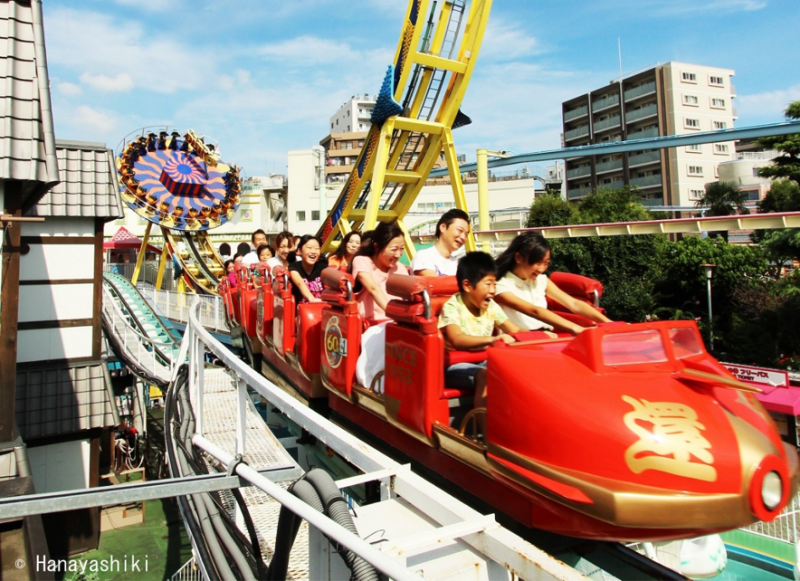 You need to purchase two separate tickets; the admission fee and the ticket for the rides. It is highly recommended to purchase the Free Ride ticket instead of purchasing tickets for each ride. It is more money's worth. Do note that only cash is accepted.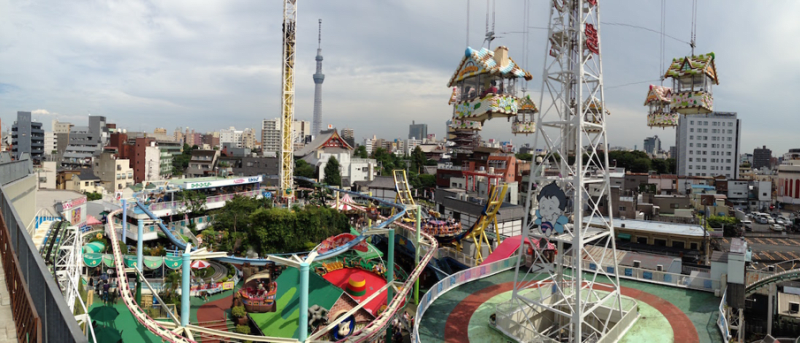 Most attractions are family-friendly rides for all range of ages. There is also a café where you can rent kimono and have a kimono experience in Tokyo! You can even purchase Hanayashiki original goods at their gift shop. If you feel hungry after playing the whole day, heads on to Naritayu Halal Ramen Shop that is just a few minutes walking distance from the amusement park.
Hours:
10 am until 6 pm
Address:
2-chōme-28-1 Asakusa, Taito City, Tōkyō-to 111-0032, Japan
Website:
https://www.hanayashiki.net/en
Admission Fee:
Free for disabled person/ children 6 years old and below

500 Yen for 7 years old – 12 years old and over 65 years old

1,000 Yen for 13 Years old above
Unlimited Pass:
1,800 Yen for children 6 years old and below1,800 Yen for over 65 Years old

2,000 Yen for 7 years old – 12 years old2,300 Yen for 13 years old above
Ride Tickets:
1 Ticket for 100 Yen

11 Tickets for 1,000 Yen
Hope our list will give you a better options on where to spend times with your family in Tokyo. Oh, never ever leave your tummy empty. Download Halal Navi apps for the best choice of Halal Eateries!