10 Reasons Why You Should Visit Hokkaido At Least Once In Your Life
If Tokyo and Kansai are too mainstream for you, try the northern part of Japan, Hokkaido! All you might know about Hokkaido was its snow, mountain and winter. Well, you are not wrong though. Hokkaido is indeed known for its winter attractions but they have so many wonderful destinations you never knew you can visit all year long. Here are top 10 reasons why you must venture to Hokkaido at least once in your life!
Winter
1. See The Most Chill Ice Sculptures In Sapporo Snow Festival
If you go to Hokkaido during winter, you surely do not want to miss the Sapporo Snow Festival! It's an annual event held in Sapporo that showcases the different theme of ice and snow sculptures (They picked star wars and Jurrasic Park theme before!). Not only you can see the huge and amazing illuminated ice sculptures in this festival, you can also watch different shows during the night with a storyline that will make you stunned.
Credit: Japancheapo.com
The ice sculptures in this festival can be as tall as 15 meters and as wide as 25 meters, woooow! That is huge! So don't worry about not getting a spot to take a picture with the sculptures. Every year during winter, around 2 million people (both local and foreign tourist) come to see the 250 ice sculptures featured in this festival. #Tips: You can try to climb up the  Sapporo TV tower during the night to enjoy the flickering illumination of this festival from above for only 720 yenInformation
Location and opening hours
Odori Park (9.00- 22.00)

Odori Nishi 1-12 chome, Chuo-ku, Sapporo

Tsudome (9.00 - 17.00)

885-1 Sakaemachi, Higashi, SapporoSusukino (9.00 - 23.00)

4-4-4, Minami 4 Jonishi, Chuo-ku, Sapporo
Schedule
1 - 12 Feb 2018
Admission fee
Free
Halal restaurant nearby
Warung Jawa
More info
Sapporo Snow Festival
2. Have A Romantic Getaway At Otaru Snow Light Festival
Otaru, a small town in Hokkaido that will mesmerise you with its beautiful landscape, especially during winter. A snow light festival is held every year that fills this small town with the glimmered light and the magical snowman. This festival is usually held at the same time with the Sapporo Snow Festival so you can enjoy both festivals when you visit Hokkaido in February.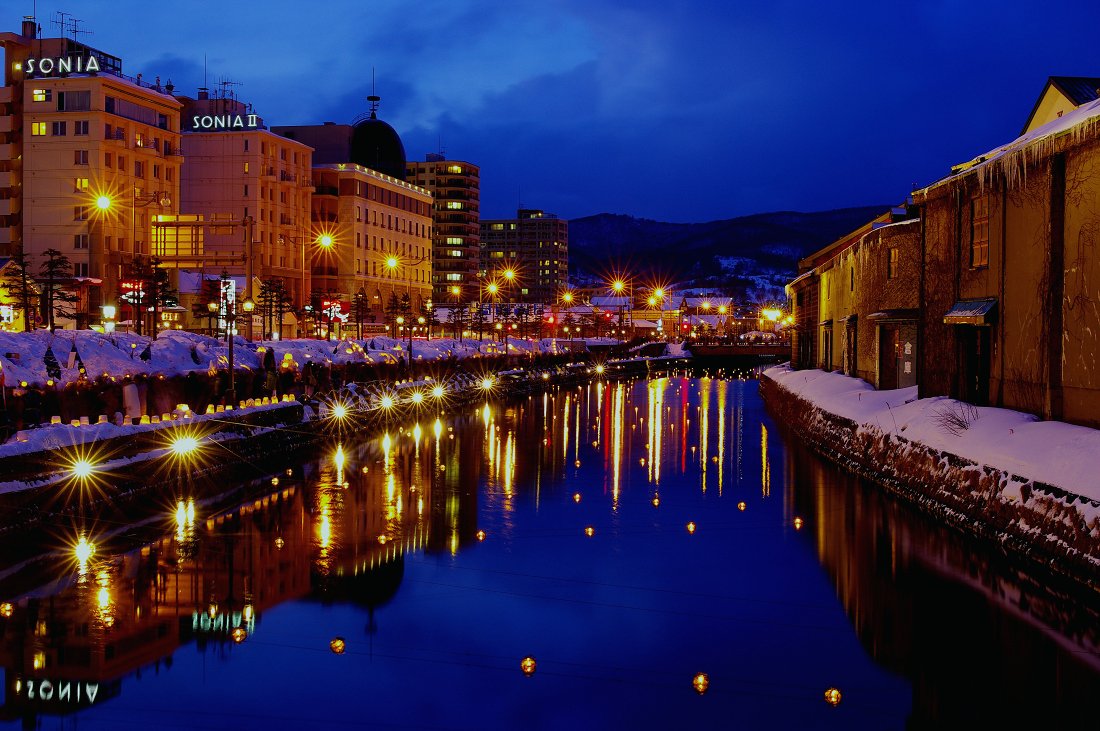 Credit : ykchamp.exblog.jp
There are two areas that become the centre of the festival, Unga Kaijo and Temiyasen Kaijo. The light along the street will be turned on from 5 pm to 9 pm in the evening that will transform the town into your dreamy romantic land. The sparkling lights around the city look even more beautiful with lanterns laid by the locals in front of their house. This will surely be the best romantic destination you could ever have!
Credit: Discover Nippon on YoutubeAccess : The Unga Kaijo area is right near Otaru canal. It is only about 10 minutes' walk down the main road from Otaru station. While Temiyasen Kaijo is located between Otaru station and Otaru canal. You can enjoy the beautiful illuminations along the path to the canal. Information
Spring
3. Enjoy The Gorgeous View of Star-Shaped Goryokaku Fort
Hakodate, a small city in the south of Hokkaido which is no less fascinating than the oh-so-famous Sapporo. There are just so many tourist destinations we can visit in Hakodate but one that stands out is Goryokaku. Goryokaku is a star-shaped fort that was previously functioned as a fortress during the war period in 1940's. Now, Goryokaku has become a historic site and a garden where 1,600 cherry blossoms trees bloom beautifully during spring.
Credit: 1zoom.net
It's best if you bring your camera drones along because the Goryokaku garden has a unique star shape and is very impressive when we look at it from above. Don't worry if you don't have one though, you can still enjoy the radiant view of this garden from above by visiting Goryokaku Observation Tower for only 900 yen. Information
| | |
| --- | --- |
| Address | 43-9 Goryokaku-cho, Hakodate |
| Opening hours | 08.00 – 2.00 |
| Admission fee | 840 yen |
| More info | Goryokaku |
4. Dive Into The Amazing Sea of Tulips in Monbetsu
Who said you can only see Tulips in the Netherlands? this beautiful flower has become a primadonna during spring in Hokkaido. You will fall in love with the vibrant colour of the Tulips and just can't help but to take a lot of pictures with them. To see the beauty of this colourful tulips, you can go to Monbetsu in Hokkaido.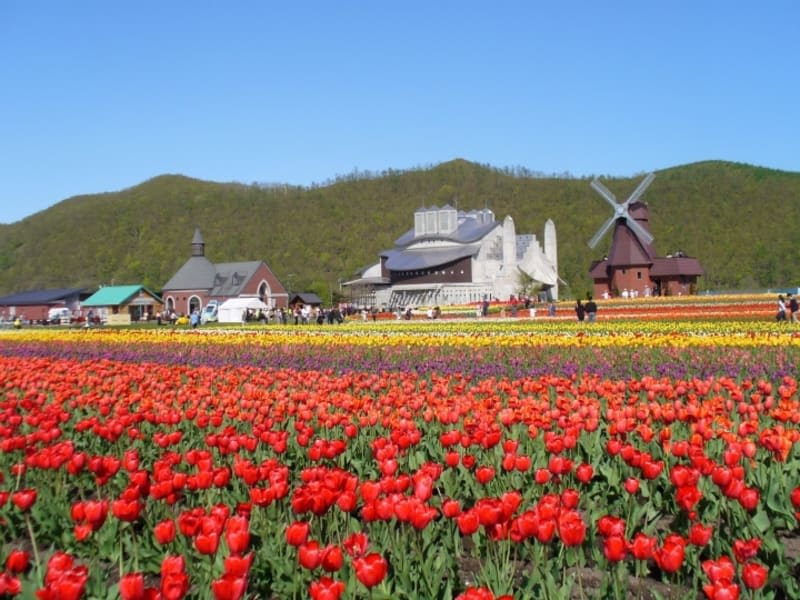 Credit: hokkaidoliker.com
Every spring from the beginning of May to the middle of June, Kamiyubetsu Tulip Park in Monbetsu showcases more than 1200 types of tulips that are ready to mesmerise your eyes. With the windmills just like what you always see in the Netherlands, you can instantly feel the vibe of a little Holland in this park.
Information
| | |
| --- | --- |
| Address | Kamiyubetsu Tulip Park, Tondenshigaichi, Monbetsu-gun, Yubetsu-cho, Hokkaido |
| Opening hours | 08.00 – 18.00 |
| Admission fee | 500 yen |
| More info | Kamiyubetsu Tulip Park |
5. Feast Your Eyes on Higashimakoto's Sakura Land
In contrast to regular Sakura view, there are no cherry blossom trees in this Sakura Land! You will see a large pink moss grazed in Higashimakoto park located in the southern part of Abashiri. The moss pink will turn the hills to a pink carpet that spread to over 100,000-meter square mountainous area.
Credit: kyuhoshi.com
The hilly fields and the surrounding pinkish land will wrap you up in the spirit of spring in Japan. There is an observatory deck with a little Yamatsumi Shinto Shrine on the hilltop to enjoy this scenic view from above. You can also walk trough the stairway or ride the touring car to wander around the hills and enjoy this breeze landscape.
Information
| | |
| --- | --- |
| Address | 393 Higashimokotosuehiro, Abashiri, Hokkaido |
| Opening hours | 08.00 – 17.00 |
| Admission fee | 500 yen |
| More info | Shibazakura |
Summer
6. Capture This Panoramic View At The Top Of Asahidake Mountain
Mountain climbing in Japan is very popular during summer because you can't hike in any other season, or else you will be frozen on your way to the hilltop. And if you are mountain lovers, the highest mountain in Hokkaido, Asahidake, should definitely be on your bucket list. For those who are not very fond of hiking, you can still enjoy this magical scenery by riding the ropeway all the way to the top.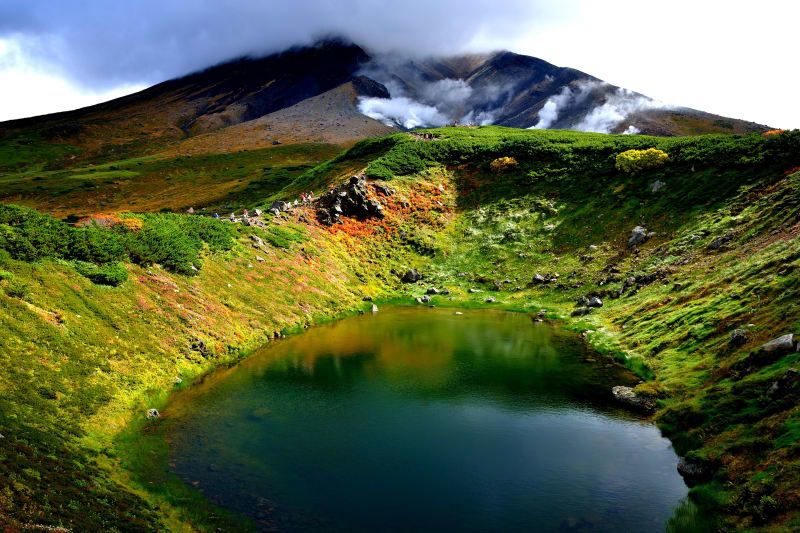 Credit: miriadna.com
On top of this mountain, you can have a picnic nearby the Sugatami Pool surrounded by the green Alpine meadow that will give you a lust and peaceful feeling. Beside climbing this mountain during summer, you can also come during winter and skiing from the top of the mountain. Access: To reach Asahidake mountain, you can ride a local train from Sapporo to Asahikawa station (Round ways ticket for about 5000 yen). After arriving in Asahikawa, take a bus to Asahidake Onsen which is located at the foot of the mountain.Information on Asahidake Ropeway
7. Get Lost In A Maze Of Sunflowers At Himawari No Sato
Fresh air, away from the hustle and bustle of the city, surrounded by greenery, this sunflower field is definitely a must visit for your getaway in Hokkaido. This Himawari No Sato Park is located in Hokuryu, approximately 2 hours by local train from Sapporo and 1-hour drive from Furano.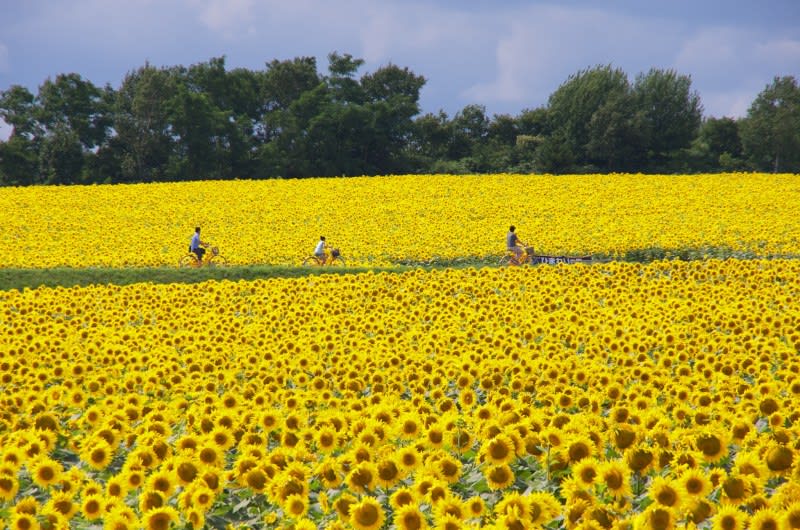 Credit: Kyuhoshi.com
Himawari no Sato is the largest sunflower field in Japan that features more than 1.5 million sunflowers stems! This flower field held an annual sunflower festival that starts from mid-July until the end of August every year. During the festival, you can enjoy walking in the sunflower labyrinth with the stems that can be as tall as you, so be careful of getting lost while walking down the maze kay? Information
| | |
| --- | --- |
| Address | 143-2 Itaya, Hokuryu-cho, Uryu-gun, Hokkaido |
| Opening hours | 09.00 - 17.00 |
| Admission fee | Free (maze admissions 300 yen, the scenic rides 500 yen) |
8. Wander Around Furano Lavender Farm
Furano's lavender fields are quite popular among tourist that its main function as an agricultural product has been shifted to tourist attraction. One of the most famous fields that feature this purple flower is Farm Tomita which is near to Lavender train station. The lavender starts to fully bloom around Mid of July to early of August. Be prepared for a huge crowd though, because everyone wants to take pictures with the beautiful purple scenic view on this farm. A Furano Shuttle Bus is available during July-August that can take you to a full day trip to Furano from Furano Winery, Rokkatei (one of the major sweets brand in Hokkaido), Grape Juice Factory and Farm Tomita.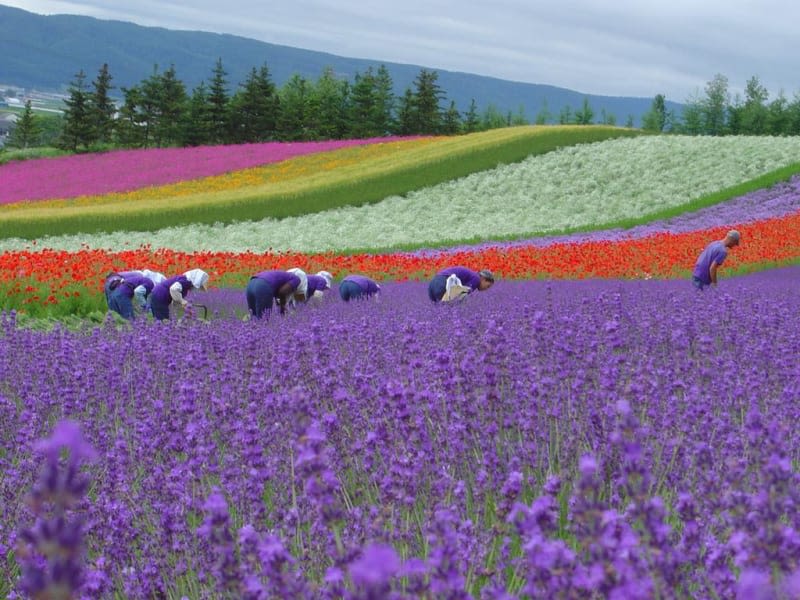 Credit to mygola.com
Access: A special Furano - Biei Norokko-go train operates during summer that stops in Lavender Farm Station, this station is only 8 minutes walking away from Tomita Farm. You can take this train from Furano station or from Asahikawa station. Information on Farm Tomita
| | |
| --- | --- |
| Address | 15 Sorachi District, Furano, Hokkaido |
| Opening hours | 08.30 - 17.00 |
| Admission fee | Free (vehicles are subject to fees) |
| More info | Farm Tomita |
Spring
9. Get Some Fresh Air In Shakotan Peninsula
You might not expect that Hokkaido has this hidden paradise! It is a peninsula located in the western Hokkaido that offers you a pristine natural scenery on its north coast.  You can find a super bright and beautiful sea, with its gradation colour of water from blue to green. People will usually rent a car that is available at Yoichi station, at the base of peninsula. You can drive from Cape O-gon to Cape Kamui to enjoy this breath-taking view with your own eyes.
Credit: dronestagr.am
Access: It takes about 2 hours drive to reach the Shakotan Peninsula from downtown Sapporo. You can also take Chuo Bus that can directly bring you from Sapporo to the bay of Kamui on Shakotan Peninsula. You can find the full schedule of the buses here.
10. Refresh Your Mind With The View Of Lake Toya In Toyako
In need of mother nature to refresh your mind? Pamper yourself with the view of Lake Toya during autumn. The blue waters combined with the orange autumn leaf will make you feel like in a wonderland! This lake is home to four Islands, and you can find Toyako Forest Musem in one of the island (P.s: you can visit the mueseum with the boat tour). If you are into outdoor activities, a camping site is also available at the edge of the lake.

Credit: JNTO
Besides Lake Toya, Toyako region is also known for its natural hot spring (onsen) along the shore of Lake Toya at the foot of Mount Usu. Many of the Onsen resorts are offered by the hotels nearby the lake. Don't worry, you don't have to stay at the hotel to enjoy the Onsen. You can still use the bath for a fee ranging from 500-1,000 yen during the day.Access: You can ride JR Sapporo to JR Toya Muroran Station. Next, take the bus to Lake Toya which is available every 1 hour at Toya Muroran Station.
---
We know now you can't resist to pack your bag and go for an adventure to Hokkaido! Don't forget to bring along your camera and make your friends jealous with the cool photos you will capture from your Hokkaido trip. Make sure to have Halal Navi app ready in your phone, because there are just so many Halal eateries you can explore during your journey on this island.