10 Fun Things To Do During Island Hopping From Hiroshima To Shikoku-Updated in 2019!-
It seems like the charm of Tokyo-Osaka-Kyoto as three of the most famous tourist destinations in Japan is difficult to surpass. But why not try something different? Let's venture a little farther to Hiroshima Prefecture (yes, wherein lies the city of Hiroshima that was bombed during the Second World War!) and from there, to the island of Shikoku!

The Nishiseto Expressway that connects Hiroshima and Shikoku has several world record breaking suspension bridges Via  JNTO
What's special about crossing to Shikoku from Hiroshima is the island hopping through Shimanami Kaido (or also known as Nishiseto Expressway). It is a 60 km toll road that connects the main island of Honshu to Ehime prefecture on Shikoku. The route begins from Onomichi (Hiroshima) and bypassing six out of nine islands of Geiyou before reaching Imabari (Ehime). For now, we will only stop by and venture around Ikujichima and Oshima island for this island hopping trip!
Start: Onomichi, Hiroshima
Onomichi is a historical city which did not experience any bombardments during World War II and that makes it a home to many classic heritages that are still intact until this day. So let's begin the Island hopping from Onomichi city!
Tips: Cycling is a popular way of doing this island hopping and you can return the bike at any point along the Shimanami Kaido route. To start, a bicycle rental terminal can be found near Onomichi Station with rental fee ¥1,000/day. The other alternative is by riding a bus from Onomichi to Imabari and you can cycle later on from Imabari to Oushima. I personally tried the second way.
Pro tips: if you are a professional cyclist, enjoying the route of Shimanami Kaido by cycling from Onomichi to Imabari is definitely worth a try!
1. Viewing Onomichi from the heights of Senkou-ji
When you're in Onomichi, you can pay a visit to Senkou-ji Park. It is located on the hills of Daebo 140 meters above the sea level. Other than being a park full of cultural heritage, you can visit Senkou-ji Temple and Onomichi City Art Museum that is located within the park.
To get to the Senkou-ji park area you can either walk or ride a cable car (Senkoji-yama Ropeway). While you're up there, why not enjoy the city view by visiting Senkou-ji Observation Platform. It's free and still in the Senkou-ji park area! Make sure to visit during Sakura season, we guarantee you won't regret coming all the way to Onomichi.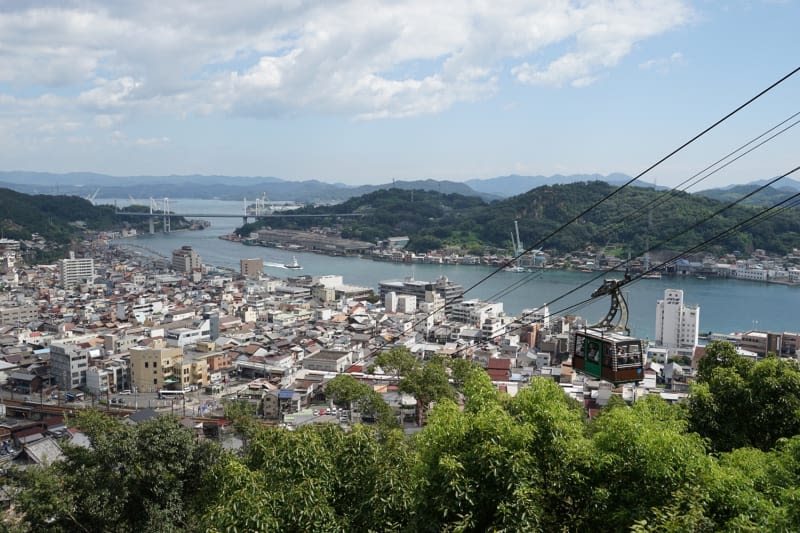 Riding cable car to the Senkou-ji park via Wikimedia
Information of Senkou-ji ParkAddress: 19-1 Higashitsuchidocho, Onomichi, Hiroshima (map) Telephone: 0848-23-2310 Opening hours: 9am - 5pm (Closed on Monday unless it's a public holiday) Entrance fee: ¥300 for temple Website: Senkou-ji Temple
2. Hangout at Hipster Cycle Hotel, Onomichi U2
Be sure to spend some time visiting Hotel Cycle, a modern hotel designed for cyclists. The hotel occupies one part of a giant warehouse from the World War era that has been renovated. It shares space with a bookstore, restaurant, coffee shop, bakery, and of course - a bike shop. The whole establishment is called Onomichi U2 and it's a must place to hang out for the hipsters and take those Instagram-worthy pictures!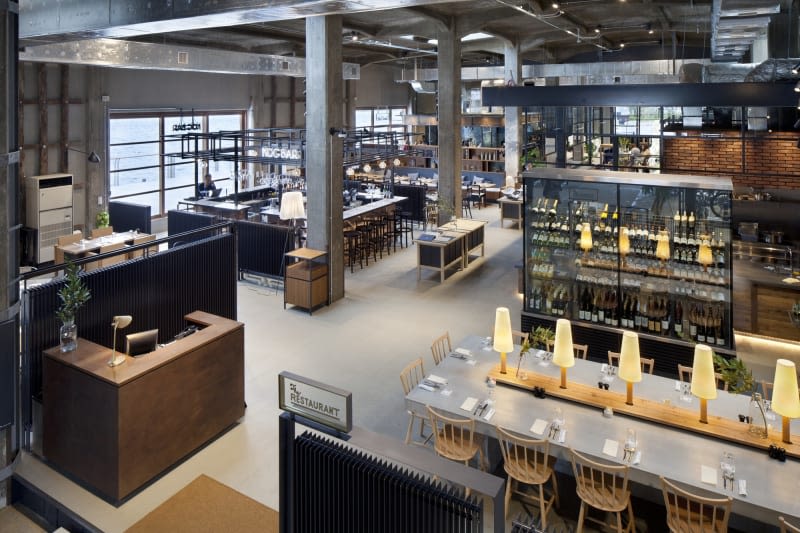 Onomichi U2 Interior via Archdaily
Information of Onomichi U2 Hotel Address: 5-11, Nishi-Gosho-cho, Onomichi, Hiroshima (map) Telephone: 0848-21-0550 Room rate: ¥18,200 for standard twin dan ¥22,200 for deluxe twin Website: Onomichi U2
Next: Ikuchijima Island
The first island we will visit is Ikuchijima. Here, we can visit the pristine small town called Setoda.
3. View famous Japanese paintings in Hirayama Ikuo Museum, Setoda
As the name indicates, the museum belongs to Ikuo Hirayama - one of the Japanese legendary artists known for his Japanese-style painting (painting technique which uses mineral pigments dissolved in Nikawa, some kind of liquid glue).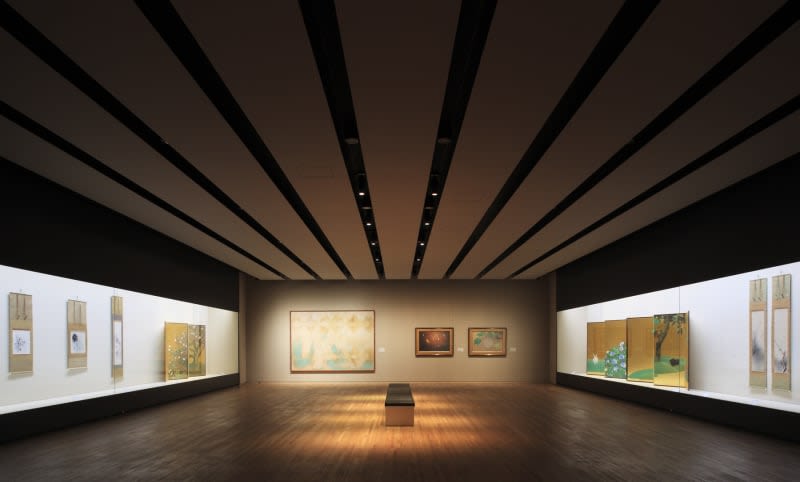 Hirayama Ikuo Museum Via JPVisitor
The themes of his paintings evolved around the scenery of his hometown (Setoda), what he has seen around the world, Buddhism, and shitazu (rough sketches). Ikuo Hirayama himself was once named as a UNESCO ambassador and advisor for the world heritage project. Better not to miss the chance to visit his museum while here!
Information of Hirayama MuseumAddress: 200-2, Setodacho Sawa, Onomichi-shi, Hiroshima (map)Telephone: 0845-27-3800 Opening hours: 9am - 5pm Entrance fee: ¥200Website:Hirayama Museum
4. Taste the seafood delicacy at Mansaku
Setoda is an ideal place to enjoy seafood and the town's best Mansaku provides a unique, all about octopus menu. It's only a walking distance away from the museum and best to stop by for lunch here!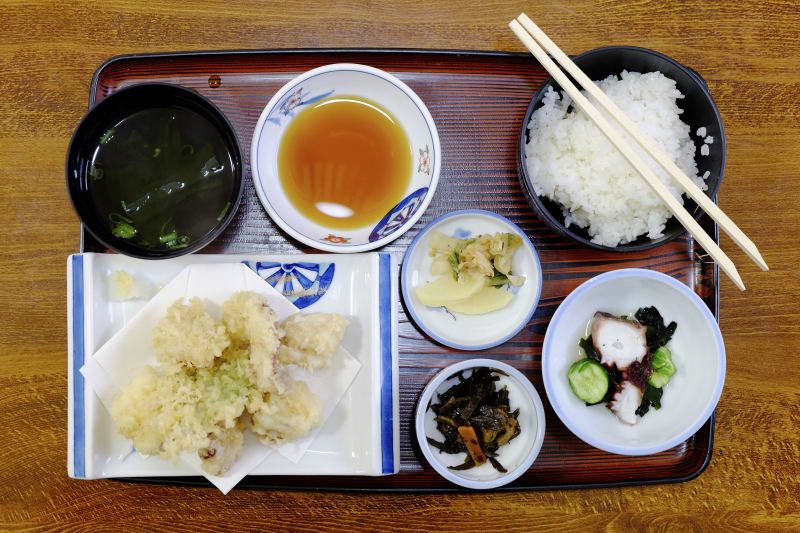 All about tako at Mansaku via author's personal collection
The rice meal set usually consists of rice, warm soba noodles, sashimi, salad, oranges, and pickles. When ordering food, do not forget to show the Muslim dietary card to avoid them adding mirin (alcohol) into the dish.
Information on Mansaku RestaurantAddress: 530-1 Setodachō Setoda, Onomichi-shi, Hiroshima (map)Rice meal set price: ¥1380 More info:Mansaku
5. Stroll around Kosanji Temple, Ikuchijima
After Mansaku, the next destination is this magnificent temple of Kosanji. It was built in for more than 30 years by a Japanese businessman and many buildings here are made to resemble famous temples in Japan. Among them are a replica of Nikko gate and also Byodoin Phoenix Hall.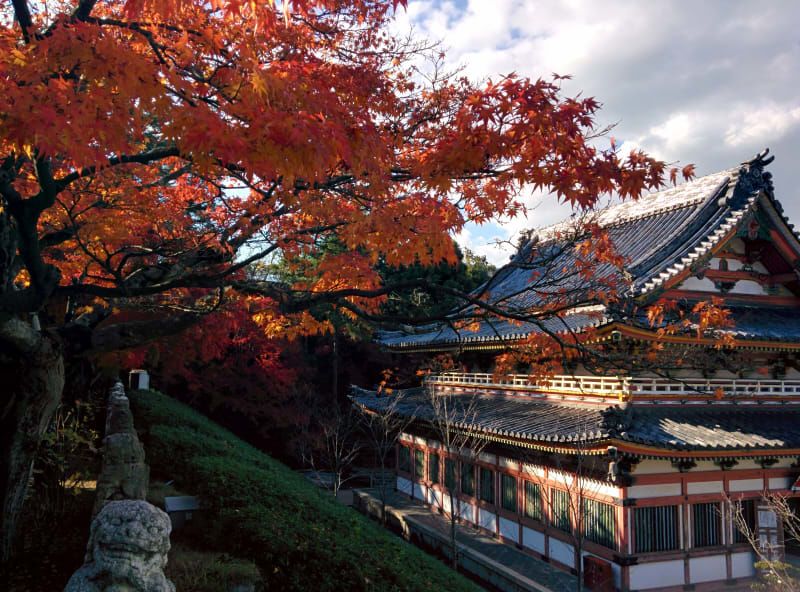 The magnificent Kosanji Temple via author's personal collection
Information of Kosanji TempleAdsress: 553-2, Setoda, Onomichi-shi, Hiroshima (map)Telephone: 0845-27-0800 Opening hours: 9am - 5pm Entrance fee: ¥1400 (Include Miraisin No Oka) Website:Kosanji
6. Viewing marble abstract sculptures at Miraishin no Oka
Still, inside the vicinity of Kosanji, climb the hills behind the temple and you will find Miraishin no Oka - all made from Italian marble. Miraishin no Oka itself literally means "Height of eternal hope for the future". Aside from many abstract sculptures, don't miss it's the famous statue "Tower of Light" located on the hilltop.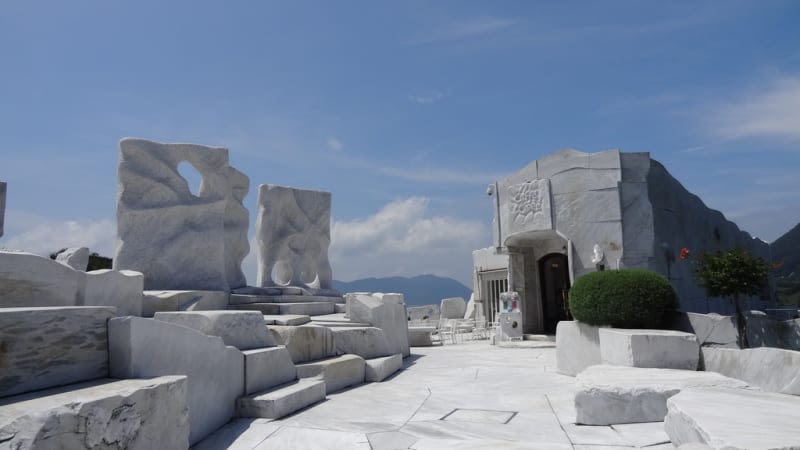 Miraishin no Oka that is made from marble via trip101
Information of Miraishin no OkaAdsress: 553-2, Setoda, Onomichi-shi, Hiroshima (map)Telephone: 0845-27-0800 Opening hours: 9am - 5pm Entrance fee: ¥1400 (Include Kosanji temple) Website:Kosanji
Last: Oushima Island
7. Sunset view from Kirosan Panorama Park
By now we have been passing through five islands and Oushima will be the last island before we actually reach Shikoku. Before crossing the mighty suspension bridge, take a moment to visit Kirosan Panorama Park. From the height of 300 meters above sea level, prepare to witness the grand view!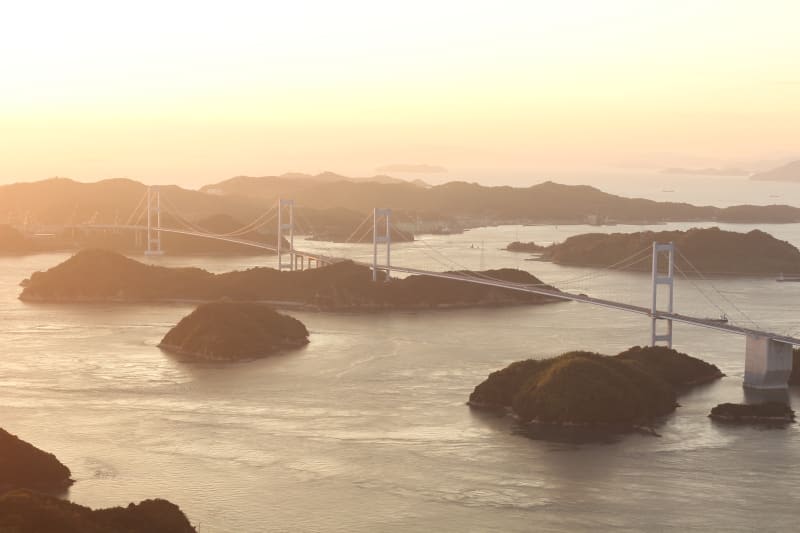 Sunset view from Kirosan Panorama Park via author's personal collection
Imagine an uninterrupted panoramic view of the green hills surrounding Oushima, the majestic Kurushima-Kaikyo bridge, and the city of Imabari - our gateway to Shikoku. If you happen to reach Kirosan during dusk, witness in awe the golden sunset shining amid the waters of Setouchi and the sight of ships passing through it. Prepare to be amazed!
Information of Kirosan Panorama Park Address: Yoshiumi-Cho, Minamiura, 487-4, Imabari (map)Opening hours: 24 hours
8. Cycling over Kurushima-Kaikyo bridge
The sleepy city of Imabari welcomes you to Shikoku. Before heading deeper to the island, the city itself is very popular because of its cycling route above the Kurushima-Kaikyo bridge. So prepare your sneakers and warm up because we will visit Sunrise Itoyama Cycling Terminal and rent a bike in the morning.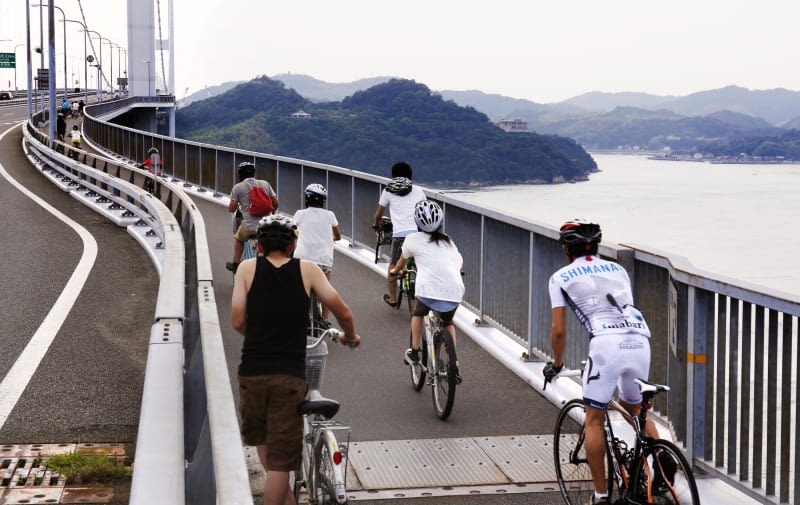 Cycling route in Kurushima-Kaikyo via Japan Times
Imagine cycling over one of the world's longest suspension bridges while enjoying the cool spring air, the sea and the surrounding islands. End your trip at Yoshiumi Iki-Iki Kan and let's head for another adventure there!
Information of Itoyama Rental BikeAddress: 2-8-1 Sunaba-cho, Imabari City, Ehime (map)Telephone: 0898-41-3196 Opening hours: 8am - 8pm (April - September), 8am - 5pm (April-March) Rental Fee : Adults, ¥1,000 a day plus ¥1,000 deposit. Children under 12 years old, ¥300 a day plus ¥500 deposit. Electric assist bicycles, ¥1,500 up to 6 hours plus ¥1,000 deposit. Tandem bicycles, ¥1,200 a day plus ¥1,000 deposit. Website:Sunrise Itoyama Rental Bike
9. Wild Barbecuing at Yoshiumi Iki-Iki Kan
Road Station Yoshiumi Iki-Iki Kan may look like a sleepy little port at a glance, but who would have thought that this place is a hidden oasis to enjoy delicious seafood!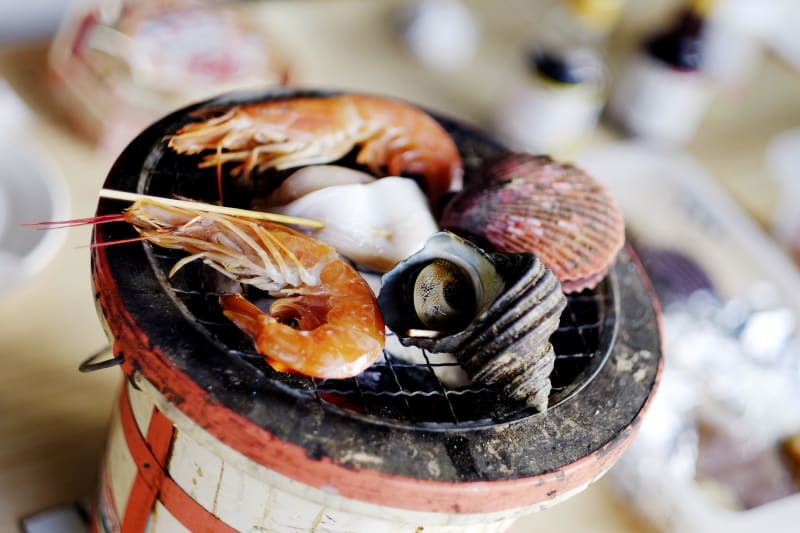 BBQ seafood via author's personal collection
There are various types of fresh seafood that we can choose here and have fun grilling them yourself by using shichirin (a traditional Japanese grill). Don't worry about doing it yourself because the staffs are there to help you grill the seafood to perfection. Be sure to try different types of shellfish, local fish, shrimp, abalone and even geoduck. One popular way to enjoy it is to eat the seafood alongside a bowl of rice mixed with Ehime sea bream (taimeshi). Umai!
Information of Yoshiumi Iki-Iki Kan Address: 4520-2 Yoshiumi chōmyō, Imabari-shi, Ehime (Located on route 317) (map) Telephone: 0897-84-3710 Opening hours: 9am - 5pm More info: Yoshiumi Iki-iki kan
10. Boat Tour in Kurushima
The final exciting adventure to end our island hopping this time is a cruise around the waters of Oushima on a boat tour from Yoshiumi Iki-iki Kan. You will be ensured with safety by wearing a life vest and a long coat to beat the chilly wind. The tour will take you to small islands around such as Kojima, Kurushima, and also Japan's largest shipbuilding facility. Lastly, you will be brought to witness a natural phenomenon of a giant whirlpool. The guided tour lasts for 40 minutes.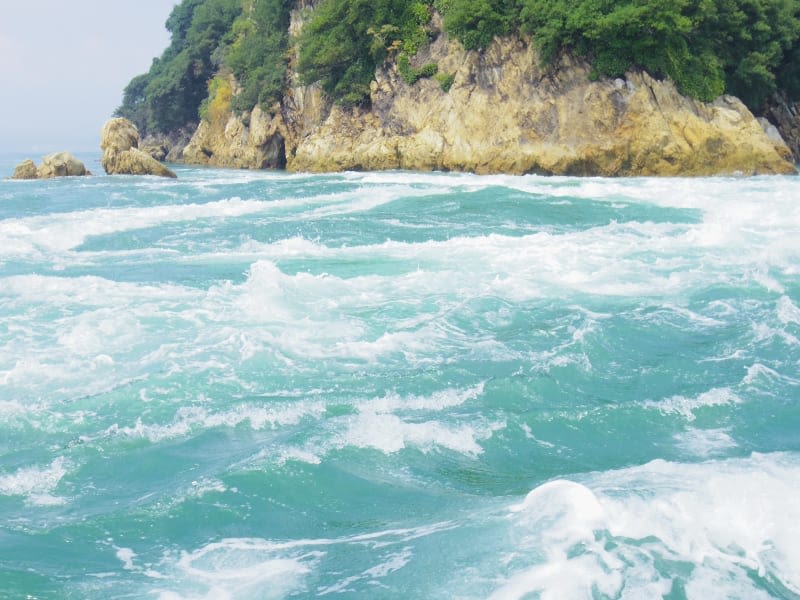 Giant whirlpool via Kaori Square Feet
Information of Boat Tour Kurushima Address: 4520-2 Yoshiumichomyo, Imabari City, Ehime (map) Opening hours: 9am - 4pm Tikcet: ¥1,500 Website: Imabari Shimanami
Finally, it's time to explore Shikoku after a wonderful one night trip of island hopping. Now that I think about it, how amazing it was to experience 10 things in just a trip as far as 60 km from Onomichi to Imabari! So, are you ready to experience it yourself? Don't forget to bookmark the restaurants above in Halal Navi app so you can just open the apps and connect to your map later on! P.S : Have any stories about Japan that you want to share? Send your article to [email protected] to be featured!