All You Need to Know about Chiba City's Muslimah Beauty Salon, UNIX Beauty Salon AEON MALL Makuhari New City
Who would not love getting a full head spa while getting their hair treated by a professional at a local salon after a long trip? It's one of the me-time that you can not say no too, right? But hair salon in Japan is obviously a no-go for a Muslimah as there are male hairdressers and you'll get your hair done in public and also the kind of products they use(some may contain animal-based products).But don't give up yet as we finally have one in Chiba!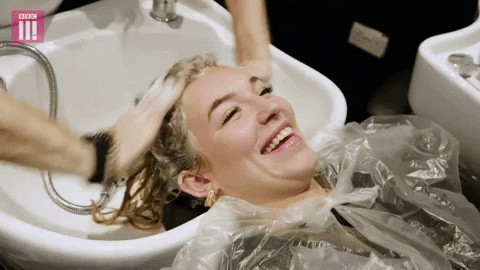 The shop you need to find to get yourself some Muslimah-friendly salon time is UNIX Beauty Salon AEON MALL Makuhari New City! It is located at AEON MALL Makuhari New City GRAND MALL 3F so it is very convenient as you only need to drop by before/after your shopping trip!
What makes UNIX a Muslimah Friendly Beauty salon?
1. Private Rooms for Muslimahs
The first thing that is important to Muslimah during their trip to a salon is their aurat. We definitely can't get our hair treated at an open place like this.
So instead they have this one huge private room, with curtains, for you to be relaxed and get your hair treated without worrying about exposing your aurat!
2. The products that they used are Muslim-friendly!
As mentioned earlier, some hair products in Japan does contain animal-based ingredients that we can't use. UNIX made sure that they did not accidentally use a non-halal product on Muslims and contacted a few hair products brands until they found a perfect one. And the best thing is it is the oh-so-famous Shiseido! That means you'll get your hair treated by a good quality product AND a halal one! A+ to UNIX for their dedication!
3. A prayer space just for you
Just in case you need to pray before/ after getting your hair treated, they've prepared you a prayer mat and some space so you can perform your prayers at ease. All the little thoughts that matter!
4. Get your hair treated by a female hairdresser, always
Of course, getting a female hairdresser is the most important part of the experience! They will make sure you get consulted and treated by a female hairdresser all the time. And since they've had experience treating other Muslimah, they will recommend you the best hair look for you!
BONUS: THE HEAD SPA SERVICE IS MUSLIM FRIENDLY TOO!
Other than their hair cut services you can also experience a full-on head spa at UNIX Beauty Salon, in a private room, using only Muslim-friendly oils and creams! Where else can you experience such luxury in Japan right?
The Price
Now let's talk price! The price is inclusive of private room usage and also Muslim-friendly hair products.
Cut/Shampoo /Styling  : ¥7,000Head Spa Course: Starts from ¥6,000 for a 65 minutes course but you can add on a 10 minutes neck and shoulder massage or a head massage for an additional ¥1,000 . Do ask the staff for recommendations as they have a lot of menu to choose from!Overall, it is definitely worth it to give UNIX Beauty Salon a try as Muslimah-friendly salon in Japan is really hard to find and who knows, you'll be coming back to Chiba just to get a hair cut or a head spa!UNIX Beauty Salon is located on the 3F, Grand Mall, AEON MALL Makuhari New City. It's also right below the prayer room hence it's very easy to find!
To go to the mall from Kaihin Makuhari Station, please proceed to North Exit Bus Stop #3 and take AEON MALL 63 or 65 bus and get off at AEON MALL Makuhari New City Family Mall. Or take Keisei Bus "Kai" 61 and get off in front of AEON MALL Makuhari New City Active Mall.
More information about UNIX Beauty Salonhttps://www.unix.co.jp/salon/38_makuhariAddress: AEON MALL Makuhari New City Grand Mall 3F1-1 Toyosuna, Mihama-ku, Chiba-shi, ChibaTel: 043-304-6348Facebook: https://www.facebook.com/unix.makuhari