8 Sweet Escapes Spots Near Tokyo

You will never get bored living in a heart beating capital like Tokyo but sometimes, you may feel a wee bit overwhelmed. Well, the only thing that you need now is to run away a bit from the crowd and here are 8 best places to get a sweet escape from the city, without going too far!
1. 30 minutes away Yokohama, Kanagawa Prefecture
Need all of the amusement and entertainment in one place? Then the right place for you to go is, Yokohama! Just about 40 minutes from Tokyo by local train, you are actually crossing to another prefecture, which is Kanagawa!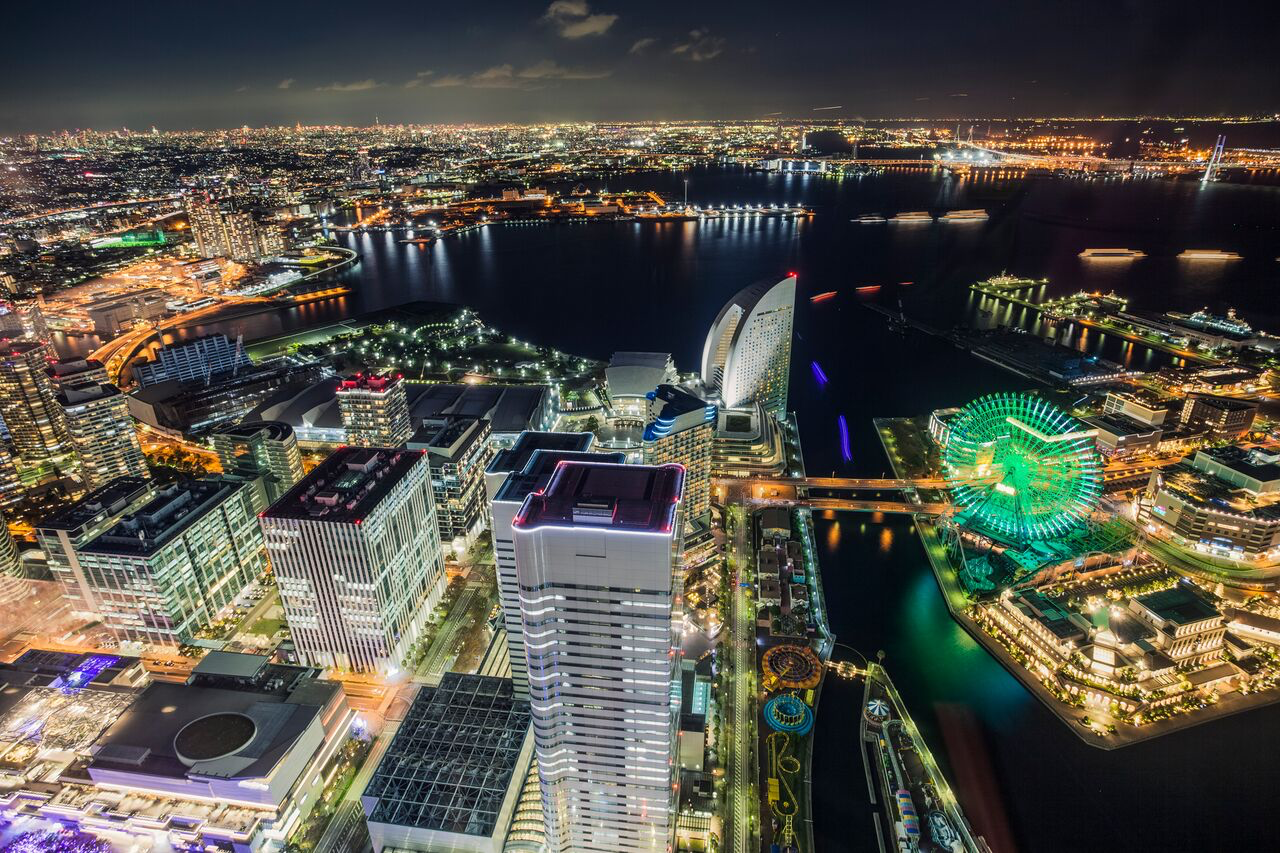 If you want best of both world, Yokohama is not just there to entertain but also give you some relaxation by strolling around the sea. There are shopping malls, amusement park, and also Cup Noodle Museum, psst you can make your own Cup Noodles too! The best part about the Museum is that there are Muslim-friendly noodles from Indonesia and Malaysia too! *Itadakimasu*
Yokohama Cup Noodle Museum by Matcha
Yokohama is a city where you can experience so many things (foods, view, and nature altogether), this is a good time to treat yourself because the mall sells some cute souvenirs shops. My only advice is to be wise mate, embrace yourselves because the cuteness is everywhere! -Information
Address
Minatomirai, Nishi Ward, Yokohama Prefecture, Kanagawa 220-0012
Phone
Not Available
Opening Hour
Cup Noodle Museum : 10:00 to 18:00 (entry until 17:00) Tuesdays (or the following day if Tuesday is a national holiday), New Year holidays
Nearby Halal Restaurant
Access
The Toyoko Line is the cheapest way to get from Tokyo to

Yokohama
Entrance Fee
Cup Noodle Museum: 500 yen (workshops and activities cost extra)
2. 30 minutes away - Kawagoe, Saitama Prefecture
Ready to move on to the next prefecture? Well, Kawagoe is the perfect place to go!  Take a 30-minute ride on the local train from the centre of Tokyo with Tobu line, Seibu Line or JR train that goes to Kawagoe station, and you will arrive in Saitama prefecture!
Kawagoe Warehouse District by Girlschannel
In Kawagoe, you will find yourself surrounded by old buildings with the main attraction of a big warehouse building. This is the time to get your Kimono on and travel back to Edo period! And if you are a huge fan of sweets, you should indulge yourself at their candy alley, an alley where you can find candy stores almost everywhere! The alley is called "KashiYa-Yokocho" which literally translates to candy alley and it is definitely something you cannot experience elsewhere! It's definitely too sweet to resist.
Kawagoe Candy Alley Credit to Oh My Omiyage
Kawagoe Travel Tips: Make sure to check their official Kawagoe site for event information! This town is full of the festival and one of our recommendation is their Koedeo Kawagoe Spring Festival. The event will start from the end of March until the middle of May. This is the time to be with your partner seeing beautiful sakura flower in a boat!
Credit to Kawagoe Hikawa Official website
Information
Address
Kawagoe, Saitama Prefecture
Phone
Not Available
Opening hours
Not Available
Nearby Halal Restaurant
Maharaja Honkawagoe
Access

By Tobu Tojo Line goes to Kawagoe station from Ikebukuro station.
By Seibu Shinjuku Line to Hon-Kawagoe station from Shinjuku Station.
By JR Saikyo Line

Entrance Fee
Free
3. 40 minutes away - Kamakura, Kanagawa Prefecture
Also known as 'Little Kyoto', Kamakura is full with numerous of temples, shrines and other historical monuments. To fully enjoy this area, it is advisable to rent a bike to stroll around the temple by yourselves! There is a bicycle rental shop located not far from the station operated by Japan Railway itself. Rental fees are 1,000 yen for 6 hours, and you will receive a map when you rent the bike, so no more getting lost!
Kamakura Bamboo Forest Credit to Youinjapan
Just like Arashiyama forest in Kyoto, you can also find a small temple that is surrounded by bamboo forest in the area. Make sure to walk inside the famous big Buddha statue and make a memory out of it *turn on your supermodel pose now*. Even though some of the entrance fees are not free, there are tons of unique temples you can visit here in Kamakura. If you need something to munch or finding souvenirs to bring home, there are shop districts near the station to fulfil your desire! -Information
| | |
| --- | --- |
| Address | Kamakura-shi, Kanagawa-ken 248-0016 |
| Phone | Not Available |
| Opening hours | Not Available |
| Nearby Halal Restaurant | KAJIYA |
| Access | JR Yokosuka Line connects Tokyo Station directly with Kamakura Station. |
| Entrance Fee | Some Temples: Around 300 - 500 yen |
4. 40 minutes away - Hakone, Kanagawa Prefecture
All of the list right until now involve walking around the city but not with Hakone. It's best to leave all your stress at home and escape to be with the water element. There are tons of hot spring, or in Japanese "Onsen" that you can enjoy without going too far from Tokyo!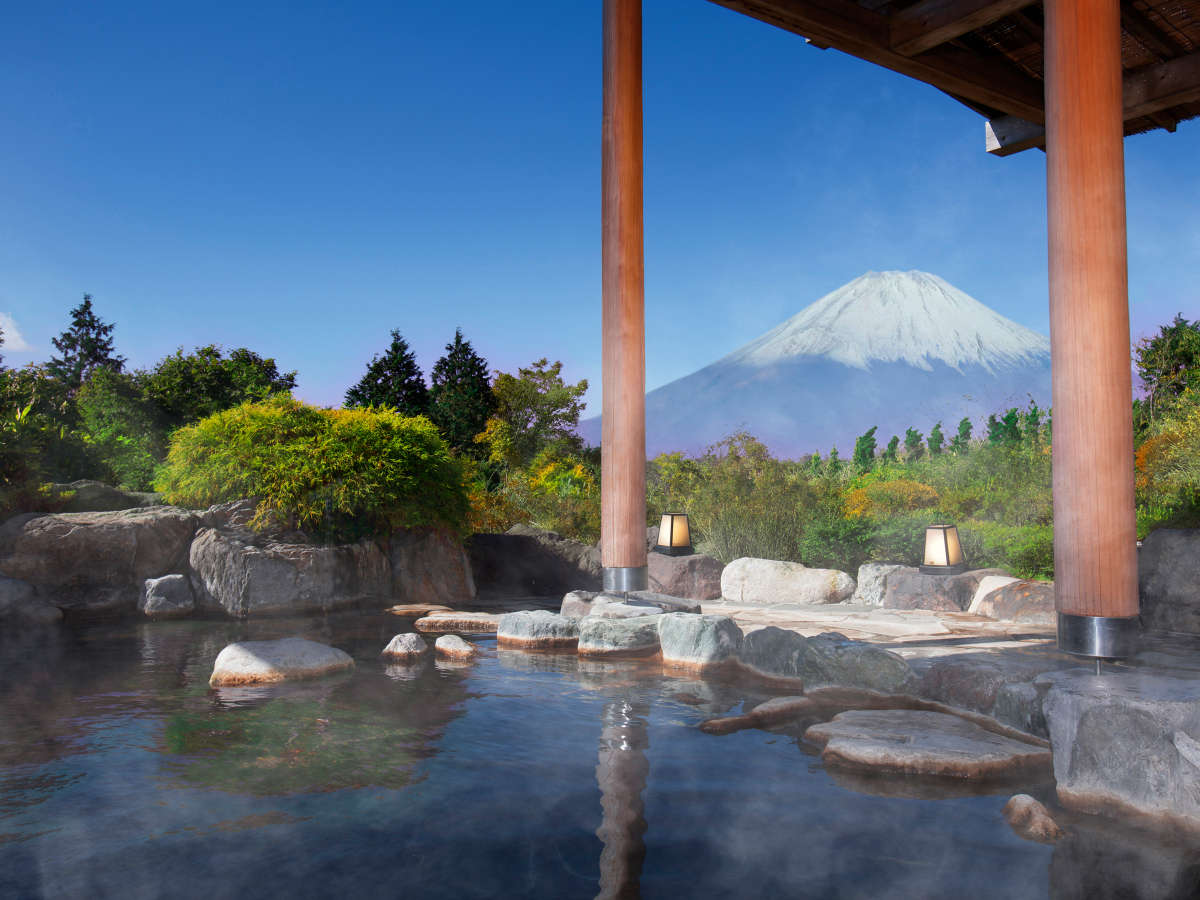 Credit to Selected-ryokan
With There are few options that you can choose from including Hakone Yumoto Onsen. If you are planning to go home right after the self-treatment, this will be your ultimate choice because it's near to the Hakone Yumoto Station! Besides Mount Fuji view, you will be in love with their beautiful traditional Ryokans. There are some several onsen's pools for indoor and also outdoor. Imagine yourself sipping a cup of tea indoor at relaxing sauna area. You will be a little surprised with the price, but it's really worth to try! Price comes after quality! -Information
Address
Hakone, Ashigarashimo District, Kanagawa Prefecture
Phone
Not Available
Opening hours
Not Available
Nearby Halal Restaurant
Not Available
Access

By Odakyu Railway

Odakyu Railway operates between Tokyo's Shinjuku Station and Hakone-Yumoto Station.

By JR (Japan Railways)

With JR trains you can only get as far as Odawara, from where you will have to use non-JR trains or buses into the Hakone area. The above mentioned Hakone Free Pass is also available for use from Odawara Station.

By Odakyu Hakone Highway Bus

Direct highway buses operate every 30 minutes between Tokyo's Shinjuku Station and the Lake Ashi area in Hakone (among other places the buses stop at Togendai and the Hakone Prince Hotel).
Entrance Fee
Not Available
5. 50 minutes away, Takao, Hachioji
Took less than 1 hour to commute from Tokyo to Takao station, be prepared for an adventure! These greenery landscapes will greet you the moment you arrived at the station. Consider as an easy-hiking trail, all you need to do is follow the path until you reach the top of the mountain. If you see any gate, don't worry because that's the way to climb Mt. Takao.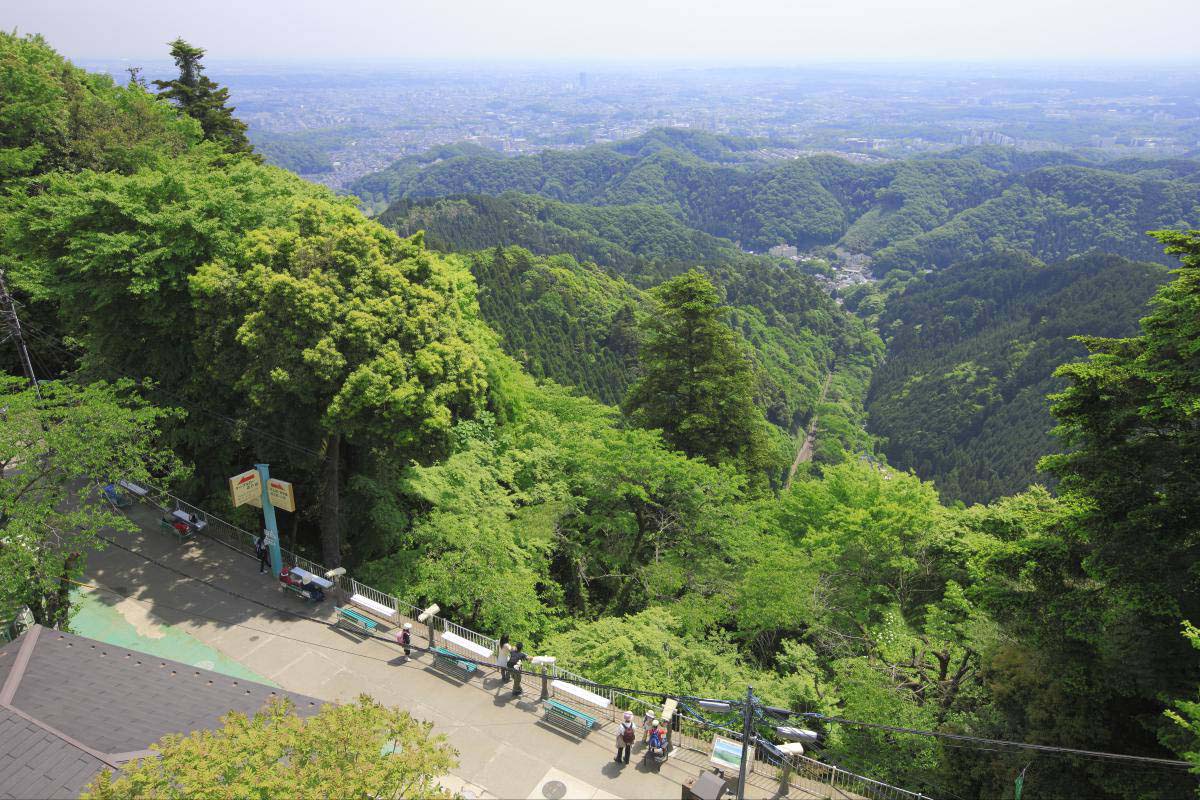 Picture Credit to Zekkeijapan
Want to reach the mountain in no time without breaking a sweat? No problemo because you can ride a cable car! Especially for those who want to enjoy the scenery peacefully, this is your solution! If you are getting lucky, you will get to see the beautiful view of Yokohama city with its seashore, and the ferries wheel in an amusement park from afar. -Information
| | |
| --- | --- |
| Address | Mount Takao, Takaomachi, Hachioji, Tokyo 193-0844 |
| Phone | Not Available |
| Opening hours | Not Available |
| Nearby Halal Restaurant | Watami |
| Access | Express Train from Shinjuku Station or Keio Line to Takaosanguchi |
| Entrance Fee | Not Available |
6. 2 hours away, Nikko, Tochigi Prefecture
One of the famous tourist spots near Tokyo is Nikko. In this area, you may find yourselves living in Edo period of Japan. Only took 1.5 hours journey from Tokyo, you get to see old buildings, train station, the red old bridge which the river flows along under it, and a lot of temples!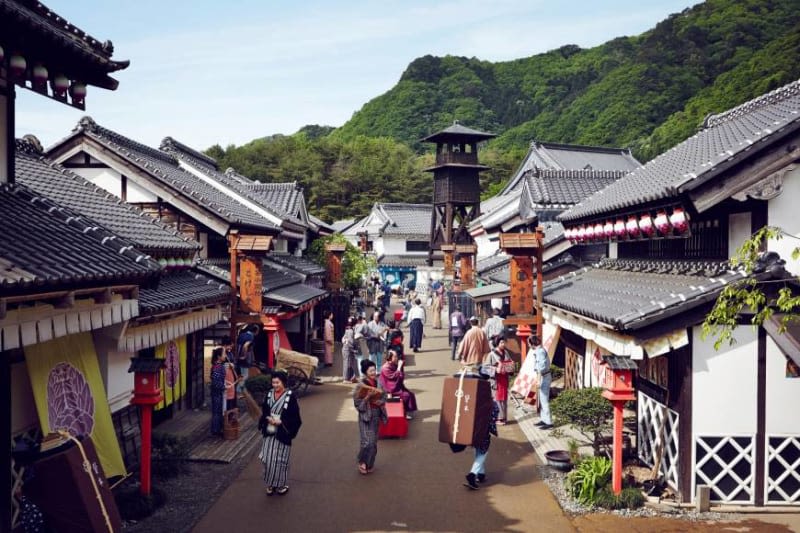 Credit to Japantimes
Feeling nostalgic yet?  Wait until you stroll around Edo Wonderland! You can rent a yukata and take a lot of photos with the old Japan's scenery surround you, just like in the movie scene. Nikko also has some of the temples that stated as national heritage and UNESCO heritage. Beautiful and bizarre temples may you find there. -Information
Address
Nikko, Tochigi Prefecture
Phone
Not Available
Opening hours
Not Available
Nearby Halal Restaurant
Nikkoken
Access

The Tobu terminal station in Tokyo for trains to Nikko is Tobu Asakusa Station, which can be accessed by subway (Ginza and Asakusa Subway Lines).
Direct limited express trains, cooperated by Japan Railways (JR) and Tobu Railways, connect JR Shinjuku Station with Tobu Nikko Station.
Take the JR Tohoku Shinkansen (from Tokyo or Ueno Station) to Utsunomiya Station and transfer to the JR Nikko Line.

Entrance Fee

Temple and museum: 2100 yen, Temple only: 1,000 yen
Edo Wonderland: 1 Day Pass: 4700 yen, Children: 2400 yen. Afternoon pass (from 14:00) : Adult : 4100 yen, Children : 2100 yen
*generate Klook on Edo Wonderland*
7. 2 hours away Kawaguchi, Yamanashi Prefecture
One of the best place to enjoy the view of Mt. Fuji is Kawaguchi Lake and there are tons of spots to captured that remarkable view! One of famous spot to take a photo of Mt.Fuji as the background is Arakurayama Sengen Park in Fuji Yoshida.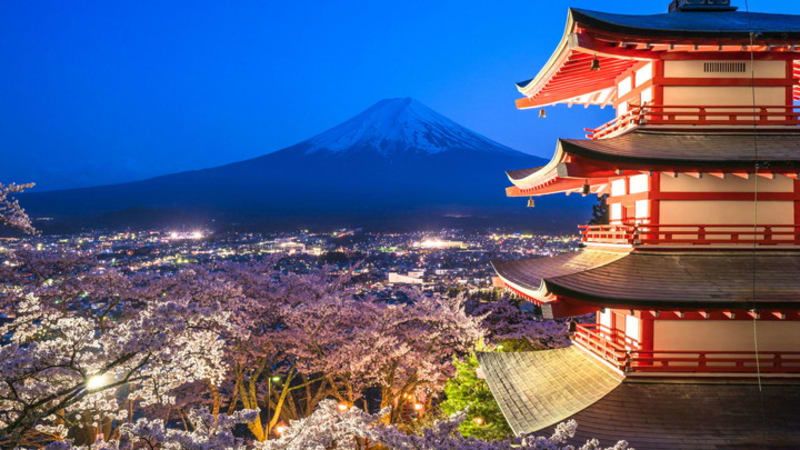 Picture Credit to Ikidanenippon
This park is famous spots to take the photo both of the temple and Mt.Fuji in the same frame. There is a Green and Red Line Bus which goes around Kawaguchi lake and Saiko Lake. This bus also will take you to cross the edge of the famous Aokigahara forest and unique places near Kawaguchi lake and Saiko lake. -Information
Address
Kawaguchi, Fujikawaguchiko, Minamitsuru District, Yamanashi Prefecture
Phone
Not Available
Opening hours
Not Available
Nearby Halal Restaurant
Alladin Indo Restaurant
Access

By Highway Bus from Shinjuku/Shibuya station goes to Kawaguchiko station
By local train from Shinjuku/Ueno station goes to Kawaguchiko station

Entrance Fee
Not Available
8. 2 hours away, Izu Peninsula, Shizuoka Prefecture
If you come to Japan, especially in Tokyo during spring, then you don't want to miss the chance to see the cherry blossom, right? If having a picnic under the tree in the heart of the city like Tokyo is too mainstream for you, then try going to Kawazu Cherry Blossom Festival in Izu!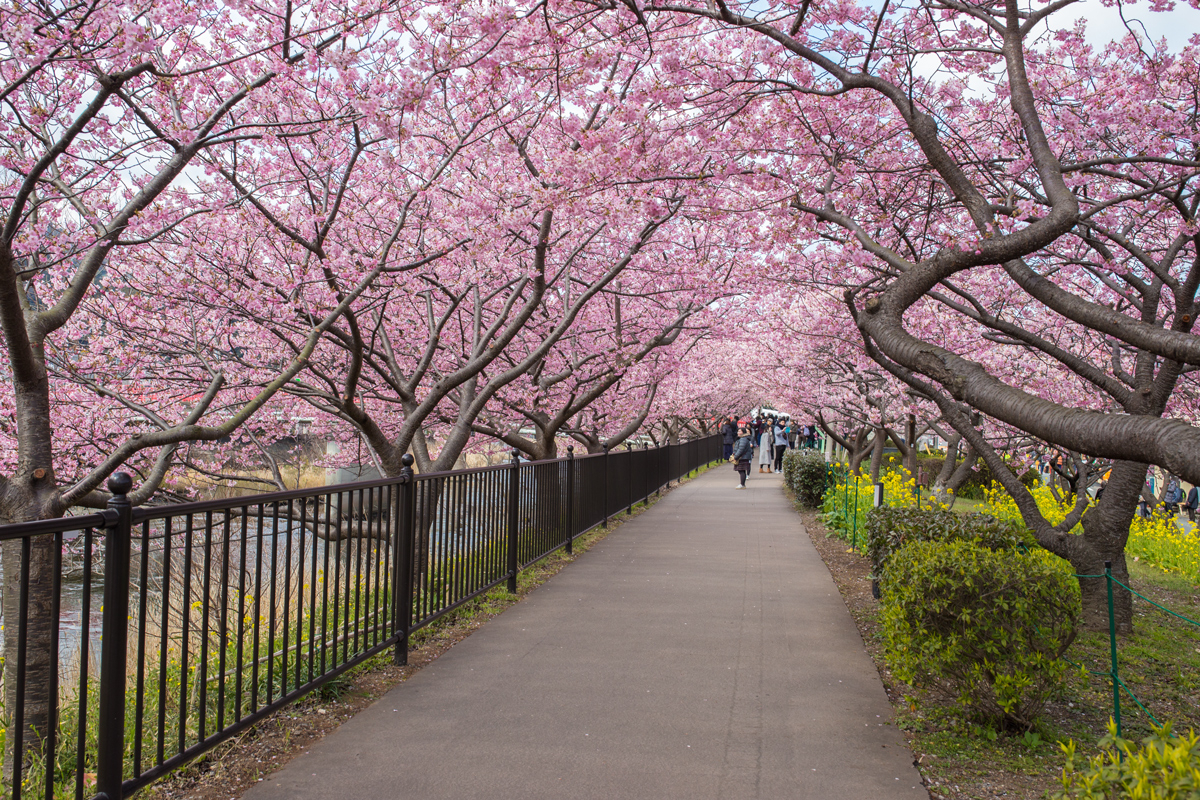 Picture Credit to Tiptoeingworld
Going there by a special rapid train for 2 hours, you will go across the beautiful scenery of countryside, hills, and also the sea from the train. Kawazu Sakura Festival is one of the Sakura Festival that famous in Japan. Beautiful blossomed sakura trees will be along the path of a river which flows into the sea. -Information
Address
Izu Peninsula, Yugashima, Izu, Shizuoka Prefecture 410-3206
Phone
Not Available
Opening hours
Not Available
Nearby Halal Restaurant
Not Available
Access

The JR Tokaido Shinkansen provides direct connections from Tokyo to Atami (40-50 minutes, 3670 yen one way by non-reserved seat) and Mishima (45-60 minutes, 4000 one way yen by non-reserved seat) at the entrance to the Izu Peninsula.
It is also possible to access the Izu Peninsula by local trains along the JR Tokaido Line. The one-way journey from Tokyo to Atami takes about 100 minutes and costs 1940 yen.

Entrance Fee
Not Available
---
What are you waiting for? Now you can prepare your quick-run away with this lists any time you feel like too. Don't forget to bookmark all of those restaurants and mosques in Halal Navi app, so you can just open them later when you are already in Japan. Travelling to Japan has never been this easy!