5 Top Photo Spots To Go If You Only Have One Day In Fuji Kawaguchiko
A holiday to Japan is not complete without a visit to Mount Fuji. Therefore it is no surprise that a lot of people consider taking a side trip from Tokyo to come over and see Mt Fuji up-close and all of its glory. There are several places nearby Mount Fuji you may go to get a perfect sight of Mount Fuji in your shots. However, if you only have one day for the trip, Lake Kawaguchiko is a good choice for you!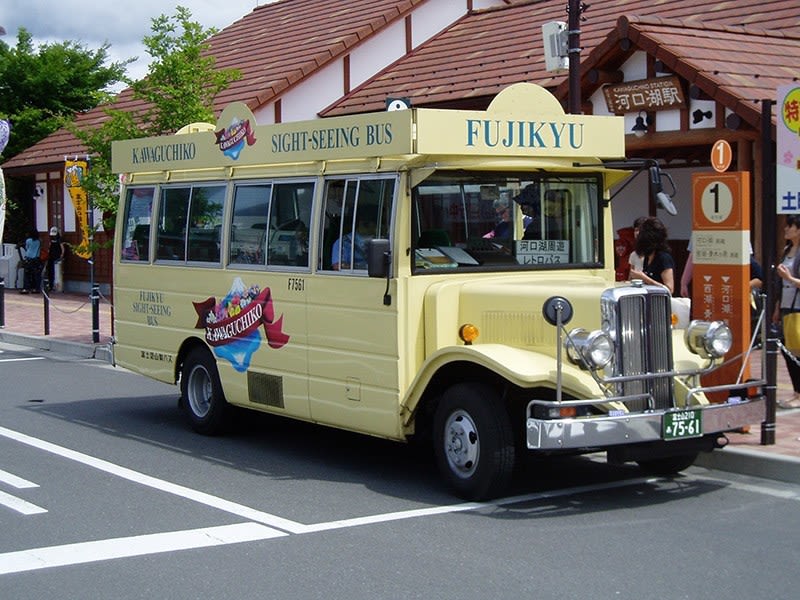 Fujikyu Retro bus via nosikot.livejournal
First thing first, you will need to buy the Fujikyuko Retro bus pass for 2 days which covers Red and Green Line busses. Yes, we know you will only be there for 1 day but the price of this pass (1200 yen) is cheaper than if you buy the regular tickets (the red line bus fare will cost you 1,270 yen so you already save 70 yen, and that does not include the green line bus!). The pass will also save your time and give you an easier and more convenient experience.
Information on Fujikyuko Retro Bus 2 days Pass
1. Oike Park (Red Line bus stop no 7)
Let's start our journey at 9.45 am from Kawaguchiko station and hop on the Red Line Retro Bus to our first stop; Kawaguchiko Herb Hall. You will find Oike park right in front of Kawaguchiko Herb Hall bridge that is perfect for jogging early in the morning. You can have a walk through the promenade at the side of the water between Oike Park parking lot and Kawaguchiko Ohashi bridge.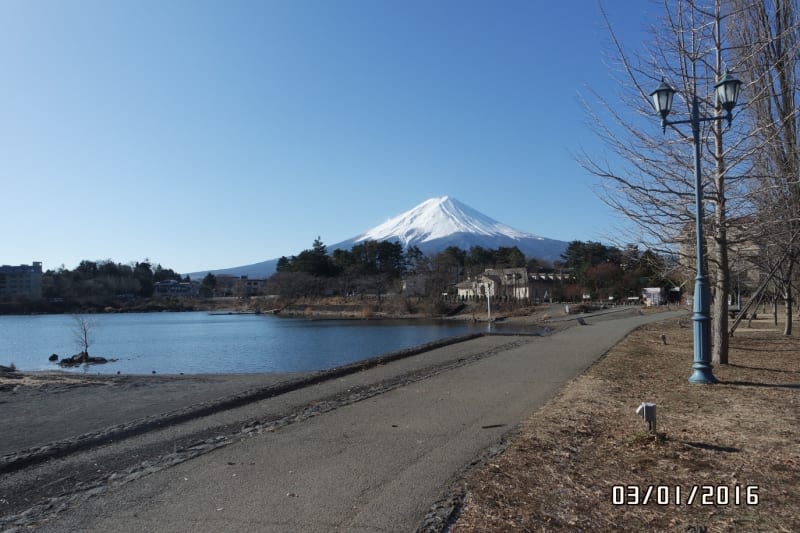 The walkway beside the parking area overlooking the lake and Mt Fuji via author's personal collection
Stroll around this area and mesmerise your eyes with the magnificent view of Mount Fuji. The sight is really remarkable especially during winter when the mountain is covered with snow at its tip. There are also some benches for you to sit down here to have light meals before embarking on our journey to explore more scenic photos of Mount Fuji.
Tips: You can buy Onigiri for a light breakfast at this spot for only 100-150 yen from the convenience store! Make sure to buy the seafood or vegetable filling, because the meat or chicken variants are not Halal. Check this article to know how to read Onigiri wrappers.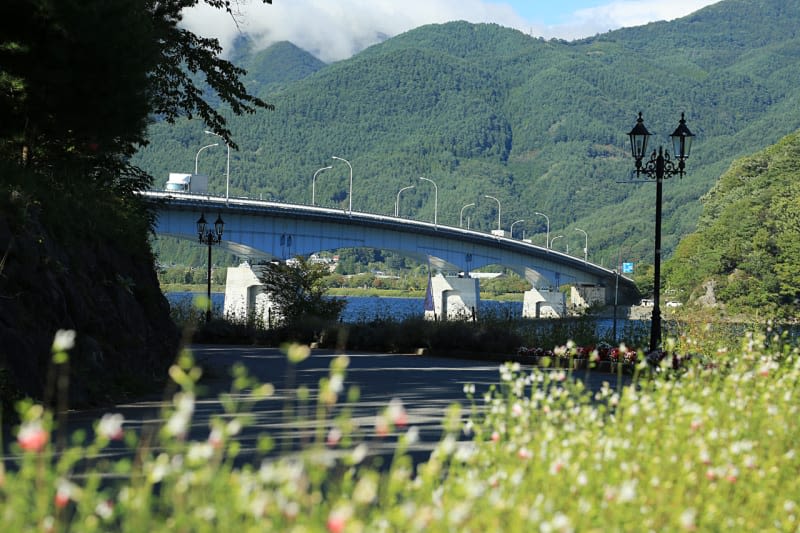 Kawaguchiko Ohashi bridge via kawaguchiko.net
Information on Oike Park
| | |
| --- | --- |
| Address | 1221 富士河口湖町Kodachi, Fujikawaguchiko-machi, Minamitsuru-gun, Yamanashi-ken (Map) |
| Ticket Price | Free |
| Opening hours | 24 hours |
2. Mount Kachi Kachi Observation Deck (Red Line bus stop no 11)
Don't stay too long in Oike park because we still have a long way to go! Let's take back the bus and go to our second stop. Why don't we enjoy the beauty of Mount Fuji from another mountain? This time around we will go all the way up to Mt Kachi Kachi by riding the ropeway to see the best and clear view of Mount Fuji. Once you touch down to Pleasure Cruiser/Ropeway Ent. bus stop, cross the road and walk a bit uphill to the Mt Kachi Kachi Ropeway. You can actually hike to go up there, but since we only have one day here, we suggest you take the ropeway to save your time. Besides, the view of Kawaguchiko lake while the cable car moves up to Mt Kachi Kachi is just too fascinating to miss.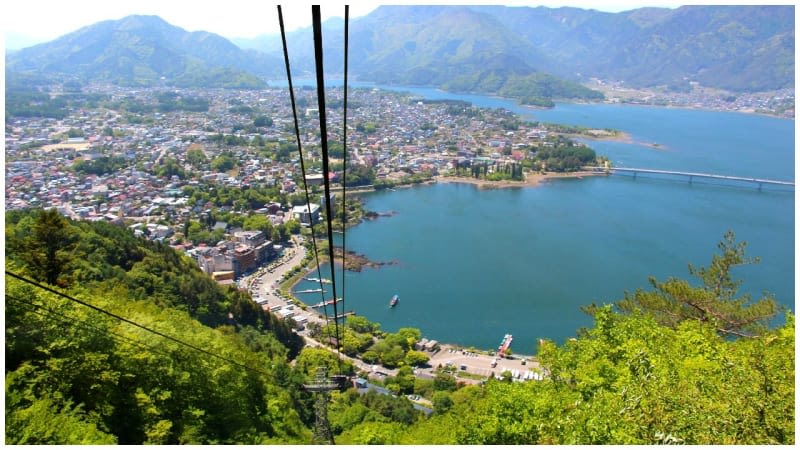 Lake Kawaguchiko from Kachi Kachi ropeway via Glistening Sheen on Youtube
You will still need to walk a bit to the deck once you touch down at the top of Mt Kachi Kachi. It takes a little more time and energy, but the panorama from the deck is definitely worth it. There is two floors deck where you can have a completely unobstructed view of Mount Fuji and take as many pictures as you want. Don't forget to take a picture with the cute Tenjo Bell (the heart shaping bell) on the deck!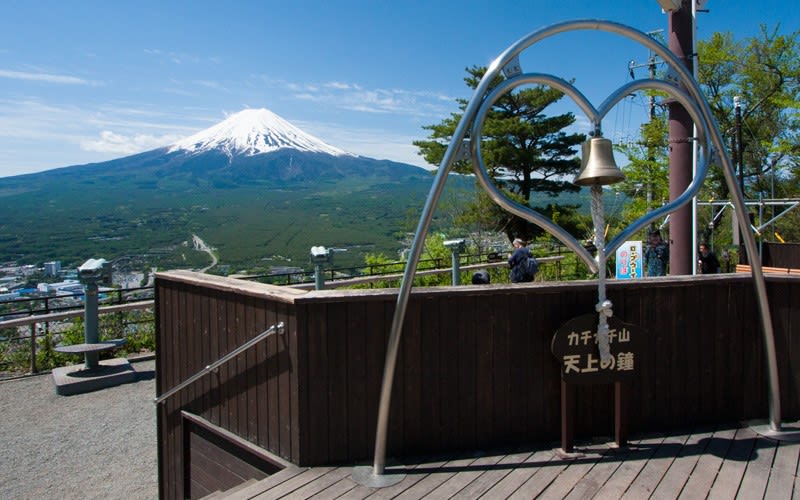 Observation deck and Tenjo Bell via Kachi Kachi Yama Ropeway
Information on Mount Kachi Kachi Ropeway
| | |
| --- | --- |
| Address | 1163-1 Azagawa, 富士河口湖町 Fujikawaguchiko-machi, Minamitsuru-gun, Yamanashi-ke (Map) |
| Ticket Price | Round trips Adult 800 Yen Kids 400 Yen |
| Opening hours | 9 am - 5 pm |
| Website | Kachi Kachi Ropeway |
3. View Point of Sakasa-Fuji (Red Line bus stop no 14)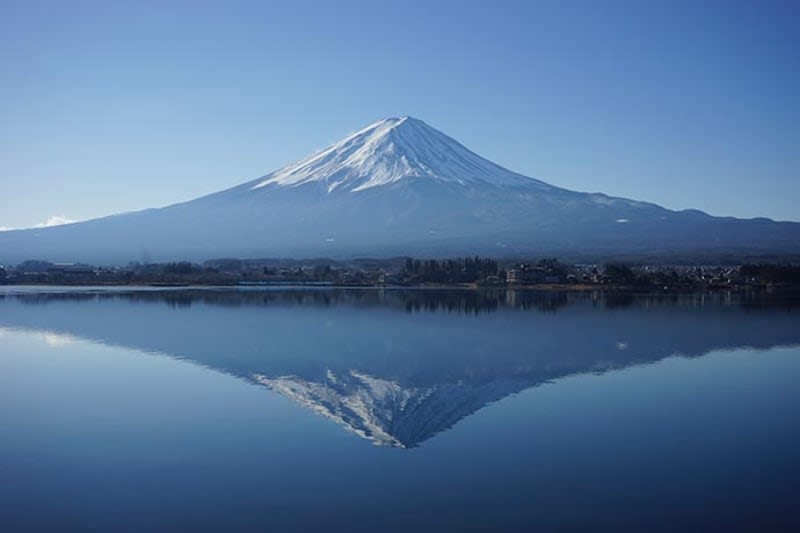 The reflection of Mount Fuji on the lake via JNTO
After finish taking pictures from Mount Kachi Kachi, we will take the bus again to the next stop not too far from the ropeway. The next view we are about to see is called Sakasa Fuji or the reflection of Mount Fuji on the lake. From this spot, we can see a magnificent figure of Mount Fuji reflected inversely on the surface of the lake.
View point of Sakasa Fuji during autumn via ikidane-nippon
This viewpoint will be especially beautiful during spring and autumn. The bus stop is located in front of several hotels and there is a walkway where you can take pictures with the boats and the lake as a backdrop. After a quick stop here, we will proceed to our next destination, Oishi Park
4. Oishi Park (Red Line bus stop no 22)
Oishi park is the best spot to admire Mount Fuji while drinking a cup of hot coffee during a winter day or eating an ice cream cone during a summer day. The superb view lures many professional photographers to take pictures of the lake, the park and Mount Fuji that creates a splendid harmony.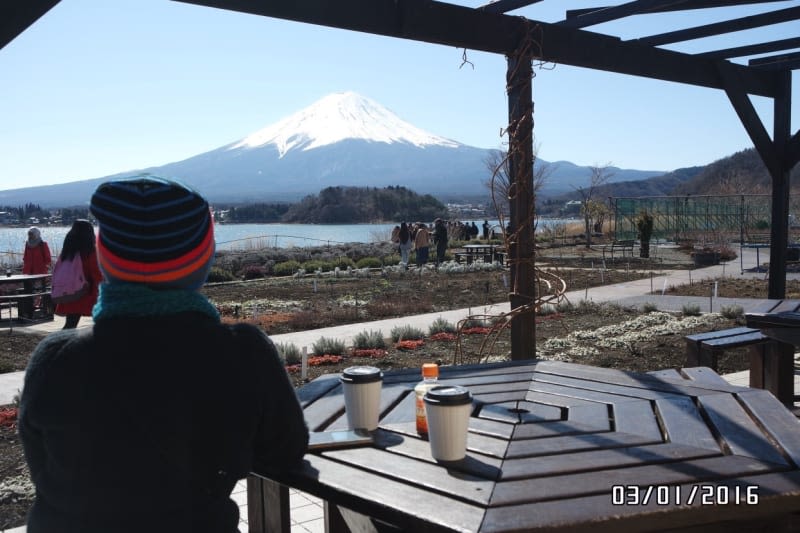 Relaxing with a cup of hot coffee in Oishi Park via author's personal collection
The park also features some of the loveliest flower gardens with the different type of flowers that bloom throughout the year! And not only that, you can also find Kawaguchiko Natural Living Centre in this park where you can buy many kinds of blueberry products. You should not miss the all time favourite souvenirs here; the handmade blueberry jam. However if buying a jam is too mainstream for you, you can join the class and make the jam yourself!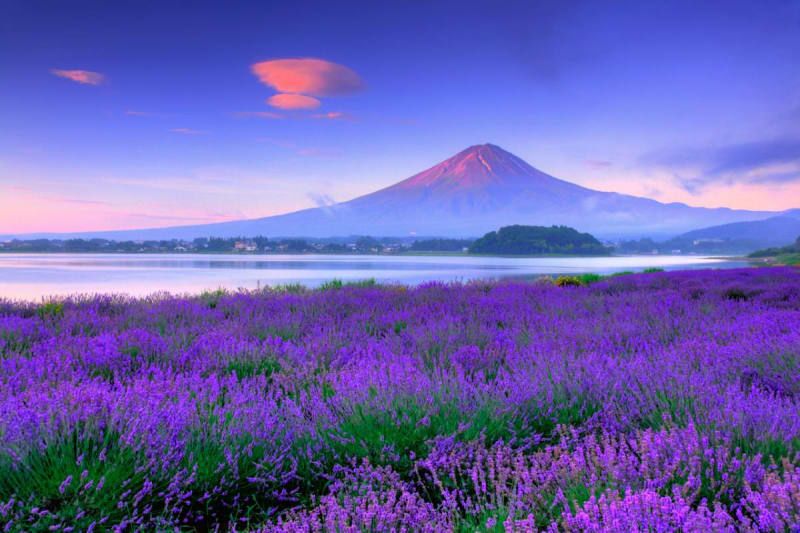 Oishi park with lavender bloom via Zekkeijapan
Information on Oishi Park Schedule
| | |
| --- | --- |
| Time of the year | Flower blooms |
| Late April | Tulip, narcissus, rape |
| Early May | Pink moss phlox |
| Late June to early July | Lavender |
| Late June to early October | Begonia |
| Mid October to late October | Red Bassia scoparia |
| December - January | "Niagara Fall by the lights" illuminations |
Now we have already finished the route for the Red line bus. But fret not, we will have one last trip to close the awesomeness of this Fuji Kawaguchiko day trip. It's time to explore the Green Line route for our final destination! From Oishi park, we will need to take the Retro bus and go back to our first stop Kawaguchiko Herb Hall (bus stop no 7). From there, we will ride the Omni green bus. The bus is easily recognised from its green colour so don't worry about hopping on a wrong bus.
5. Saiko 'Iyashi no Sato Nenba' (Green Line bus stop no 68)
Saiko 'Iyashi no Sato Nenba' is a preserved site from a former farming village that was destroyed by a typhoon in 1966. The village was rebuilt by the government and reopened as an open air museum. It has an amazing view of the thatched roof houses overlooking Mount Fuji. It is also revived as a traditional craft village where visitors can learn about the traditional cultures. Each house offers different traditional craft such as pottery, incense or weaving. Some houses also conduct workshops to make washi paper, charcoal and soba noodles.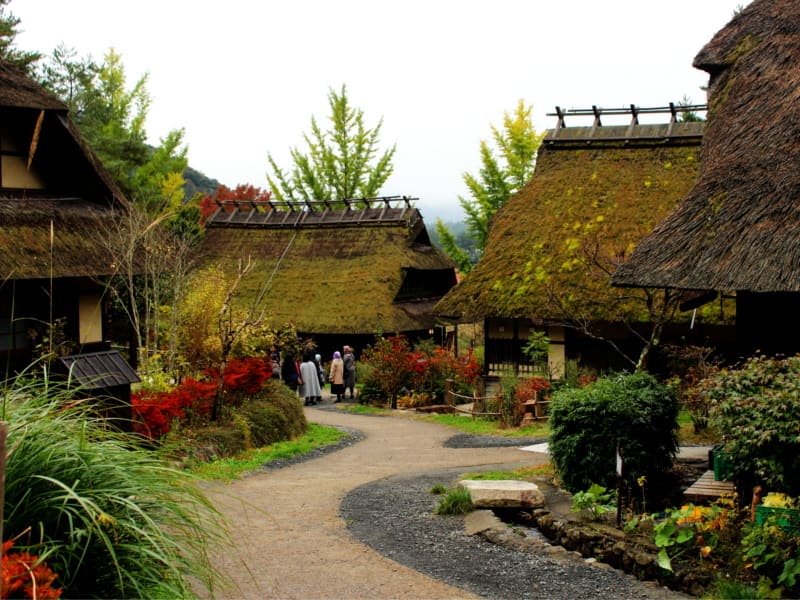 Traditional thatched roof houses via Fuji-travel-guide
What's more? You can also find a costume rental service where you can rent Kimono, Samurai and Ninja costumes for a final epic photo sessions for as low as 1000 yen!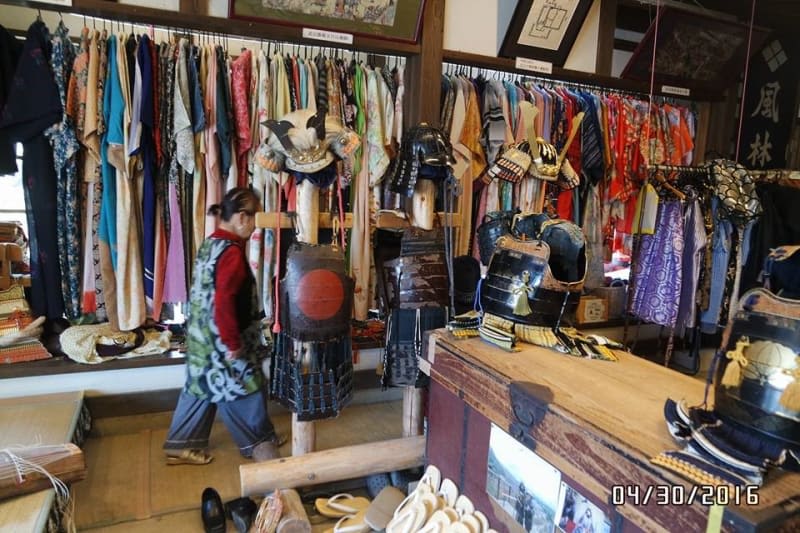 Costume rental shop in Saiko Nenba via author's personal collection
Information on Saiko Iyashi no Sato Nenba
| | |
| --- | --- |
| Address | 2710 Saikonemba, Minamitsuru-gun, Fujikawaguchiko-machi, Yamanashi (Map) |
| Ticket Price | 350 yen |
| Opening hours | 9am to 5pm (March to November) 9.30am to 4.30pm (December to February) |
| Website | Saiko Iyashi no Sato Nenba |
Bonus: Halal Restaurant in Kawaguchiko, Alladin Indo Restaurant
Finally, you have completed a wonderful journey around Lake Kawaguchiko in just one day. Mission accomplished! Make sure not to miss the last bus to Kawaguchiko Station by bringing along the bus line route map and schedule. Once you arrive at Kawaguchiko station, you can have dinner at Alladin Indo restaurant to fuel up your energy after a tiring but exciting day!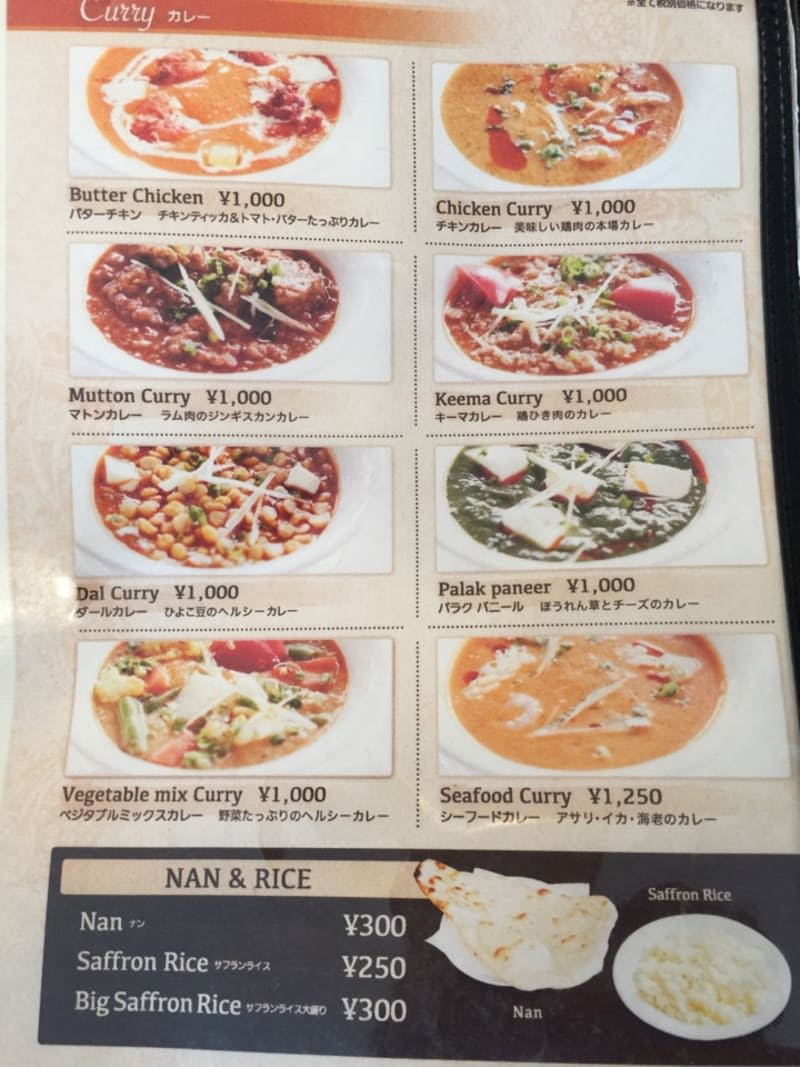 Alladin Indo Restaurant's Menu; credits to Halal Navi user Khaled Aldhaheri
Information on Alladin Indo restaurant
| | |
| --- | --- |
| Address | 288-1, Funatsu, Fujikawaguchiko-machi, Minamitsuru, Yamanashi (10 minutes walk from Kawaguchiko Station) |
| Telephone | 0555-72-6755 |
| Halal Info | Halal certified |
| Price | 700 yen - 1,500 yen |
| More info | Alladin Indo restaurant |
If you want to have a taste of Alladin Indo Restaurant's delicious butter chicken curry, be sure to save it inside Halal Navi app so you can view the restaurant details even when you have no internet connection in Lake Kawaguchiko! (Just tap the 3rd button from the right on the restaurant page inside Halal Navi apps). And if you are looking for other Halal Japanese food in Tokyo, don't forget to download Halal Navi apps to find one easily 😉
P.S : Have any stories about Japan that you want to share? Send your article to [email protected] to be featured!