8 Reason Why You Should Stay at Muslim Friendly Hotel, Maple Inn Makuhari Hotel on your Chiba Trip
Muslim-friendly hotel in Japan? It is maybe uncommon to hear about a Muslim-friendly hotel but not Muslim-friendly City Chiba! Here's 8 reasons on why you should consider checking in at Maple Inn Makuhari for a night or two during your Chiba. 
warning: you will want to book the hotel by the end of the article
1. It's 3 minutes walk from the train station
Maple Inn Makuhari is only 3 minutes walk from Makuhari Hongo station which is very near! The direct bus from Narita Airport to Chiba city also stops at Kaihin Makuhari Station which is near Makuhari Hongo station
(you
will need to take a bus) which makes it the perfect place to start your Chiba trip!
2. The staffs are knowledgeable about Muslims and experienced in accommodating Muslims guests
What surprised me about Maple Inn Makuhari Hotel's staff was other than being very friendly and giving out great services, they know about Halal and our praying needs! So if you need any help or want the prayer mats, you can just ask the receptionist and they will be more than happy to help you out. 
3. The spacious hotel room unlike in Tokyo!
The one thing that you need to get used to is hotels generally in Japan's big city like Tokyo and Osaka is small. Like barely any space – small. But since Chiba is not as crowded as of a city than Tokyo, the hotel room is spacious enough that they even have a sofa! The room rate was also affordable, starting from 5,300yen~ a night.
4. Kiblat and praying mat are provided
The rules to be certified as a Muslim-friendly hotel in Chiba are to accommodate Muslim guest's needs and that also includes our prayers needs. For every room, Maple Inn Makuhari provides Kiblat signage
(inside
the cupboard) and a prayer mat upon request at the receptionist.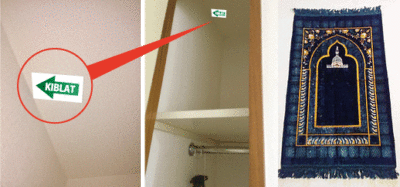 5. Free handphone with internet provided inside the room 
Running on your phone alone during your trip can be scary as who knows your battery may run out or the wifi is not connected. The Internet plays a big role in any trip hence the Maple Inn Hotel is kind enough to provide you a smartphone, free calls, and internet, during your stay! Just don't be careful not to bring it home though 😉
 6. Muslim Friendly Japanese Breakfast !!
Here comes the fun part of staying at hotels, their breakfast buffet.
Their buffet spread was more than enough but I was scared at first that they might not be many Halal options. But the staff assured me other than the one marked with an alcohol logo, everything is Halal, including the chickens!! Even their sauces like soy sauce
(shoyu)
and chili sauce are Halal so you can dine in without worry.
Other than the chicken, their fresh homemade tofu was amazing too! Don't forget to try out their other Japanese dishes too while you're at it.
7. Learn how to make Muslim Friendly Sushi Roll from the hotel's chef
Other than the Muslim Friendly breakfast buffet, you can also join Maple Inn Hotel's sushi roll
(futomaki-sushi)
class; another experience you can add on to your trip! You will be learning the tips and tricks of making the perfect futomaki-sushi roll from the hotel's chef himself! And as if that is not enough, the chef will cook you fresh tempura for you to have it with your sushi!
The sushi roll making class is only 2,000yen/hour/person
(exclusive
tax) and it even includes washoku
(Japanese
dinner)! It's definitely a must if you're staying here. 
Halal Navi tips: Prior reservation are required
8. Travel guide for Muslims
Maple Inn Hotel is the one-stop for all your Muslim needs and traveling needs. They provide all kinds of useful pamphlets during your trip including the Chiba City Muslim-Friendly Map that contains all information on Halal / Muslim Friendly facilities. Make sure you grab them before check-in!
So will you be booking any time soon?
***
Address: 1 Chome-12-1 Makuharihongo, Hanamigawa Ward, Chiba, 262-0033, Japan