10 Free Things To Get The Best Of Autumn Experience In Japan
Being economical and efficient doesn't mean you cannot enjoy your trip. So many activities and tourist location in Japan that you can explore for free! If you have planned a trip to Japan this autumn, be sure to check these 10 things you can do without hurting your wallet!
1. Have a Picnic at Yoyogi Park, Tokyo
Yoyogi Park is one of the biggest parks in the heart of Tokyo. It is close to the famous road of Takeshita Street and Omotesando shopping path in Harajuku. Since it's a public park, you can enter here for free and enjoy the changing scenery along the season here.
One of the best time to have a picnic in Yoyogi Park is in autumn. The season when you can see the beautiful changing colour of Momiji leaf. There are always some warm days during autumn and usually, Japanese people take this chance to have a picnic with family and relatives. And why don't you do the same then?!
Information Access: 10 minutes walk from JR Harajuku Station or Tokyo Metro Subway Omotesando station, choose Meiji Jingu Exit
Address: 2-1 Yoyogikamizonocho, Shibuya, Tokyo
Opening hours: Always open with no closing days
Nearby Halal Restaurants: Singapore Holic Laksa
2. Hike Mount Takao, Tokyo
There are several mountains that not that tough to climb near Tokyo. Takao is one of them. You can climb this mountain by walking through the path surrounded by the greenery or if you are not very fond of the idea of hiking, you can take a cable car and enjoy the view slowly with no sweat.
With the height of about 600 meters above sea level, you can see the beautiful greenery and on a fine day, you can also see the sea shore. You also can visit beautiful shrines in Mount Takao while enjoying the greeneries. Don't worry if you don't have any snacks or food with you, because there are a lot of food stall along the path. If you are lucky, maybe you can meet a Tengu, the God with the long nose whom you can see his statue almost everywhere in Mount Takao!
Information Access: About 1.5 hour from Tokyo station, take JR Train and stop at Takao station, take the path by walking until you find the gate of Mt.Takao Hiking trail. Nearby Restaurant: Watami
3. Behold the Magical Lights at Odaiba Bay, Tokyo
Strolling Odaiba is one of the things that will get you stunned. A lot of park and beautiful view can be seen here. There are an amusement park, malls, and a lot of park with a very nice walking path along the bay where you can enjoy the scenery. It becomes more special with the beautiful YAKEI or Odaiba Night Illumination. Just come to the Odaiba Decks then you will see the beautiful illumination that lit throughout the year! The illumination will lighten up at sundown until midnight. It becomes more stunning with the combination of the changing foliage in autumn.
The night view of Tokyo Bay with the background of  Tokyo Tower, Tokyo Skytree and the Rainbow Bridge, all together behind the 220,000 lights will sure be the highlight of your Autumn trip. It is romantic and the best of all, it's for free!
Information Access: Stop at Odaiba Kaihin-koen Station from Tokyo station by using Train of Rinkai Line, or Yurikamome Best spot to see: 3F Seaside Deck Odaiba Bay
Schedule: Sundown to midnight throughout the year
Nearby Halal Restaurant: Red Lobster, The Oven Aquacity, Khazana
4. Experience Japanese Culture in Meiji Shrine, Tokyo
If you ask what is the biggest shrine in Tokyo, then the answer is Meiji Shrine. Located in the heart of Tokyo, the Meiji shrine is easy to access and is one of a must-visit place if you come to Tokyo. Every year, there is a demonstration of Japanese culture to celebrate the Emperor of Meiji's Birthday. The demonstration of cultural events is held differently every year. Typically it includes traditional dance, theatre, comedy, music, and popular martial arts such as Yabusame (a horseback archery). The performers in this event are professional artists so you can expect to see and experience Japanese traditional culture at its best.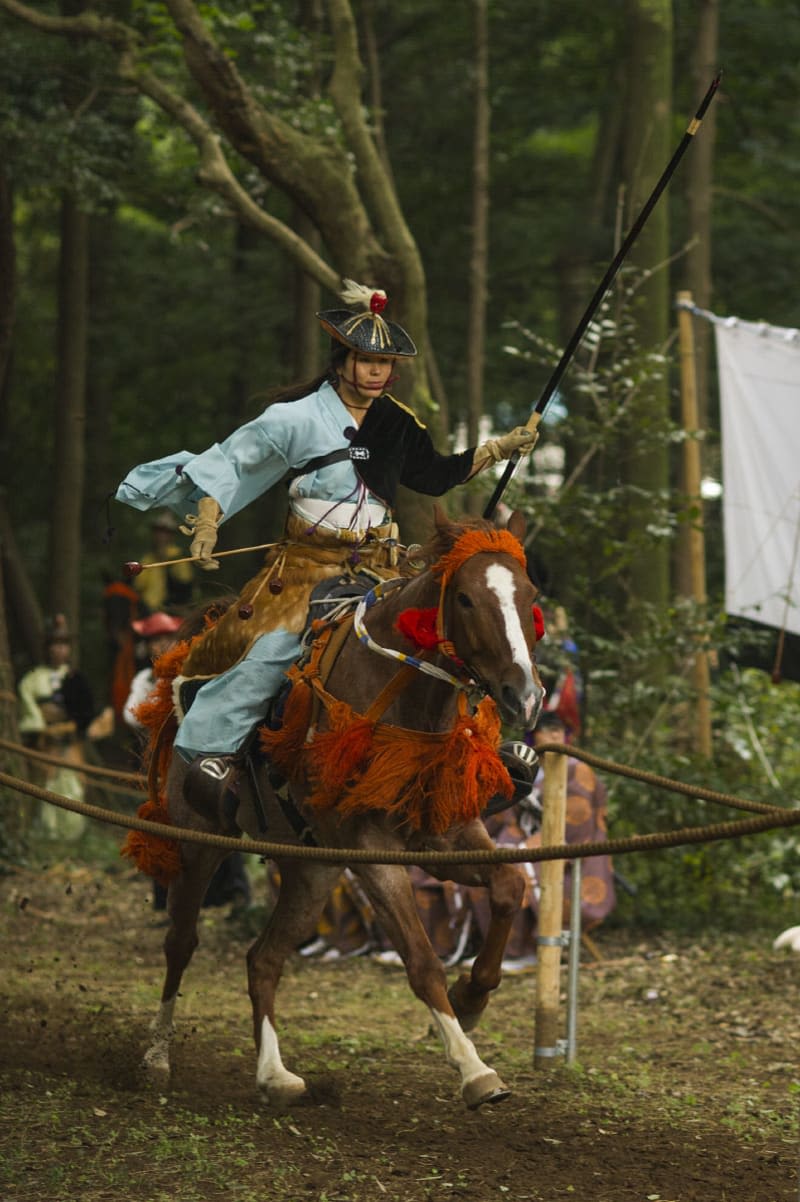 Information
Address: Meiji Shrine 1-1 Yoyogikamizonocho, Shibuya, Tokyo
Schedule: 3 November 2017
Nearby Halal Restaurant: Kebab Box J, Mekan
5. Halloween Stroll, Tokyo
Need something different with a uniquely Japanese style? Try to visit Japan during Halloween on 31 October. In recent years, Halloween has become very popular in Japan and is now one of the most famous pop cultures. Shibuya appears to be Tokyo's unofficial Halloween headquarters, with the streets are filled up with the people in costumes even one week before the Halloween begin. Don't be surprised if you find toilets around the area and are full of people getting dressed in Halloween costumes or doing the makeup here and there. For families and young kids, the celebrations tend to run in quiet residential areas such as Kichijoji and Nakameguro.
Information
Location: The main road of Shibuya or the most famous, Shibuya Crossing
Schedule: 31 October
Access: From Tokyo to Shibuya station is just about 30 minutes by JR train or subway. You can exit for the crossing district by choosing Hachiko Exit.

Nearby Halal Restaurant: Samrat Curry Plaza, Saray Shibuya, Ramen Honolu Ebisu
6. Surrounded by the Romantic Autumn Vibes at Momijidani Park, Hiroshima
If you visit Miyajima Island in Hiroshima, you may find Momijidani as the best place to see autumn in this island. Momijidani is a very beautiful garden located along a river at the foot of Mount Misen. You can enjoy the beautiful scenery of almost 200 maple trees that turn the land into a pretty orange colour, eat the famous Momiji Manju (maple shaped sweet with red bean filling) while talking to the cute deer (if you know their language though :p).
Information
Access: Take 1 hour from the centre of Hiroshima to the port and cross the sea by boat to Miyajima for 15 minutes
Nearby Halal Restaurant: Warung Matahari
7. Night Festival at Chichibu Yomatsuri, Saitama
About 1 hour by train from Tokyo, you can find a place called Chichibu in Saitama prefecture where you can join the celebration of Yomatsuri or Night Festival at 2-3rd of December. This night festival featuring large floats adorned with traditional lanterns and rare late autumn fireworks (since most Hanabi or fireworks festival are held during summer)!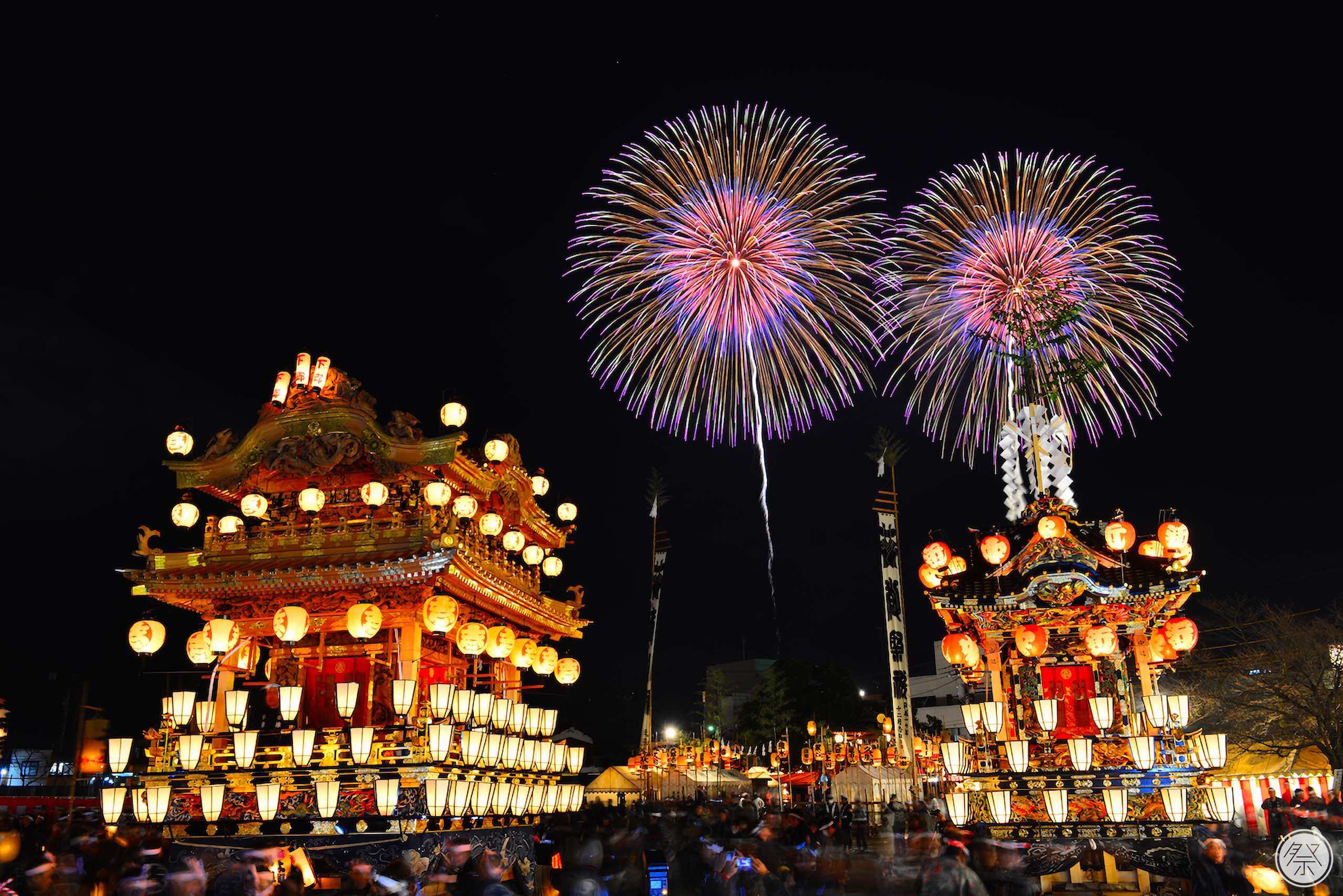 Information
Access: Take JR Train from Tokyo station or Ikebukuro station and stop at Chichibu station for about 1 hour and a half.
Schedule: 2-3 December every year
Nearby Halal Restaurant: Iririki Café & Bar
8. Feel The Intimate Old Atmosphere in Takayama Autumn Festival, Gifu
Takayama is one of the famous tourist spots in Japan. You can feel the old atmosphere while strolling around the area. A lot of old building, restaurant, and stores can be found here. And if you come in autumn, you can experience the traditional festival of Takayama. A parade of tall antique floats with Karakuri (a mechanical doll) on top of the floats to give performances.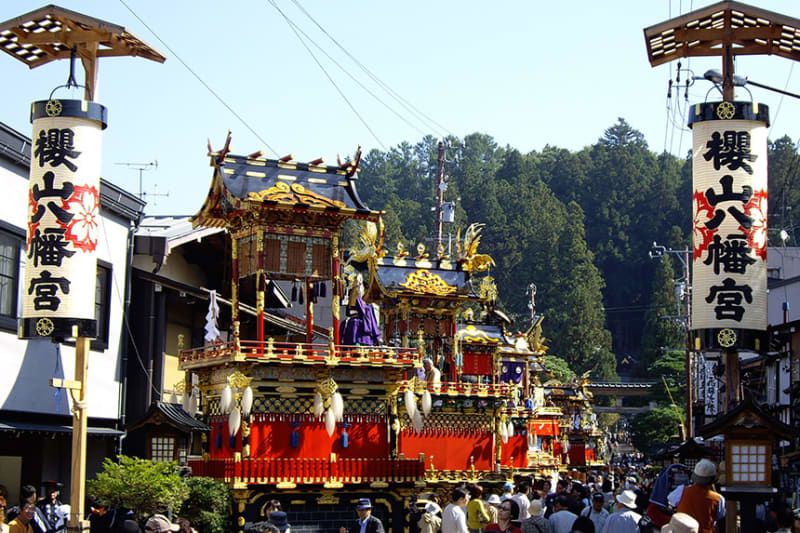 The Takayama Autumn Festival has dated to 350 years ago and it let you experience the old ritual did by Japanese ancestors. The old buildings and the atmosphere created by the festival will throw you back into the old world of Japan. Information Access: Take a bus from Tokyo Station or Shinjuku Bus Terminal to Takayama for about 4 hours. You can also take a train by JR Hokuriku Shinkansen to Toyama and transfer at JR Hida Limited Express. Address: 178 Sakuramachi, Takayama-shi (Sakurayama Hachiman Shrine) Schedule: 9-10 October every year Nearby Halal Restaurant: Hidaya- Sho
9. Attend Nagasaki Kunchi Festival, Nagasaki
Nagasaki is one of the famous port in Japan which was bombed during the world war II. It was the first port that opened for foreigners to come to Japan. A unique festival that is influenced by the Dutch and Chinese culture that shaped the city's history is held every October 7-9. A total of 59 neighbourhood teams will perform once every 7 years at this festival, which means that the festival offers different performance every year. You can watch the performance at four stages in Suwa Shrine, Otabisho, Yasaka Shrine and Kokaido.
Information Access: You can take JR Tokaido/Sanyo Shinkansen from Tokyo that heads to Hakata station in Fukuoka. From there, transfer to JR Kamome express train to Nagasaki.
Location: Suwa Shrine, Otabisho, Yasaka Shrine and Kokaido
Schedule:7-9 October every year Nearby
Halal Restaurant: Milan
10. The Vermillion Bridge at Korankei Valley, Nagoya
Korankei valley is located in Nagoya and is best known for its autumn colours, representing the best autumn leaf viewing spot in Aichi prefecture. The large valley goes along Mount Iimori which is homed o Kojakuji Temple. The head priest of the temple planted many maple trees in the valley more than 400 years ago. Visitors who come to the area today can enjoy the beautiful trees that are now fully grown. The main attraction of the valley is Taigetsukyo, a Vermillion bridge that looks very beautiful next to the coloured trees.
Information
Address:Miyadaira-1 Asukecho, Toyota, Aichi Prefecture 444-2424
Access: Take Higashiyama Line train that bounds for Fushimi and Fujigaoka and at Fushimi Station. At this station, change to Tsurumai Line train that bounds to Akaike Station. Then change your train again to Meitetsu Toyota Line and stop at Toyotashi Station. From here, take Meitetsu Bus that bounds to Asuke and stop at Korankei.
Nearby Halal Restaurant: Maharaja Nagoya
Bonus Tips
If you want to experience Japanese culture such as Tea ceremony, Nagasu Soba (Floating Soba), etc, you can go to the International Relation Association in almost every city in Japan and register for their event for free!
---
While enjoying Japan now is much more affordable, you can keep your money and spend it to have some delicious Halal cuisines! Search halal restaurants nearby your area while strolling around the city with Halal Navi app. All you need to do is to tap the nearby button and we will give you a complete list of Halal restaurants nearby your area. Easy and No sweat!