10 Appetising Halal Restaurants Near Train Stations In Tokyo
Are you planning a trip to Tokyo? then prepare yourself to commute every day with the local trains (unless you are rich enough to afford a rental car or taxi!). Now that you will be going back and forth to stations, why don't you have your lunch or dinner in Halal restaurants nearby the train station?
Trust us, you will be exhausted walking around the whole day and will be very thankful if you can find Halal foods without hurting your foot further. To save you from this problem, we have picked 10 delicious Halal restaurants nearby stations all around Tokyo to accompany your commute in Tokyo!
1. Singapore Holic Laksa, Harajuku Station
Who doesn't know Harajuku? Yeap the name of that famous fashion trend from Japan was apparently taken from a district name in Shibuya. If you are in Station Harajuku and want to find the closest Halal eateries, try this Laksa Singapore restaurant which is only 200 meters away from this Station.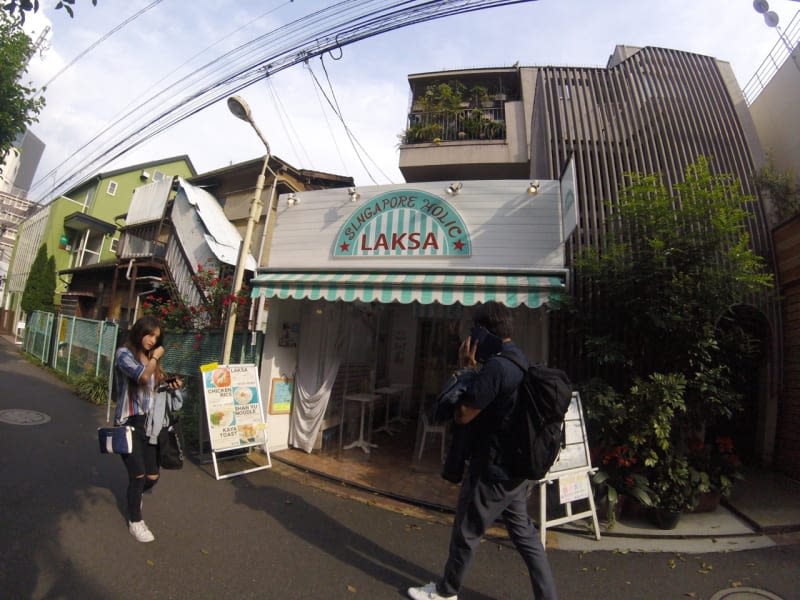 Photo by Rhyme (Halal Navi user)
If you are a fan of spicy food, you definitely should not miss the Laksa in this restaurants during your trip. The restaurants have various levels of spiciness that are ready to challenge you. Be careful while eating at this restaurant as the chicken menu are not Halal, so avoid the chicken rice and other chicken-based menus. Once your tummy is full, you can continue your journey to the Meiji Shrine which is not far from this restaurant or you can just walk around Harajuku district that's full of trendy shops, fashion boutiques and the sight of teenage extreme Harajuku style.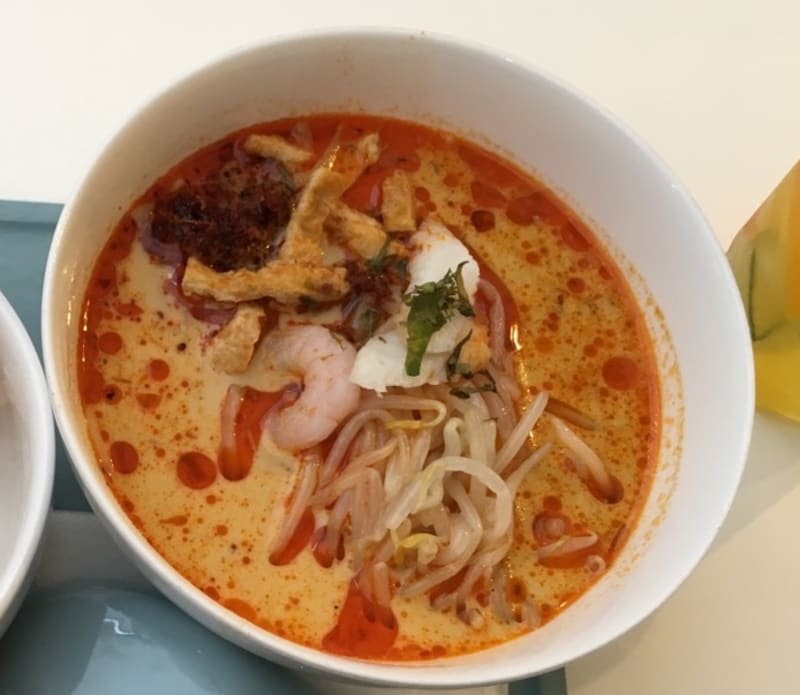 Photo by Ainunul Khalilah (Halal Navi user)
Review in Halal Navi
This is truly delicious and unique Halal food, right in the heart of Harajuku, cheap, and a welcome respite from all the boring kababs etc. Superb service too. 5 stars. -Usman Makhdoom
Direction Tips from Station: If you take Tokyo Metro, take exit 3 which will bring you right outside the Garrets popcorn (try their fresh cheese corn, best ever). Turn into the side street between Garrets and the Takoyaki place, Keep walking about 3 minutes and the restaurant will be right there. If taking JR train, just head right out of Harajuku station either exit until you see Garrets, then same as above.
Information
Address: 1-13-21 Jingūmae, Shibuya-ku, Tōkyō-to
Phone: 03-6804-1833 Price: Start from 500 yen
Halal Tips: Menu is labelled Halal, Halal status is confirmed by the staff, seafood menu available
More info on Singapore Holic Laksa
2. Sushiken Asakusa, Asakusa Station
A trip to Japan is not complete without trying the authentic Sushi made by the local chef. If you want to hunt for a Halal Sushi option in Tokyo, Sushiken Asakusa is the right choice. Not only that it's quite affordable for budget travellers like us, it is also the first Sushi restaurant in Japan to be Halal certified by the local mosque. If you happen to be around Asakusa on your way to Sensoji temple, it will fit your plan nicely because the restaurant is just a 5 minutes walking distance from Asakusa Station.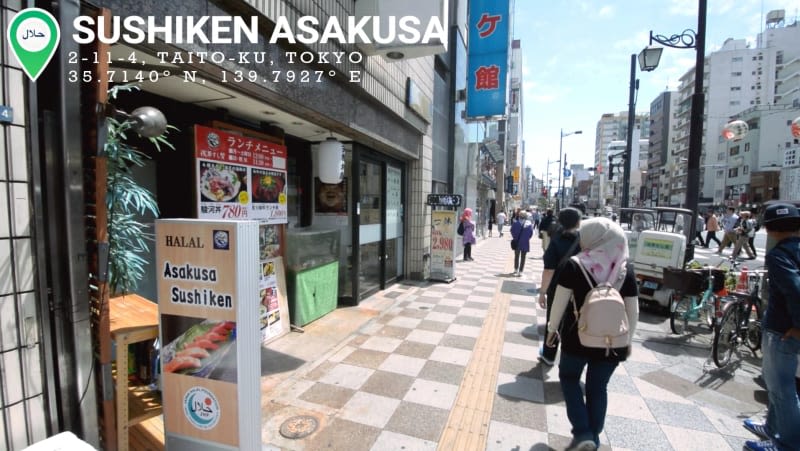 Since it is Halal certified, We can put our mind at ease while eating here as all the ingredients used are Halal. The best part is all sushi served at Sushiken are freshly made after we make our order. The seating arrangement is similar to a bar where you are seated facing the chef who is preparing your Sushi. You can have a peak and learn the technique of making an authentic Sushi from the pro while enjoying your food!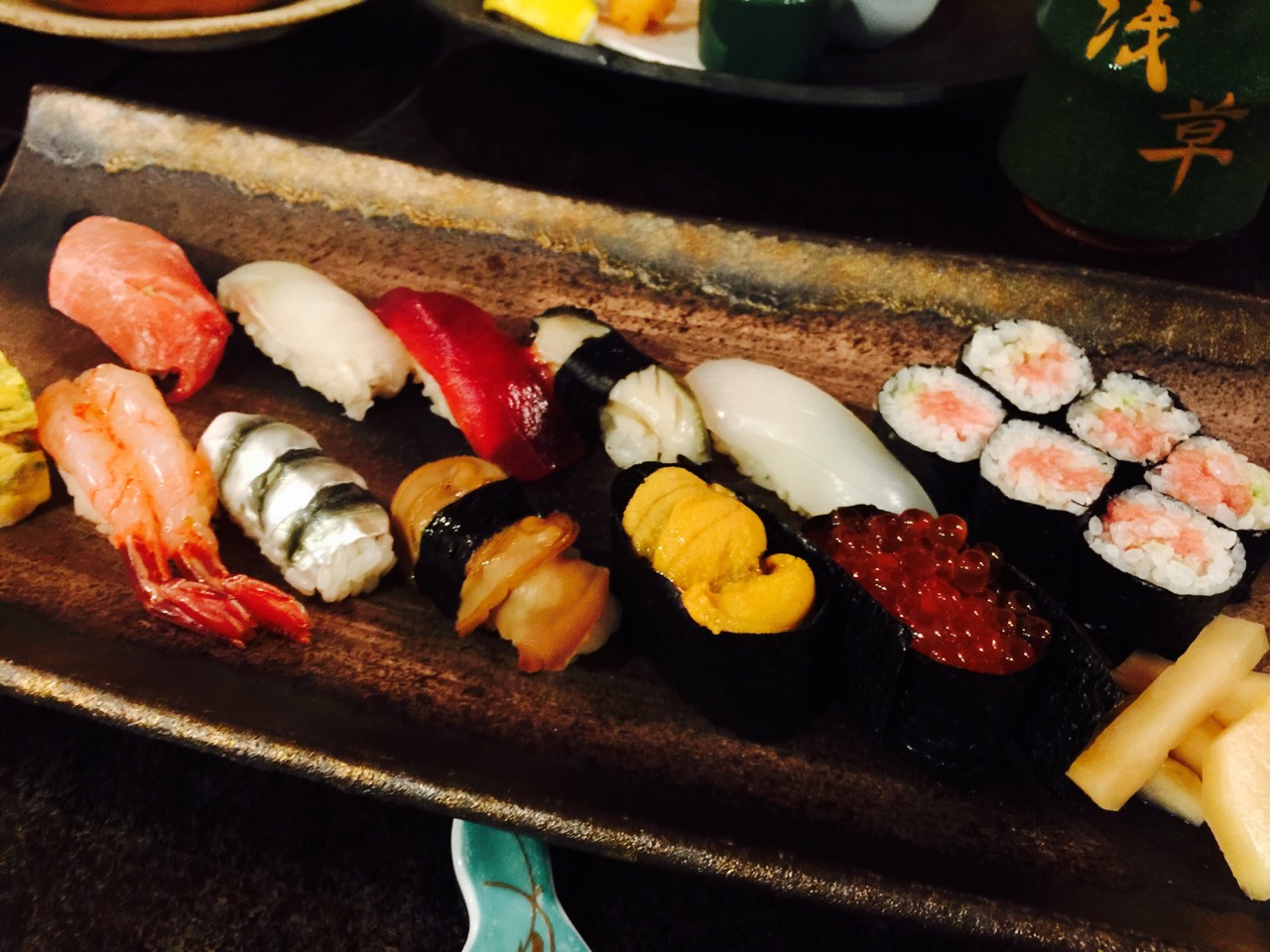 Photo by Aizad Dzulkilfi (Halal Navi user)
Review in Halal Navi
-Najah Nasseri
Direction Tips from Station: From Asakusa station take exit 2 to Kaminarimon Street. Go straight until you find the famous Kaminarimon gate (You should take some pictures before leaving this spot!). Then turn right and pass by the historical gate till you reach Nakamise Shopping Street. From there turn left and continue walking till you find Asakusa Rox Shopping Mall. Once you reach the mall, turn right in Kokusai Dori street and continue walking till you find Sushiken Asakusa on your right side.
Information
Address: Asakusa 2-11-4, Taito-ku, Tokyo, 111-0032 Japan
Phone: 03-5246-6547
Price: Lunch starting from 1300 yen and dinner starting from 5000 yen
Halal Tips: Halal certificate is visible, prayer room is available
More info on Sushiken Asakusa
3. Asian Kebab, Roppongi Station
Strolling around Roppongi and want to have cheap meals for your calory intake? Try Asian Kebab, it is very close to the station and the Kebab is divine. Their crispy tortilla with sliced meat and fresh vegetables will make your stomach full for only 500 yen. If you come from Asian countries we know you won't be full unless you eat rice, right? (We know you so well!). Fear not because this restaurant does not only serve tortilla but also Kebab with rice.  The service is quite fast, so if you are in hurry, you can always stop by and grab some Kebab in this restaurant.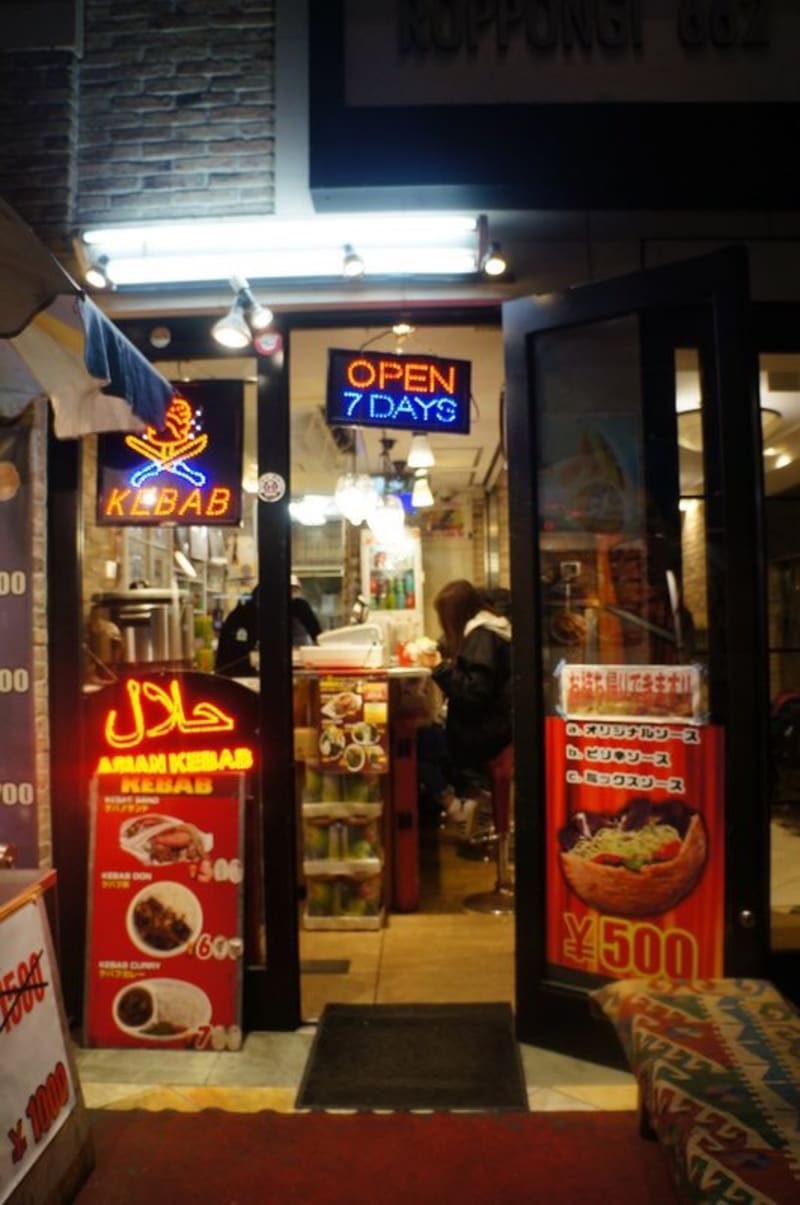 Photo by Idaiffah (Halal Navi user)
Direction Tips from Station: Asian Kebab is located exactly beside the Roponggi station. Just take the exit 1A, turn right and Asian Kebab is the second shop from that exit.
Information
Address: Minato-ku, Tōkyō-to, 106-0032 Japan
Phone: 03-5789-4766
Price: Start from 500 yen
Halal Tips: All menus are
Halal More info on Asian Kebab
4. Luna Hala, Tsukiji Station
Exhausted after wandering around the famous Tsukiji fish market? Maybe you need to reenergize yourself with some Halal foods. You can find a lot of fresh seafood snacks in the market but if it's not enough to make you full, come to Luna Hala restaurants in Tsukiji Business Ban Hotel. It's right in front of the market and just a few minutes walk away from Tsukiji station.
Credit to Tabelog
Don't worry, you are not required to stay in the hotel if you just want to eat in this restaurant. Just ask the receptionist and you will be directed to the restaurant. Be careful while eating here as not all menus in this restaurant are Halal. Make sure to check the labels on the menu and don't hesitate to ask the staff as they can speak English very well.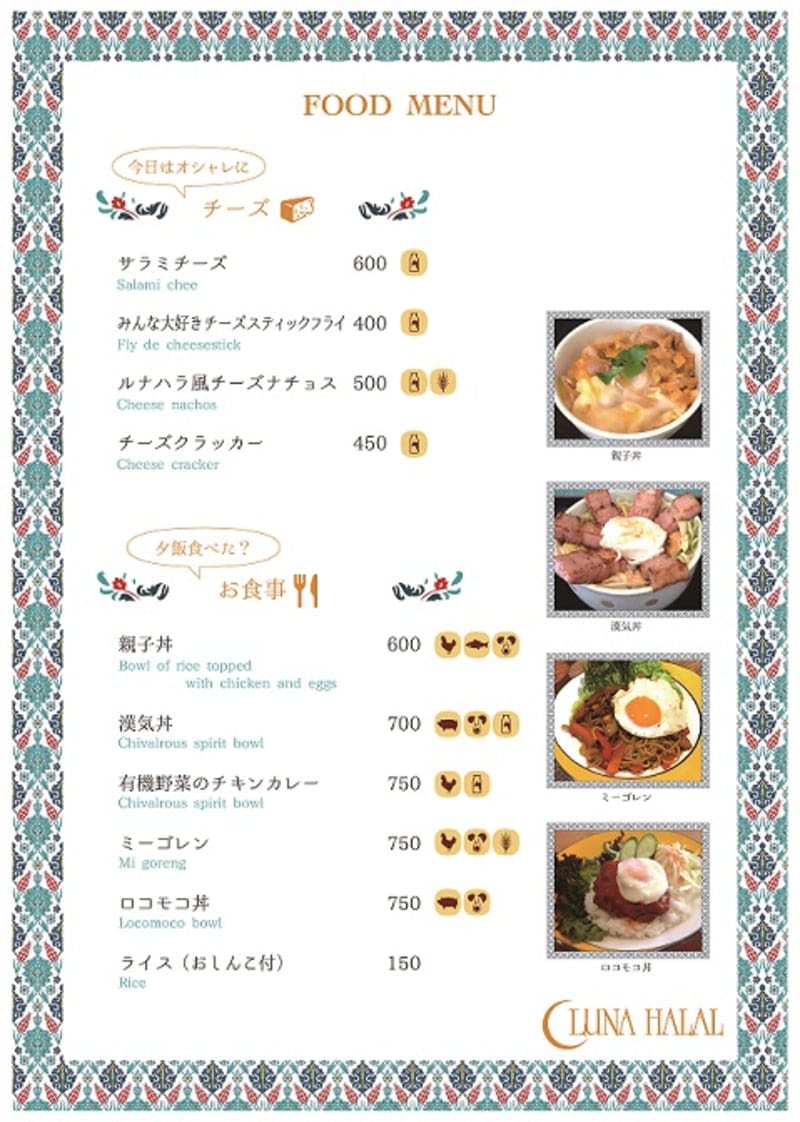 Credit to Tsukiji Business Hotel Ban
Direction Tips from Station: Take exit 1 from Tsukiji Station, turn left and walk till you find a big crossroads. In the crossroad junction, turn left and find Tsukiji Business Hotel Ban building on the right side of the road (It is across the Tokyu Stay building that has a huge red fish painting on it!).
Information
Address: Tsukiji, 3−17−10, Tsukiji Business Hotel Ban, Chuo, Tokyo, 104-0045 Japan
Phone: 03-3543-8411
Price: 500 - 750 yen
Halal Tips: Menu labelled Halal, some Halal menu are served
More info on Luna Hala
5. Red Lobster Aquacity Odaiba, Daiba Station
If you are crazy of New York, you definitely should go to the replica of the famous Liberty statue in Odaiba with the magnificent rainbow bridge as a background. It's very close to Daiba Station so you can conveniently walk to the photo spots! Once you finish taking pictures, you can go to Red Lobster in Aquacity Odaiba building which literally located just beside the station.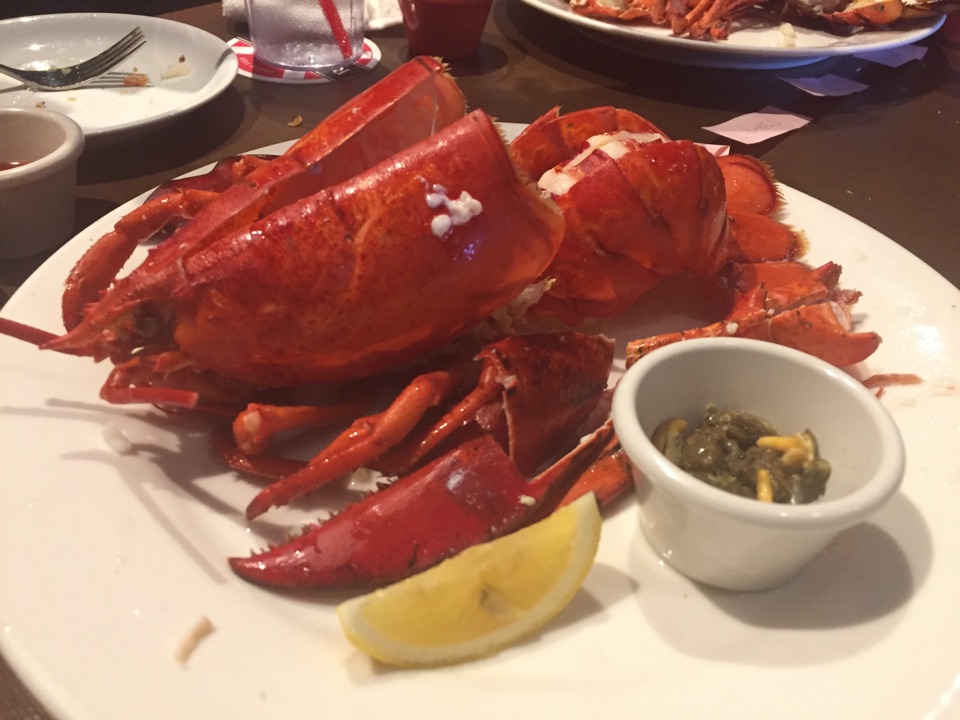 Photo by Amin Azizan (Halal Navi user)
In Red Lobster you can find a variety of seafood menu; from shrimp, squid, clams, crabs to lobsters. The all-time favourite menu here is their fresh lobster and crabs. The Lobster and crab come in a variety of cooking styles, and their jumbo size will surely make you drool. Some of the menus served in this restaurant are not Halal, but the staff will usually warn you which menu to be avoided. Be safe and only order the foods from the Muslim welcome menu.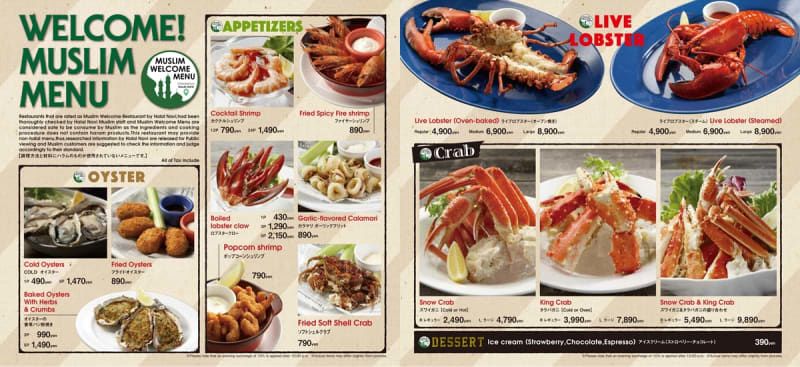 Credit to redlobster.jp
Review in Halal Navi
-Sujak
Direction Tips from Station: Once you get out from Daiba Station gate, take the North exit and follow the direction to Aqua City Odaiba. Red Lobster restaurant is near Toysrus entrance on the first floor.
Information
Address: Daiba 1-7-1 Aquacity Odaiba 6F, Minato-ku, Tokyo, 135-8707 Japan
Phone: 03-3599-5521
Price: 3,000 - 9,000 yen
Halal Tips: Menu labelled Halal, some non-Halal menus are served, alcohol are served
More info on Red Lobster Aquacity Odaiba
6. Minokichi KEIO, Shinjuku Station
If you want to see the beauty of Tokyo from above, you can try to go to the Tokyo Metropolitan Government Building and have a clear sight of Kanto region and Mount Fuji from the observation deck. Not too far from this building, you can find a Halal Japanese Restaurant at Minokichi KEIO. In this fine dining restaurant, you will be served a full course dining. Starting from the appetiser menu of juice, rubbed tofu, boiled prawn, steamed egg and mochi. Then continue with the main course that gives you a variety of Japanese dishes from Soup, Sashimi, Tempura, and Bamboo gohan (rice cooked in bamboo and served with soup). And they also serve the Japanese snack Dango and fresh fruit as dessert. What a complete package of Japanese delicacy!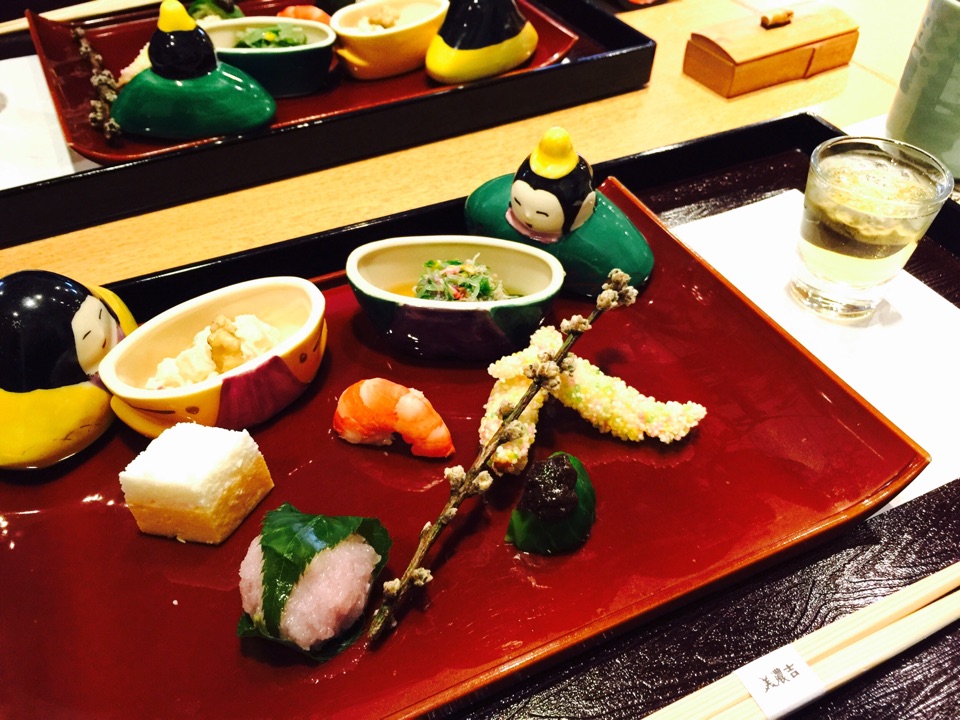 Photo by Najah Nasseri (Halal Navi user)
The restaurant also uses a Japanese food presentation called Kaiseki in serving the dishes. You can see how beautiful the arrangement of each component on your plate is. You might not want to eat it because it's just too pretty! The restaurant requires two days for the Halal menu, so make sure to make a call before coming here.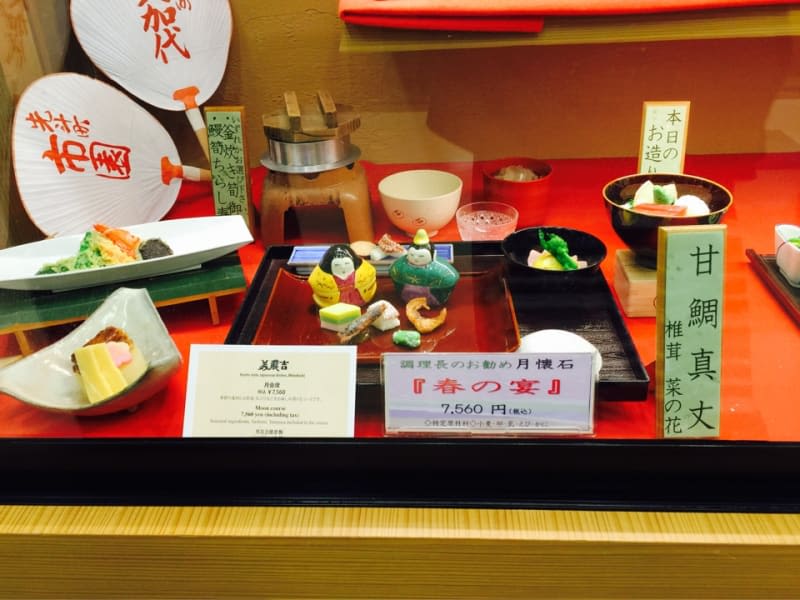 Photo by Najjah Nasseri (Halal Navi user)
Review in Halal Navi
- Najah Nasseri
Direction Tips from Station: Minokichi restaurant is located at KEIO Department Store which is connected to JR Shinjuku station's west exit. The restaurant is on the 8th floor of the Department store.
Information
Address: Spice Ikebukuro Tobu 15F, 1-1-25, Nishiikebukuro, Toshima-ku, Tokyo
Phone: 035321-5969
Price: Starting from 7,560 yen
Halal Tips: Halal menu available, Non-Halal menu available
More info on Monokichi KEIO
7. T's Tantan, Tokyo Station
If you've been to Tokyo before, you must at least have passed by the busiest station in Tokyo that connects almost all modes of transportation in the city. A good news from the government of Japan, On 5 June 2017 Tokyo station has just opened a special room for prayers located in Marunouchi North Exit #Alhamdulllah. Now if you are waiting for your next train in Tokyo station, have a visit to this vegetarian restaurant T's Tantan to fuel up your tummy.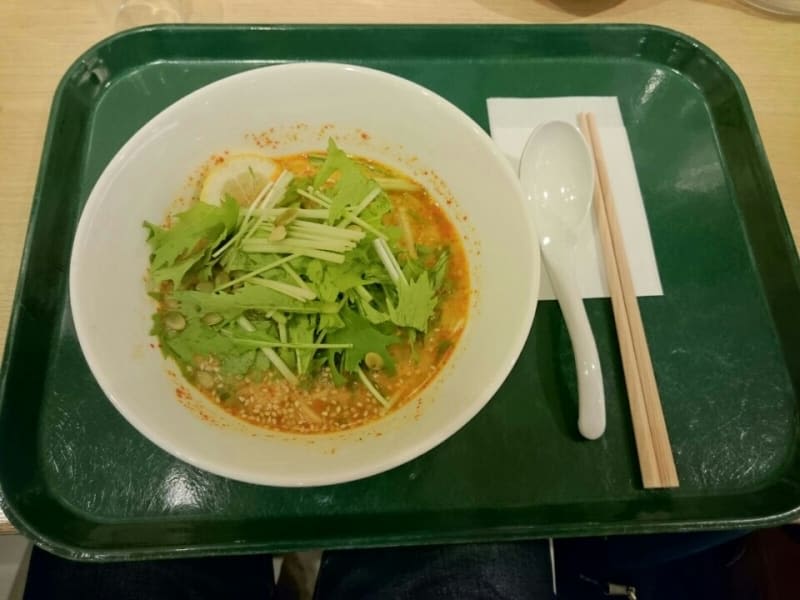 Photo by Sarah Khalilah (Halal Navi user)
You can find this restaurant at the end of Keiyo Street close to South Yaesu Exit. The price is quite affordable starting from 800 yen to 1,100 yen. Not only ramen, they also serve other menus such as curry rice, soup, gyoza and karage which are all vegetarian. They also provide English menus for foreign visitors, so just ask the staff for one when you enter the restaurant.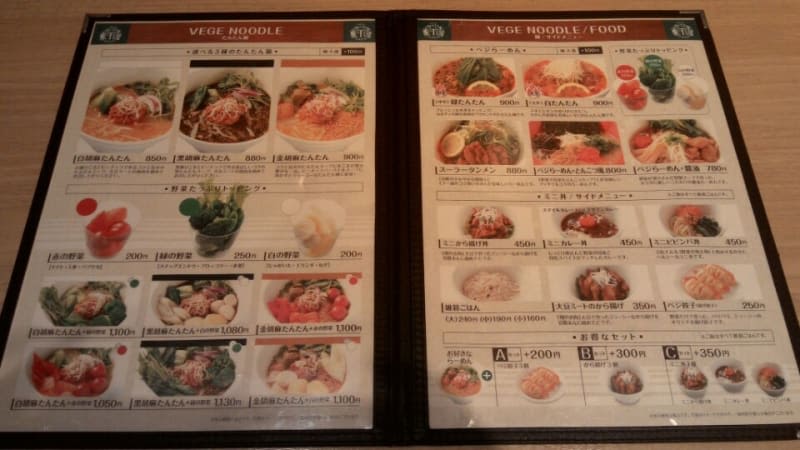 Photo by Sarah Khalilah (Halal Navi user)
Review in Halal Navi
-ndanazihah
Direction Tips from Station: T's Tantan is inside Tokyo Station. Look for Yaesu south exit and you will see a food hall called Keiyo street. You will easily spot T's Tantan from that hall.
Information
Address: Marunouchi 1-9-1 Keiyo Street, Chiyoda, Tokyo, 100-6701 Japan
Phone: 03-3218-8040
Price: 800-1,500 yen
Halal Tips : Vegetarian menus are available
More info on T's Tantan
8. Chicken Man Ueno, Ueno Station
If you are feeling hungry after rambling around Ueno like Ueno Park and Tokyo National Museum, you can have a dinner at Chicken Man restaurant near Ueno Station before heading back home. The restaurant serves all kinds of chicken meals (as you would suspect); Ranging from barbeque chicken, chicken pasta, chicken rice, chicken burgers, and a lot more.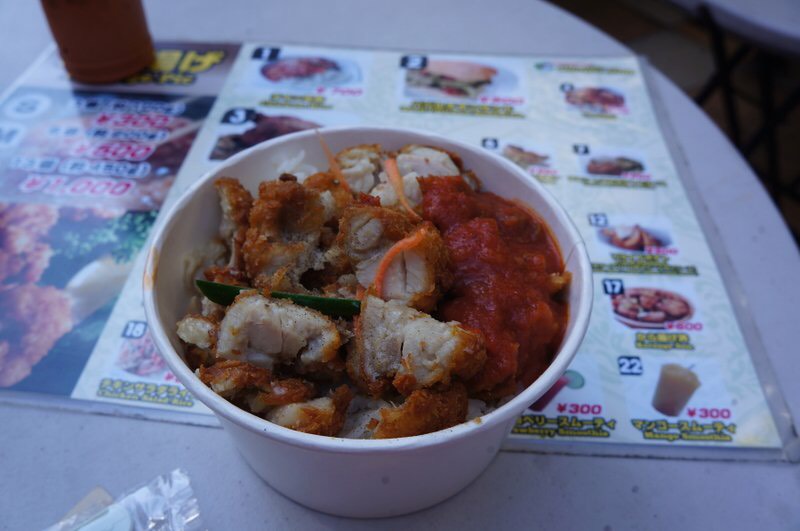 Photo by Idaiffah (Halal Navi user)
Besides its strategic location, the foods in Chicken man are quite affordable. You can get three pieces of chicken for only 300 yen #Wooow. It's not very easy to get some cheap foods in Tokyo, perfect for those who want to save some money after draining all your yen in Tokyo. The chicken is very juicy and you will be assisted with their staffs who speaks English!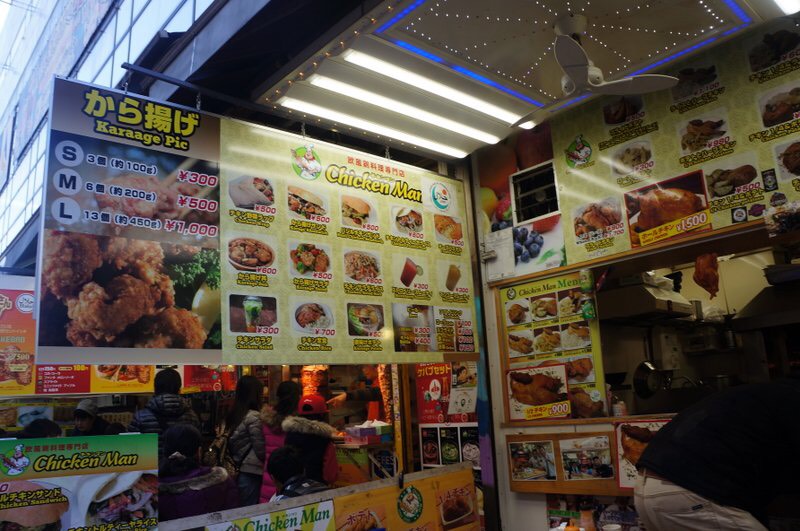 Photo by Idaiffah (Halal Navi user)
Review in Halal Navi
Iqbal
Direction Tips from Station: Take Exit 5B from JR Ueno Station, walk till you see a big Yamashiroya toy store (which we strongly recommend you to visit!). From there, turn left and walk through the iconic Ameyoko market and heads up to the Ameyoko Center Building. Chicken Man Ueno is on the first floor of this building.
Information
Address: 1F Center Building 4-7-8 Ueno, Taito, Tokyo, 110-0005 Japan
Phone: 03-3835-8089
Price: 500-1,500 yen
Halal Tips : Halal certificate is visible, owner and staffs are Muslim
More info on Chicken Man Ueno
9. Nasco Food Court, Shin-Okubo Station
Are you a K-Pop lover? Don't forget to stop by the Korean Town in Tokyo near the Shin-Okubo Station. This little Korea will totally make you feel like you are set in a Kdrama. The street foods, markets, restaurant, shops and even the road sign totally portray a South Korean vibe. Once you have finished walking around the streets, you can make a time to stop by the Nasco Foodcourt to munch some Halal Arabian foods.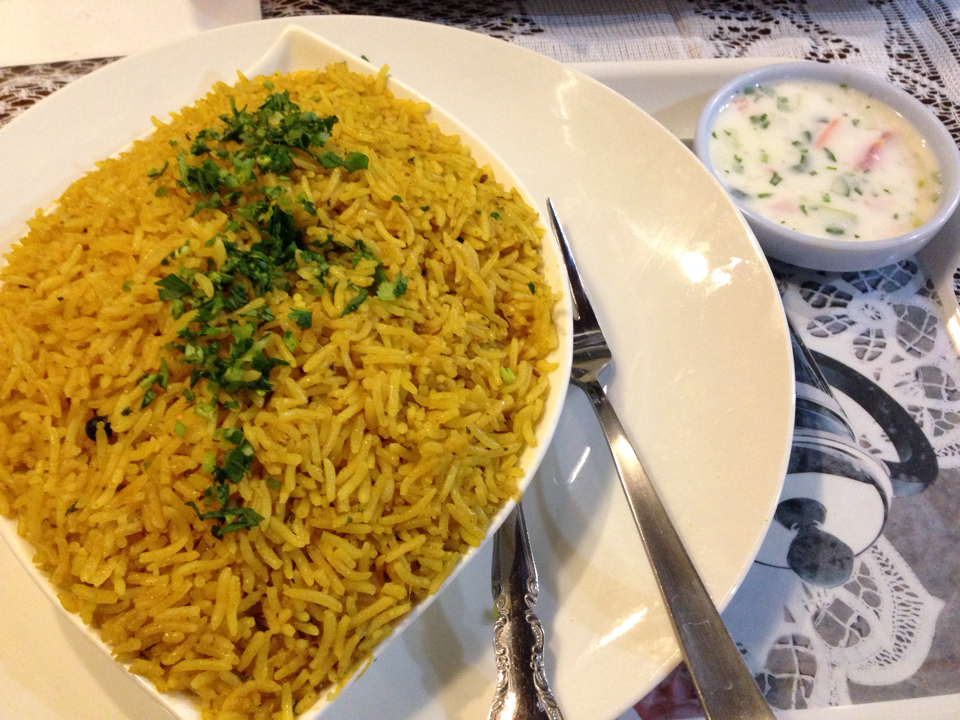 Photo by Nur Safira Assifah (Halal Navi user)
A wide range of middle eastern menus is available here. You will be spoilt for the choices of food they have; starting from biryani, curry, couscous, grilled chicken, lamb and the list goes on. You can also opt to the biryani rice menu that comes with chicken, egg or lamb that will cost you from 600 to 800 yen. Nasco Food Court also sells Halal ingredients at Nasco Green Store located just beside the foodcourt. You might want to take some Halal instant noodles just in case you will be starving in the middle of the night😉
Tips: Don't forget to take out Yakitori (bbq chicken) as it costs only 100 yen, 150 yen if you eat it inside the shop.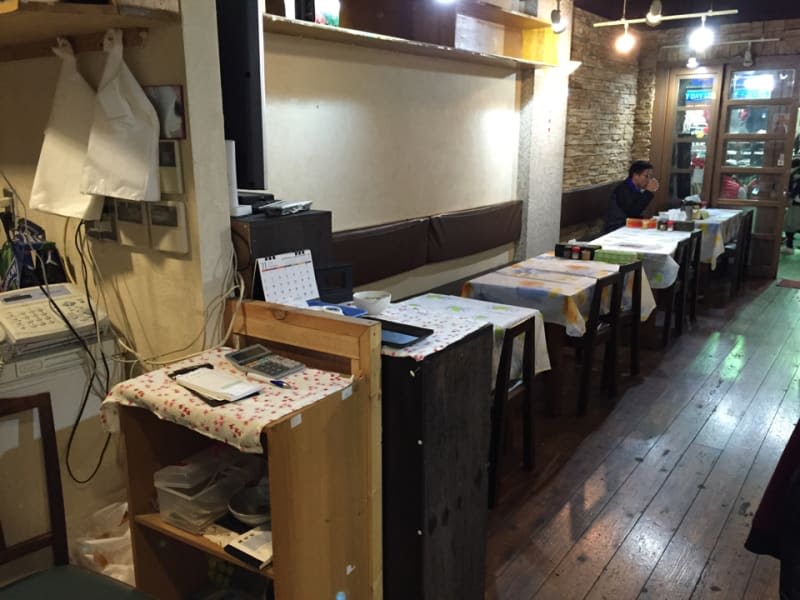 Photo by Muhammad Gilang Pratama (Halal Navi user)
Review in Halal Navi
-Nyudo
Direction Tips from Station: Get out from the Shin-Okubo station (which only have 1 exit), cross the road and walk to the left until you find a Tax free shop Matsumoto Kiyoshi (near the bicycle parking lot). Once you reach this shop, turn right and walk for about 150 meters till you find Nasco Food Court on your left side.
Information
Address: Initial Building Annex 1F, Hyakunincho 2-10-8 Shin-Okubo, Shinjuku, Tokyo, 169-0073 Japan
Phone: 03-4086-8631
Price: Starting from 600 yen
Halal info : Halal certificate is visible
More info on Nasco Food Court
10. Chandrama, Simbashi Station
If you happen to pass by Simbashi Station and want to have a delicious Indian culinary hunt, don't think twice and go to Chandrama Indian restaurant. The restaurant is on the 4th-floor of Shimbashi building right next to Simbashi Station. The variety of curry menus that are rich in spices will surely boost your appetite.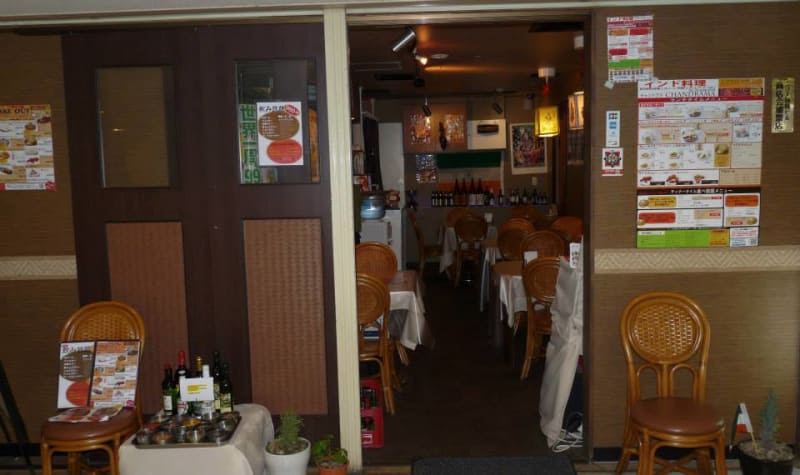 Credit to Chandrama Restaurant
You can find the typical Indian menu from biryani, tandoori, naan, curry, and others. A prayer room is available on the 5th floor of the same building, so we don't have to worry about finding a place to pray after eating at this restaurant.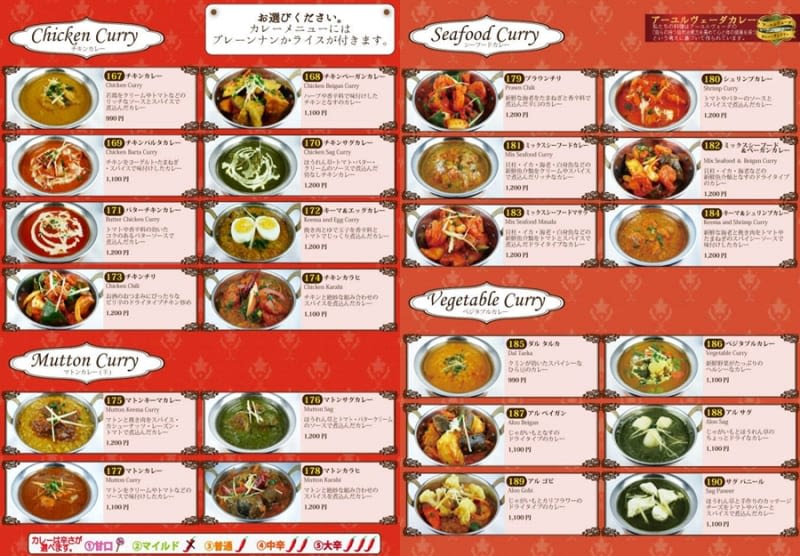 Credit to Chandrama Restaurant
Review in Halal Navi
-Thuaibah
Direction Tips from Station: Take the exit near Karasumori Ticket gate and cross the road from the Zebra cross right in front of the gate (because we care about your safety!). You will reach Simbashi Building on the other end of Zebra cross where the Chandrama restaurant is located.
Information
Address: New Shimbashi Building 4F, 2-16-1 Shimbashi, Minato, Tokyo, 105-0004 Japan
Phone: 03-6268-8339
Price: Starting from 1200 yen
Halal Tips: Menu labelled Halal, owner/staffs are Muslim, all meats used are Halal
More info on Chandrama
So that's the 10 restaurants nearby the train stations to accompany your trip to Tokyo. You can find more Halal restaurants near the stations throughout Japan easily in Halal Navi app. All you need to do is to tap the search button, search by the train station, then you can choose which station you want to go. We will give you a complete list of Halal restaurants nearby the station. Have a pleasant trip!
*Disclaimer: The halal tips provided in this article are contributed by Halal Navi's user. Readers are advised to reconfirm with the restaurant owner.