The Ultimate Muslim Friendly Guide To Explore Tokyo Station
Have you been to Tokyo where millions of tourists flocked to it every year? If yes, you must have visited or passed by Tokyo station at least once. It's the major commuter hub that connects hundreds of trains, bus, and shinkansen inside and outside Tokyo.
Now at this point, you must know how huge and confusing it can be to wander around this station. Let alone, finding a spot to pray. Sometimes when the prayer time is running out, we just desperately pray in whichever spot we found (like in a fitting room of clothing stores), the struggle is real!
But we have good news for all Muslim travellers, JR East has just set up a dedicated prayer room at Tokyo station! Now, we don't need to pray at some random places anymore while in this station *yaaaaay!*. It was officially launched on Monday, 5 June 2017 and can be used by people from all faith. We can use this facility for free but we will need to register to the staff via intercom before using it. We really appreciate the tremendous effort done by the government of Japan in making our visit to Japan more pleasurable.
Information on prayer room at Tokyo Station
Location: JR East Travel Service Center (outside the ticket gates) at Marunouchi North Exit
Opening hour: 8.30 am - 7 pm (weekdays) and  8.30 am - 5 pm (weekend & public holidays)
Capacity: 2 people
Facility: Place for wudu and Qibla direction are available To celebrate this good news, we will introduce you what you can do and eat inside Tokyo station! If you have hours to kill while waiting for your Shinkansen train, this guide will surely make your waiting time more enjoyable 😉
4 Must Do Activities in Tokyo Station
1. Take an Instagram-worthy selfie in front of the "old" Tokyo Station
You never thought you would want to show off a picture of a busy station, did you? Well, now we know you do. The Marunouchi Building in Tokyo station that was restored to its original condition (as of 100 years ago) will make you want to snap a picture with its awesome architecture!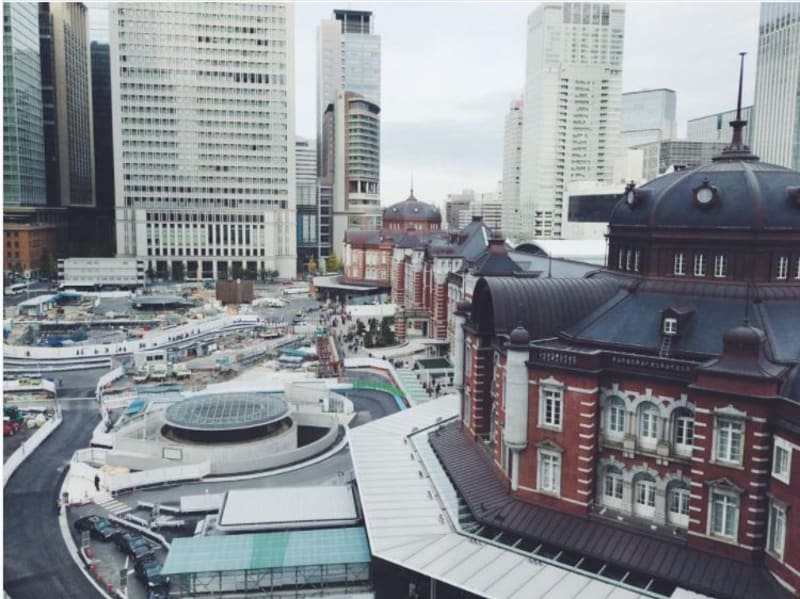 It is a cultural asset that witnesses many historic events over the last century. Essentially you will be taking a picture that holds many memories and important story of Japan! And what's more, it is located near the prayer room that was just opened. So you may go here while waiting for prayer time and you can conveniently go to the prayer room after finish taking hundreds of pictures :p
Information
| | |
| --- | --- |
| Location: | Exit from Marunouchi North-Gate Exit |
| Opening hours: | 24 hours |
2. Release your inner child spirit at Tokyo Character Street
Who did not watch Japanese anime when you were young right? Pokemon, Digimon, Doraemon, you name it! If you were a fan of any of this Japanese anime, visiting Character Street in Tokyo Street will definitely be a trip down memory lane.  The street features more than 20 official shops of popular Japanese characters such as Hello Kitty, Pokemon, Snoopy, Rilakuma and much more!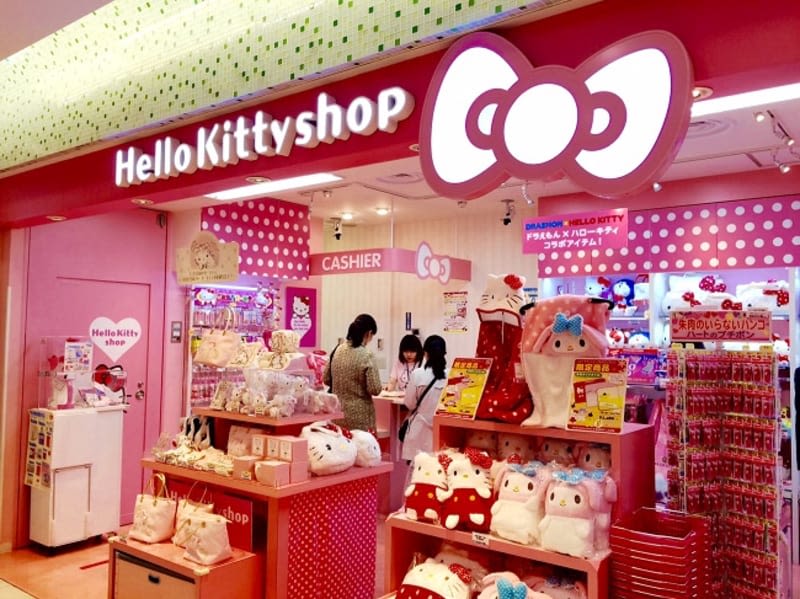 The stores sell many interesting character merchandise from dolls, tumblers, bags, pillows, t-shirts, keychains and the list goes on and on. It will definitely be a kawaii souvenir for your little ones (or just get one for yourself :p). Don't hold yourself and be a kid for a day here at character street!
Information
| | |
| --- | --- |
| Location: | B1 floor, Near Yeasu Underground Central Gate |
| Opening hours: | 10am - 8.30pm |
3. Snack on at Okashi Land
Feeling guilty to have another heavy meal because you just ate one a few hours ago? You're in Japan now so forget the diet and munch on a few snacks! Try going to Okashi Land that's full of Japanese snacks you don't want miss (the freshly-made products are available too!).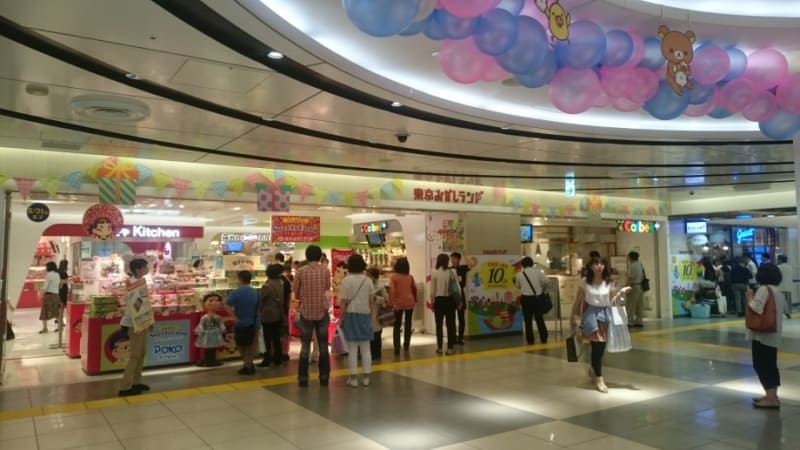 Three major snack companies (Calbee, Morinaga, and Glico) are gathered in Okashi Land. So you can buy the limited edition snacks as souvenirs for your family and friends at home. Make sure to find ones that are Halal friendly, check the list of Halal friendly snacks here. To find more Halal friendly snacks, show our Muslim dietary cards to the staff and ask them which one is safe for Muslim. Not only shop, you can also watch them making the snacks and sweets live in front of you. Something you won't see every day! And one thing you absolutely must try is the Calbee freshly-made potato chips with a soft-serve ice cream. Yummy!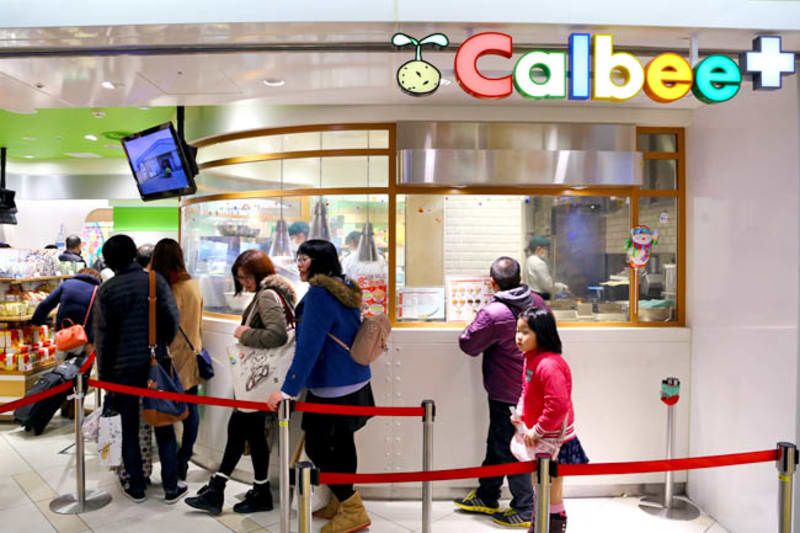 Information
| | |
| --- | --- |
| Location: | B1 floor, Near Yeasu Underground Central Gate |
| Opening hours: | 9am - 9pm |
4. Shop till you drop near Yaesu exit
Calling all shopaholics out there! The Yaesu Underground shopping complex near Yaesu exit will satisfy your desire to spend all your Yen in Tokyo station. This shopping district features a long list of fashion, perfumes, snacks and merchandise stores. If you are looking for local and rare souvenirs, this is a definite answer for that.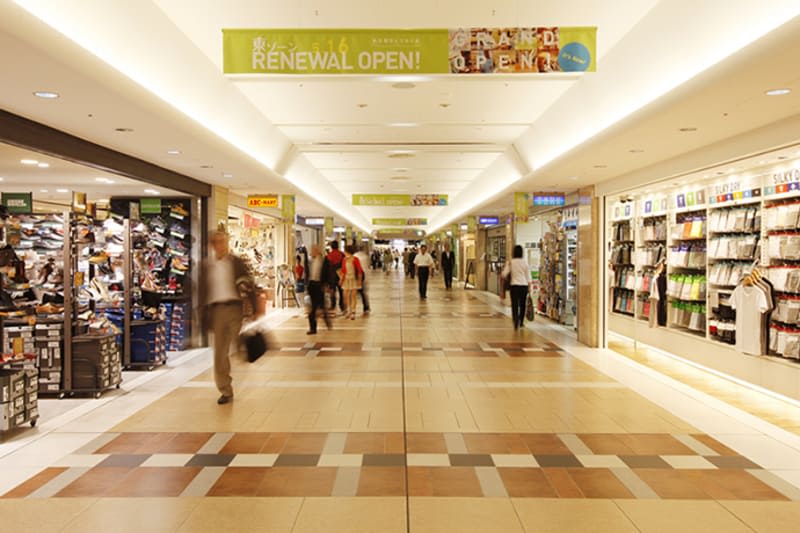 You can find lots of choices that you will feel like buying everything! There are tax-free shops for tourists in this area too, but you must register at a counter on the first floor. Happy shopping!
Information
| | |
| --- | --- |
| Location: | B1 floor, Near Yeasu Underground Central Gate |
| Opening hours: | 9am -9pm |
--
Halal Restaurant in Tokyo Station
Finish exploring the station and needs something to fuel up your tummy? Here are two Halal friendly restaurants you can find inside Tokyo station.
1. T's Tantan (Vegetarian)
Although Tokyo station has a ramen street that features eight popular ramen restaurants in Japan, none of those restaurants is Halal friendly 🙁 As if Tokyo doesn't want to leave us disappointed, we can still have some delicious ramen in this vegetarian restaurant to satisfy our cravings. You can find T's Tantan at the end of Keiyo Street near the South Yaesu Exit. Not only ramen, they also serve many other menus like curry rice, soup, gyoza and kara-age that are all vegan. They even provide English menu for foreigner visitors so don't be shy to ask for one!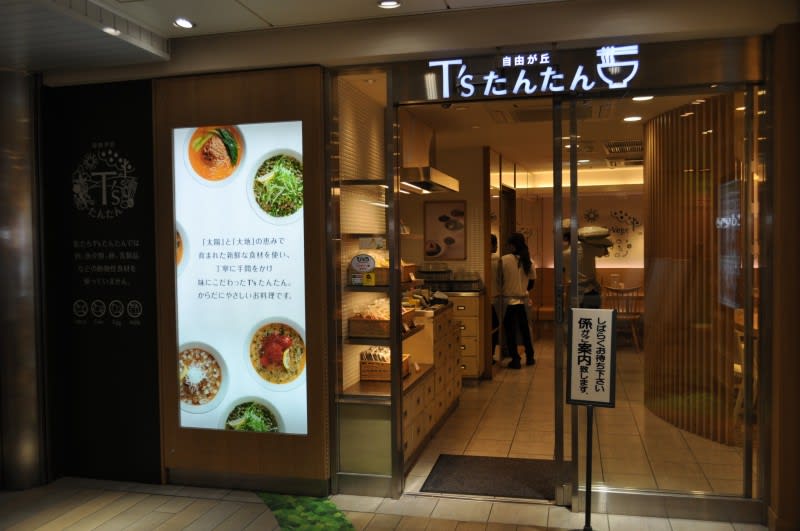 Review in Halal Navi
"... I saw many foreign faces when I was there. Their speciality is ramen, and they serve also some other 'fake meat'-based menus like gyoza and karaage that are all actually made from soybeans. To me, the karaage tastes like "tempeh", and it's oishii! The price is quite good. I got "黒胡麻たんたん" or black sesame flavoured ramen, extra topping, 3 pcs gyoza, and soybean karaage for 1750¥ in total." - Ndanazihah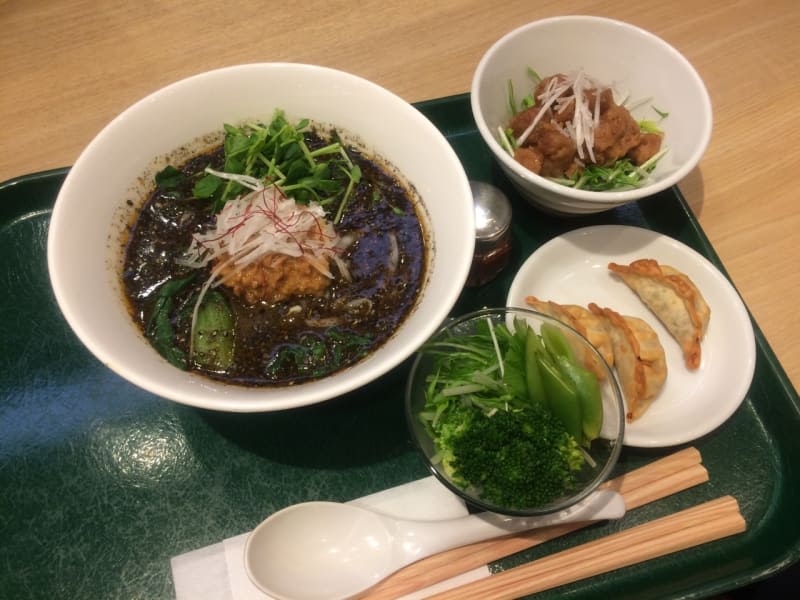 Information
| | |
| --- | --- |
| Location: | 1st Floor, Yeasu South Exit, Keiyo Street |
| Opening hours: | 7am - 10.30pm |
| Halal Tups: | Vegeratian menu is available |
| More info | T' Tantan |
2. Zenmai (Turkish Halal Bento)
Want to take away Halal meals for your journey with Shinkansen? You can now get Halal bento at Zenmai restaurant near Marunouchi South Gate in Tokyo station. Zenmai sells Turkish lunch boxes that are arranged in Japanese bento style. There are two types of bento available; Kebab bento (980 yen) and Turkey bento (1,100 yen). You will get a rice, kebab beef, sauce, dried apricots and veggies in Kebab bento. While for Turkey bento, you will get Chicken meatloaf, spicy pilaf, dried apricots, rice, beans and a variety of veggies. No more travelling with an empty stomach!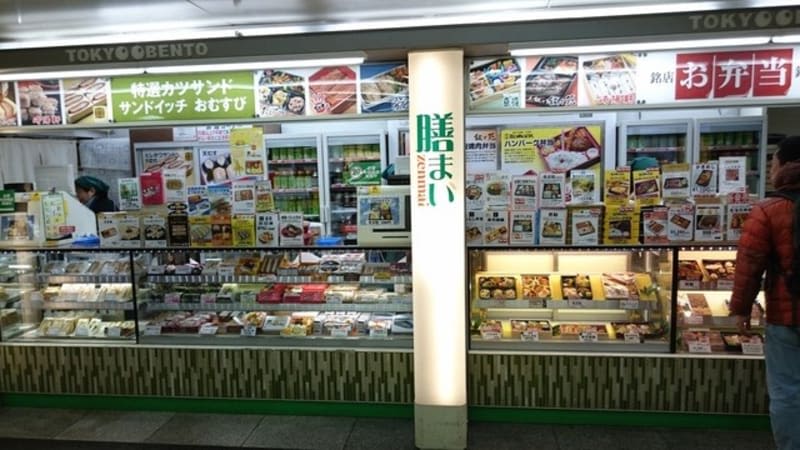 Review in Halal Navi
"Not bad! Enough to fuel you up when you are hungry 😛 Need some sambal/chilli sauce to kick-up the bento.." - アティラ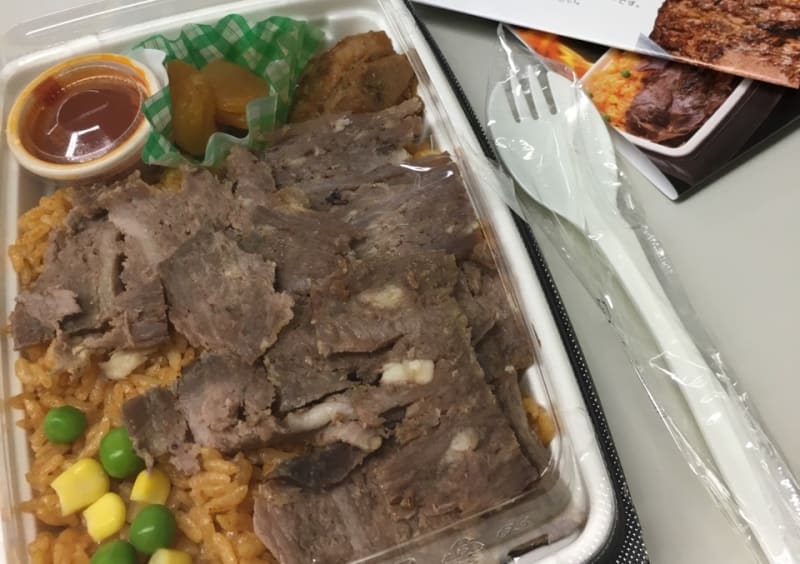 Information
| | |
| --- | --- |
| Location: | 1st Floor, near Marunouchi South Exit |
| Opening hours: | 6.30am - 10pm, Halal Bento available from 10 am |
| Halal Tups: | Halal certified by Nippon Halal Association |
| More info | Zenmai |
How bout that? So many things you can do in just one station! You can spend a whole day wandering around Tokyo station without getting bored. You can shop, eat, snap some pictures AND pray at ease with the newly opened prayer room facility!
But your journey in Japan won't stop there, there is so much more to explore outside the station. To accompany your adventure in Japan, be sure to download Halal Navi on your smartphone and let use guide you on finding more Halal restaurants and prayer rooms anywhere in Japan. *Disclaimer: The halal tips provided in this article are contributed by Halal Navi's user. Readers are advised to reconfirm with the restaurant owner.