1. Berperahu sambil Hanami di Parit Chidorigafuchi, Tokyo
Hanami, tentunya adalah moment yang tidak boleh kamu lewatkan saat berkunjung ke Jepang saat musim semi. Jika kamu memilih Tokyo untuk berbulan madu di musim semi, kamu mungkin bisa melakukan Hanami atau melihat bunga sakura bersama pasangan. Jika beberapa taman terlalu ramai, coba Hanami di Chidorigafuchi deh! Selain tempatnya tidak seramai taman-taman yang berada di tengah kota, kamu juga bisa menikmati bunga sakura yang bermekaran dari atas perahu.
Credit to Krmr
Aih.. tentunya tidak ada yang lebih romantis daripada menyisir parit kastil Edo, dengan pemandangan kanan kiri bunga sakura yang cantik yang juga berlatar dengan pasangan ya. Ditambah lagi, jika ada semilir angin, lalu kelopak sakura jatuh terhembus dan bertebaran di sekelilingmu. Perfecto!
Informasi

Akses :
Dari stasiun Tokyo, kamu hanya perlu berjalan kaki beberapa menit ke arah timur laut menuju tempat naik perahu di sisi parit.
Alamat 
: Kudan Minami 2-chome—Sanbancho, Chiyoda-ku, Tokyo
Sewa Perahu :
 ¥500 (regular season) and ¥800 (hanami season)
Jam buka
 : 11.00 - 17.30
Restoran Halal Terdekat
:
Zenmai Bento
, 
T's Tantan
2. Tokyo Bay Night Cruise, Tokyo
Berperahu dan mencoba melihat Tokyo dari sudut yang berbeda. Biasanya, kamu dan pasangan mungkin berkeliling Tokyo saat siang hari. Tapi melihat Tokyo saat malam hari, ternyata memberi kesan yang berbeda, dan tentunya lebih romantis. Kerlap kerlip lampu gedung, dan pemandangan malam yang gemerlap bisa kamu lihat saat kamu berpesiar di malam hari. Kamu akan melewati pemandangan teluk laut dan jembatan pelangi Odaiba, Tokyo tower Jembatan Tokyo gate, Tokyo Light Beacon, dan Gantry crane selama kurang lebih 2.5 jam.
Credit to attractive-j.com
Tidak hanya pemandangan yang bisa kamu nikmati, tetapi juga berbagai pertunjukkan yang diadakan di dalam kapal. Kamu juga bisa menikmati hidangan yang disediakan jika kamu memesan di dalam kapal, tapi lebih amannya ambil menu seafood aja ya. Atau Kamu juga bisa pakai
Halal dietary card
berikut dan tunjukkan sewaktu memesan makanan.
Informasi
Meet up point
: Hinode Terminal (1 menit from dari Hinode station)
Harga (tanpa makan malam)
: 3,800 yen (dewasa) and 1,900 yen (anak-anak)
Waktu keberangkatan
: 19.00 Setiap hari
Restoran Halal terdekat
:
La Maison De Cous Cous
Info lebih lanjut
Symphony Tokyo Bay Cruise
3. Kereta Romantis Sagano, Kyoto
Mau merasakan suasana baru? Atau ingin bulan madu yang berkesan bagai petualangan romantis? Maka, kamu harus coba berpetualang melihat indahnya pemandangan di Jepang dengan kereta uap jaman dulu di Sagano. Dengan perjalanan selama 25 menit, kamu bisa melihat pemandangan ngarai Hozugawa yang cantik dengan pemandangan berbeda di tiap musimnya.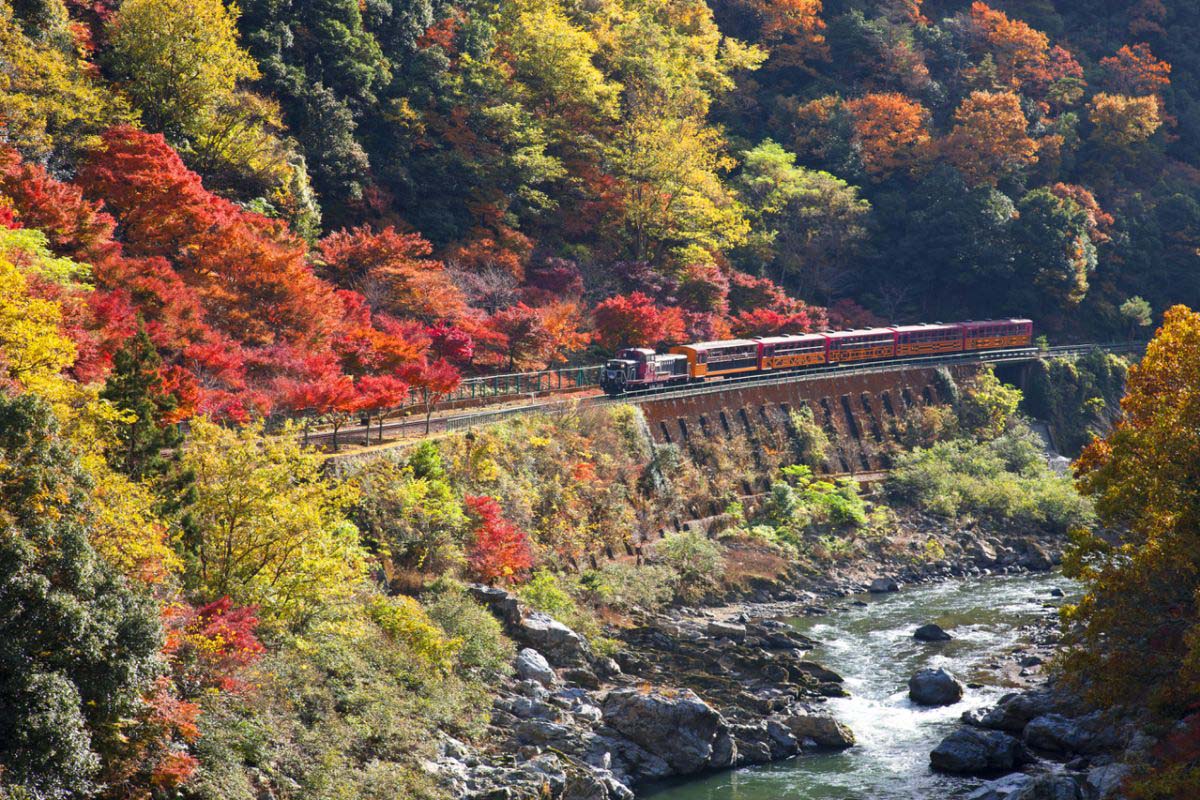 Credit to Zekkeijapan
Jika musim panas, kamu akan ditemani suara tonggeret si serangga musim panas dengan pemandangan sungai yang jernih, jika musim gugur maka kamu akan disuguhkan dengan daun-daun pepohonan yang berubah warna dengan gradasinya yang cantik, saat musim dingin kamu akan merasakan ajaibnya berkereta menembus jalanan salju yang putih, dan musim semi, tentunya kelopak sakura yang berguguran terhembus angin akan mengiringi perjalananmu.
Informasi

Keberangkatan: 
Saga Torokko and Kameoka Torokko Station
Harga tiket: 
620 yen (dewasa) dan 310 yen (anak-anak)
Jadwal keberangkatan:
 9.00 - 17.35 (dari Saga Station) and 9.29 - 18.10 (dari Kaemoka Station)
Hari operasi: 
1 Maret - 29 Desember (tutup hari rabu kecuali libur nasional atau perayaan lain)
Info lebih lanjut
Sagano-kanko
4. Berfoto romantis ala orang Jepang di Gion, Kyoto
Ingin terlihat sebagai pasangan Jepang dengan kimono cantik berlatar kota tua di Jepang? Kamu harus datang ke Gion di Kyoto. Suasana kota khas tradisional Jepang dengan bangunan-bangunan tuanya akan mendukung photo shoot ala ala Jepang jaman dahulu untuk foto bulan madumu. Fotonya tidak akan lengkap kalau kamu belum mengenakan kostum khas Jepang juga, apalagi kalau bukan Kimono!
Credit to Yumeyakata
Nah, tenang saja, karena di Gion ini, lengkap semua ada. Ada kota berlatar Jepang jaman dahulu, ada pula tempat penyewaan baju-baju tradisional jaman dahulu, dan terkadang banyak Geisha asli sering bersliweran di jalanan Gion loh! Kamu dan pasangan bisa memilih kimono dengan motif yang sesuai dan puas berfoto seru disini.
Informasi
Alamat
: Gionmachi Minamigawa, Higashiyama, Kyoto (bisa berjalan kaki dari Gion-Shijo station)
Harga rental
: 1,500 yen - 3,500 yen
Restoran Halal terdekat
: 
Maharaja
, 
Naritaya Yakiniku
, 
Naritaya Ramen
5. Arashiyama Rickshaw Tour, Kyoto
Arashiyama, mungkin hutan bambu yang terkenal ini masuk ke dalam list perjalanan kamu selama di Jepang ya. Namun, alih-alih berjalan kaki dengan pasangan mengitari hutan cantik satu ini, bagaimana kalau mencoba memutarinya dengan alternative lain?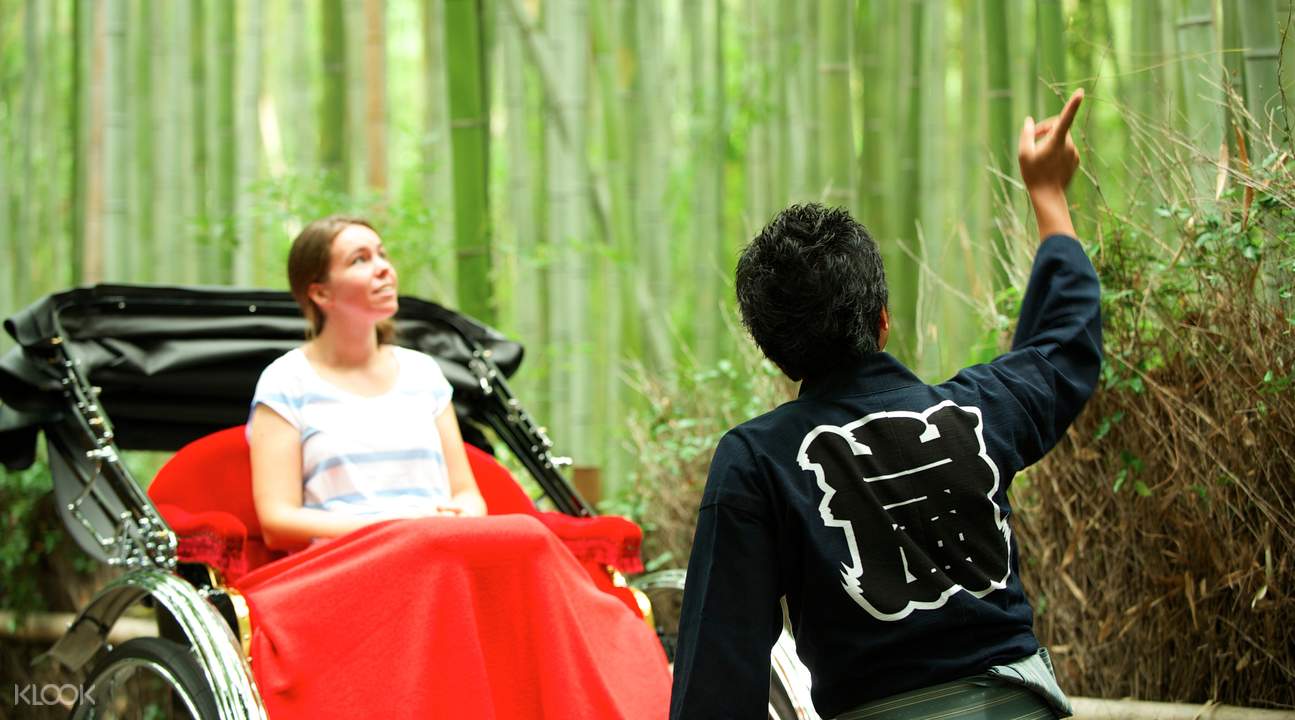 Credit to klook.com
Di Arashiyama, kamu bisa menyewa becak tradisional Jepang untuk berputar berkeliling lokasi tersebut. Tanpa lelah, tanpa keringat, kamu juga bisa lebih menikmati pemandangan hutan bamboo nan teduh yang indah bersama pasangan lebih mesra lagi. Tentu, si penarik becak tahu dimana spot-spot foto yang bagus untuk mengambil fotomu dan pasangan. Jadi kamu tidak perlu khawatir kelupaan foto berdua di hutan indah ini ya.
Informasi
Alamat
: Arashiyama, Ukyo-ku, Kyoto (bisa berjalan kaki dari Arashiyama station)
Harga rental
: Mulai dari 3,000 yen untuk 12 menit
Restoran Halal terdekat
: 
Washoku Restaurant
, 
Yoshiya Arashiyama
6. Otaru Snow Light Path, Hokkaido
Kota kecil di pesisir pulau Hokkaido. Dengan perjalanan kurang dari 2 jam dari pusat kota Sapporo, kamu sudah bisa mengunjungi kota kecil romantis di tepi laut, Otaru. Kota yang terkenal dengan kanalnya ini tidak hanya cantik pada siang hari, tetapi juga pada malam hari. Datanglah saat musim dingin, kira-kira bulan Februari, bertepatan dengan Sapporo Snow Festival, kamu akan merasakan indahnya kerlap kerlip lampu yang menghias Otaru pada malam hari pada acara Otaru Snow Light Path.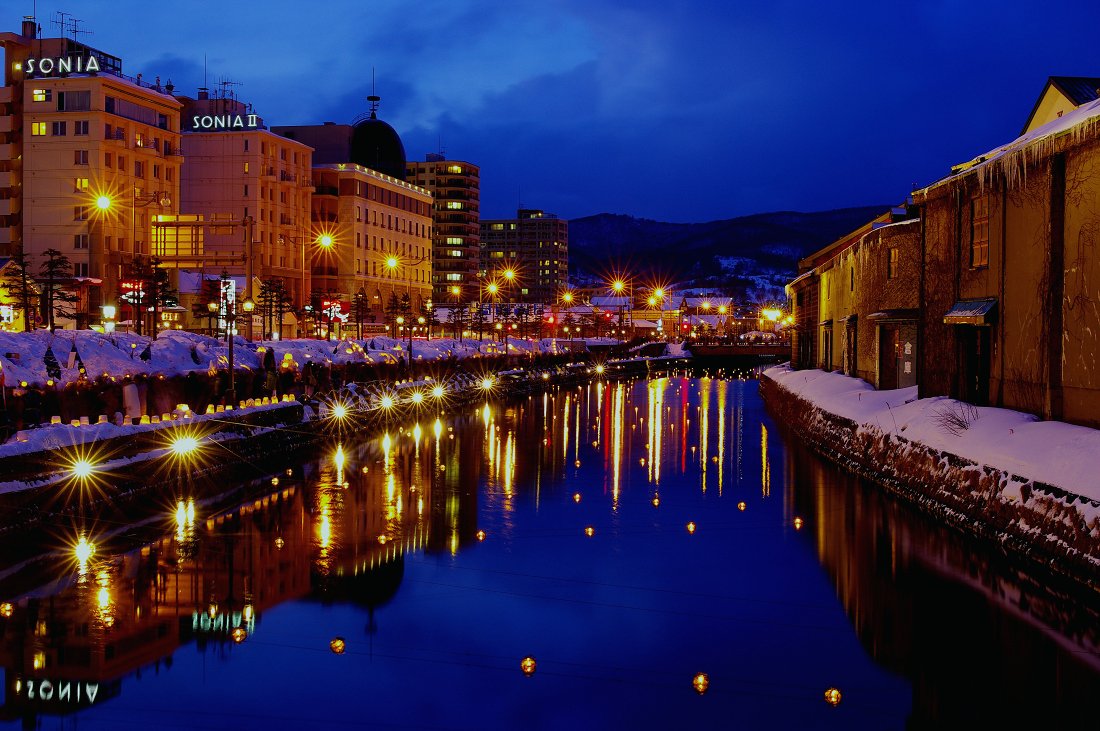 Credit to ykchamp.exblog.jp
Kerlap kerlip lampu yang menghiasi kota ini bisa kamu liat persis setelah keluar dari stasiun, melewati jalan besar, lanjut hingga ke kanal. Berjalan bersisian dengan pasangan di tepi kanal dengan lampu-lampu temaram berlatar butiran salju yang turun perlahan di sekelilingmu. Ah, tentunya bukan dingin yang akan kamu rasakan, tapi tentunya kehangatan suasana romantis bersama pasangan ya!
Informasi Jadwal: 
9 - 18 February 2018
Lokasi:
Unga Kaijo and Temiyasen Kaijo
Waktu:
17.00 - 21.00
Restoran Halal terdekat: 
Otaru Kourakuen
7. Star Gazing di Lake Mashu, Hokkaido
Salah satu kegiatan anti-mainstream yang bisa kamu lakukan lainnya bersama pasanganmu adalah melihat bintang di danau Mashu, Hokkaido. Ketiadaan cahaya, dan kesenyapan malam akan menemanimu semalaman melihat bintang di danau ini. Pasang alas, siapkan cemilan, mainkan lagu romnatis, lalu berbaringlah menatap langit. Langit yang bersih, sesekali diselingi suara gemericik air dari ikan yang bermain.
Credit to Guidable
Ada beberapa dek observasi dimana kamu bisa melihat pemandangan danau ini dari sudut yang berbeda. Kamu bisa naik kereta ke stasiun JR Mashu lalu lanjut naik bus ke Lake Mashu (hanya ada di bulan April - Juli). Kalau nggak mau repot, kamu bisa ikut tour star gazing yang akan membawamu ke dek observasi no. 1. Tentunya, moment melihat bintang ini bisa menjadi salah satu referensi bersama pasangan menghabiskan waktu bulan madu di Jepang tanpa ada gangguan dari hingar bingar kota.
Informasi

Akses: 
20 menit dari JR Mashu station, lanjut naik bus ke Lake Mashu (hanya ada di bulan April - Juli)
Rekomendasi
Star Gazing Lake Mashu Tour
8. Night View dari Mt. Moiwa, Hokkai
Gunung ini merupakan salah satu gunung yang popular didaki warga Sapporo. Selain tidak begitu tinggi, ternyata meskipun tidak tinggi, pemandangan yang bisa dilihat dari puncak gunung ini cukup beragam. Gunung Moiwa, tidak hanya menyediakan pemandangan indah pada siang hari, tetapi juga pada malam hari. Kalau siang hari gunung Moiwa akan indah dengan pemandangan pegunungan di sekitaranya. Sementara pemandangan malam harinya, akan tampak lebih indah saat musim dingin, dimana di atas gunung ini, kamu bisa melihat gemerlap pemandangan kota dari ketinggian 531 meter.
Credit to Sapporo.travel
Tenang saja, kamu tidak perlu mendaki dengan kaki kalau lelah, cukup dengan naik ropeway atau gondola sampai dengan pertengahan jalan, nah dari sini, kamu bisa naik mini cable-car yang bisa kamu kendarai sendiri lho! Cable car ini konon katanya merupakan drive-type mini cable car pertama di dunia. Wow, tentu kamu tak sabar mencobanya dengan pasanganmu kan?
Informasi tentang Mount Moiwa Ropeway
Alamat: 
 Fushimi 5-chome 3-7, Chuo-ku, Sapporo
Jam buka: 
10.30 - 22.00 (musim panas) and 11.00 - 22.00 (musim dingin)
Hair tutup: 
21 - 30 November 
Harga tiket (PP
): 1,700 yen (dewasa) and 660 yen (anak-anak)
Info lebih lanjut tentang
Mt. Moiwa Ropeway
9. Snorkeling in Okinawa
Ingin beraktivitas seru dengan pasangan di pantai. Yuk, ke Okinawa. Okinawa merupakan pulau paling selatan Jepang yang merupakan bagian dari daerah Kyushu. Okinawa memiliki berbagai pantai ala negara tropis yang super indah!
Credit to nanseirakuen.com
Pasir putih, laut biru bagai emerald, ombak lembut berdebur, dan pantai untuk berenang seru. Tidak hanya berenang, kamu juga bisa bersnorkeling ria melihat berbagai biota laut yang unik dan menarik di dalam laut kepulauan Okinawa. Ada banyak pantai yang bisa menjadi pilihan untuk bersnorkeling diantaranya pantai Ama, Kyafa, Irabu dan Kouki.
Informasi Akses
: Dari Tokyo kamu bisa naik pesawat ke Naha Airport selama 2.5 jam
Restoran Halal di Okinawa
: 
Ukishima Garden
, 
Kababs Indian
, 
健康ダイニング万菜
10. Shirakawago Winter Light-Up, Gifu
Sekitar kurang lebih 3-4 jam perjalanan dari Tokyo, kamu bisa mengunjungi sebuah desa dengan bentuk rumahnya yang unik di Gifu. Shirakawa-go namanya. Desa ini memiliki bangunan rumah unik yang jarang ditemui di Jepang. Jalan-jalannya hampir tidak dilewati kendaraan lho, sehingga kamu bebas berjalan kaki berkeliling desa ini dengan pasangan. Tidak hanya indah saat siang, dimana kamu bisa melihat deretan pegunungan dan sungai-sungai yang mengelilingi pedesaan ini, tetapi malam hari di Shirakawa-go juga sangat indah. Event musim dingin di desa tradisional yang tidak boleh kamu lewatkan bersama pasangan ini bernama Shirakawa-go Winter Light Up.
Credit to Flyertalk
Lampu-lampu menghiasi jalanan juga rumah-rumah di desa ini, sehingga saat kamu melihatya dari atas, pemandangannya sungguh luar biasa. Karena desa ini termasuk di dalam lokasi yang agak tertutup, dimana kamu hanya akan melihat gelap disekeliling desanya, maka lampu-lampu yang dinyalakan di desa ini pada acara tersebut begitu dominan. Menikmatinya bersama pasanganmu lalu menghabiskan malam berdua dengan kerlap kerlip lampu, tentunya relationship goal banget kan!
Informasi
Akses
: Hokuriku Shinaksen dari Tokyo – Kanazawa, lalu naik bus menuju Shirakawa-go - Takayama
Jadwal hiasan lampu
: 18.00 - 19.30 setiap hari senin dan minggu tertentu di bulan Januari dan Februari (
lihat jadwal lengkap disini
)
Restoran Halal Terdekat
:
Hidaya Sho
11. Bianglala Romantis di Tempozan, Osaka
Okay, terakhir, mungkin agak terasa lebih untuk anak muda. Tapi siapa yang peduli umur kalau bisa romantis berdua pasangan sambil melihat pemandangan? Tidak ada yang terlalu tua untuk naik bianglala.
Credit to commons.wikimedia.org
Dari Bianglala dengan ketinggian 112 meter di Tempozan Osaka ini, kamu bisa melihat pemandangan laut, pegunungan di kejauhan, juga pemandangan kota Osaka yang ramai. Bianglala yang terdapat di area aquarium Osaka ini tidak jauh letaknya dari pusat kota. Kamu juga bisa menikmatinya, setelah mengunjungi aquarium terbesar di Jepang tersebut.
Informasi
Alamat
: 1-1-10 Kaigandori Minato-ku, Osaka City (5 menit berjalan kaki dari Osakako Station)
Jam buka
: 10.00 - 22.00
Tiket Masuk
: 800 Yen
Restoran Halal terdekat
: 
Bab-ul Hayat
Dengan 11 rekomendasi di atas, dijamin bulan madumu anti-mainstream, dan yang paling penting, akan lebih romantis! Tidak hanya berkeliling dan melihat-lihat saja, tetapi mencoba hal baru dan berkegiatan bersama pasangan tentu akan mempererat hubungan juga. Bagi kamu pasangan muslim pun, tidak perlu khawatir untuk mencari tempat ibadah dan restoran halal di Jepang. Karena banyak sekali tempat sholat dan tempat makan halal di berbagai tempat di Jepang. Untuk lebih mudahnya, kamu bisa unduh aplikasi
Halal Navi
, dan rasakan kemudahannya.
Eat • Pray • Connect
| | |
| --- | --- |
| | Author: Gita Pramesari Born and raised in a multicultural and an archipelago country like Indonesia, made me an explorer. I love to walk, stares, and share stories. Meet the new people, new environment, new culture, new point of view. Life is not about walking to some point, it's about how I reach that point and learn everything that earned on the way and how that journey made me as I am now. Also, really love to cook and to eat!! A journey and Life itself is also about food, right?! |