The Ultimate Guide To Explore Shinsaibashi Like A Local (with video)-Updated in 2019!-
Did you just book your getaway ticket to Osaka, Kansai? If you dd and still confused on where to go, be sure to put Shinsaibashi area on your list, as it is one of the most popular districts in Osaka at the north of Dotonbori. You will be spoilt with many shopping destinations, exciting attractions and delicious Halal foods that they have to offer! To help you explore this bustling neighborhood, we have picked the top seven activities you must do in Shinsaibashi. Ready?
1. Enjoy Tax-free Shopping at Shinsaibashi Shopping Street
If you are a die-hard shopaholic then this Shinsaibashi Shopping Street should definitely be on your Osaka itinerary. It's the largest shopping area in Osaka that has already been established since 400 years ago during Edo period #JawDropping. This arcade shopping street has a  580 meters total length and features 188 shops ready to be explored. You can find a wide range of stores such as Daimaru that sells luxury clothes and bag, Sanrio shop that has so many cute Hello Kitty accessories, the famous  ¥100 shop Daiso to buy some cheap souvenirs, A huge Kitkat stores, and much more.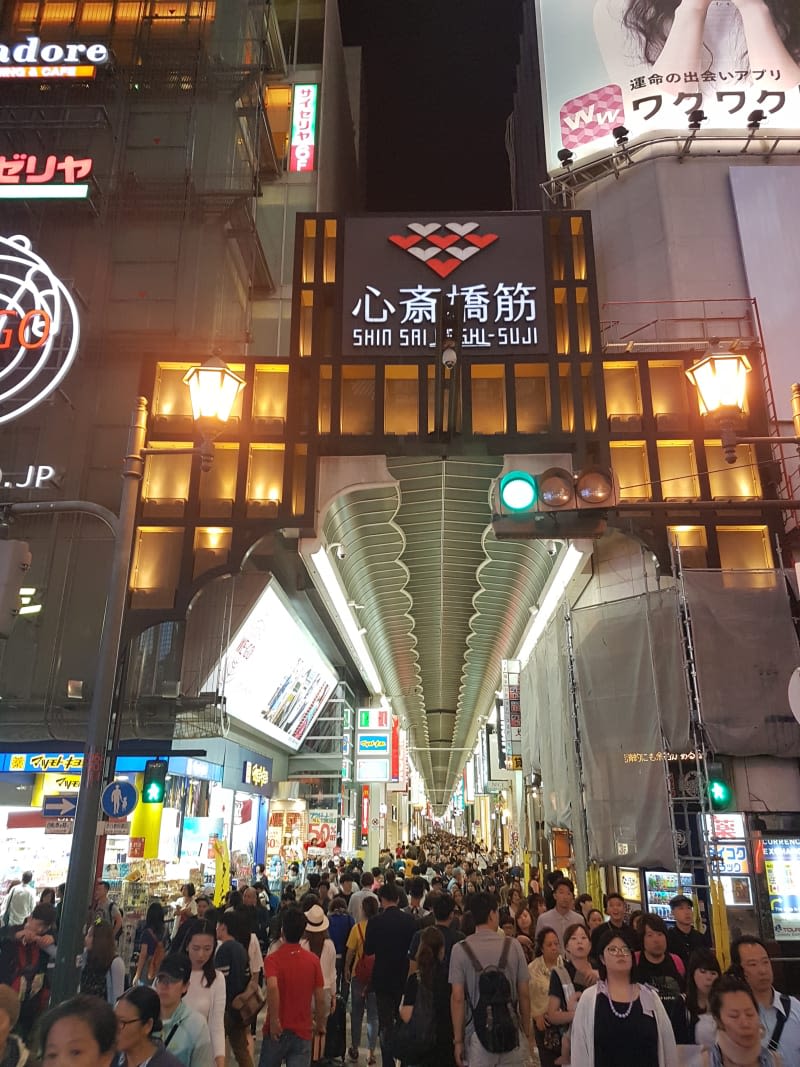 However, do you know that all goods sold in Japan are bound to an 8% consumption tax? 8% might sound small but if you are planning to have a shopping spree in Japan, you'll realise that it is not the case. Thankfully, the government of Japan has a free-tax scheme for tourist who stays in Japan for less than 6 months that is applicable for all products in the selected stores. The good news is a lot of stores in Shinsaibashi street accept this free-tax procedure for a minimum purchase of 5,000 yen. All you need to do is to show your passport when you shop at the stores. Information
| | |
| --- | --- |
| Address | 2-2-22, Shinsaibashisuji, Chuo-ku, Osaka 1-minute walk from Shinsaibashi Station (Exit 5 and 6) |
| Phone | 06-6211-1114 |
| Opening hours | Different by each shop |
| More info | http://www.shinsaibashi.or.jp/e/ |
2. Snap a Picture in front of the Glico Man Signboard at Ebisu Bridge
Ebisu bridge is a landmark in Osaka which surrounded by huge billboards that become so lively at the night. All the billboards are lightened up at with a bright and vibrant colours, so it is not exaggerating to say that Ebisu bridge is the New York City of Osaka! One of the most iconic billboards in Ebisu bridge is the famous Glico Running Man that has toned up Shinsaibashi for over 80 years. Glico itself is a famous confectionary company that chooses the running man as their company mascot to represent their very first energy snack product.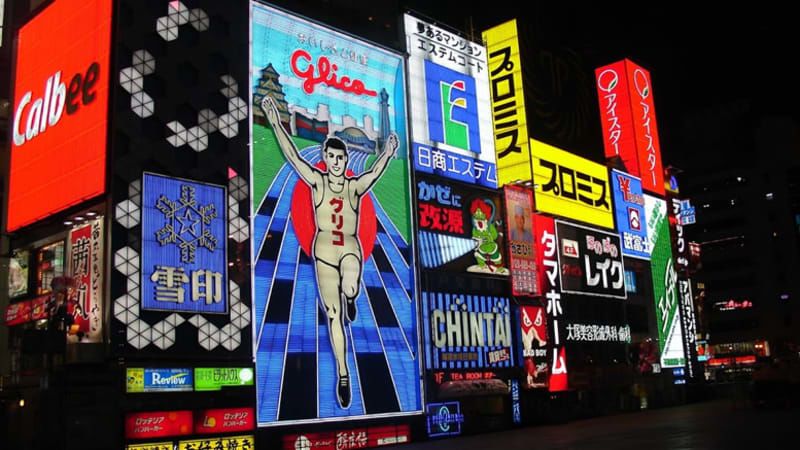 Credit to happyjappy
Now, this billboard has been a mascot not only for Glico company but also for Shinsaibashi and Osaka as a whole. There is even a saying that you've never been to Osaka if you haven't take a picture and pose like the running man in front of this Glico billboard. So get your camera ready and pose like a pro with the Glico man!
Information
| | |
| --- | --- |
| Address | 1-6, Dotonbori, Chuo-ku, Osaka 4 minutes walk from Namba Station |
3. Explore Dotonbori with Tonbori River Cruise
The best way to explore this neon city is by joining the River Cruise at the liveliest part of Osaka, Dotonbori. You can enjoy the view of this busy town from a different angle than when walking along the riverside walk path. The tour will start at the boarding point at Tazaemon-Bashi bridge in front of the Don Quixote store and it will bring you to pass by nine bridges over the river. #Tips: We recommend you to join the night tour so you can have a good picture of light up billboards along the way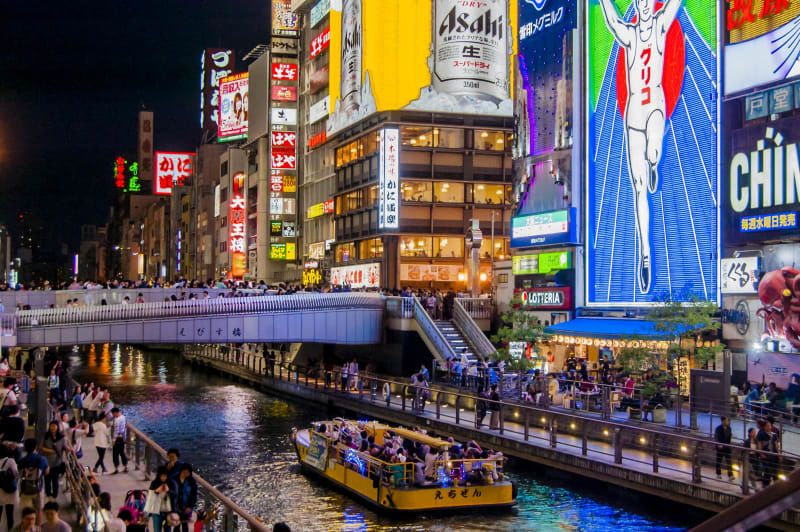 Credit to Blueprint
The tour lasts for 20 minutes and departs every half hour. Make sure to have your camera with you because you will not want to miss to capture all the cheerful billboards beside the river. What's more? the cruise will stop for a while at the Ebisu bridge so you will have enough time to take some photos with the Glico man billboard. Information
| | |
| --- | --- |
| Address | Tazaemon Bridge, 7-17 Suemoncho, Chuo, Osaka 5-minutes walk from Namba Station |
| Phone | 06-6441-0532 |
| Ticket fee | 700 yen for adult and 300 yen for kids |
| Opening hours | 13.00 - 21.00 (Weekdays) 11.00 - 21.00 (Weekend and public holidays) |
| More info | http://www.ipponmatsu.co.jp/cruise/tombori.html |
4. Stroll Around American Village
Don't be panic if you suddenly feel lost and can't find any sign of Japan in the middle of your exploration in Shinsaibashi area. You are just probably in the American Village or also known as Amerikamura! This American village brings the culture and the vibe of America right to the heart of Osaka, you can even find a miniature of Liberty Statue in one of its street corner.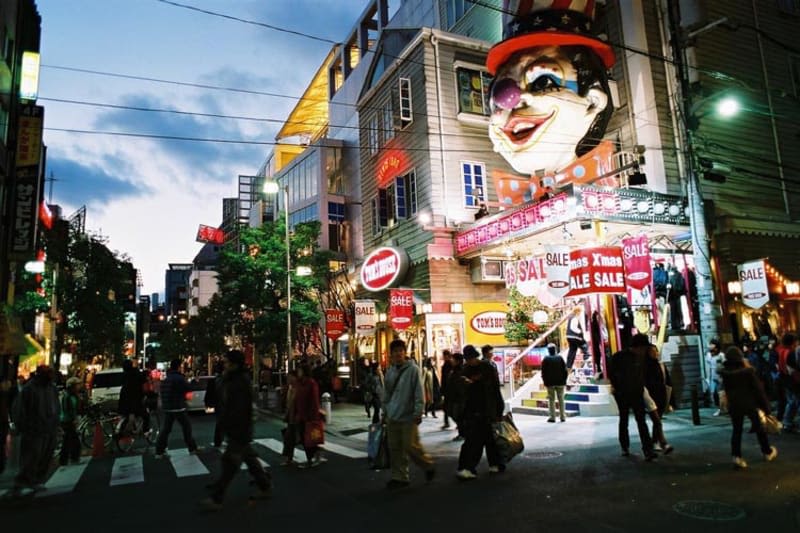 Credit to Jpninfo
The district first appeared when many retailers imported US products in the year 1970s and it was known to be a little America since then. There are so many things you can do in the American village. You can hunt for some western fashion, enjoy the live Music and performance, visit Neko no Jikan if you are a cat lover, singing your favourite tune at Jankara Karaoke, and many more.
Information
| | |
| --- | --- |
| Address | 1-6, Nishishinsaibashi, Chuo, Osaka 7 minutes walk from Shinsaibashi Station (Exit 7 or 8) |
5. Have a Rabbit Hole Trip at Alice on Wednesday
If you adore Alice in Wonderland and always dream to enter a magical world in a rabbit hole just like her, you will surely love Alice on Wednesday. It's a shop that sells a variety of merchandise, kawaii accessories, and snacks of the movie for under 2,000 yen. Everything in this shop is inspired by Alice's fantastical world, from the tiny entrance door that will make you bend your body to get in, the upside down chair on the ceiling, to the 'potion' drink that Alice drank before the story began. Be prepared as it's usually always full of visitors and you might need to queue before you can get in.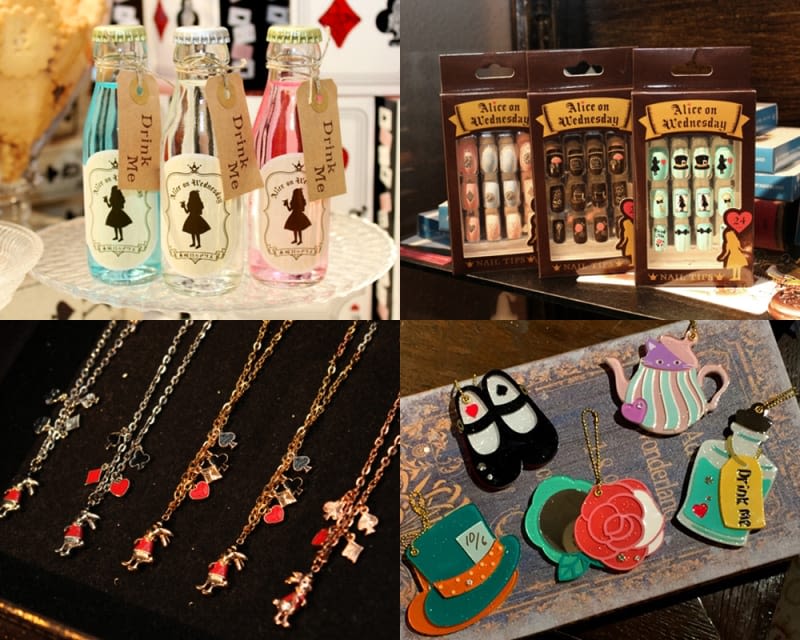 Credit to Aliceonwednesday
Information
| | |
| --- | --- |
| Address | 2-12-25, Asahi Plaza Shinsaibashi 1F, Nishishinsaibashi, Chuo, Osaka |
| Phone | 06-6211-6506 |
| Opening hours | 11.00 - 19.30 (Weekdays) 10.00 - 19.30 (Weekend and public holidays) |
| More info | http://www.aliceonwednesday.jp/ |
6. Pray and Get Some Halal Snacks at LAOX Shopping Mall
When the prayer time comes and you need to have a proper place to pray, heads up to the Laox Shinsaibashi Shopping Mall. They provide a dedicated prayer room for their visitor on the seventh floor of the building. The room is very convenient as men and women section are separated. It also provides prayer mats and Qiblah direction for us.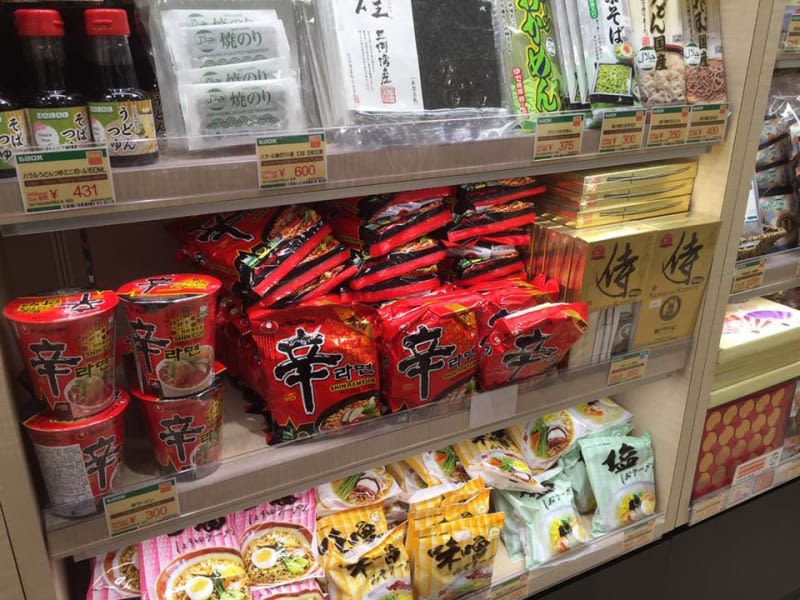 Credit to the-dailyjapan
After finish praying, you might also want to have a peek at the Muslim-friendly souvenirs section on the eight floor. The section sells local Muslim friendly snacks and other eateries you can buy as souvenirs such as Halal ramen, udon, chocolate, seaweed, shoyu, etc. Information
| | |
| --- | --- |
| Address | 1-7-1 Shinsaibashisuji, Ōsaka-shi, Ōsaka-fu |
| Opening hours | 10.30 –21.00 |
| Telephone | 06-6241-0001 |
7. Enjoy Free KaraAge (Fried Chicken) at Naritaya, Osaka Minami Branch
Who can say to no to free fried chicken after a long day of exploring Shinsaibashi, right? Well, you don't have to!  As to celebrate the opening of Naritaya's new branch, Naritaya Osaka Minami, they are giving away free Karaage (fried chicken) size S to Halal Navi users! If you haven't heard about Naritaya yet, they are famous for their Halal Ramen as they are the first Ramen shop in Japan to provide a complete Halal service to you, meaning that all ingredients are Halal-certified/ Halal-friendly and they do not serve alcohol inside their premise at all so you can slurp the ramen away without any doubt!  Everyone who is in Japan should not miss out on trying this delicious ramen shops as it is one of the most popular Halal ramen restaurants within local and Muslim tourists! P.s. Scroll below to find out how to claim the free fried chicken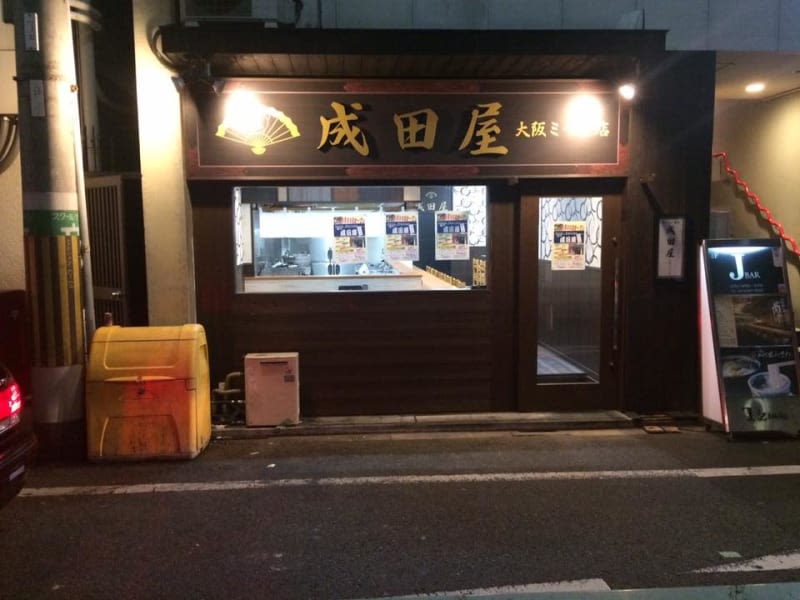 Naritaya, Osaka Minami Branch opens on 30 Jun!
Review on  other branch of Naritaya on Halal Navi :
"Among all the menus, my favourite is mazesoba (noodle with no soup) and karaage (the japanese style friend chicken). The price is very affordable too. And, they also provide praying space. But what I love the most from Naritaya is the ice cream! It's rice ice cream with soy milk and available in three flavours: vanilla, azuki (red beans), and kodaimai (Japanese ancient rice). Wish it were sold in Japanese supermarkets and I can easily get it when craving for ice cream!" - Aprilia Suandi
Do we need to say more? Just seeing the food picture is enough to make our mouth go all watery *drools* So here is how you can claim it, you just need to show them the screenshot below and it's all yours! It is really that simple 😉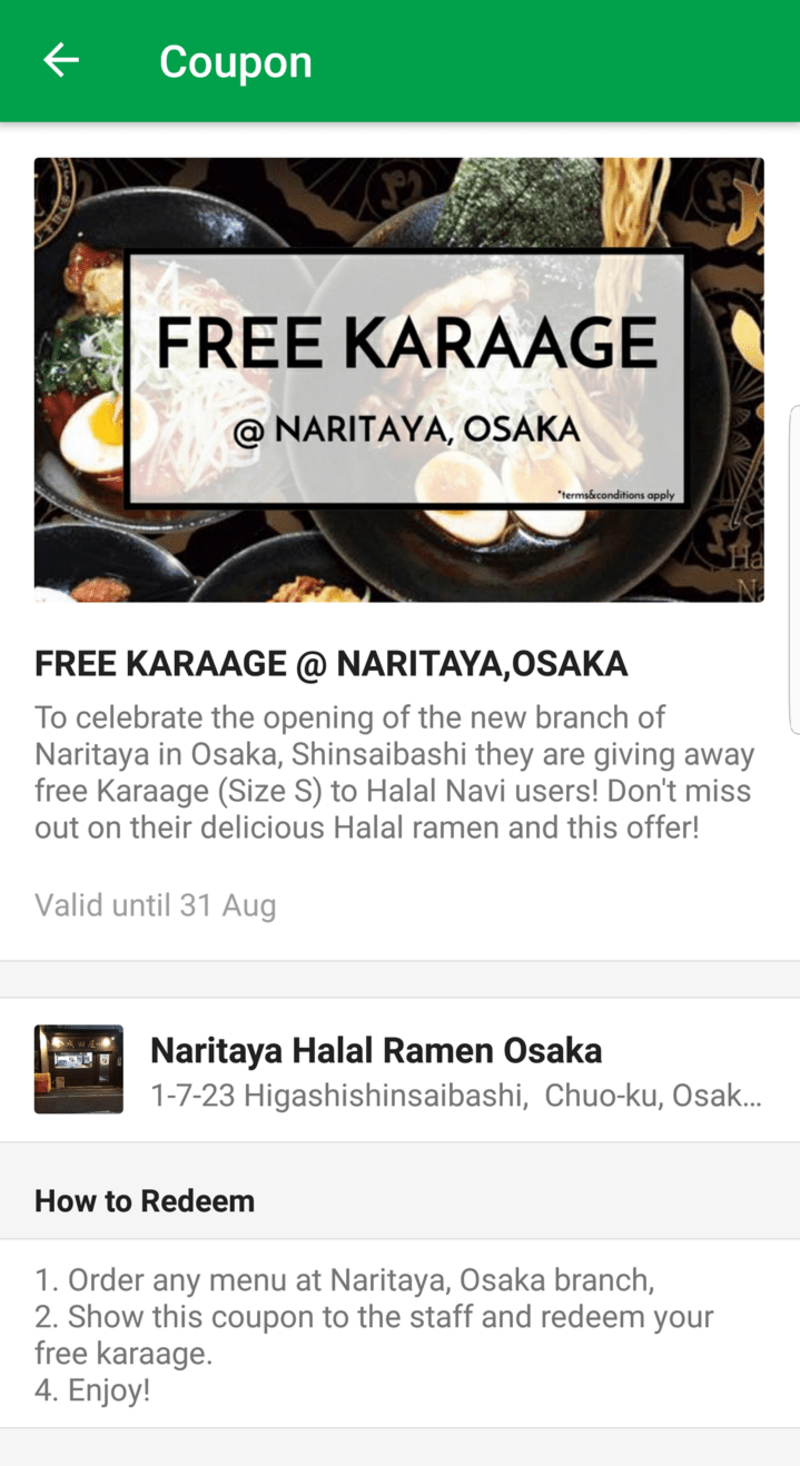 Information
| | |
| --- | --- |
| Address | 〒542-0083 Ōsaka-fu, Osaka-shi, Chuo-Ku, Higashishinsaibashi 1-7-23 |
| Opening hours | 11.00 –22.00 |
| Telephone | +81 6-6281-0133 |
| More Info | Naritaya Osaka Minami Branch |
---