Five Reasons Why You Should Visit Hirosaki
Apples, float festivals, and old pre-Industrial revolution era western architecture. When one embarks a journey to travel in Japan, these are rarely the images envisioned within the minds of a traveller. A trip to Japan consists mainly of Kansai area (Kyoto, Osaka) as well as big bustling metropolitan cities such as Tokyo.
But the beauty of the Land of the Rising Sun far surpasses this horizon. Venture further away from the tourist hotspots and into one of Japan's less-traveled cities and one may find the beauty of Japan slowly revealing itself like a delicate blooming cherry blossom: serene and vividly enticing Hirosaki.
Located at the northernmost tip of the Honshu peninsula, 4 and a half hours by train from Tokyo. It is mildly bustling with city life, yet at the same time, one can sense an aura of rural vibe in the air.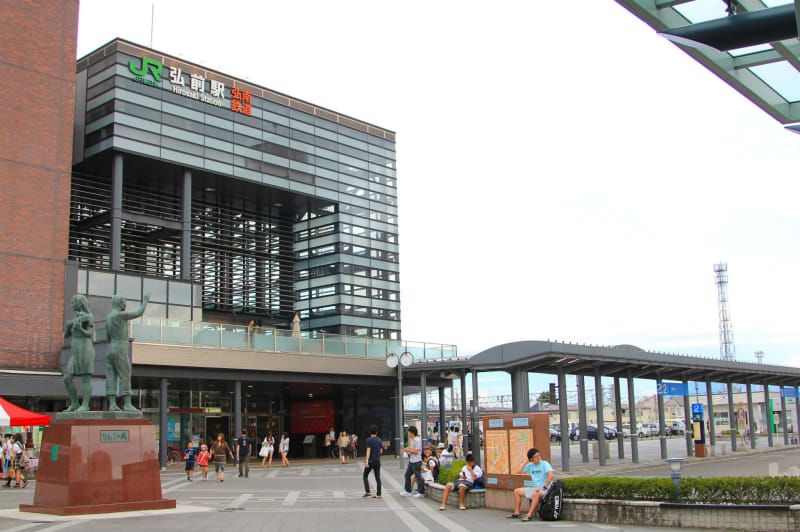 Exterior view of Hirosaki Station
Hirosaki Station is where most trips to Hirosaki will begin. Located on the Ou Main Line, it is easily accessible via a 40-minute train ride from Shin-Aomori Station, which itself is accessible via bullet train from Tokyo. Upon disembarking here, one might be wondering what is there to see here in this relatively small and laid-back city. But as the saying goes, 'good things come to those who wait'. Here are five reasons why you must visit this city.
1. Peaceful Saishoin Temple and surrounding gardens
To start off, what better place than the Saishoin temple and its surrounding gardens. Like an origami slowly unfolding one piece at a time, a walk inside the Saishoin temple grounds is like a step-by-step journey into the inner heart of that authentic peaceful Japanese Zen moment.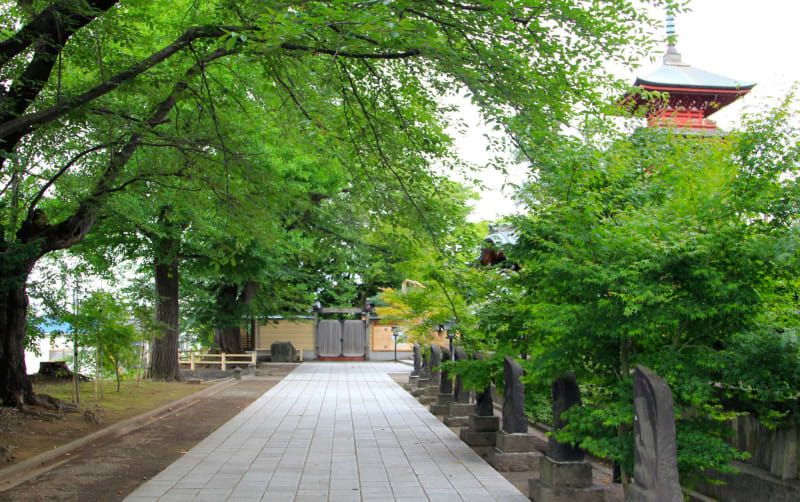 Garden path with a glimpse of Saishoin five-story pagoda in the background
Entering the temple garden park of Saishoin temple reveals lush greenery at every corner. It's quiet, peaceful, even surreal. The sheer tranquillity of the gardens essentially soothes the spirit and soul, washing away worldly worries and problems. Walking slowly through the path that lays ahead, it's hard to miss the striking red five-story pagoda of Saishoin temple.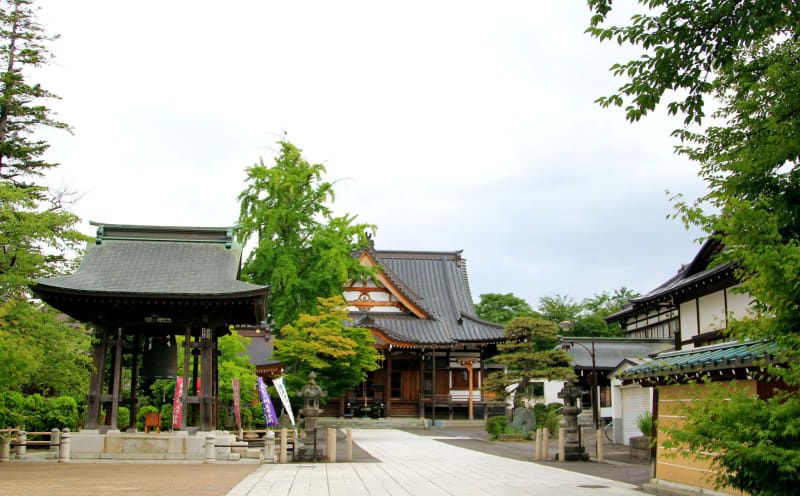 A walk inside Saishoin temple grounds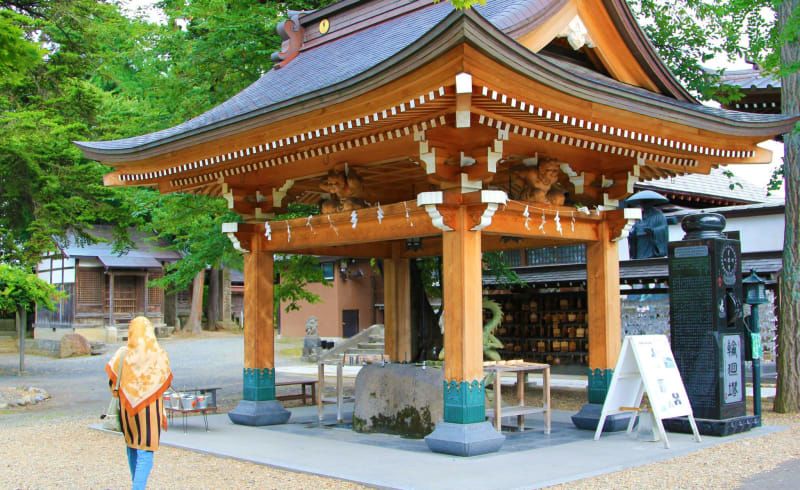 Temple purification font for cleansing purposes, a must in almost all Japanese temples
Information
| | |
| --- | --- |
| Address | 63 Doya-machi, Hirosaki-shi,Aomori 036-8196 |
| Opening hours | Everyday 9 am to 4.30 pm |
| Access | Take the Konan Bus bound for Sakuragaoka from Hirosaki Station and get off at Hiroko-mae, 13-minute ride |
| Entrance fee | Free |
2. The Magnificient Hirosaki Castle
After a quick stroll through the temple grounds, it's time to head towards the main landmark and pride of Hirosaki city – the Hirosaki castle. Walking towards the castle via its huge park in a spiritual journey in itself. Surrounded by trees – including cherry blossom trees – it makes one appreciate every second of the walk towards the castle, breathing in the fresh floral air that gives the castle grounds a sense of mystique and tranquillity. Not only do the surrounding trees give the castle grounds a unique garden atmosphere, it also makes the castle garden picture-perfect all year round – be it spring, autumn, and even during the winter.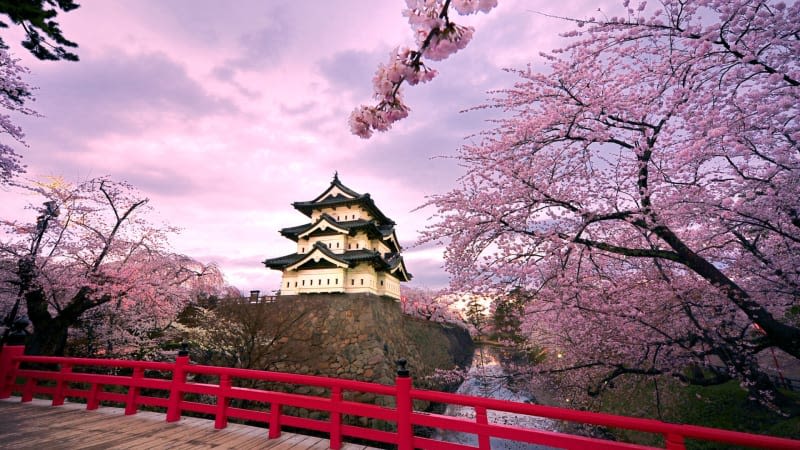 Credit to Asia Garden
Hirosaki Castle used to house several generations of the Tsugaru Clan back in the 17th century. The original tower had actually burned down due to a lightning strike, but has been rebuilt and is one of the few pre-Meiji era castles to be rebuilt. Awesome – considering that some castles in other parts of Japan that had been rebuilt were done post-modern era since their destruction was mostly due to heavy carpet-bombing during the war.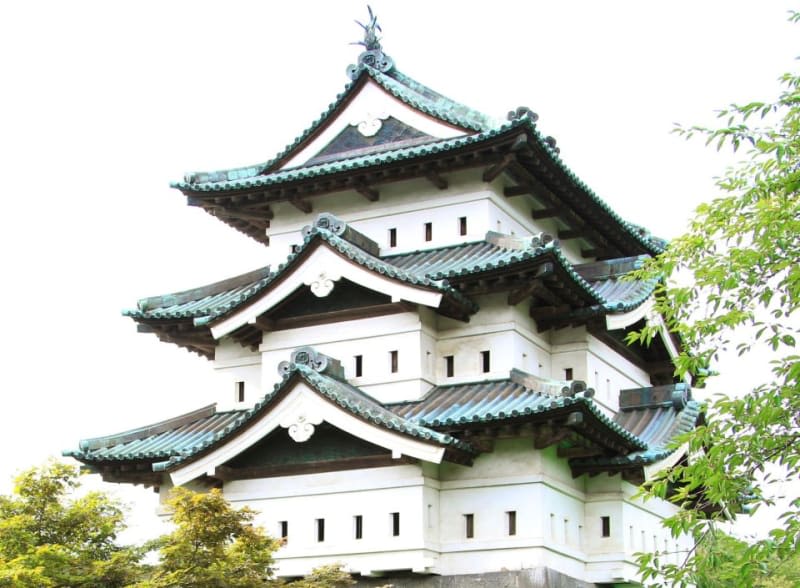 Up close and personal with the main keep of Hirosaki Castle
Speaking of the Meiji era (boring history lesson alert), when Japan finally decided to end its sakoku (closed country) policy and begin opening its doors to foreign powers, Japan had an influx of westerners coming into Japan. Some of them even ended up in the northern region and in Hirosaki. And since Hirosaki was virtually safe from allied bombing during the war, most of the old western architecture is still intact and can be seen here.
Infromation
| | |
| --- | --- |
| Address | 1 Shimoshirogane-cho, Hirosaki-shi, Aomori 036-8356 |
| Opening hours | Honmaru/Kita no Kuruwa Area 9 am to 5 pm (1 April - 23 Nov) Botanical Garden 9 am to 6 pm (tickets are sold until 5.30 pm) |
| Access | Take the Konan Bus Dote-machi Loop and get off at Shiyakusho Mae (City Hall) Stop and walk for 5 minutes |
| Entrance fee | 300 Yen |
| Halal restaurants nearby | Sana Pakistan Restaurant |
3. The Miniature Garden
One of the most interesting of all western architectures in Hirosaki is the miniature city model of Hirosaki which has a lot of mini western buildings. This tiny picturesque Instagram-friendly mini city is located next to the Old Hirosaki City Library which is itself a charming western-style building. Taking a stroll near the tiny little buildings really makes you feel like a giant – or even better, like Godzilla.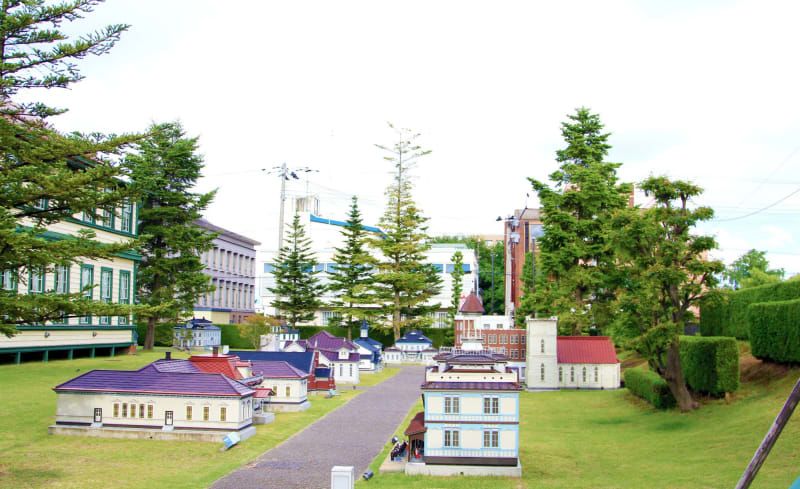 Miniature garden near Old Hirosaki City Library
The level of appreciation takes a step further when you consider that these tiny buildings are hand made. Yes, every single one of them – hand made. That is some serious hand crafting, as expected from Japanese craftsmanship. Take your time to appreciate the tiny, tiny details of each of the miniature buildings – some of them even have small replicas of people. No need to apply that toy-city filter when taking photos here obviously.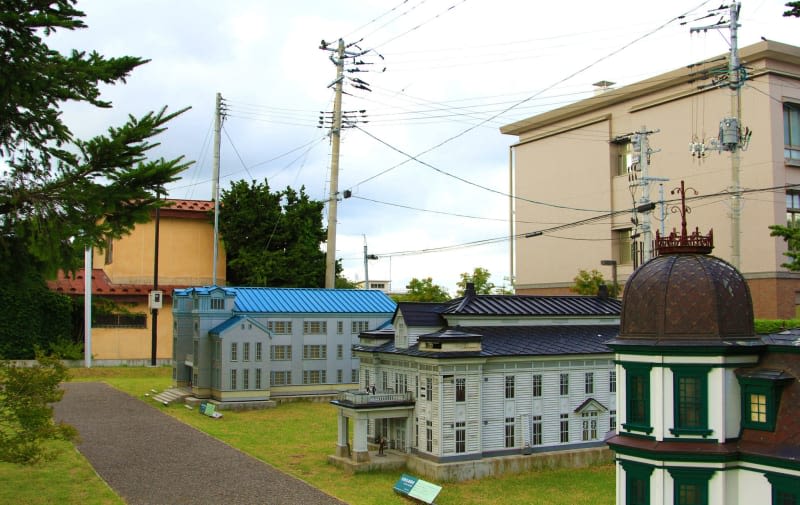 Colorfully crafted miniature buildings, with attention to detail
Information
| | |
| --- | --- |
| Address | Old Hirosaki City Library 2-1 Shimo-shirogane-cho, Hirosaki-shi, Aomori 036-8356 |
| Opening hours | 9 am - 4.30 pm (closed December 28th to January 3rd) |
| Access | Take the 100-yen bus from the Konan Bus stop in front of Hirosaki Station and get off at Shiyakusho-mae Koen, 15-minute ride |
4. Japan's biggest apple producer
Hirosaki city and Aomori prefecture are known to be the largest producer of Apple in Japan. Of more than half apple in the country comes from Aomori. For those who are a fan of apples, this is your heaven-on-earth. If you come during the fruit picking season on August to mid of November, picking apples in Hirosaki Apple Park is something you should not miss.
Credit to Aomori
With more than 1300 apple trees and 65 different varieties, this park will mesmerise you with the red land of apple. You can join a tour of apple production from picking apples from the tree, prune the leaves, sort and bag the apples, and of course exploring the garden. And don't forget to try apple delicacies served in their cafe;  apple curry and apple soft served ice cream.
Besides that, travelling to Hirosaki is not complete if you don't bring home their apple souvenirs. There are tonnes of shops selling local apple products that you won't find anywhere else. Better save some cash for some souvenir shopping before taking the train back to Tokyo. Here is some example of Muslim-friendly souvenirs that you can buy!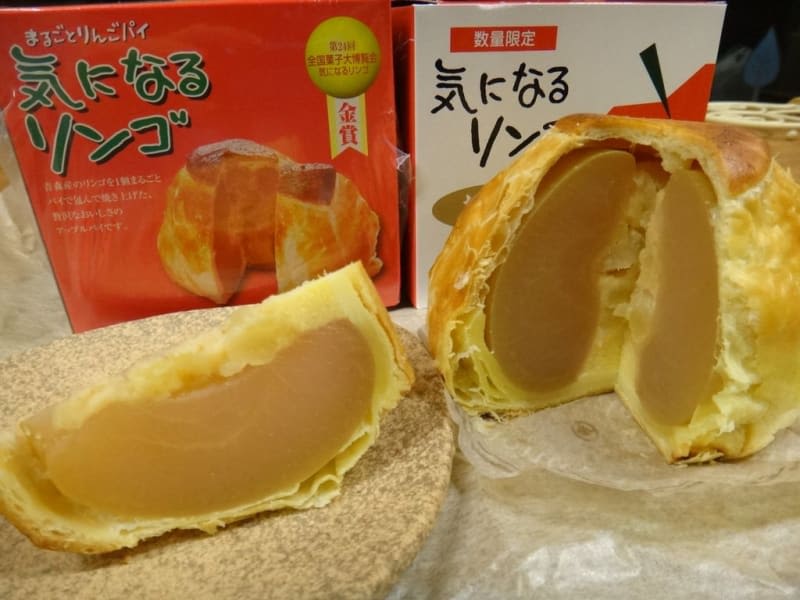 Credit to trip101
Ki ni naru ringo apple pie Price: 700 JPY (tax included) Best before: about 45 days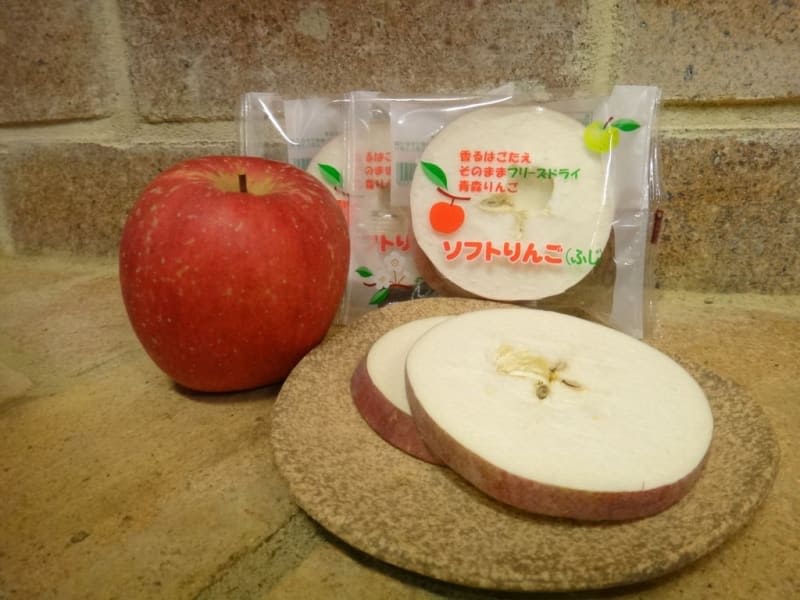 Credit to trip101
Soft Ringo Price: 130 yen for 2 slices or 400 yen for 6 slices Best before 5 months
5. Local festivals
Aside from seeing buildings both old and new, a trip to another country would not be complete without embracing its culture and festivals. If you're lucky to be travelling in Hirosaki during the first week of August, do not miss a chance to witness the neputa festival (pronounced as nebuta in Aomori city) which is essentially an extravagant float festival decorated with brave warrior-figures on them.
The floats, which are being tugged across long stretches of road, are also sometimes accompanied by dancers. Aside from enjoying the pompous spectacle, one can also buy some snacks (yes, more apple snacks) or shaved ice desserts sold by vendors on the sideways, which, on a hot summer night, is nothing short of essential. Plus, they are quite good.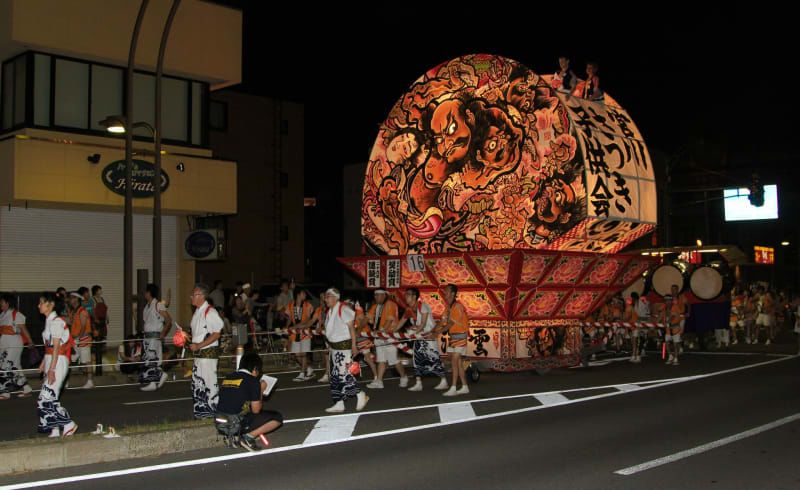 A neputa float decorated with Kabuki-esque paintings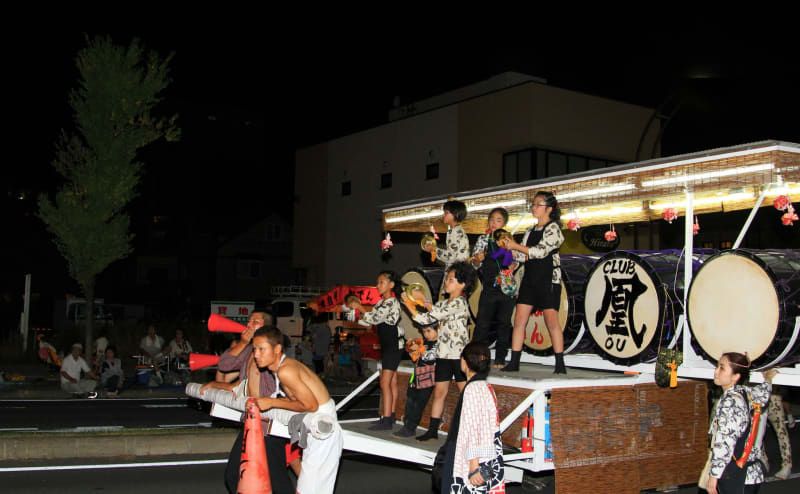 Dancers accompanying one of the neputa floats
After the last float floats away into the summer night, it might be a good time to call it a day. But even though the day might be over, these are just a tiny glimpse of what Hirosaki has to offer and the journey will never end with a full stop.
Nonetheless, Hirosaki definitely offers its fair share of cultural and traditional experience for the traveller who bravely wanders away from the hustle and bustle of cities like Tokyo or Osaka in search of a more local, peaceful, and most importantly, a rewarding experience while travelling in Japan. But don't wind up with excitement and ignoring your hungry tummy. Find halal foods in Hirosaki in Halal Navi, so you can travel with peace of mind!
P.S: Have any stories about Japan that you want to share? Send your article to [email protected] to be featured!