5 Newly Discovered Restaurants By Japan Muslim Foodies You Should Not Miss! -Updated in 2019!-
Enjoying holiday in Japan should not make us forget our obligations as a Muslim which is to consume foods that meet our Halal dietary need. Fortunately, the number of Halal restaurants in Japan keep increasing every year *yaaay!*. We know you don't want to be left out and want to try the tastiest newcomer restaurants all around japan. Say no more! With the help of our Muslim foodies, we have picked seven new Halal friendly restaurants that will surely make you drool. Are you ready to find the new cure of your hunger?Warning: Beware! Reading this article can lead to hunger pangs.
Credit to Giphy
1. Amamijyaya, Oita
Amamijyaya is a sweet shop in Oita that is quite popular with their Japanese local sweets. One of the most popular sweet here is "Yaseuma", a noodle shape mochi covered with sugar and soy bean powder. Not only sweets, they also serve set of japanese meals, curry, udon and other Japanese local delicacy. You will instantly feel a warm Japanese ambience in this restaurant from its wooden furniture and traditional concept of its interior design.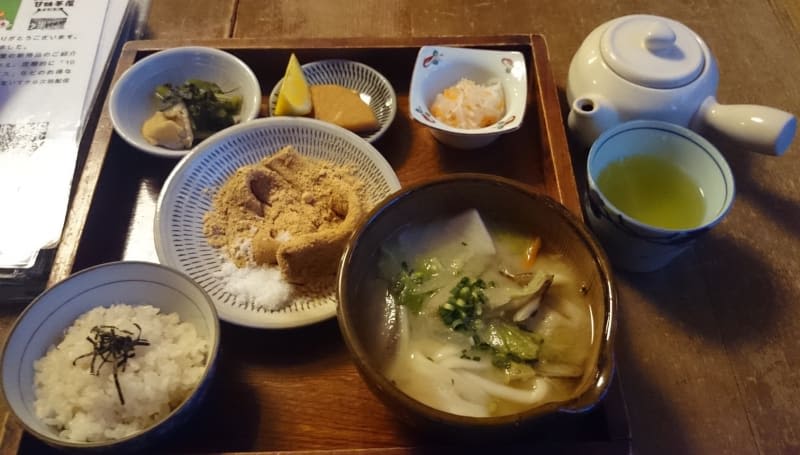 Photo by Ndanazihah
Review on Halal Navi :
"Amamijyaya is famous among the locals as one of the oldest Japanese restaurants operating in town. You can see that from its exterior and interior of the place which offers a very pleasant and tranquil Japanese traditional atmosphere. I'm pleased with the hospitality even though the price for a set of the dish I ordered was, to me, too expensive. I spent around 1500¥ for a bowl of rice, a bowl of tofu miso soup, a plate of kinako coated-mochi, and some other things and things like pickle and etc; that I think I could get in other places by cashing out 1000¥ only. Nevertheless, eating out in this restaurant is always a good idea to experience the local taste without having to worry about mirin or other non-halal materials in your dish. Very recommended!" - Ndanazihah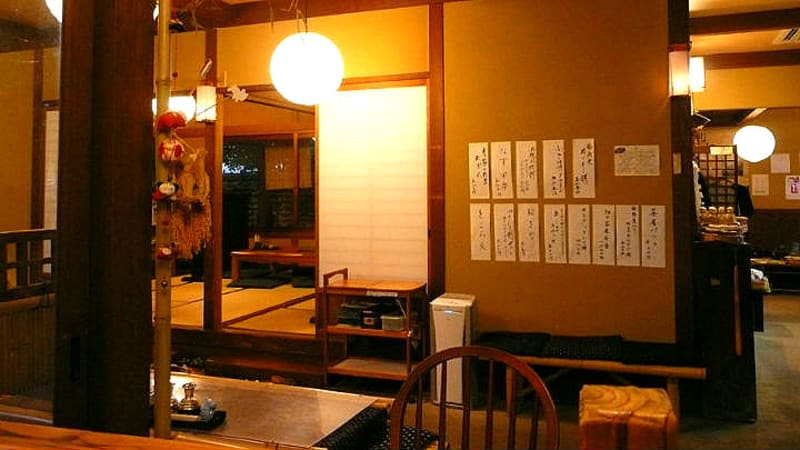 Credit to Ikidane Nippon
Information
| | |
| --- | --- |
| Address | 1 Kumi - 4 Jissōji, Beppu-shi, Ōita-ken |
| Phone | 0977-67-6024 |
| Halal tips* | Halal status verbally confirmed by staff, vegetarian meal is available |
| More info | Amamijyaya |
2. Kaenzan Nishikawaguchi, Saitama
A chinese halal restaurant is opened in Nishi Kawaguchi, Saitama. The owner is an Uyghur Muslim (Turkish ethnic group living in Eastern and Central Asia) from Xinjiang that has specialty in Chinese dishes with a strong Turkish influence. They serve various chinese Uyghur's popular dishes such as Shish Kebab (skewered and grilled meat), beef tongue roast, aromatic rice pilaf, Xinjiang chicken, and many more. Wherelese could you find a complete collection of authentic chinese dishes like this?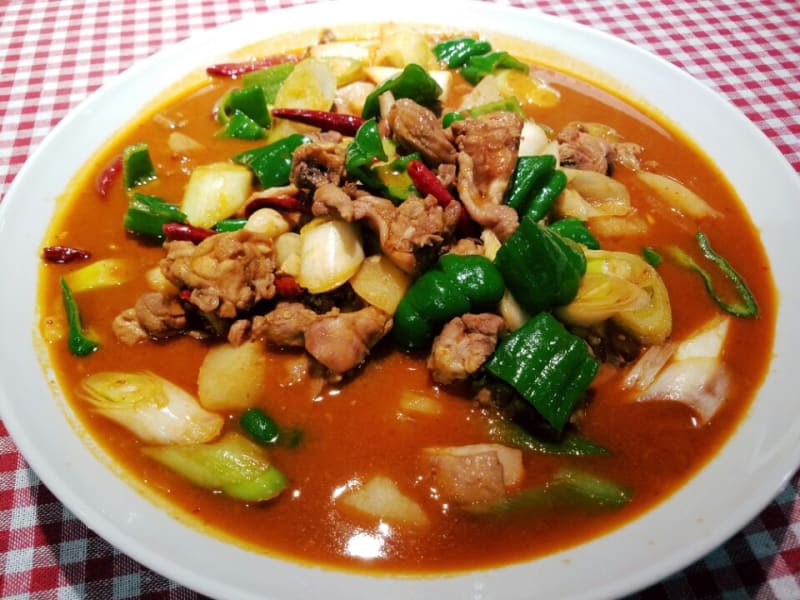 Photo by Shemshidin
Review on Halal Navi :
"Uyghur restaurant located in Nishikawaguchi, Saitama prefecture. Owner is Uyghur muslim from Xinjiang. The food was absolutely delicious and staff were really kind and friendly. Strongly recommend Uyghur kebab and big plate of chicken which is known as Dapanji in Chinese." - Shemshidin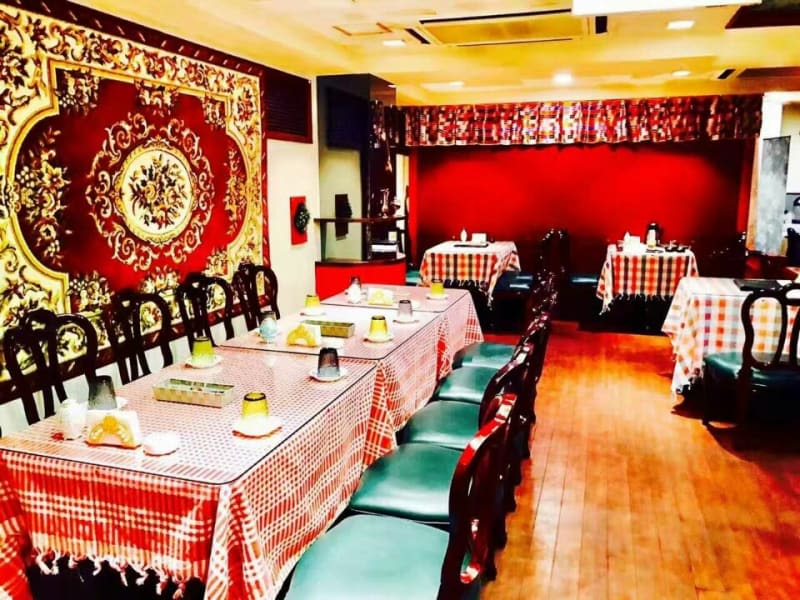 Restaurant appearance by Shemshidin
Information
| | |
| --- | --- |
| Address | 2-9-5 Nishikawaguchi, Kawaguchi-shi, Saitama |
| Phone | +81 48-287-9505 |
| Halal tips* | Halal status verbally confirmed by staff, vegetarian meal is available, all meats used are Halal, owner/staff are Muslim, alcohols are served |
| More info | Kaenzan Nishikawaguchi |
3. Imagine Organic Cafe, Nara
This organic vegetarian restaurant has been operating for 13 years in Nara prefecture and located just in front of Heguri station. They have their own farm to supply vegetables to the restaurant with no chemical fertilizers or pesticides used on the farm to maintain the food quality. In addition to that, the chef does not use any preservatives, coloring, and other chemicals in the cooking. This cafe also sells Organic foods product in its shop for you to bring home. That being said, Imagine Cafe is unquestionably a perfect place for those who want to start a healthy life 😉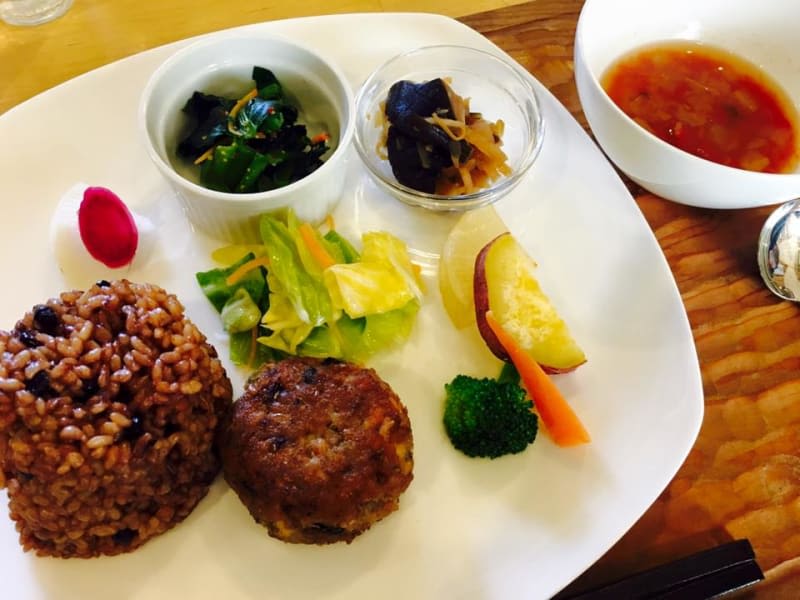 Credit to Imagine Organic Cafe
Review on Halal Navi :
"This vegetarian restaurant is very close with Kintetsu Hirugate station. Menus ranging from 780 yen to 1480 yen. If you want something fulfilling, I suggest you to take the set of 950 yen (forgot the name). But it comes with veggies soup, several kind of vegies dishes, brown rice and other condiment.." - Amir Abdulazeez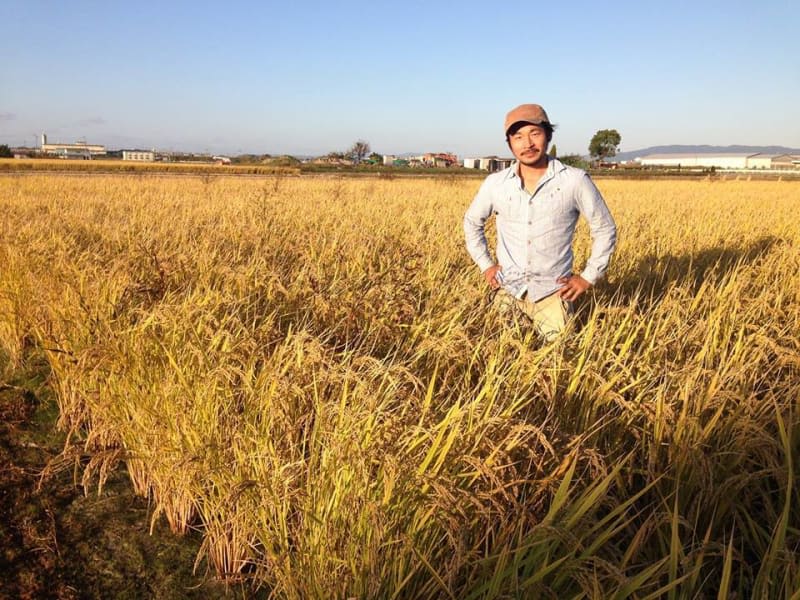 Imagine Cafe Farm via Imagine Organic Cafe
Information
| | |
| --- | --- |
| Address | 84-7 Shimogaito, Ikoma-gun, Nara |
| Phone | 0745-45-8561 |
| Halal tips* | Vegetarian meal is available |
| More info | Imagine Organic Cafe |
4. Kebab Shop, Nara
If you happen to be in Nara, Kofokuji temple and Nara park are surely two tourist attractions you must visit. You can stop at Kintetsu-Nara station and those attraction spots are just a walking distance from there. You might want to drop by at Kebab shop on your way to Nara park. The shop does not allow you to dine in, thus it is just perfect if you want to take away some kebabs for a picnic at Nara park later on.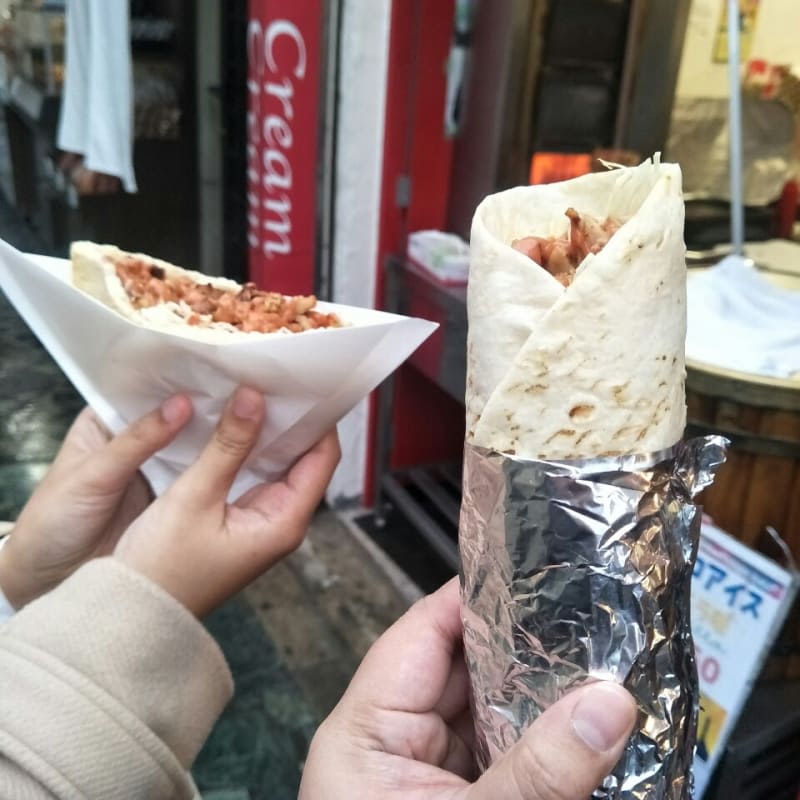 Photo by Nurimah
Review on Halal Navi :
Ate at this kebab shop on 1 March 2017. Kebab is stated halal. Menu: Kebab roll, kebab sandwich & kebab bowl. Taste: Food was warm & tasted good on a cold day, well seasoned with generous meat topped with mayonnaise dressing. No extra topping option available. Location: Between a takoyaki shop and a Japanese confectionary sweets shop along Sanjo Dori street. Nearer to the direction of temples & Nara Park. Operating Hours: Not sure when shop is open or close, I was there on a Tuesday evening, around 5pm. Seating Capacity: There are no sitting area in this shop. You may sit infront of a nearby building to enjoy your kebab Nurimah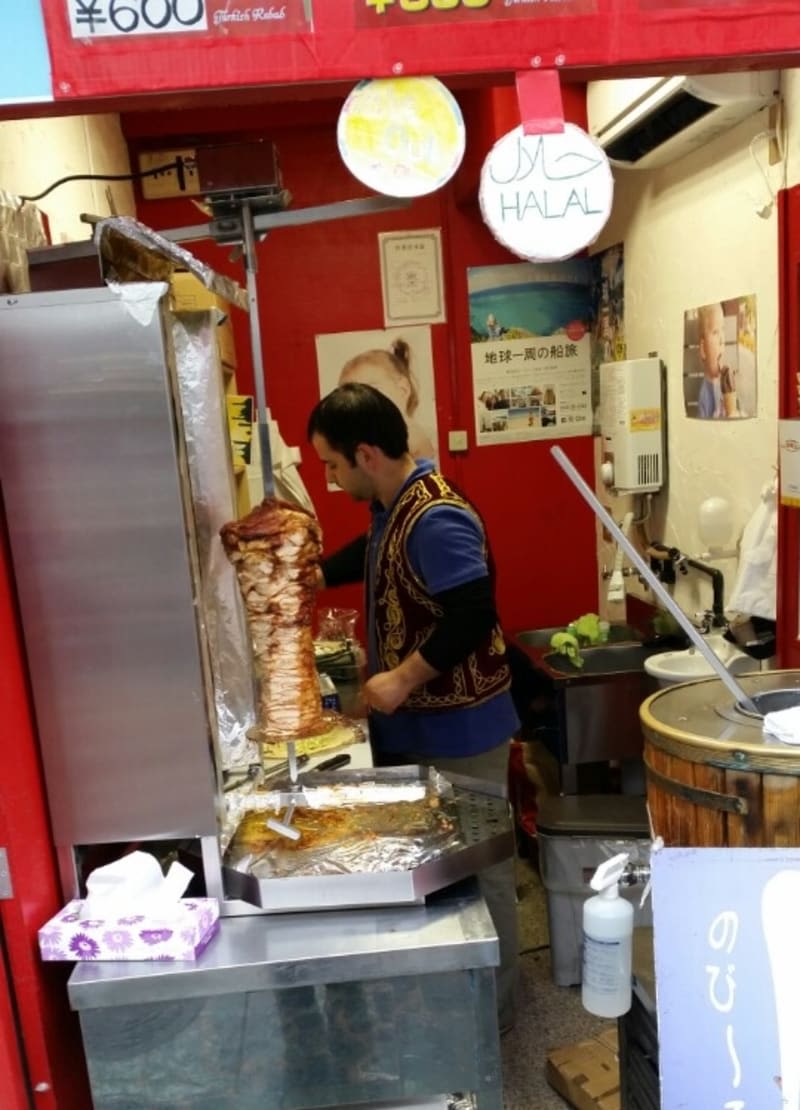 Photo by Nazarin
Information
| | |
| --- | --- |
| Address | 34 Hashimotochō, Nara-shi, Nara-ken |
| Halal tips* | Halal status verbally confirmed by staff, all meats used are Halal, owner/staff are Muslim, alcohols are served |
| More info | Kebab Shop |
5. Aoisora Nagarerukumo, Sapporo
Aoisora is a 100% vegetarian restaurant in Sapporo and only 10 minutes walk from Maruyamakoen station. The cafe is quite popular even among non-vegetarian visitors. The menus are written in Japanese, but don't worry as the staffs speak english very well and ready to help you making order. It features different kind of dishes around the world from Chinese mapo tofu, faux fish burger, stir-fry vegetables to cake and desserts!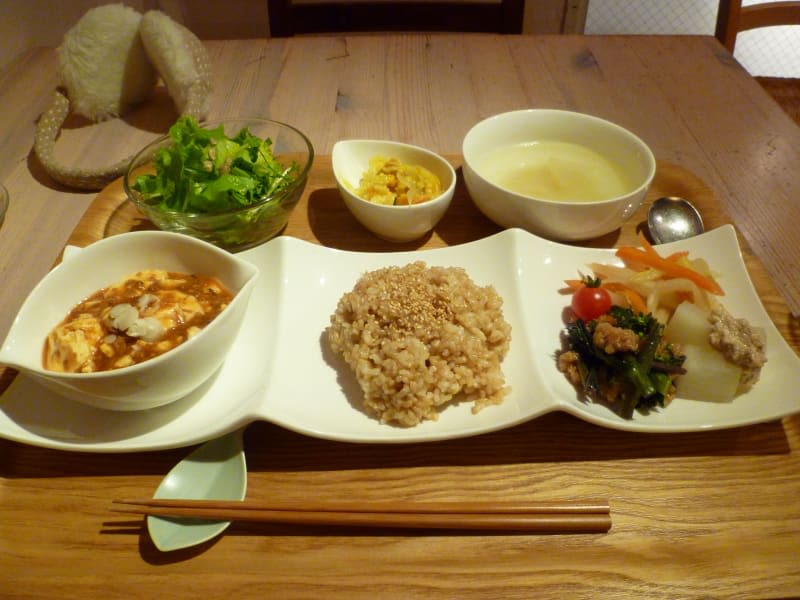 Credit to bonvoyagevegan
Review on Halal Navi :
"Super yummy vegetarian cafe. Try to order their avocado salad, it is undoubtedly so delicious. You can order their brown rice for a heavy lunch for 1450 yen. The lunch dishes above are accompanied with vegetable dishes and soup." - Adib Megat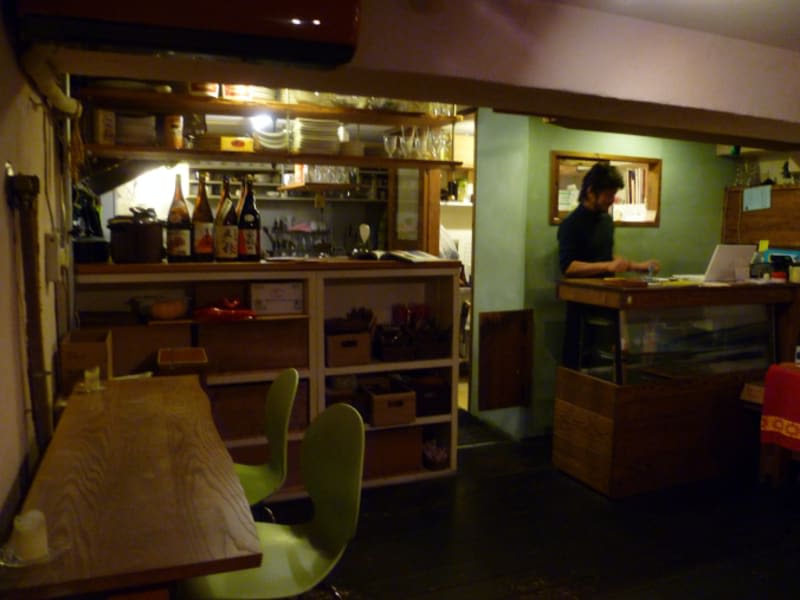 Credit to bonvoyagevegan
Information
| | |
| --- | --- |
| Address | 22-1-7 Minami 1 Jōnishi, Sapporo, Hokkaido |
| Phone | 011-623-3887 |
| Halal tips* | Vegetarian meal is available |
| More info | Aoisora Nagarerukumo |
So how was it? We know you can't resist to try all of the restaurants recommended by Muslim foodies in Halal Navi above! Get more insider information of more delicious Halal foods around Japan at your fingertip with Halal Navi apps. Not only you can read reviews from other users who have been to the restaurant, you can also check the Halal tips and restaurant details that will help you decide the best Halal culinary destination to go while you are in Japan! *Disclaimer: The halal tips provided in this article are contributed by Halal Navi's user. We advise you to reconfirm with the restaurant owner upon visiting the restaurant.