5 Halal Wagyu Restaurants In Japan You Have To Try At Least Once -Updated in 2019!--
After getting to know the incredible facts of Wagyu beef in our previous article, are you now craving for some Halal Wagyu? (We know you do, admit it!) For those who are planning to visit Japan, we have picked 5 best restaurants for you to try Halal Wagyu beef. These are Halal Navi users all-time favourite restaurants to taste the delight of this marbling beef. So, are you ready to pamper your taste bud?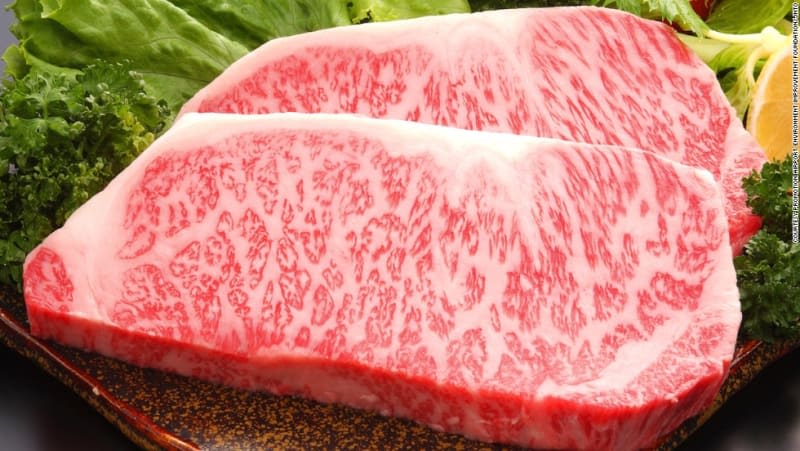 1. HALAL Shabu Shabu NAGOMI
After walking around Asakusa, you may be hangry and eat delicious Japanese food, right? You can reach great Japanese Wagyu restaurant - HALAL Shabu Shabu NAGOMI by walking for 5 minutes from Sensoji-temple. NAGOMI gets the HALAL certification JAPAN HALAL FOUNDATION, so you can enjoy Wagyu without anxiety. NAGOMI has also a place for Wudu and a prayer space. What a kind restaurant for Muslim it is!!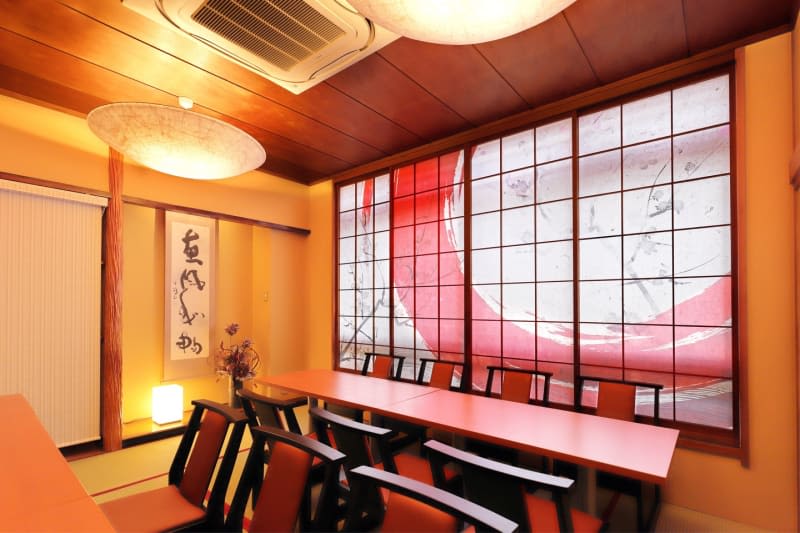 Picture by Halal Navi user;Fumihiko Masuda
You can eat Kagoshima-Wagyu, which is one one the most famous Wagyu-brand in Japan. Please eat Wagyu with the "Dashi", which is mainly extracted from dried flying fish called "Ago" and blended several ingredients such as bonito by its secret method. After eating, you cannot help being the Wagyu enthusiast! Do you want to enjoy this Wagyu Shabu-Shabu? Let's make the reservation and experience the great taste!!
Picture by Halal Navi user; Fumihiko Masuda
Review in Halal Navi
-Fauzan Helmi Sudaryanto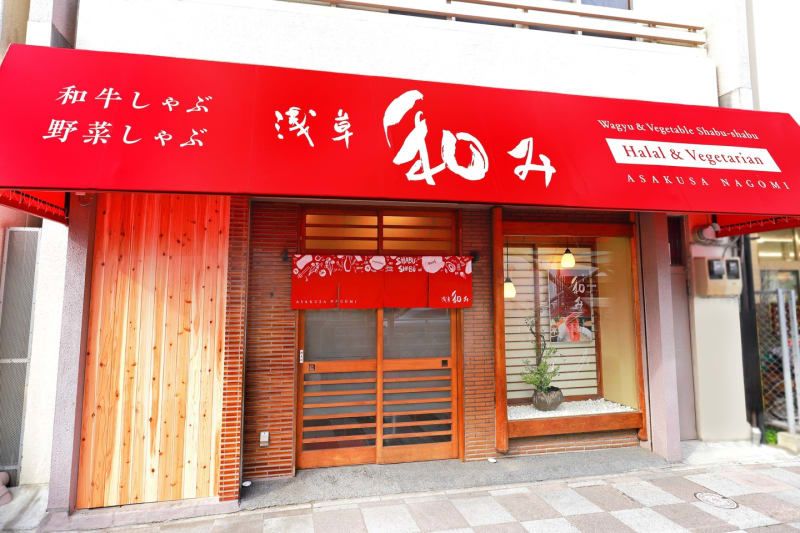 Picture by Halal Navi user; Fumihiko Masuda
Information Address :2-14-17 Nishiasakusa, Taito-ku, Tokyo, 111-0035 Japan Phone: 03-6802-7730 Price range: 4,000 - 19,000 yen Reservation: HERE! Halal tips: The restaurant is certified as HALAL restaurant by JAPAN HALAL FOUNDATION More info on HALAL Shabu Shabu NAGOMI
2. Panga Yakiniku, Tokyo
Panga Yakiniku Restaurant has been operating for around 16 years and is a favourite place for local Muslim to enjoy Halal Wagyu Yakiniku. This restaurant earned Halal certification from Japan Halal Foundation by Okachimachi mosque. They only serve Halal meat and Muslim friendly seasoning so you don't have to worry about its Halal status. The sliced beef sizzled on the hot grill will produce a very appetizing aroma that will surely make you drool.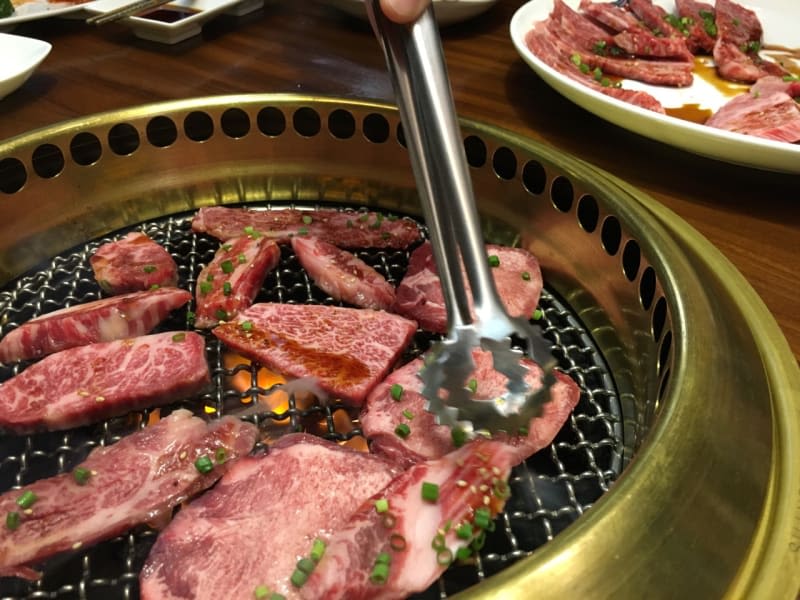 Picture by Halal Navi user; アティラ
Besides Yakiniku, they also serve Udon, various types of soup and some Korean dishes. Among the Korean dishes are Gochujang beef soup (hot beef soup with Korean sauce), Bibimbap, seafood Buchimgae (Korean potato pancake) and much more. This restaurant is also easy to locate as it is very close to Okachimachi mosque. #Tips: Try to find Kumon Okachimaci, from there you will see a green roof building with an owl caricature in it. From this building, you will need to take the right side and you'll soon find Panga Yakiniku.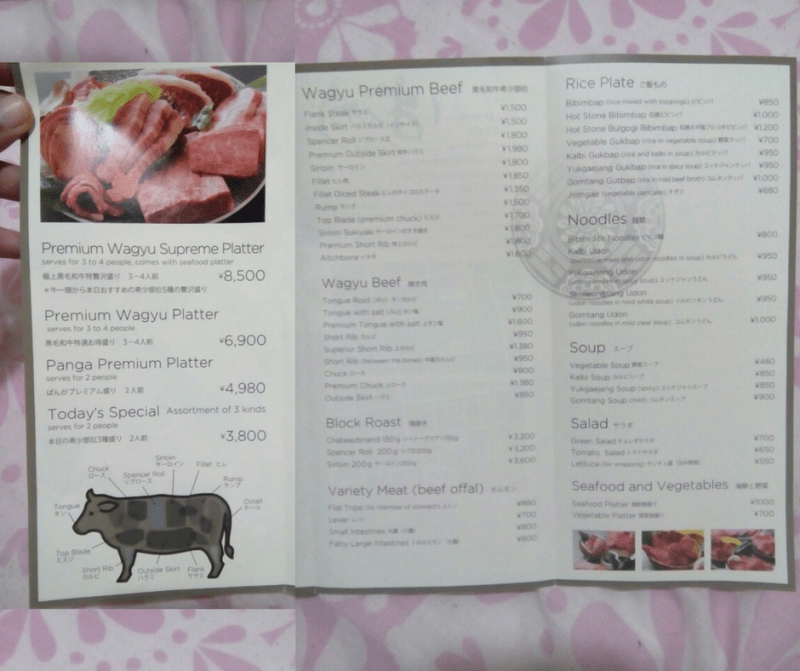 Picture by Halal Navi user; Mastura(マストゥラ)
Review in Halal Navi
"1. Gochujang Beef Soup (950¥) comes with rice inside, so you won't need to order extra rice to enjoy this dish. The taste is very delicious! Though it's a bit spicy, it fits my Indonesian tastebud 2. Three parts for two people (3800¥) is a Wagyu set that comes from three different parts of cow, specially designed for two portions. The meat is soft, like typically Wagyu, but we later realized that two portions are too much for both of us 3. A bowl of rice (250¥) We spent 5400¥ (tax included) and we think it's worthy, as we went out from the restaurant full and satisfied. However, as a foreigner living in Japan for about 3 years, I can tell that the waitress's hospitality isn't so good, but I enjoyed the food anyway. Very recommended! -Ndanazihah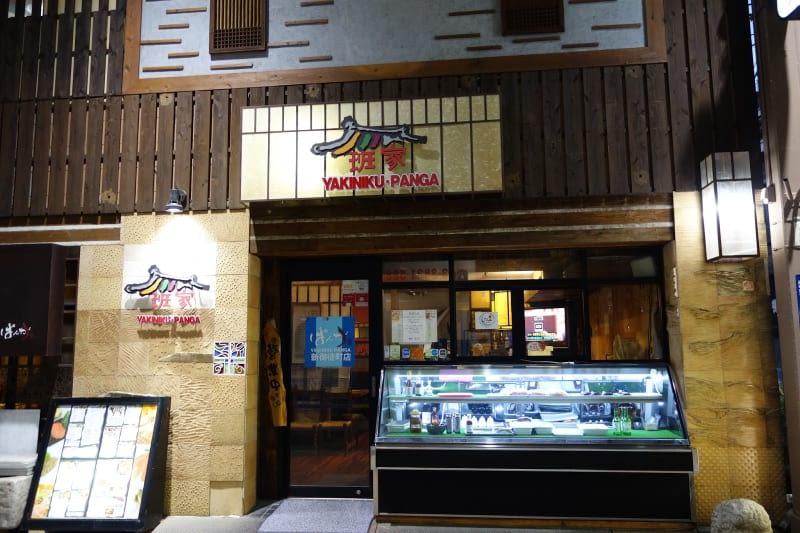 Exterior of Yakiniku Panga via Nanyfadhyl
Information Address: Taito 3-27-9, Taito-ku, Tokyo Phone: 03-3839-8929 Price : 1,000 - 8,000 yen Halal tips: Halal certificate is visible, all meats served are Halal, Halal menu available upon request, alcohols are served More info on Panga Yakiniku
3. Naritaya Halal Yakiniku, Kyoto
Even just from the name, we can sense that this is a Muslim friendly restaurant. Naritaya is a very popular Yakiniku restaurant in Kyoto that has earned Halal certification from Halal Kyoto. They serves Yakiniku with different kinds of beef for you to choose; the tongue, brisket, sirloin, tenderloin, and many others. The place is quite comfortable and homey, it will make you feel like eating at home when visiting this restaurant.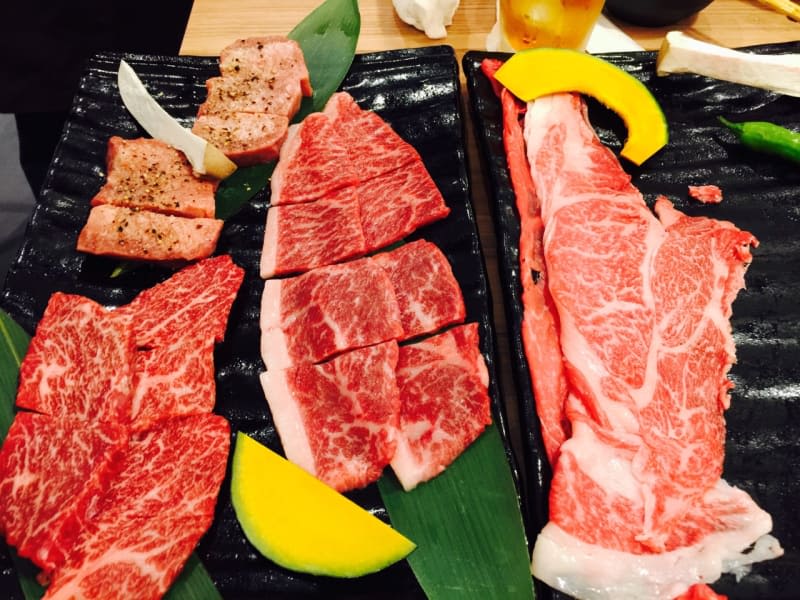 Picture by Halal Navi user; Najah Nasseri
The location in Gion district is quite strategic and always full of tourists. If you want to buy some souvenirs, it is also just a walking distance from Kawaramachi shopping centre. Just beside the restaurant, you can also find their sister shop; Halal ramen Naritaya. If you are really into trying Japanese local delicacy, you can have lunch at the Halal ramen shop and then have dinner with the Wagyu beef 😉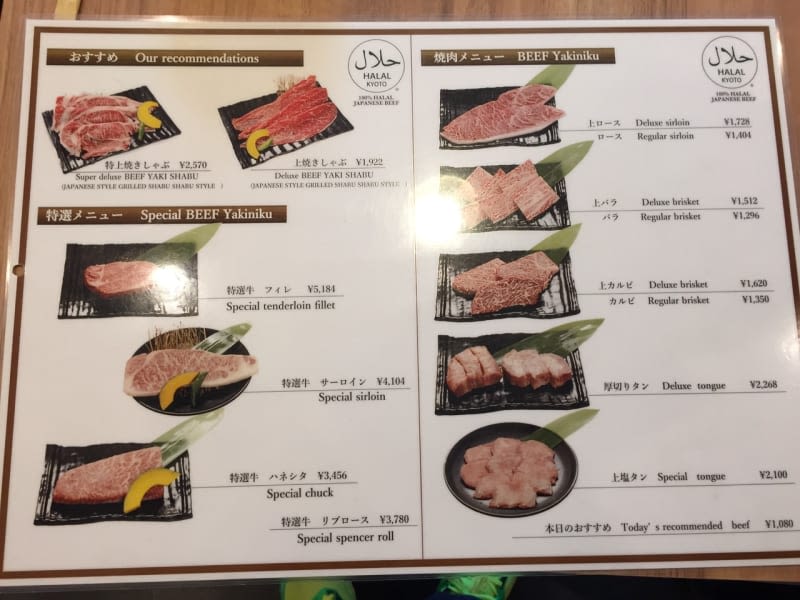 Picture by Halal Navi user; El Djazairi
Ulasan di Halal Navi
"Salam Aleykoum, Best experience ever with BBQ in Japan (Tokyo/Kyoto/Osaka). Be mindful about the price especially if we are going only with BBQ and you are a big fan. The owner should think of putting a most efficient aeration system. At the end of the meal you will smell (have a refresher ready for your cloths in your hotel). Despite those pain points i definitely recommend to experience this restaurant (we did twice)." -El Djazairi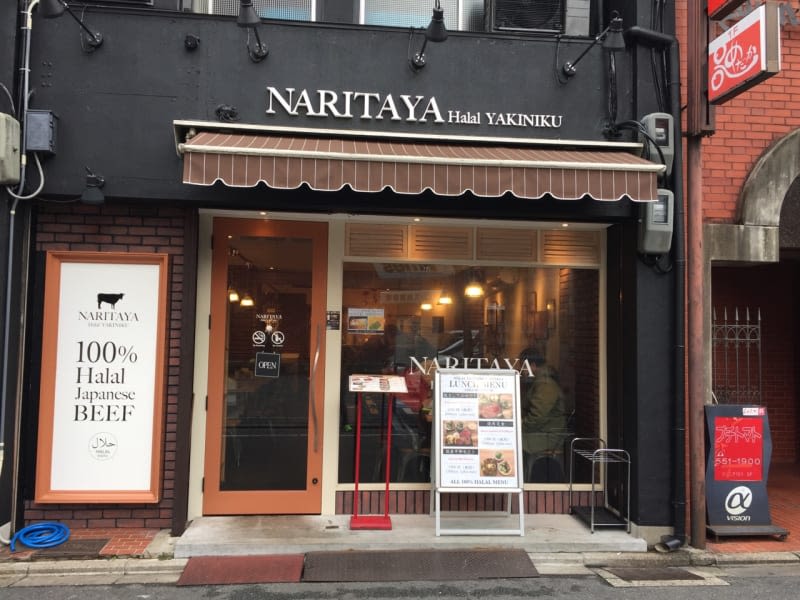 Picture by Halal Navi user; El Djazairi
Information Address: Rinkacho, 422-2, 1F, Higashiyama-Ku, Kyōto Phone: 075-531-8200 Price: 1,000 - 5,000 yen Halal tips: Halal certificate is visible, all meats used are Halal, uses separate utensils for Halal dishes, some non-Halal dishes are served More info on Naritaya Halal Yakiniku
4. Nanzan, Kyoto
One more restaurant you should visit to taste Halal Wagyu beef in Kyoto. This restaurant serves the legendary Kyotankuro Wagyu beef, the best quality beef you could find in Kyoto! Don't worry about their Halal status as they only serve halal Wagyu beef on their menu. They also have received a Halal certification from Kyoto Council for Sharia and Halal Affairs.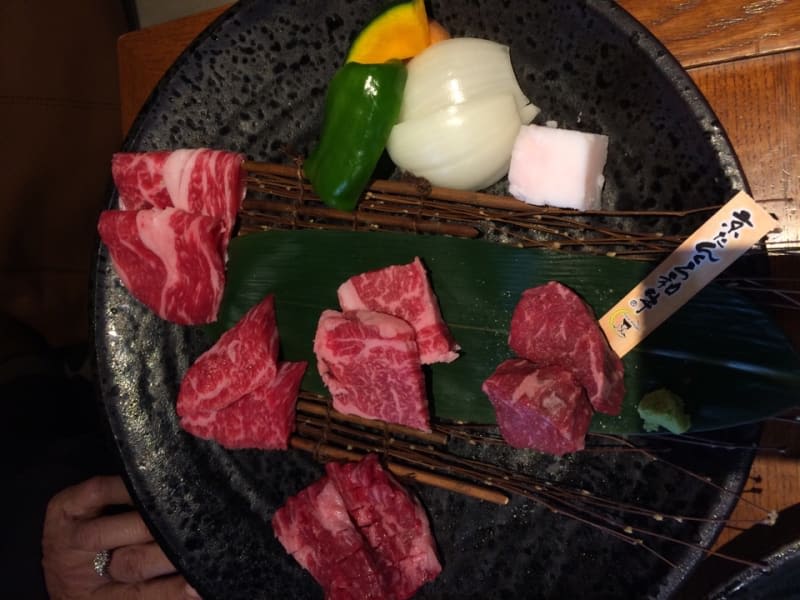 Picture by Halal Navi user; Reha Haron
Nanzan serves two main menus of Halal Wagyu beef. First is Kyoto Wagyu BBQ set for 5,000 yen that comes with an assorted vegetable, salad, rice, and soup. Another menu is Kyoto Wagyu Steak for 8,000 yen with the same condiment dishes. It's a bit pricey but once you taste the sensation of the marbling beef melt on your tongue, it is definitely worth it. Don't forget to make a reservation at least three days before your visit.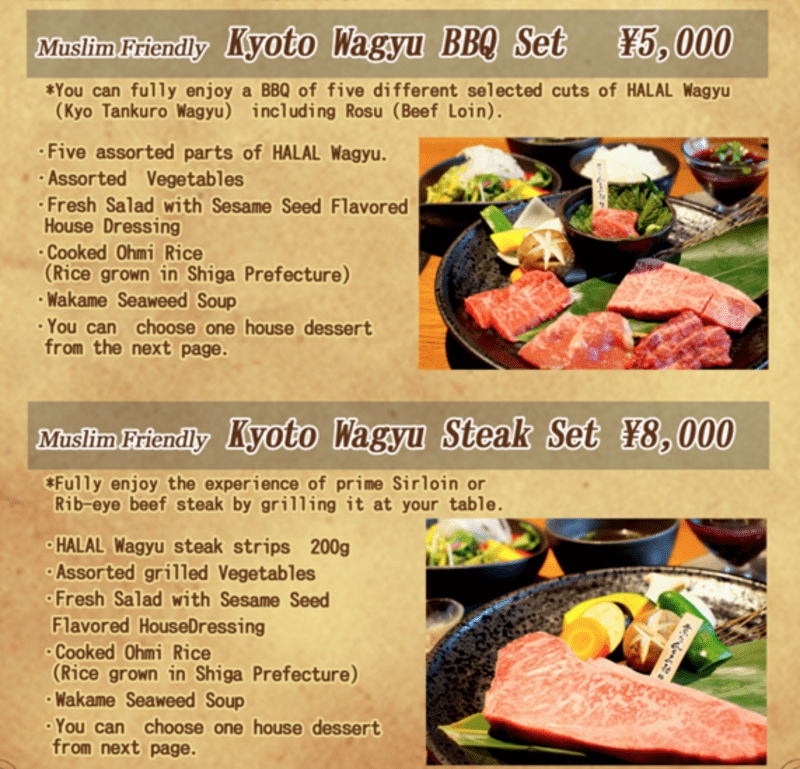 Menu via Nanzan
Review in Halal Navi
"Although it is a bit far out of town, you could easily find the location. i recommend you to try this restaurant. Best Wagyu meat we have tried so far in japan." -Reha Haron
Exterior Nanzan via tripadvisor
Information Address: Sakyo Ward, Shimogamo Kitanonogamicho, 31, Kyoto Phone: 07-5722-4131 Price: 5,000 - 8,000 yen Halal tips: Halal certificate is visible, all meats used are Halal, owner/staffs are Muslim More info on Nanzan
5. Genji, Osaka
Now for those who are having a trip to Osaka and want to try some Wagyu beef before going back home, Genji restaurant in Hilton hotel can be a good option for you. Don't worry, you don't have to stay at the hotel to enjoy the Wagyu beef teppanyaki at this restaurant as they also serve non-guest customers. The Wagyu beef that they use is certified by Japan Islamic Trust, you can see the Halal logo on each plate served to the Muslim customers.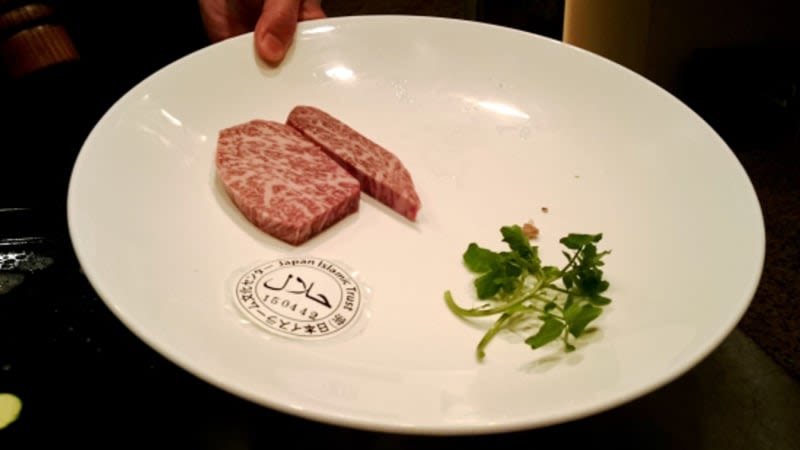 Wagyu beef teppanyaki via intergalacticyeah.com
As this is a fine dining restaurant, advance reservation is required. You can make a booking online through their website before coming. Don't forget to write Muslim-friendly menu (ムスリムフレンドリーメニュー) on the special request section so they can prepare the Halal dishes beforehand. You can get a lunch set Halal Wagyu Teppanyaki for 7,000 yen, while for dinner, you will need to spend around 15,000 yen. The restaurant is located on the third floor of Hilton Osaka hotel. You just need to turn left from the lift and you will soon find Genji restaurant.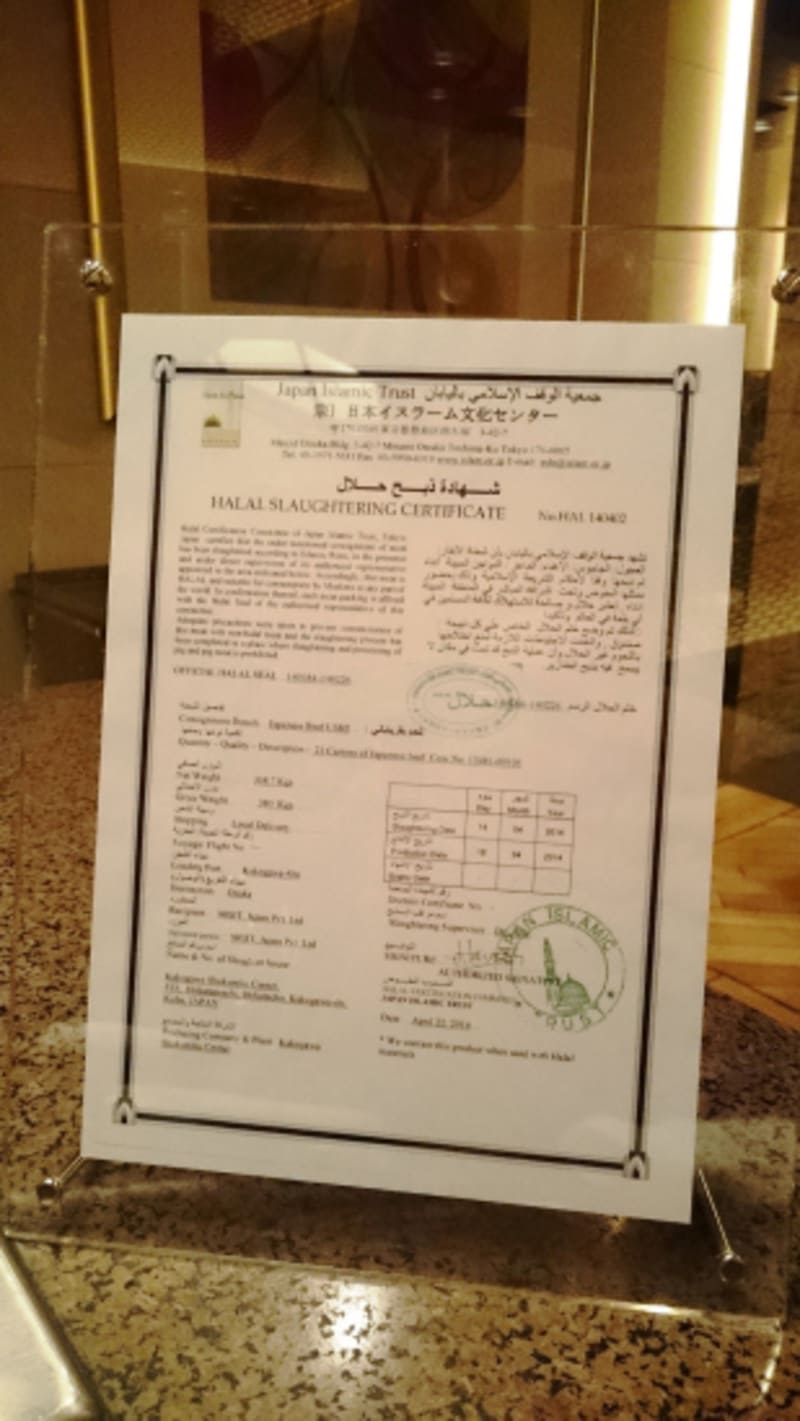 Halal certificate via intergalacticyeah.com
Information Address: Hilton Hotel Osaka, 1 Chome−8−8, ヒルトン大阪, Ōsaka Phone: 06-6347-0310 Price: 8,000 - 15,000 yen Halal tips: Halal certificate is visible, some non-Halal dishes are served More info onGenji Restaurant We know you wanted to try this marbling beef so bad! If you plan a trip to Japan, make sure to stop by at one of the restaurants above. Don't forget to bookmark them in Halal Navi so you can just open it and navigate to the location later when you are already in Japan. You can also save the information offline on Halal Navi so you can view it even without wi-fi. Happy Wagyu hunting! *Disclaimer: The halal tips provided in this article are contributed by Halal Navi's user. Readers are advised to reconfirm with the restaurant owner.