4 Most Popular Halal Eateries in Asakusa & Okachimachi You Must Try (with video) -Updated in 2019!-
Tokyo is so huge and there are just endless things to do in this capital city of Japan. Currently, there are more than 300 Halal & Muslim-friendly restaurants all over Tokyo, listed in Halal Navi. To give you a better guidance, we decided to collaborate with Jom P Japan team and pick the best Halal food options in the popular neighbourhoods in Tokyo.
Jom P Japan is a Halal tour guides team that bring Muslim travellers to explore Japan and take them to the best Halal restaurants that Japan has to offer. We can certainly trust their choice because they have tried so many Halal restaurants in Japan for years.
In this first episode, we decided to explore Asakusa & Okachimachi area. Asakusa is known to be the historic part of Tokyo. Home to many temples (Sensoji & Asakusa shrines), Ryokan (Japanese traditional hotel), and Japanese foods. While Okachimachi is very popular with its Ameyokocho shopping district! So, ready to start our culinary adventure? Check it out.
1. Honolu Ramen Asakusa
Ramen is one of the most famous food in Japan, and there is a restaurant which serves ramen for Muslim near Asakusa!This Ramen restaurant is about 600 meters from Asakusa station.You can go there while you are enjoying the scenery of Kaminarimon-Street. After you turn some times, you can find stylish building.That is the Honolu Ramen Asakusa!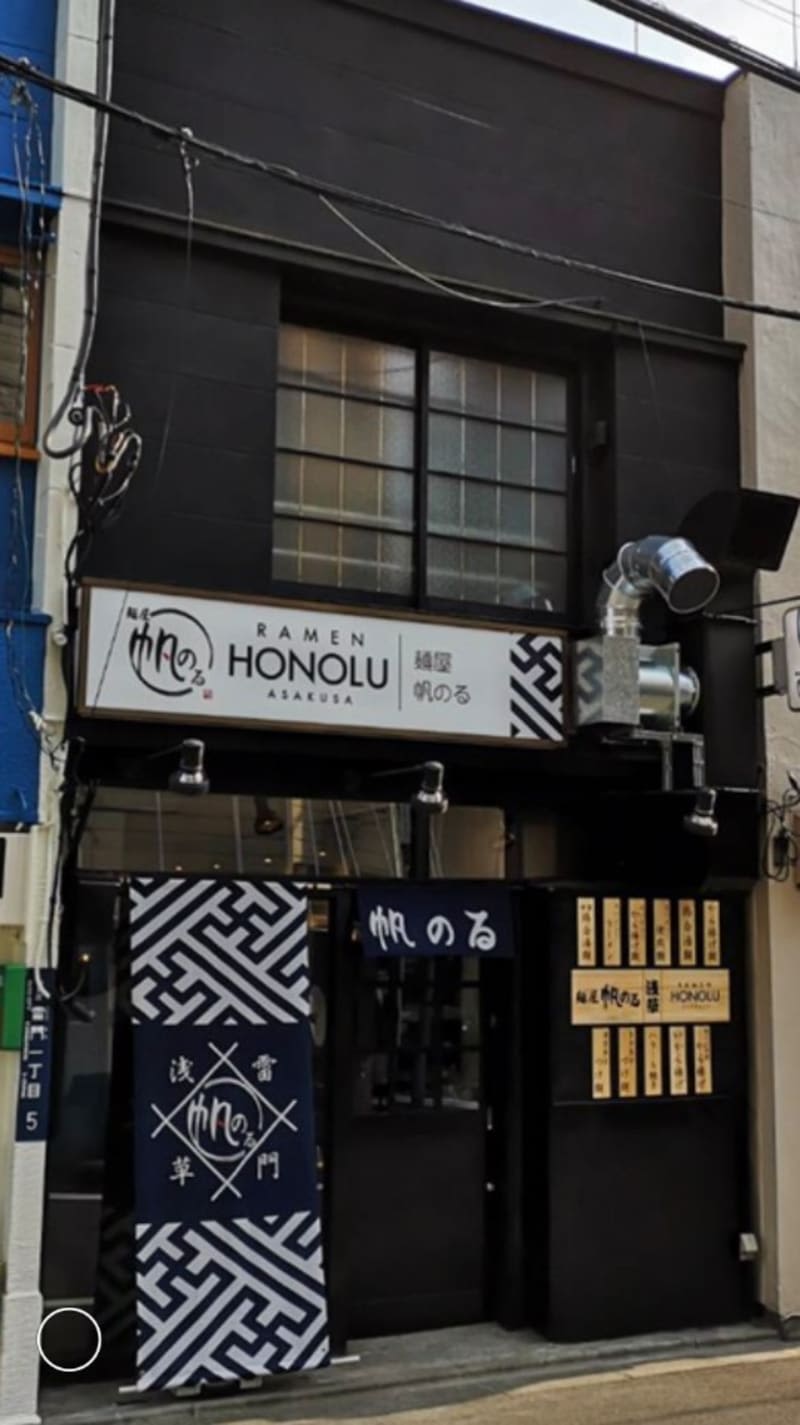 The appearance of Honolu Ramen Asakusa. Very Stylish!
The Honolu is established in 2015 to serve Japanese delicious Ramen to Muslim, and Asakusa-blanch opened in 2019! They collect all ingredients that adhered to regulation set by Japan's Halal Certification. Moreover, the tableware and cooking utensils used have never been in contact with non-halal ingredients as customer service policy!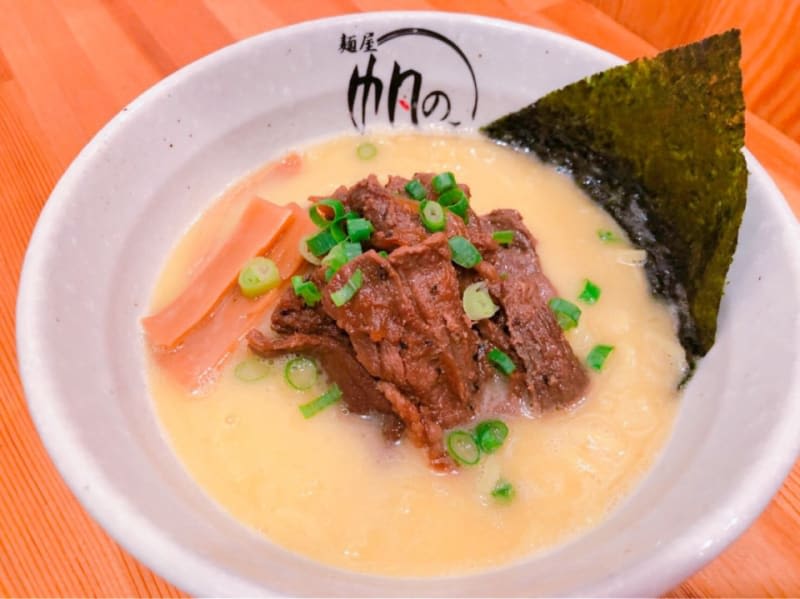 Ramen in Honolu Ramen Asakusa
Honolu Ramen Asakusa served various kinds of Ramen and the sidedish which you can enjoy with Ramen. You need to the ticket at ticket vending machine, but the menu is written in English. So, we can select what we want to eat very easily! A lot of Muslim have already visited the Honolu, and they praise the taste of Spicy Fried-Chicken Ramen! It costs us about 1,400 yen to enjoy this Ramen. It is worth trying! If you enjoy it without waiting, you should use the reservation via Halal navi!
Menu in Honolu Ramen Asakusa/ Credit to Tabelog
Review in Halal Navi:
"Honolu Ramen is now opened in Asakusa! If you're visiting Kaminarimon don't forget to give this Ramen a try 🙈"
Information
2. Sekai Cafe Asakusa
Let's just dive into our first Halal option in Asakusa, Sekai Cafe. This western cafe is only 300 meters away from Asakusa station. On your way walking to this cafe, you will pass by the outer gate of Sensoji shrine Kaminarimon. Take a minute to stop by at this historical gate and take a picture or two before heading to Sekai cafe, or else you would regret it :p. Once you arrived at the cafe, you can instantly feel the cosy and modern atmosphere from its interior design.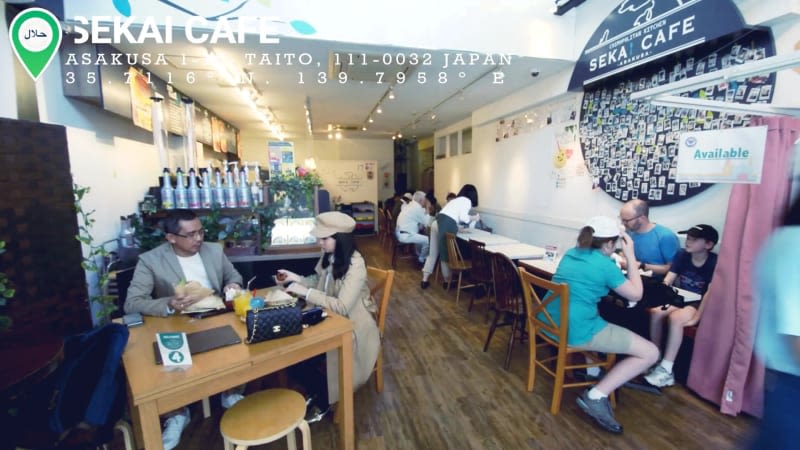 Sekai Cafe interior with its famous Polaroid photos wall
Sekai Cafe was opened in November 2014 and has a mission to welcome people from all over the world to eat together in their cafe. They specially design a list of menus that can accommodate people with dietary restrictions such as Vegetarian, Muslim, and people with allergy. They only use organic and addictive-free ingredients in their cooking to ensure the food they serve are healthy and has a high quality.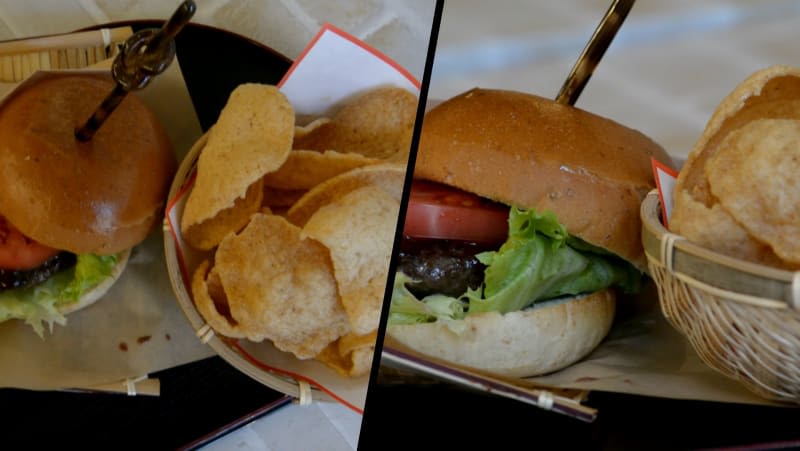 Beef burger in Sekai Cafe Asakusa
Sekai cafe serves a variety western dishes from burger, pizza, pasta to steak. Their popular menu is Asakusa burger that comes in three different patties; beef, fish fillet and vegetarian patty (bean & tofu). The burger will cost you 1,300 yen and it already comes with a side dish and a drink. You can add some extra topping like an egg, avocado, cheese, garlic, etc that will only cost 50-100 yen. We also heard that their grilled lamb chop is divine! We would recommend you to take the grilled lamb if you come with one or two friends as the portion is quite huge. It will only cost you 2,500 yen, a very good deal for a lamb steak in Tokyo.
Menu in Sekai Cafe Asakusa
Review in Halal Navi:
-Yukimura Sanada
Information
| | |
| --- | --- |
| Address | 1−18, Asakusa, Taito, Tokyo |
| Phone number | 03-6802-7300 |
| Opening hours | 11.00 - 19.00 (Sunday - Thursday) 11.00 - 21.00 (Friday - Sunday, Public holidays) |
| Halal tips* | Halal certified by Japan Halal Foundation, Prayer room is available |
| More info | Sekai Cafe Asakusa |
3. Sushiken Asakusa
You might have thought that you can eat Sushi anywhere because it's a seafood menu anyway and hence it's okay for us to consume it. However, what might not come to your mind is that most Sushi in Japan adds mirin to the rice or to the fish to add flavour. The vinegar used in the rice also usually contains alcohol. Even the Shoyu (Japanese soy sauce) served in Sushi restaurant is usually not safe to be consumed by Muslim. So no, you can't just go to any Sushi restaurant and assume that it's okay for Muslim #hiks.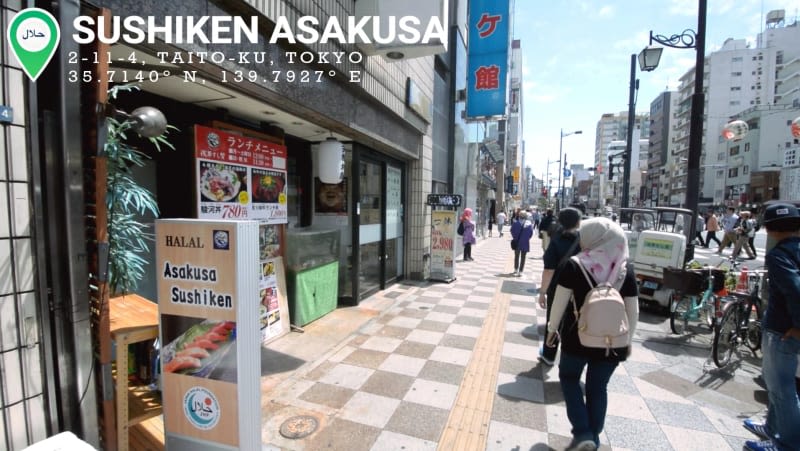 Appearance of Sushiken Asakusa from outside
But fear not my friends, because we now have a Halal certified Sushi restaurant in Asakusa to try this authentic Japanese delicacy. Sushiken Asakusa is the first Sushi restaurant that earned a Halal certification from Japan Halal Foundation. They exclude all the non-Halal ingredients in the making of sushi and only use Halal vinegar and Halal Shoyu. Among the popular menu you can try here are Anago bowl, Japanese set dish and Sushi set dish. The set comes with various Washoku items from tempura, nikujaga, pickles, etc. And don't worry, eating here won't break your wallet. Just prepare around 1,300 yen per person to enjoy the Sushi set.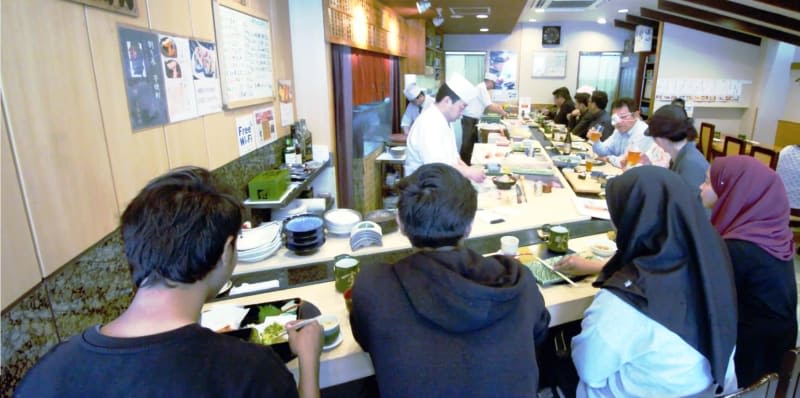 The Chef prepares Sushi in front of the customers
The ambience of the restaurants will let you experience the Japanese way of eating Sushi. When you just entered the restaurant, the chefs behind the counter will greet you excitedly with "Irrashaimase" which means "Welcome to the store!". The seating arrangement is similar to a bar where you are seated facing the Sushi counter. Though there are several tables for groups as well, they are not that many. You can observe the chefs preparing Sushi while eating the freshly made Sushi they prepared. Try to watch them carefully and maybe you can steal some of their technique of making Oishii Sushi!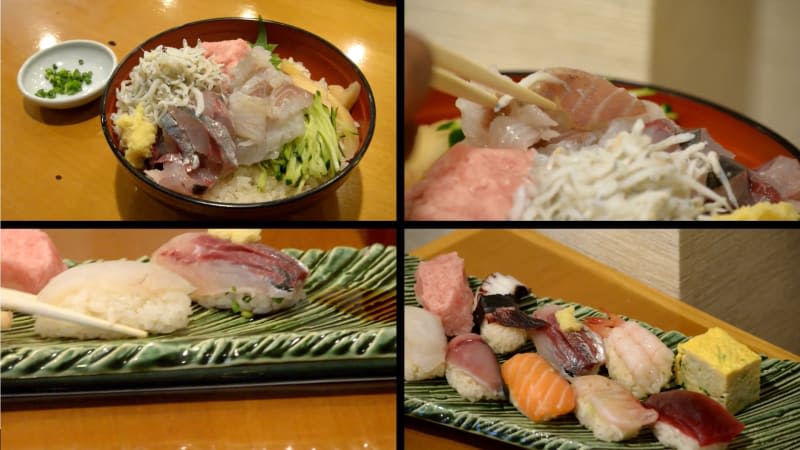 Sushi set in Sushiken Asakusa
Review in Halal Navi:
Najah Nasseri
Information
| | |
| --- | --- |
| Address | 2-11-4, Asakusa, Taito-ku, Tokyo |
| Phone number | 03-5246-6547 |
| Opening hours | 12.00 - 14.00 (11.30 - 15.00 on weekend) 17.00 - 24.00 |
| Halal tips* | Halal certified by Japan Halal Foundation, Prayer room is available |
| More info | Sushiken Asakusa |
4. Ayam-ya Okachimachi
Now, let's head to Okachimachi area not too far from Ueno. Ameyokocho, known to be Japan's black market is only 5 minutes walking distance from Okachimachi JR station. It's a good place to get cheap but trendy clothes and shoes. What's more in Okachimachi? They have a hidden gem of a delicious Halal Ramen restaurant that made into our top 10 list of Halal Ramen in Japan *Jaw dropping*. We know you don't want to miss their famous spicy Halal Ramen!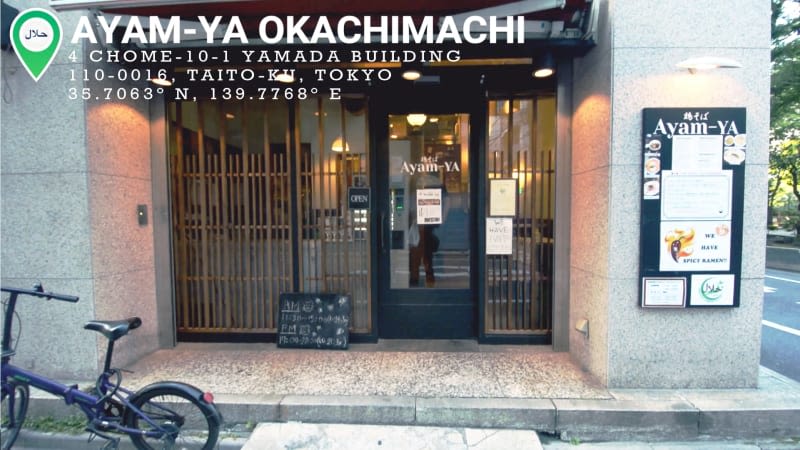 Appearance of Ayam-ya Okachimachi from outside
Ayam-ya offers a variety of Halal Ramen from Shoyu Ramen (soy sauce flavour), Shio Ramen (salt flavour), Tsukumen (Cold noodle dipped in a bowl of soup), to Mazamen (dry Ramen). Although this Ramen is very popular among Muslim locals and tourists, they still manage to set a pocket-friendly price. All the dishes they offer will cost you less than 1,000 yen! And if you want to add-on a soft-boiled egg to your ramen, you just need to pay an extra 100 yen. A very good bargain indeed!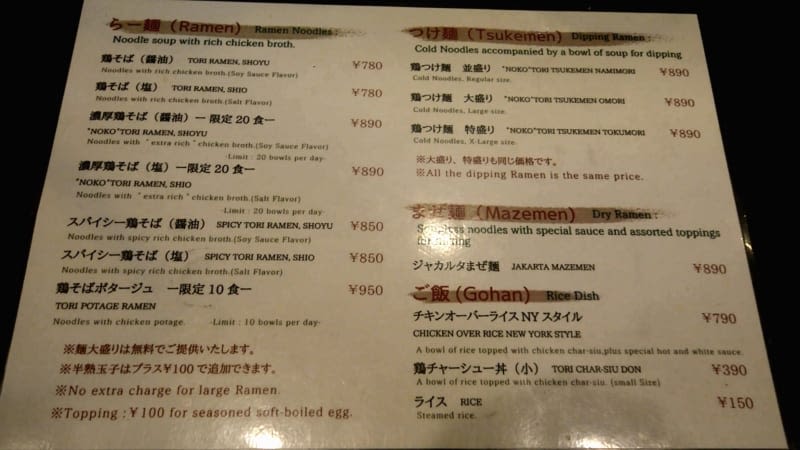 Menu in Ayam-ya Okachimachi
They are very famous with their spicy chicken broth. The broth is very thick and the yolk from the soft-boiled eggs enrich the flavour of it. And if a bowl of Ramen is not enough to energise you throughout the day, order a steam rice for only 150 yen. You can put the rice into the remaining broth once you finished your Ramen! Ayam-ya Okachimachi is also just a stone's throw away from As-salam Masjid. So you can have a Jamaat prayer with the local Muslims after eating at this restaurant.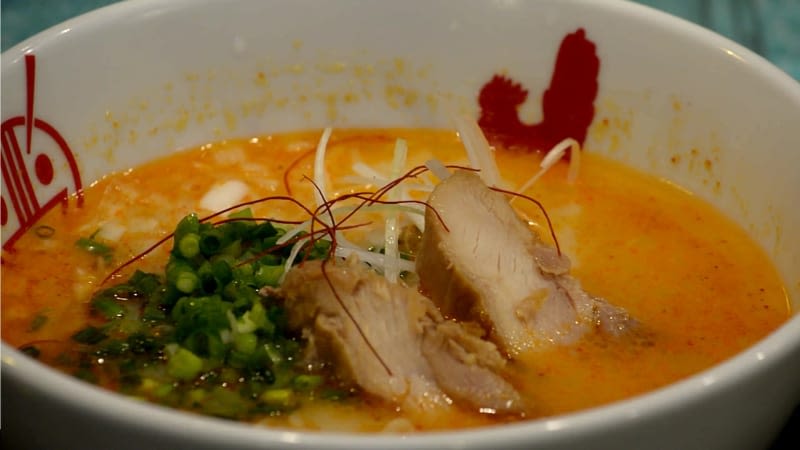 Ramen in Ayam-ya
Review in Halal Navi:
Sara Rashka Rashid
Information
| | |
| --- | --- |
| Address | 4−10−1 Yamada Building, Okachimachi, Taitō-ku, Tōkyō |
| Phone number | 03-3834-6656 |
| Opening hours | 11.30 - 15.00 (Lunch hour) 17.00 - 22.00(Dinner hour) |
| Halal tips* | Halal certified by Malaysia Halal Corporation |
| More info | Ayam-ya Okachimachi |
Alhamdulillah, now you know where to hunt for the best Halal food while exploring Asakusa & Okachimachi! You can save your time because we have done all the tedious work for you. If you are also travelling to other parts of Tokyo, you can effortlessly find Halal restaurants nearby your location with Halal Navi. You can even search the restaurants based on the train stations so you won't have to walk too far once you touch down from the train. Fuyo! Travelling to Japan has never been this easy 😉 P.S: Have any video about Halal foods in Japan that you want to share? send it to [email protected] to be featured. Published video will be rewarded with payment! *Disclaimer: The halal tips provided in this article are contributed by Halal Navi's user. Readers are advised to reconfirm with the restaurant owner.