10 Private Rooms Under ¥8,000 Near Stations And Halal Restaurants In Tokyo
Tokyo with its hustle and bustle is such a dream for so many people! Well, with many cheap tickets offered by budget airlines nowadays, it is no longer just a dream. You can go to Tokyo on a budget trip and make your dreams come true. But how about the hotels?
Places to stay in Tokyo are usually about ¥10,000 if you want some privacy and convenience. But we have some good news for you! We have curated 10 hotels under ¥8,000 during your stay so you can save even more money.  Don't worry, although these hotels are cheap, it is not a shared dormitory room so you still can have some privacy while staying here. The best part is, these hotels are close to train stations and Halal foods. It's probably all you could ask for from a budget accommodation. Say no more, check out the list here.
Credit to Giphy
1. Asakusa Smile Hotel, ¥5,400
The first hotel in our list is Asakusa Smile House that will only cost you ¥5,400 per night for its twin room in Sumida ward. Besides its comfortability, the location is quite strategic and is very close to many tourist attractions. You can walk to Kaminarimon Thunder Gate, Nakamise-dori shopping street, and Asakusa shrine from this hotel. They also provide AC & LCD TV in each room, free Wi-Fi, and some kitchen equipment to make your stay even more pleasurable. We can even have Tokyo Sky Tree view in some of the window rooms (do ask the staff for it if it's still available!).
Credit to Booking.com
There are so many Halal foods option near this hotel and its nearest station (Asakusa station, Tsukubai express). Some of our recommended Halal restaurants are Organic Cafe Sumida, Saray Kebab and Basashiya Mayashi. So you have a number of options here. If you want some healthy option, you can go to the organic cafe. If you want some cheaper foods, try to go to Saray Kebab. And if you want to taste Halal local delicacies, you can go to Basashiya Mayashi instead.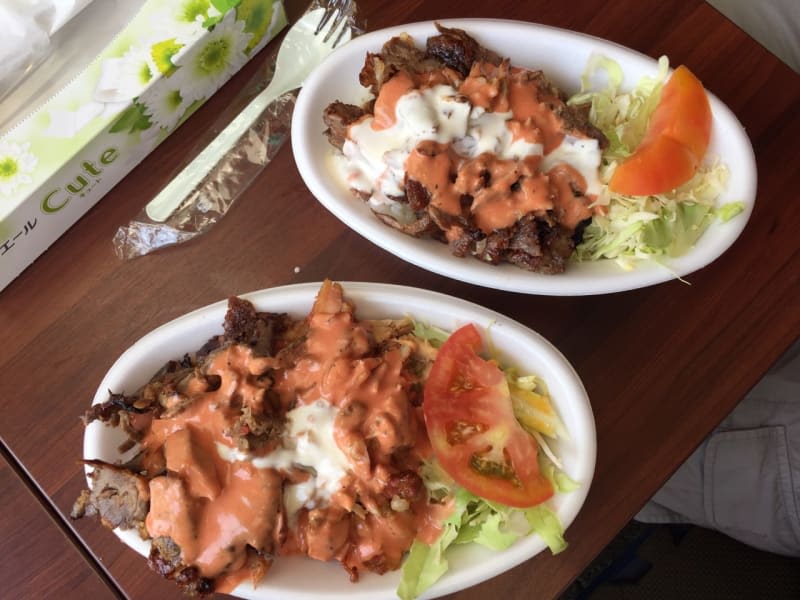 Menu at Saray Kebab by Selvylicious (Halal Navi user)
Information Address: 2-20-10 Higashi Komagata, Sumida, Tokyo Price:¥5,400 (Twin rooms for two people) Nearest Station: Asakusa Station (tsukubai express) Nearby Halal restaurants: Organic café sumida river, Saray Kebab, Basasiya Mayashi Reservation can be made here
2. Tokyo Hutte, ¥7,300
Still in Sumida, but this time, the hotel is so close to Tokyo Skytree tower. Yeap, that famous tower. So you can expect to have a great view of the tower because it's just a walking distance from the guest house. Akihabara is also just 10 minutes with train from this hotel. This hotel offers a green ambiance with its indoor plants that you can find everywhere in the hotel. It also provides a free coworking space with some facilities like a photocopy machine, scanner, and fax. You won't find this facility in all hotel! So it's perfect if you come for a business, academic or other purposes!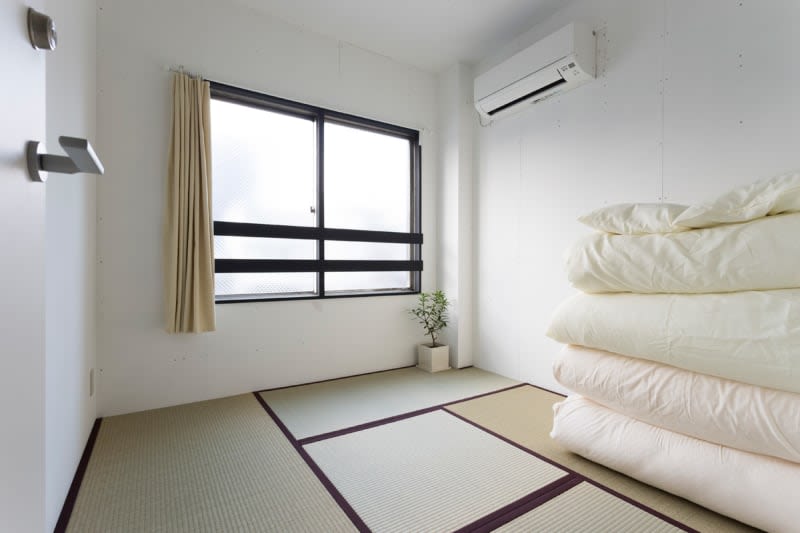 Credit to tokyohutte.co.jp
Not too far from this hotel, there are two Halal restaurants that you can visit; Amara and Sekai Cafe Oshiage. Amara is an Indian restaurant so you can guess what's in the restaurants right? As for Sekai Cafe Oshiage, they serve dishes that accommodate many types of diet, including Halal dietary for Muslim. The food prices are also quite affordable, almost all Halal menus in this cafe are under 1,000 yen.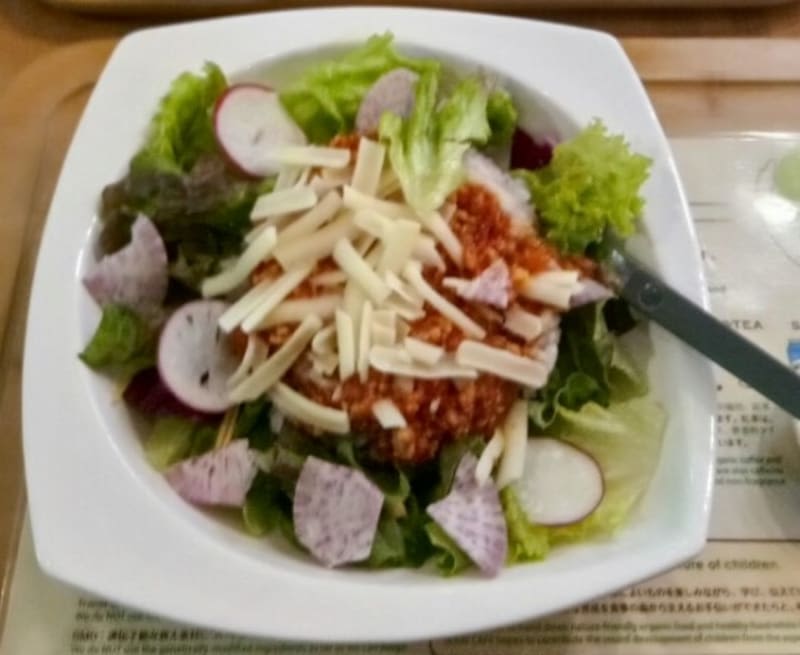 Halal menu in Sekai Cafe Oshiage by Adamayo (Halal Navi user)
Information Address: 4-18-16, Narihira, Sumida, Tokyo Price: ¥7,300 (Twin room) Nearest Station: Tokyo Skytree and Oshiage Station Nearby Halal restaurants: Amara, Sekai Café Oshiaga Reservation can be made here
3. Asakusa Ryokan Toukaisou, ¥5,800
If you want to feel the traditional vibe of Japan in Tokyo, you should consider staying in Asakusa. Asakusa is home to many shrines, local street foods, and old Ryokan (traditional Japanese Inn). In the heart of Asakusa, you can find a Ryokan that combines a traditional and modern style. This Ryokan is very close to Sensoji temple which is one of the must place to visit in Tokyo. To stay at this Ryokan, you just need to spend ¥5,800 for the double room. With this price, you can already get many facilities from AC, TV, free wifi, laundry and much more.
Credit to booking.com
You can find a lot of Halal Japanese restaurants in Asakusa. Among them are Halal sushi Sushiken and Halal ramen Naritaya. Of course, you want to taste some local culinary while in Japan right? Make sure to drop by at these two Halal Japanese restaurants if you stay at this place. Treat yourself, don't spend your whole time in Japan eating instant noodles and Onigiri, kay?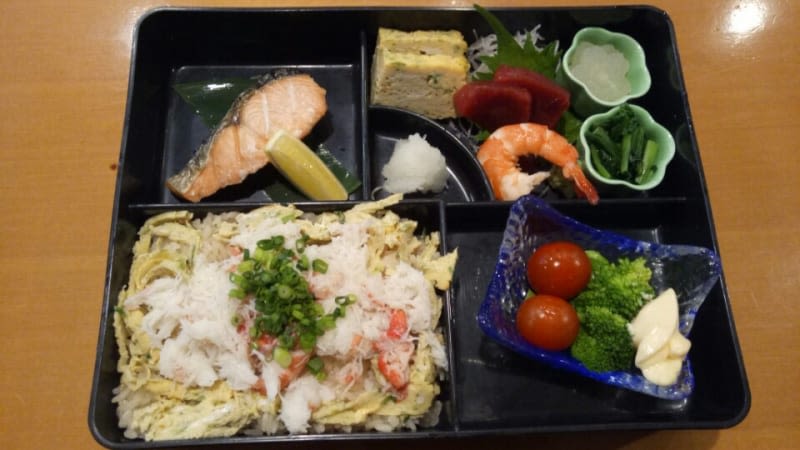 Menu in Sushiken Asakusa by Ahmad Hilmi Adnan (Halal Navi user)
Information Address: 2-16-12 Nishiasakusa Taitou-Ku, Tokyo Price:¥5,800(double room) Nearest Station: Asakusa Station Restoran: Sushiken asakusa, Naritaya Asakusa Reservation can be made here
4. Bell Nibankan, ¥6,870
Asakusa and Sumida area seems to be a safe heaven for budget travellers like us! Still, in Asakusa, there is a decent and affordable guest house called Bell Nibankan. Each room is equipped with AC and LCD TV. The price is quite affordable from ¥6,870 for its double room, which is a good price for two people. The location is also very strategic, it is near the Edo Tokyo Museum, good for those who are curious to know the Edo era.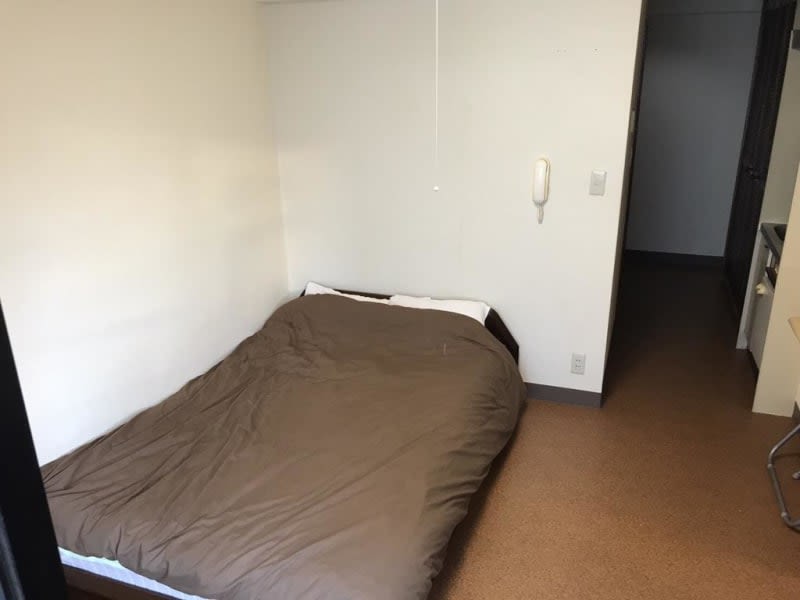 Credit to booking.com
There are two Halal Japanese restaurants nearby the guest house which is Uosho and Asakusa Teppan Taro. We recommend you to go to Uosho and try a very unique dish that probably exists only in Japan. It's Fugu dish or puffer fish. This fish is very poisonous and if you don't treat it right, the poison can kill you (It did happen before!). But don't worry, the chefs in Uosho has gotten the license to cook and process this fish to their customer. Not every chef has this license though, so you better not miss this while in Tokyo!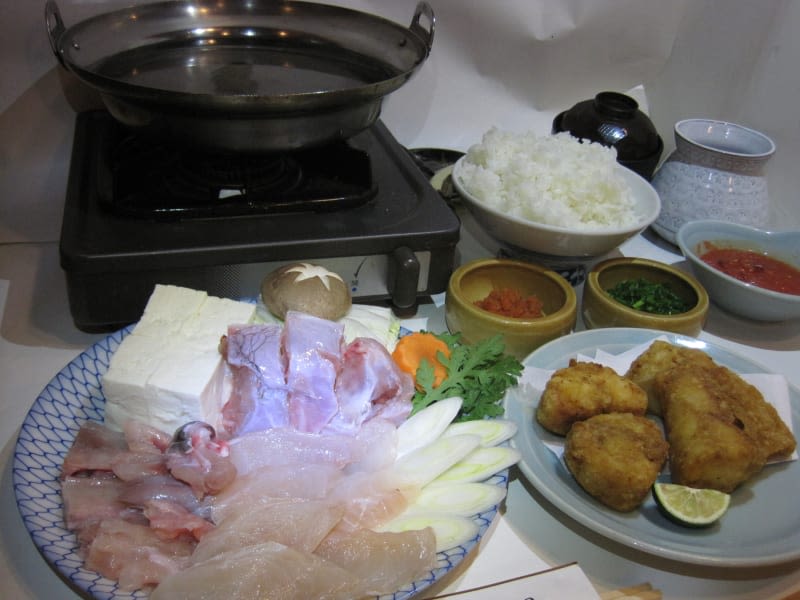 Credit to gurunavi.com
Information Address: 5-59-3 Bell Nibankan, Asakusa, Taito, Tokyo Price:¥6,870 for double room Nearest Station: Stasiun Minowa Nearby Halal restaurants: UoshoReservation can be made here
5. Funkey Apartment, ¥7,300
Now let's heads to Shinjuku! This accommodation is actually an apartment near Edogawabashi station and Shinjuku Gyoen National Park! This apartment is equipped with a kitchen so you can cook while staying here. They also provide a washing machine that you can use. Since it's a private property, you will feel the atmosphere of living in Tokyo while staying here. When you rent this accommodation, you will book the whole apartment which can accommodate up to three people! The price per night is ¥7,300, so it's a good deal if you come in three people.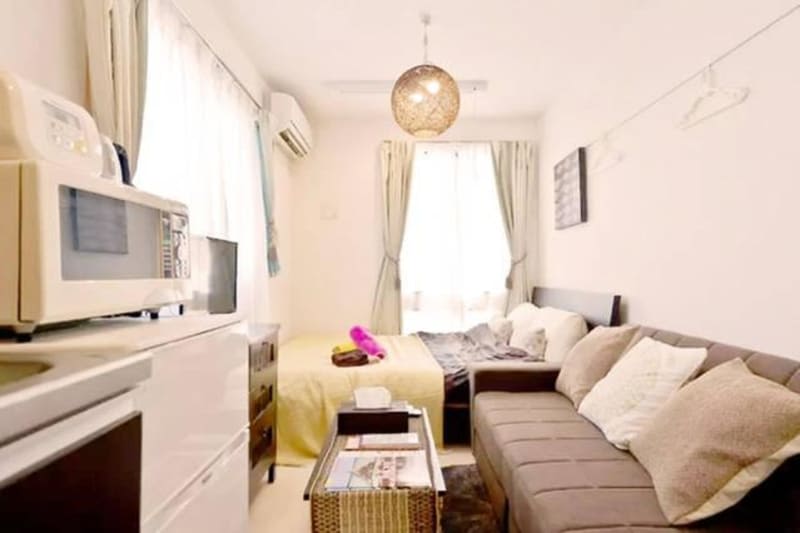 Credit to booking.com
Near this apartment, there is a vegan Italian restaurant you can visit. The menus in this restaurant do not contain meat, egg, fish, sugar and other chemical substance. So not only that it is safe to be consumed by Muslim, it is also a very healthy option for your meal. One of the most popular dishes here is Carbonara spaghetti. Instead of using milk and cheese, the creamy sauce is made of Matchobori Miso. Ah-mazing!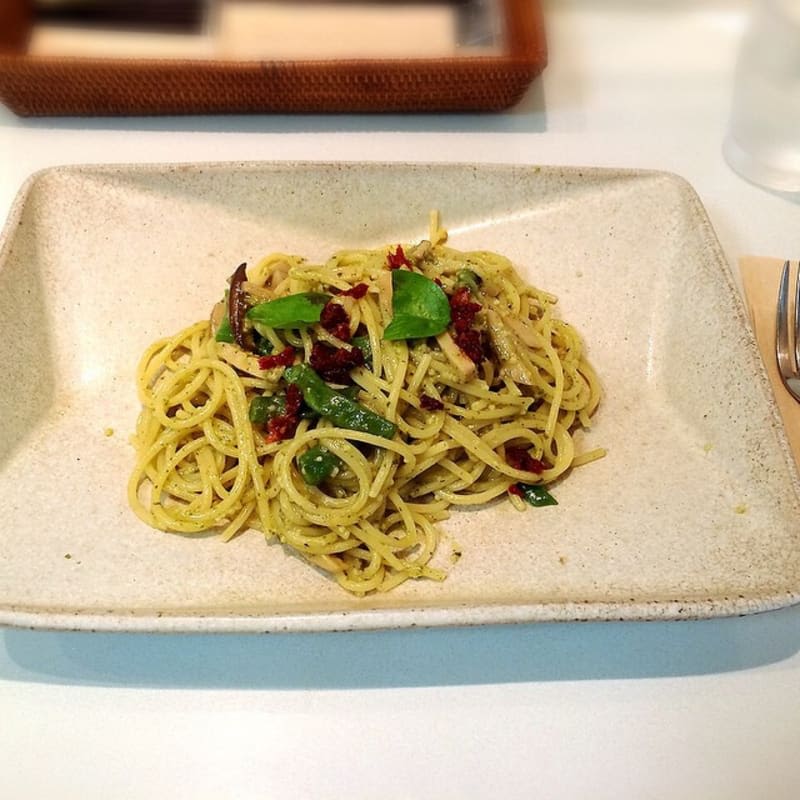 Credit to Naocobuta on Instagram
Information Address: 307, Yamabukicho, Shinjuku, Tokyo Price:¥7,300 (Apartment for 3 people) Nearest Station: Edogawabashi  Station Nearby Halal friendly restaurant: BuonaReservation can be made here
6. Business Hotel Sagami, ¥6,800
Shinjuku indeed can be a good option as it is the centre of Tokyo and pretty much near to almost every other famous parts of Tokyo such as Shibuya, Harajuku, Ikebukuro, Kabukicho, etc. There is another budget hotel which is just 2 minutes away from Shinjuku Station, Business Hotel Sagami. Not only good with its location, this hotel also has extensive facilities to ensure your stay becomes pleasurable comfort such as baggage locker, free wifi, laundry, etc.
Credit to booking.com
There are sooo many Halal restaurants around Shinjuku station, so you don't have to worry about starving while staying here. However, there are three restaurants nearby the hotel that we would like to recommend to you. They are Uskudar, Minokichi and Yoshiya. You can probably already guess from its name, Uskudar is a Turkish restaurant while Minokichi and Yoshiya is a Japanese restaurant. You can find the many kinds of Japanese cuisines in Yoshiya and Minokichi such as tempura, tendon, kaiseki and a lot more.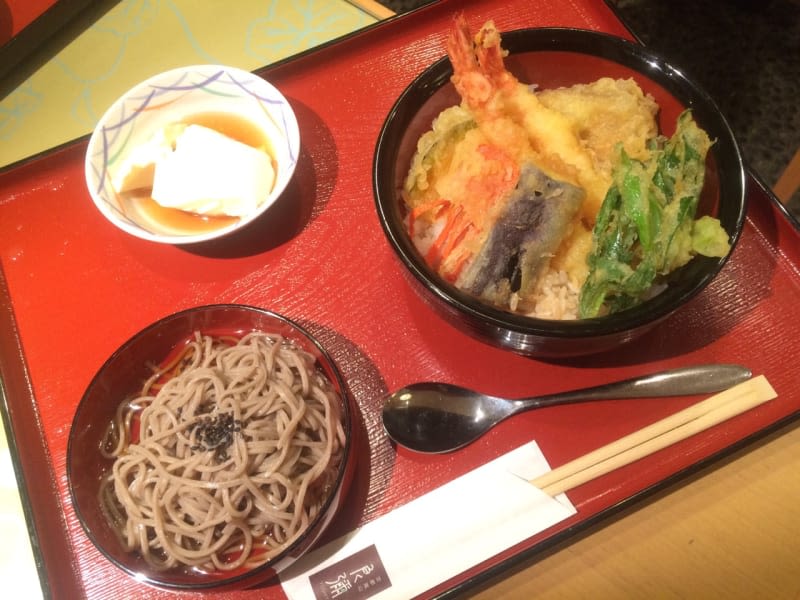 Information Address: 4-4-18, Shinjuku, Tokyo Price: ¥6,800 (Double room) Nearest Station: Shinjuku Nearby Halal restaurants: Uskudar Shinjuku, Minokichi KEIO, Yoshiya Shinjuku Reservation can be made here
7. Ikidane Hotel, ¥7,000
Now move to Ueno, there is a cheap hotel which is attached to Tabata station (only 2 minutes walking away). Perfect for those who don't like to walk further after exploring Tokyo the whole day. This hotel is in between Ueno and Asakusa area which means you can conveniently shop at the shopping streets in Ueno and Asakusa. And not only it is friendly to your wallet, the hotel ambiance is really chill and peaceful. Especially with its wooden pieces of furniture!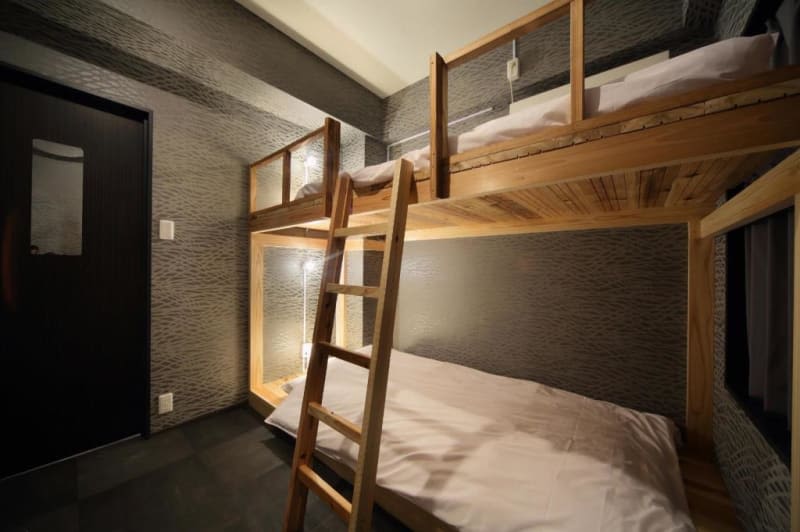 Credit to Agoda
Just one station away from this Hotel which is in Nippori station, there are quite a number of Halal eateries for you. Among them are Everest Curry, Cous Cous and Siddique Village Nippori. Especially if you like Indian curry and Middle eastern foods that are so rich in flavor! You can stop by at this station before heading to your hotel to enjoy those Halal foods.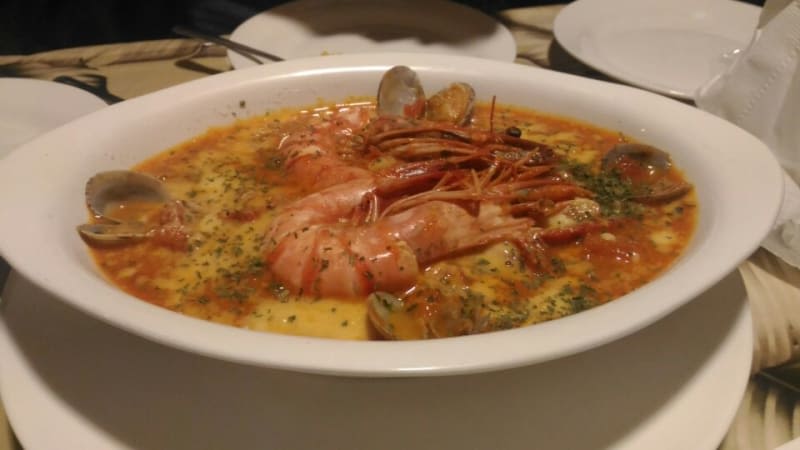 Halal foods at Cous Cous by Mohd Nadzri Bin Tupani (Halal Navi user)
Information Address: 1-21-2, Tabata, Ueno, Tokyo Price: ¥7,000 (Twin room) Nearest Station: Tabata Station Nearby Halal restaurants: Everest Curry, Cous CousReservation can be made here
8. Ikebukuro Lodging, ¥5,900
This time is dedicated for those who want to catch some shopping haul in Tokyo. Staying at this Ikebukuro Lodging in Toshima area is just what you need to satisfy your shopping craving. Toshima area is widely known to be the shopping destination in Tokyo. It is home to some of the biggest department store in Japan such as Tobu, Seibu, and Marui. If you want to hunt some Japanese electronic devices instead, you can go to Big Camera or Yamada Denki. It really is just a Shopaholic heaven! But do note that this lodging is for male only.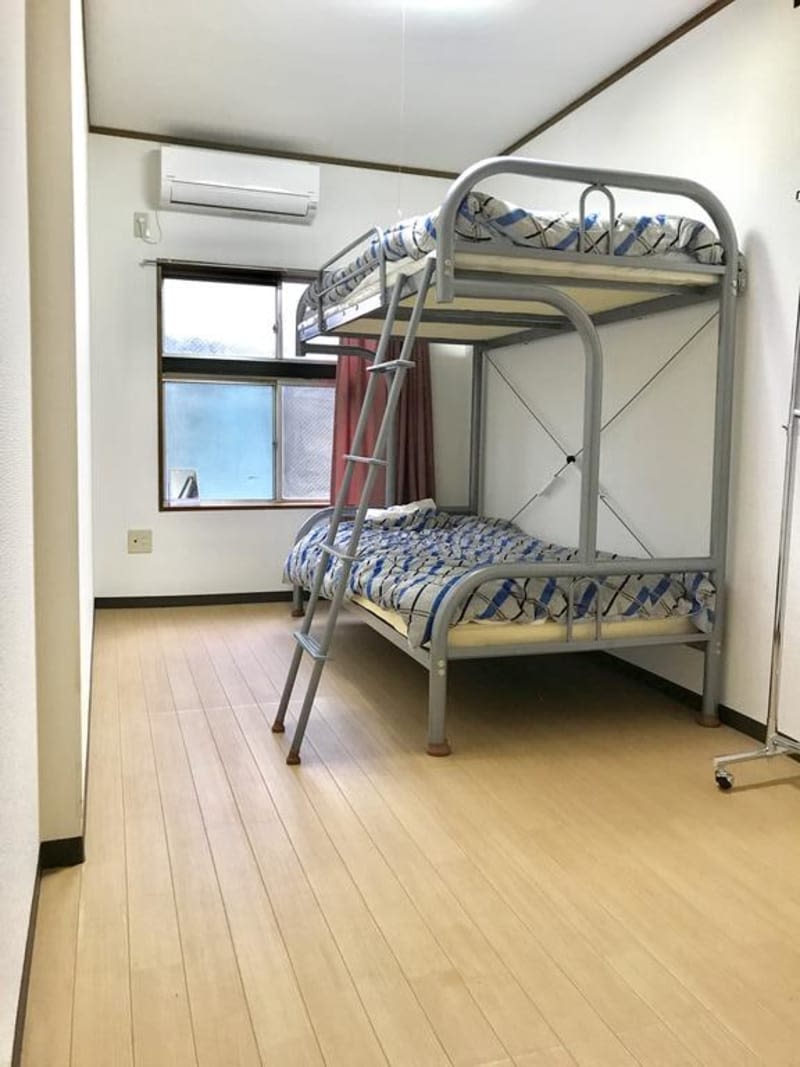 Credit to booking.com
Some of the recommended Halal restaurants in this area are Nahar Turkish Doner Kebab, Minokichi and Tsuki no Sabaku. If you want to get some cheap Halal kebab, you can go to Nahar Turkish. If you want to try Kaiseki cuisine (Kyoto cuisines with a beautiful presentation), you can try Minokichi. While Tsuki no Sabaku serves middle eastern foods. So just pick one that suits you best.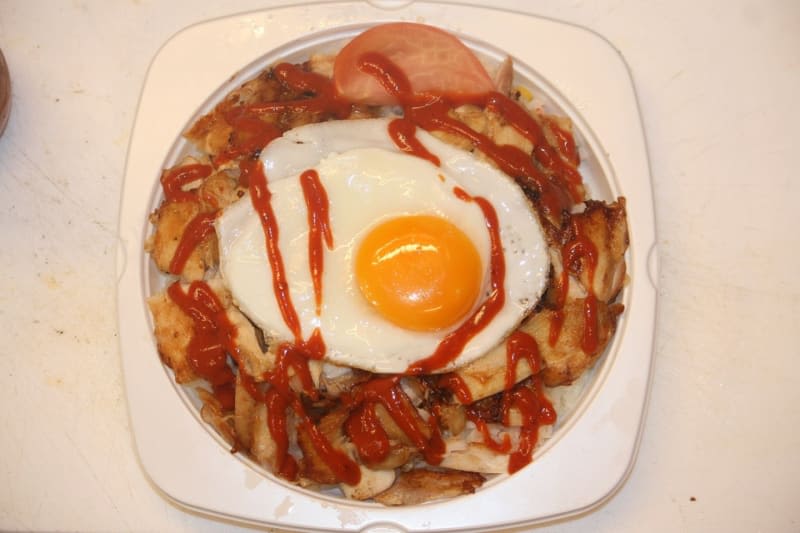 Halal Kebab in Nahar Turkish by Reza Shabuj (Halal Navi user)
Information Address: 3-13-3, Higashiikebukuro, Toshima, Tokyo Price: ¥5,900 (Twin room) Nearest Station: Ikebukuro Restoran: Nahar Turkish Doner Kebab, Minokichi Tobuikebukuro dan Tsuki no sabaku Reservation can be made here
9. Guest House Nizhi Azabu, ¥7,400
This time, the budget guest house that we recommend is near Roppongi station. Roppongi is always filled up with foreigners because a lot of multinational companies are based in Roppongi. It is indeed a nice place to hang out and chill. You can go to Hard Rock Cafe Roppongi and buy some official merchandise there. Or if you are into arts, you can go to Mori art museum. The guest house is a local home that rented daily to visitors. It will make you feel like moving to Tokyo!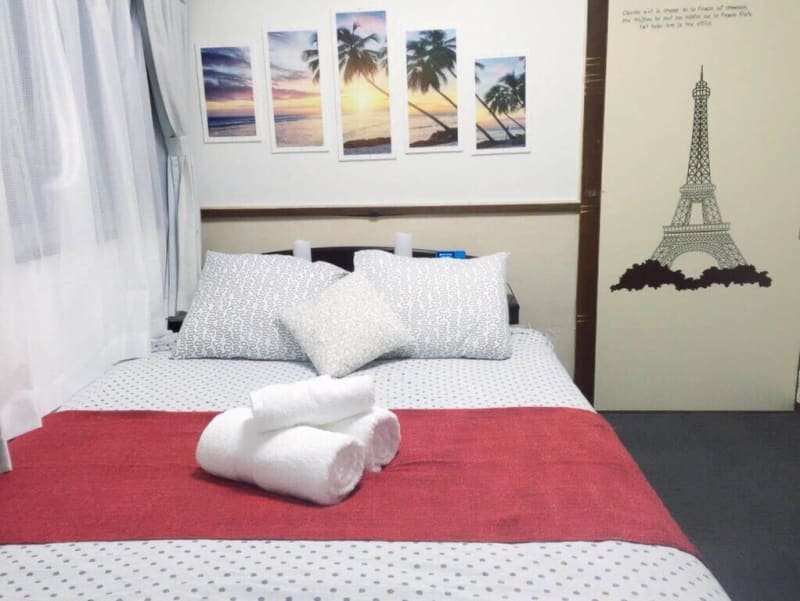 Credit to booking.com
Finding Halal restaurants around Roppongi station is also quite easy. There are at least three Halal friendly restaurants that are ready to welcome you and all of them are in walking distance from this guesthouse. There is Middle eastern restaurant Aladdin and also Yakiniku restaurant Sumiyakiya and Ushizaka. We would really recommend you to try Sumiyakiya as they have a very affordable yakiniku set menu for lunch, only 2,500 yen!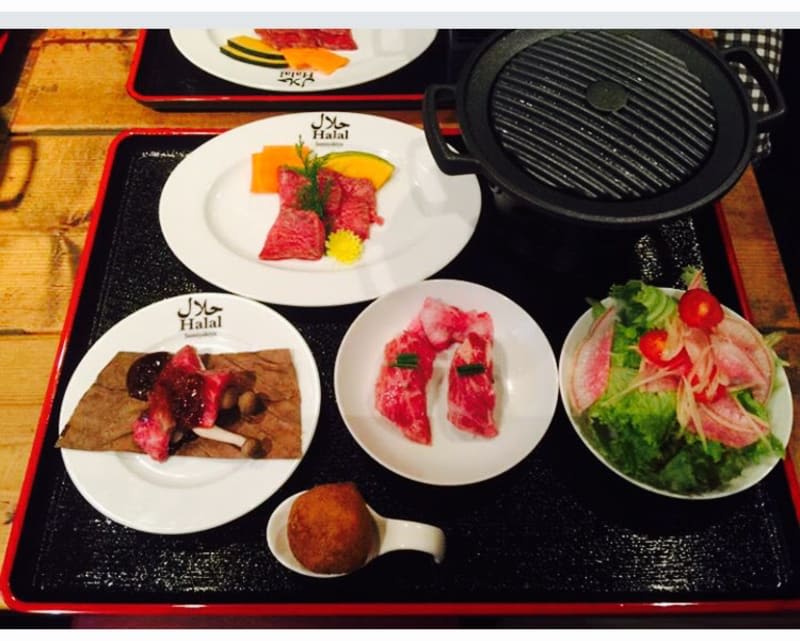 Yakiniku set in Sumiyakiya
Information Address: 1-13-14, Roppongi, Nishi Azabu, Tokyo Price: ¥7,400 (double room) Nearest Station: Roponggi Nearby Halal restaurants: Aladdin Roppongi, Sumiyakiya Nishiazabu dan Ushizaka BBQ Reservation can be made here
10. Hotel Frontier, ¥6,800
The very last hotel in our list is in Kita district near Otsuka station. Although it is in the uptown area, you can still reach it easily with the local train. The hotel is quite cozy with air-cond and TV in each of its room. You only need to pay 6,800 Yen for its double room. This hotel is very near to Sky Circus which you definitely has to pay a visit, especially if you love to challenge your adrenaline with the height. There a number of interesting attractions inside it such as SKy Bridge, Sky VR, observation deck and much more.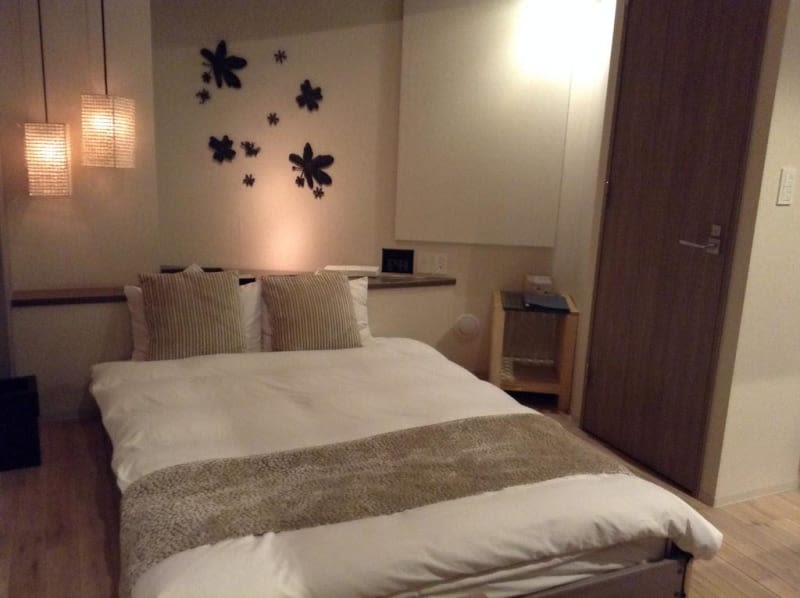 Credit to booking.com
Near Otsuka station, there is one big mosque that you should visit, the Otsuka mosque. For all the gentlemen, you can put your mind at ease if you happen to stay on Friday in this hotel, as you know where to pray! Besides that, a Halal middle eastern Saba restaurant is also available not too far from the hotel. The ambience and foods served in this restaurant will make you feel like home. It's warm and so homey!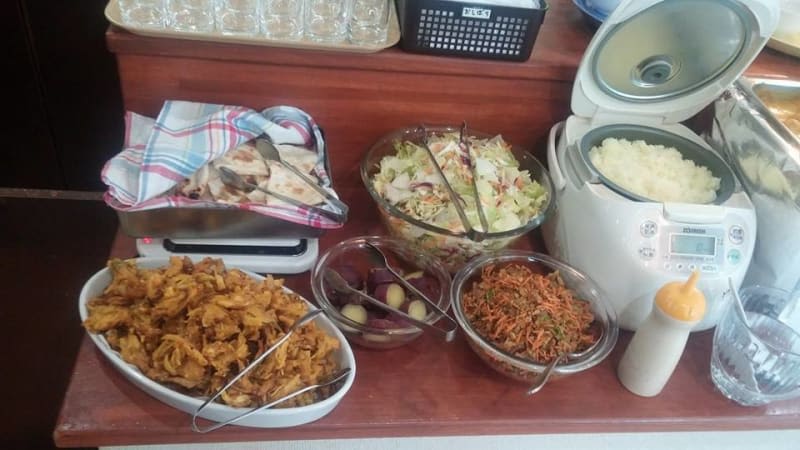 Information Address: 2-15-6, Kitaotsuka, Toshima, Tokyo Price:  ¥6,800 (Double room) Nearest Station: Otsuka Nearby Halal restaurants: Mokushundo Reservation can be made here
---
So, how was it? do you now have any idea where to stay for your Tokyo trip? If you want to know the Muslim friendly accommodation that provides Halal foods inside the hotel and prayer amenities, you can check them in Halal Navi app. Just go to explore tab and click the accommodation column. From there, you can find all Muslim friendly accommodations across Japan and you can filter them based on the city. And if you find a cheaper place to stay do let us know and we will add on to the list!