5 Prayer Rooms with Facilities in Tokyo to Find Near You!
It is our responsibility as Muslims to pray five times a day even when we are traveling. It might be difficult to search for these facilities nearby as not all place in Japan provides a proper prayer room like in your home country. But don't worry as our travel buddy And They Wander is helping us out by listing out places to pray in Tokyo (with special tips you need to take note!)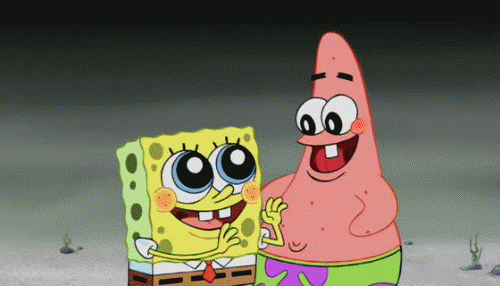 ***Compared to other non-Muslim countries that I have visited, I can see an increasing number of Muslim friendly services in Japan. This country is on the rise in providing up-to-date halal food, mosque and prayer rooms in every prefecture.
However, it can be a little tricky to perform our daily prayers as we will spend the whole day outside roaming around the city.  But, I can assure you that we didn't encounter any difficulties in finding a spot to perform our prayers.
Although the facilities are not the same as we have in Malaysia, at least you don't need to do a pray-and-fash trick at fitting room anymore. Don't be surprised as some of the places are not your average prayer room: empty in-occupied rooms, flats and hidden spaces at the back of the alley.
After doing some research for our trip, I managed to work out the itinerary that surrounding tons of praying facilities in Tokyo. Let's get into the list and tips by this family of three, shall we?
-
#HalalNavi Tips: We recommend you staying at Muslim friendly accommodations that provide Halal foods and praying amenities to ensure your comfort. You can find one in the city you want to go by tapping Explore button in Halal Navi App.
1. Shibuya Mushalla, Shibuya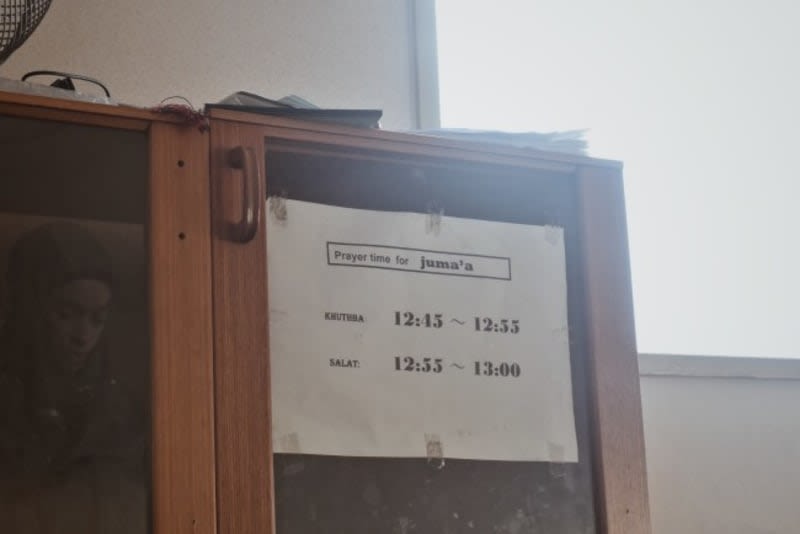 Praying time for Juma'a at Shibuya Mushalla - Picture by writer
Hidden in a hustle and bustle street of Shibuya, there is a prayer room set up in a building called Noa Dougenzaka. This prayer room is actually an apartment which has been converted into space for Muslims to comfortably perform their daily prayers. They prayers rooms come with a toilet to perform an ablution, prayer mats, prayer outfits for the ladies, Quran, and plenty of Islamic books. Due to space limit, there is no special room for the ladies to pray. During our second visit to the prayer rooms, we have the opportunity to meet two men who set the place up. One of them told us that they are currently in the midst of collecting funds to move and expand the places as the current place can barely accommodate a number of people who come to perform the Jumu'ah prayer every Friday. Information
| | |
| --- | --- |
| Address | 1107 Sagas Bldg, Dougenzaka, Shibuya, Tokyo, 150-0043 Japan. |
| Telephone | - |
| Opening hours | - |
| Directions | Located in Noa Dogenzaka building, 11th floor, room number 7. It's only five minutes walk from Shibuya Station, the heart of Tokyo. If you have arrived in the building, take a lift to the eleventh floor and take a turn to the right. |
| Halal friendly restaurants nearby | Saray Shibuya |
| More info | Shibuya Mushalla |
- #HalalNaviTips: If you are starving, you can visit one of 18 Halal Eateries in Shibuya. It is just in the area!-
2. Shinjuku Gyeon Ramen Ouka, Shinjuku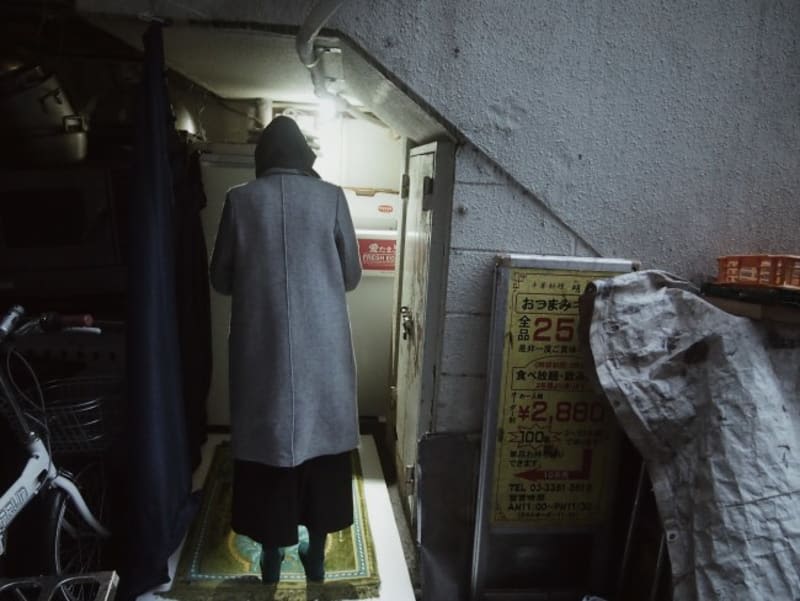 Shinjuku Gyoen Ramen Ouka prayer spaces - Picture by writer
Shinjuku Gyeon Ramen Ouka is a very famous halal ramen shop located in Shinjuku, Tokyo. They didn't have a proper prayer room in the restaurant, but if you ask them they will guide you to the back alley of their shop.They only provide prayer mats and ablution can be done at the restaurant toilet. As for the ladies, take note that prayer outfits are not provided. If you are looking for big space, we were told that there are nearby mosque about fifteen minutes walk away from the shop.Information
Address

1-11-7 Shinjuku, Shinjuku-ku, Tokyo 160-0022

Telephone

03-5925-8426

Opening hours

-

Directions

-

Halal friendly restaurants nearby
Shinjuku Gyoen Ramen Ouka,

Kebab Ye
More info

-
3. Naritaya Halal Ramen, Asakusa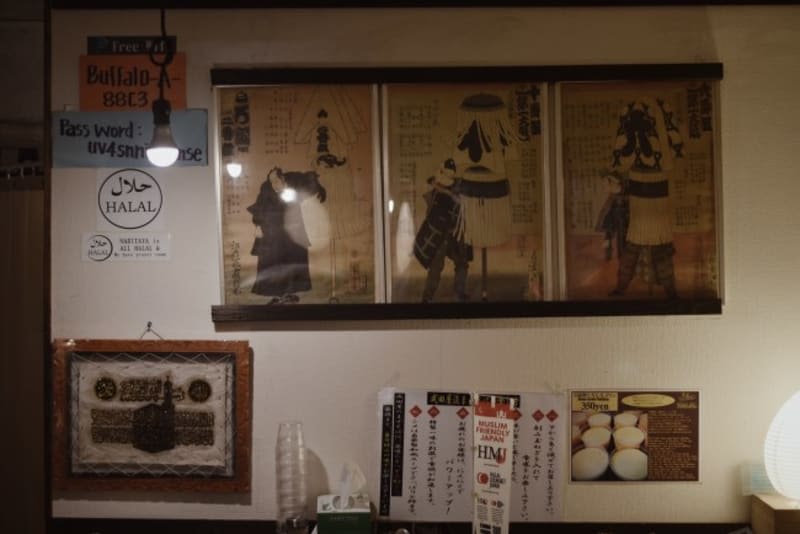 Naritaya Asakusa in Tokyo - Picture by writer
Another ramen shop that you need to try in Tokyo, Naritaya Asakusa is located near one of the tourist attraction, Senso-ji Temple. Now, there is no need to rush enjoying the noodles because the prayer room is located on the second floor of the restaurant. In the prayer room, there is a section for ablution, prayer mats, prayer outfits for the ladies, as well as Qurans and various Islamic books.Information
Address
2-7-13,

Asakusa, Taito-ku, Tokyo.
Telephone

03-4285-9806

Opening hours

-

Directions

Located on the second floor of the restaurant

Halal friendly restaurants nearby
Naritaya Asakusa,

Sekai Cafe Asakusa
More info

-
4. Tokyo Disneyland, Chiba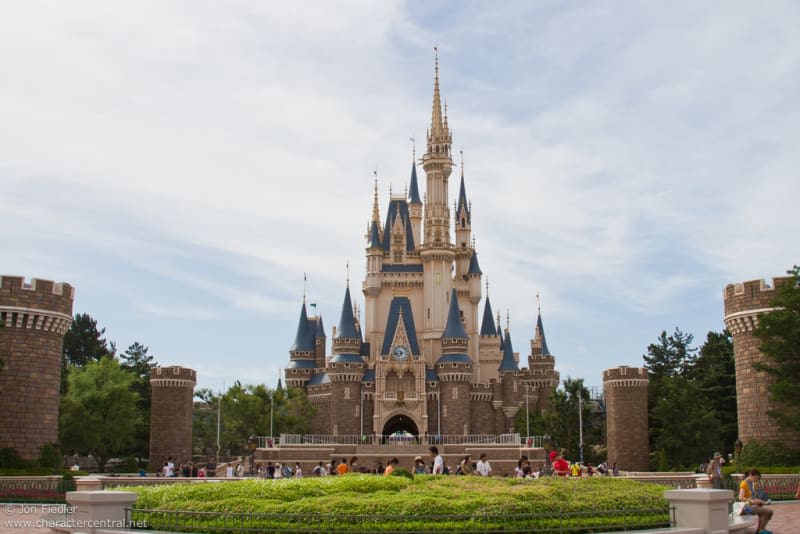 Photo credit to http://www.charactercentral.net/
Even the happiest place on earth has a room for Muslims to perform their prayers! Simply head to the Main Street House near the entrance of Disneyland and ask the staff for available prayer rooms. Most of the staffs inside the park are not aware of the existence of a prayer room. Therefore, it is advisable to go straight to the Main Street House.The prayer room at Disneyland is a spacious and carpeted empty room. Ablution needs to be done at one of the park public toilets. Prayer mats and prayer outfits are not provided. The Disneyland staff who assisted us was very helpful and accommodating. He made sure we were comfortable and even showed us the direction of the qiblah.Information
Address

1-1 Maihama, Urayasu, Chiba Prefecture 279-0031, Japan.

(6 minutes walk from Maihama Station)

Telephone

-

Opening hours
Irregular, check here
Directions

Head down to the Main Street House and ask the staff for available empty prayer space.

Halal friendly restaurants nearby

-

More info
Disneyland Tokyo
5. Haneda Airport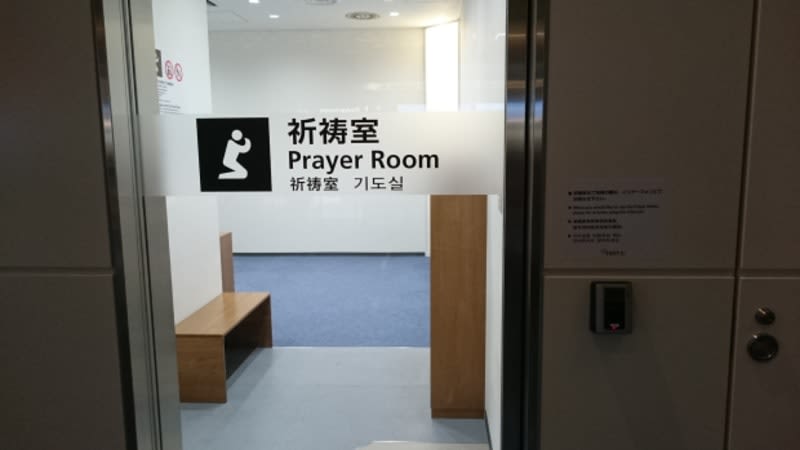 Prayer Room at Haneda Airport. Photo Credit to Intergalactic Yeah!
There are two prayer rooms located on the third floor at the international departure lobby. I believe that the prayer rooms are not assigned to specific genders as there are no signages showed. Haneda airport prayer rooms provided a washing space in both rooms but there are no praying outfits provided for the ladies.
Information
| | |
| --- | --- |
| Address | 3rd Floor, International Departure Area, Haneda Airport, Ota, Tokyo |
| Telephone | 03-5757-8111 |
| Opening hours | - |
| Directions | - |
| Halal friendly restaurants nearby | Dompierre Jet, Mrs. Istanbul |
| More info | Haneda Airport |
Bonus: Tips on Praying in Japan
Other than doing some research prior to your trip, I highly recommend you to download apps that will help lead you to local halal restaurants and/or praying spaces. There are a plethora of them ready to be downloaded and used – all you have to do is choose which is best according to your preference. I mostly used "Halal Navi". For faster connection, you can rent your portable wifi from home country in any travel agencies that sell this service. You can rent them at KLOOK for as low as USD 3 per day and you can conveniently take it from the airport. The wifi has a 4G network and you can share it with up to 10 devices.
If there are no praying spaces near you, the other alternative is to find the nearest halal restaurant. They always have a small praying space readily opened for all Muslims.
This is for the ladies – most of the praying facilities in Tokyo do not provide praying outfits, hence it is advisable that you are always prepared with yours. Since I wear the hijab I always make sure to have socks that fully cover up my feet instead of bringing my whole prayer outfit with me.
Don't be afraid to ask the locals for information and/or help. Despite the language barrier, the Japanese are some of the most helpful, and accommodating people we have ever met. Most if not all of them would be more than willing to help you. If you don't ask, you will never know.
***
So, that's the list of prayer rooms and tips from And They Wander! Halal Navi team also did a compilation of mosque and prayer rooms in one post and you can read either in English, Malay or Indonesia. If you are worried about finding Halal foods and places to pray while in Japan, don't forget to download Halal Navi to be your personal Halal guide. You can find the best Halal restaurants in town, Halal stores to buy snacks, prayer rooms nearby and much more!