Explore Tokyo In One Day With Only 800 Yen
Trains in Tokyo can be expensive, but do you know as a foreigner you'll be able to benefit from all-you-can ride Tokyo Metro Subway pass 24hour starting from only 800Yen? Purchase it before your trip and start exploring!
Tsukiji Outer Fish Market
Get up early and start your day by enjoying fresh sashimi from Tsukiji Outer Market! Although they've moved the fish auction market, you'll still be able to enjoy the best sushi here. We recommend you stop by at stalls and enjoy local street foods and desserts here too.
From here you can also try the Luna Halal Organic Cafe to fill in your tummy.
Electric Town, Akihabara
Akihabara is a must-visit even if you're not an anime fan because not only you can experience Akihabara's unique culture but you can also shop for cheap electronic goods here! Imagine getting a second-hand camera for only less than 10,000 yen?
We recommend you to try the Cocoichi Curry House, Akihabara which is just around the area.
Kaminarimon, Asakusa
Take a break from the city of Tokyo and stop by the traditional Asakusa and visit Kaminarimon and Senso-Ji Temple! We recommend you to visit during the day so you can also purchase unique souvenirs from their Nakamise, shopping alley.
P.S: Skytree, Tokyo's skyscraper is just a walk away so don't forget to stop by!
Try the local Halal ramen at Honolu Ramen, Asakusa. Free Karaage or Mochi for you in our Halal Navi Tokyo Muslim Guide & Coupon Book.
Ameyoko & Ueno Park, Ueno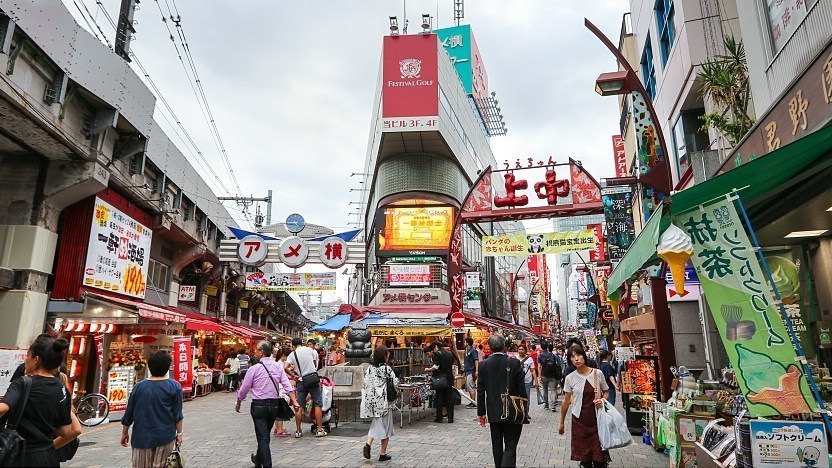 (photo from Japan-guide)
Next stop: Ameyoko, Ueno, the downtown of Tokyo! Locals love this place because of their cheap seafood and fruits. Other than that, you can find real bargains like cheap souvenirs and sneakers here. After experiencing Japan's "pasar" why not take a stroll at the park and try out their unique Starbucks cafe located inside Ueno Park.
Why not try some chicken meals at Chicken Man, Ueno.
"Great Place to get your chicken cravings. Friendly owners, food is great." reviewed by Halal Navi's user, Hafiz Ans.
Marunouchi Exit, Tokyo Station
(photo from Wikipedia)
Your trip will not be complete if you skip Tokyo Station and enjoy the view of "old" Tokyo Station. To be able to enjoy this red-brick view of Tokyo Station, make sure you find the Marunouchi exit. Other than the view, the underground shopping and food street of Marunouchi exit is fun too, so don't forget to stop by!
Dine in the Siam Orchids Supreme Halal, a halal-certified shop by Jha. A fusion of Thai and Japanese cuisine.
"They serve traditional menus and also use the traditional concepts of 'warteg'." reviewed by Halal Navi's user, Ragil.
Takeshita St. Harajuku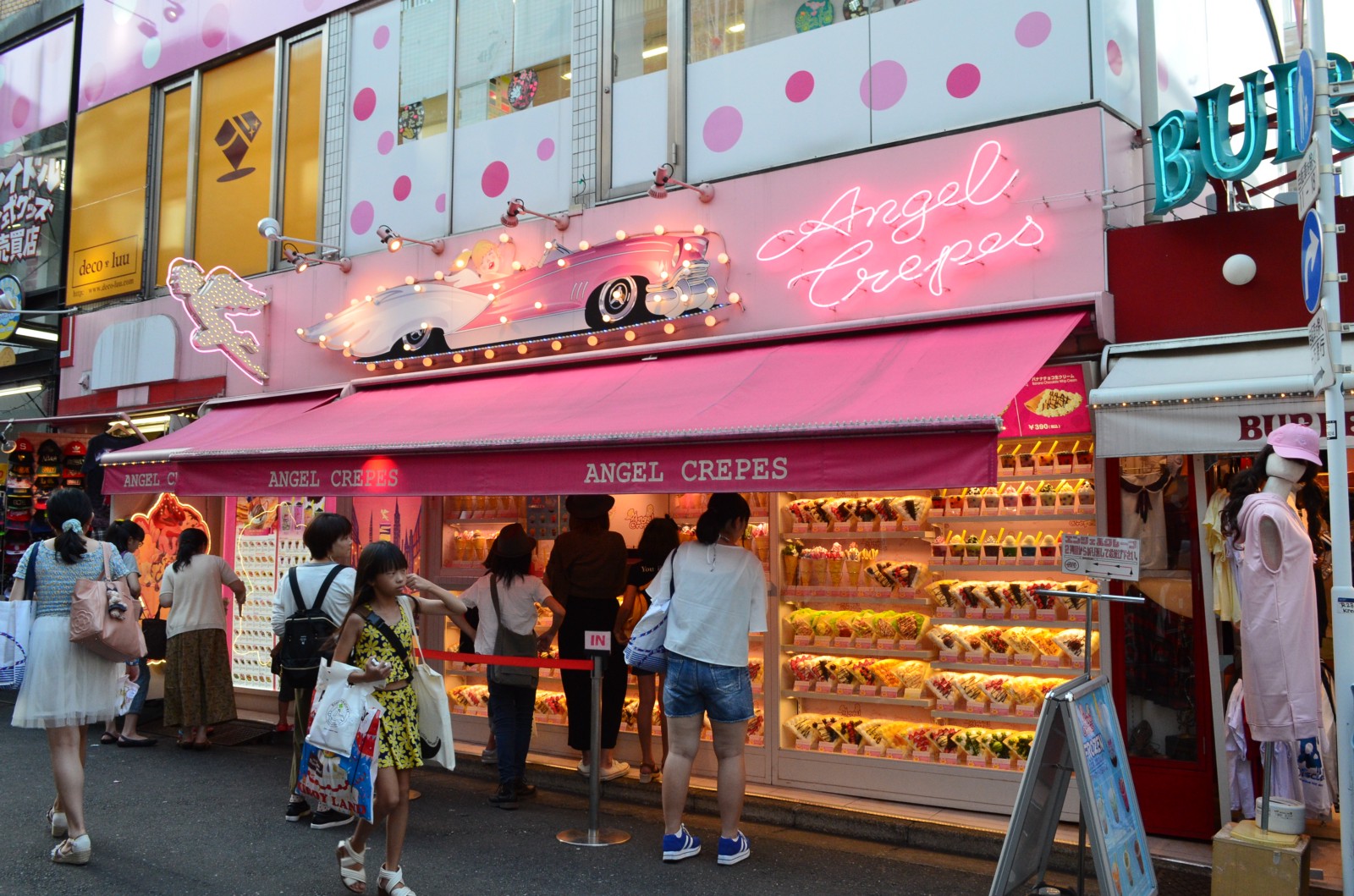 (photo from Japan Web Magazine)
Everything in Harajuku screams "kawaii", hence why you'll see more local females than males. Immerse yourself in the unique fashion culture of Harajuku and don't forget to have the original Harajuku crepe here!
P.S: use our Muslim survival dietary card when purchasing the crepe as not all crepe is Halal.
(Photo from BIGGLOBE Beauty)
Craves for south East Asian dishes? Why not try Singapore Holic Laksa. Do mind that their chicken meat is non-halal.
"Simple, inexpensive, spicy and delicious. Extremely convenient location." Reviewed by Halal Navi's user, Usman
Shibuya Scramble Crossing, Shibuya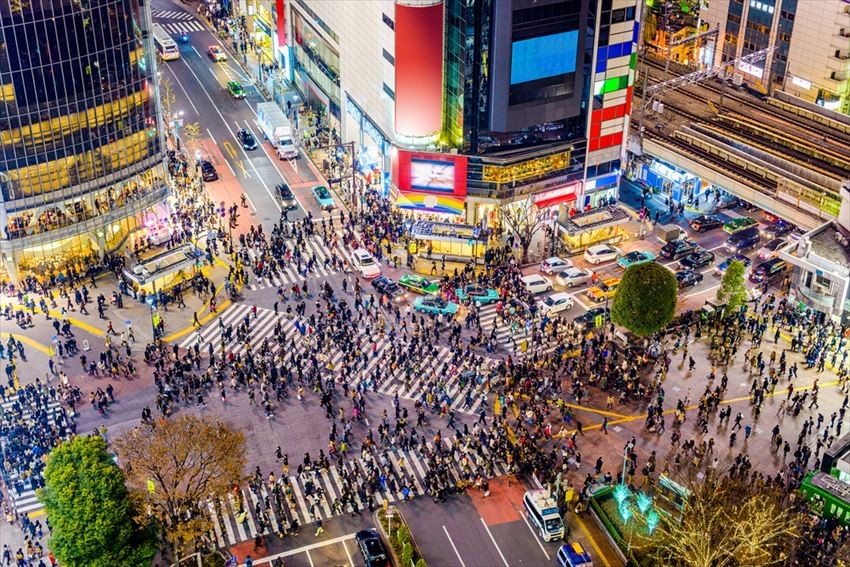 End your day by crossing the busiest crossing street in Shibuya. The easiest way to find the exit is to find the "Hachiko exit" and you'll easily find it! While you're here, don't forget to visit Shibuya Scramble Square, the tallest building in Shibuya that opens on November 1st, 2019.
The best meal to end your day will be a warm dinner of yakiniku. Gyumon Yakiniku which is close to Shibuya station offers Halal Yakiniku meals. "Ought a bit expensive, experience worth every a penny.. Will come again here." Reviewed by Halal Navi's user, Mohd Zamri. Now you know you can explore Tokyo with only 800Yen. Pack your bag and head on to your Tokyo adventure now!