11 Romantic Honeymoon Destinations In Japan That Will Make You Want To Get Married Now!
Many would agree that Japan is such a romantic country, especially when we visit this country during the Sakura blossom. But make no mistake! Japanese romance is definitely not limited to Sakura only. There are numerous romantic destinations and activities for your honeymoon with the love of your life. Take a peek at these 11 awesome honeymoon ideas!
1. Hanami Boating in the Chidorigafuchi Canal, Tokyo
If you are visiting Tokyo during Springtime, you should not miss out on Hanami. Perfect your springtime honeymoon with Hanami –looking at Sakura blossoms—with your beloved. If you feel the usual parks are too crowded, then the Chidorigafuchi Canal is your way to go. Not only it is not as crowded as the parks in the city centre, but you can enjoy the beauty of the Sakuras while slowly rowing your boat for 30 minutes.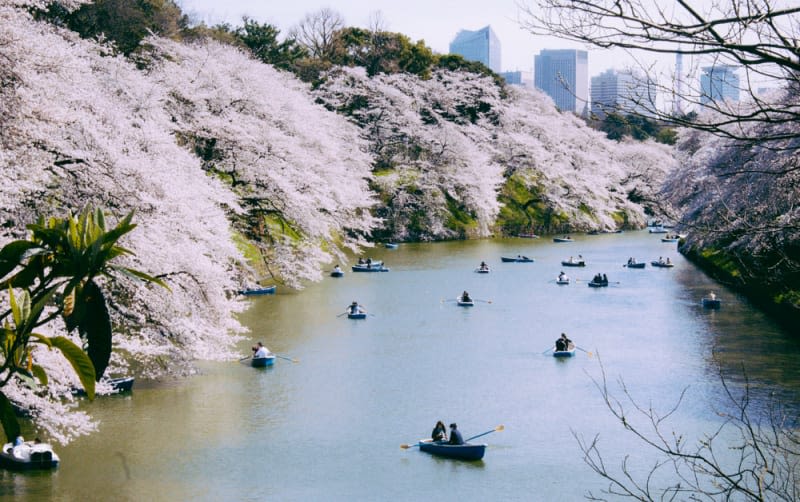 My my, nothing in the world is more romantic than rowing along the canals of the Edo castle. Beautiful Sakura on your left and right, and some of their petals floating by along with the breeze that gently touches your face and the smile of your beloved. Perfecto!
Information Direction : From Tokyo station, you just need to walk a few minutes to the boat departure
Address: Kudan Minami 2-chome—Sanbancho, Chiyoda-ku, Tokyo
Boat rental: ¥500 (regular season) and ¥800 (hanami season)
Opening hour: 11.00 to 17.30
Halal restaurant nearby: Zenmai Bento, T's Tantan
2. Tokyo Bay Night Cruise, Tokyo
Tokyo, from a boat but in a different view. You and your beloved may have strolled around Tokyo during daylight. But did you know that Tokyo at night offers a very different but more romantic ambience? The lights from buildings glimmer from afar in consonant with the stars glittering above you as you cruise along the river. You will be passing by the seaside and the rainbow bridge of Odaiba, Tokyo tower, Tokyo Gate bridge, Tokyo Light Beacon, and Gantry Crane for about 2.5 hours.
Other than the view, you can also enjoy a variety of performances in the cruise. Hungry? You can enjoy the delicacies offered on the cruise, but be careful to only order the seafood menu. You can also use our Halal dietary card and show it to the waitress when ordering.
InformationMeet up point: Hinode Terminal (1-minute walk from Hinode station)
Price (without dinner): 3,800 yen (adult) and 1,900 yen (child)
Depart time: 19.00 Everyday
Halal restaurant nearby: La Maison De Cous Cous
More info on Symphony Tokyo Bay Cruise
3. Sagano Scenic Railway, Kyoto
Want to feel some new atmosphere? Or, you want your honeymoon to be a romantic adventure? Then go for a ride on an old-fashioned steam train in Sagano. Adventure is out there! Experience the beauty of Japan's Hozugawa Canyon in a 25 minutes trip. Same train same location, but if you try it on different seasons you will have very different experiences.
Your trip in summer will be accompanied by the sounds of Cicadas with a good view of the very clear river. If you come during fall, you can enjoy the beauty of the leaves changing colours. During winter, you will have a magical experience as the train dashes through the snow. And during spring, you will enjoy the falling Sakura petals blowing with the wind around you. What else could you ask for? Information Departure: Saga Torokko and Kameoka Torokko Station
Ticket Price: 620 yen for Adult and 310 yen for child
Departure time: 9.00 - 17.35 (From Saga Station) and 9.29 - 18.10 (from Kaemoka Station)
Days of operation: March 1 - December 29 (Closed on Wednesday except for public holiday and other vacation seasons)
More info onSagano-kanko
4. Romantic Photographs In Japanese Outfit in Gion, Kyoto
Do you want to look like a Japanese couple, wear pretty kimonos, and a Japanese old town as background? Come to Gion, Kyoto! Take some awesome honeymoon photos in an ancient Japanese town setting. Make it perfect by wearing none other than the traditional Japanese Kimono and your pictures would seem like they have been taken in the past –but with better quality cameras, of course!
Gion has everything you need for this. You can walk through the historic street of Gion while wearing the traditional Kinomo and Yukata that you can rent at many Kimono rental shops in Gion street. You and your beloved can choose your favourite kimono and take as many photos as you like which you can hang them later on in your house. Bonus: if you are lucky you can meet the real Geisha in Gion street and take a picture with them.
InformationAddress: Gionmachi Minamigawa, Higashiyama, Kyoto (Walking distance from Gion-Shijo station)
Price range: 1,500 yen - 3,500 yen
Halal restaurant nearby: Maharaja, Naritaya Yakiniku, Naritaya Ramen
5. Arashiyama Rickshaw Tour, Kyoto
To walk through the famous bamboo forest of Arashiyama is probably already on your destination list. But how about doing it another way? You can hire some pedicab to take you around the forest in a Japanese traditional rickshaw. Enjoy the scene in a super romantic stroll around with the exquisite scenery, but minus the fatigue you may feel if you walked instead.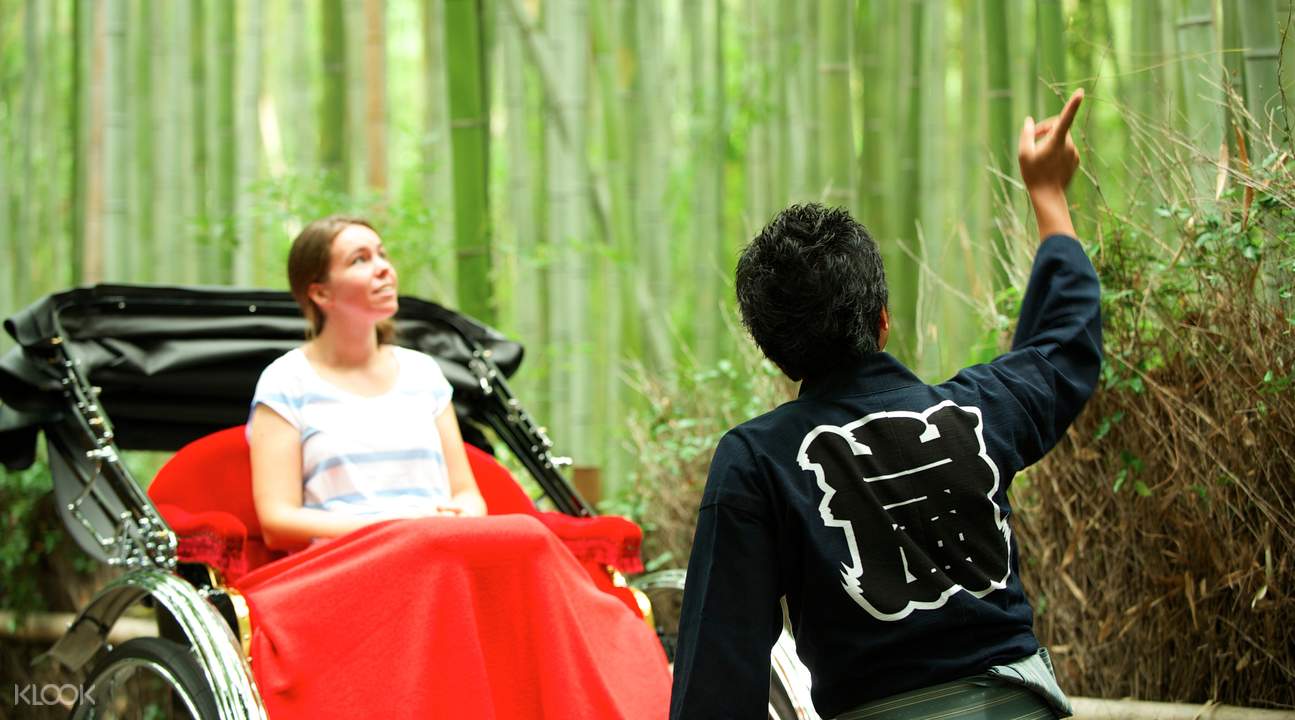 The pedicab drivers would know the best spots to snap pictures of you and your beloved, so you can enjoy to the fullest and preserve the memories in the best photos.

Address: Arashiyama, Ukyo-ku, Kyoto (Walking distance from Arashiyama station)
Price range: Starting from 3,00 yen for 12 minutes tour
Halal restaurant nearby: Washoku Restaurant, Yoshiya Arashiyama
6. Otaru Snow Light Path, Hokkaido
Otaru is a small city in the coast of Hokkaido. You can reach this romantic sea-side city in less than 2 hours from the Sapporo city centre. Famous for its canal, Otaru is beautiful not only during daylight but also at night. Come at winter! Around February, you can see the Sapporo Snow Festival. Enjoy the dim lamps around the city twinkling through the night of Otaru in the Otaru Snow Light Path.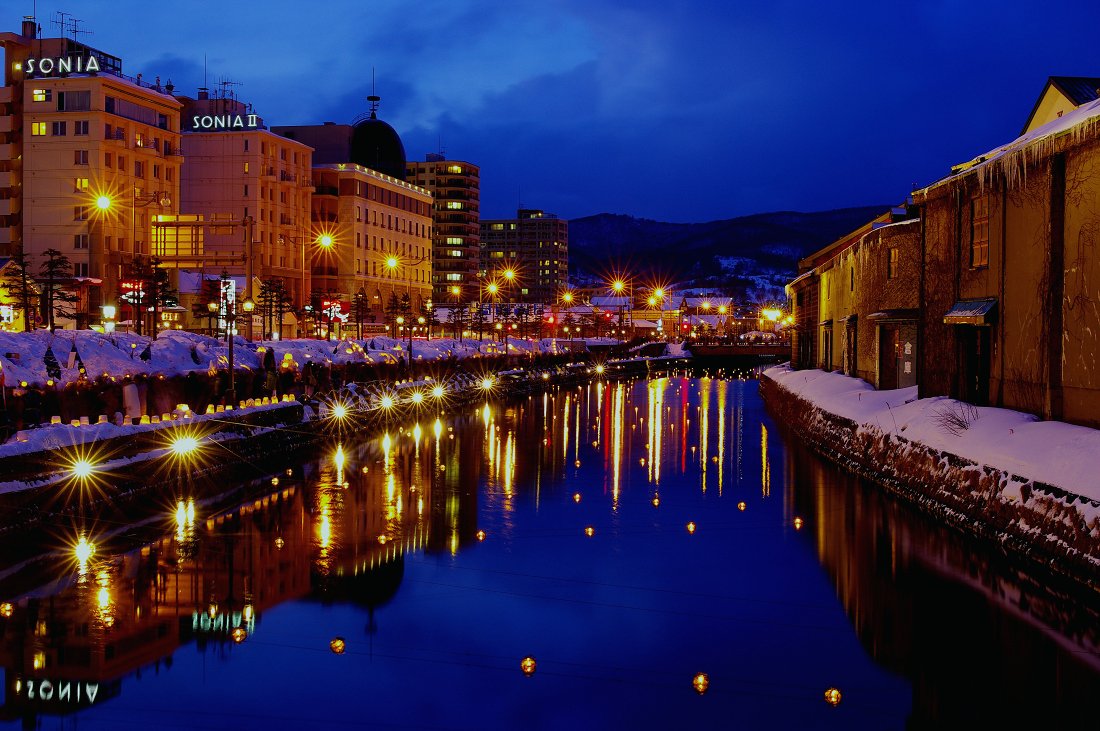 You can see the lamps around the city right from the station's exit, along with the main road, and up to the canal. Picture yourself slowly walking along the side of the canal, enjoying the dim lights from the lamps, as the snow gently falls all around you. Will it be cold? Maybe not so much, because you have the warmth of your most beloved right next to you.
Schedule: 9 - 18 February 2021
Location: Unga Kaijo and Temiyasen Kaijo
Best time to visit: 17.00 - 21.00
Halal restaurant nearby: Otaru Kourakuen
7. Star Gazing at Lake Mashu, Hokkaido
Do you want to do something anti-mainstream? Do you want a good honeymoon destination undisturbed by the loud noises and busy rushes of a city? Come star gazing by the Mashu Lake of Hokkaido! Put down a mat, take out some snacks and drinks, then lay down with your beloved and look up to the sky.
Enjoy the glittering stars far above, in the silence of the depth of night. The skies are clear, and you will occasionally hear little splashes from the fish in the lake. There are a number of observation decks from which you can view the lake from a different angle. You can go by bus from JR Mashu station and hike to the observation or you can also join the star gazing tour that will take you to the 1st observation deck.
Access: 20 minutes from JR Mashu Station, a special bus to Lake Mashu is available from April until July
RecommendedStar Gazing Lake Mashu Tour
8. Night View from Mt. Moiwa, Hokkaido
This mountain is one of the most popular ones for hiking among the Sapporos. Despite not being too high, Mt. Moiwa offers such an amazing view not only during daylight but also at night. In the afternoon, Mt. Moira offers the beautiful view of mountains surrounding it. At night –which is at its best during winter—offers a sight of the beautiful bright city from a height of 531 meters.
Oh, so mountain climbing isn't your thing, eh? Worry no more! Take the ropeway or gondola until you are halfway to the mountain top. Then, you can take the mini cable-car –which you can drive by yourself! It is said that these cable cars are the very first drive-type mini cable cars in the world. Check it out, and have some extra fun with your beloved!

Mount Moiwa Ropeway
Address: Fushimi 5-chome 3-7, Chuo-ku, Sapporo
Opening hours: 10.30 - 22.00 (summer) and 11.00 - 22.00 (winter)
Closing dates: November 21 - 30
Fee (round trip): 1,700 yen (adult) and 660 yen (child)
More info on Mt. Moiwa Ropeway
9. Coral Reef Snorkel Adventure, Okinawa
Wanna have fun at the beach? Sounds like Okinawa to me! Part of the Kyushu territory, Okinawa is at the southernmost point of Japan. Close your eyes and imagine yourself walking on white sand so soft you can feel it gently caressing your feet.
Imagine hearing waves chasing each other through the emerald sea far ahead, yet a calm clear sea just nearby for you to play in. Make this imagination come true in Okinawa. They have many spots like this! It does not stop here, as the beauty does not end at the surface. You can snorkel too! Dive in to enjoy what lies under the sea. You will find the beauty of the biota of the Okinawa Isles. There are several beaches you can go such as Ama, Kyafa, Irabu and Kouki.
Access: You can take a flight from Tokyo to Naha airport for 2.5 hours
Halal restaurant in Okinawa: Ukishima Garden, Kababs Indian
10. Shirakawago Winter Light-Up, Gifu
With a 3-4 hour trip from Tokyo, you can visit a village with unique houses in Gifu. This is Shirakawa-go. This village is full of houses with very unique architecture-styles which you would rarely find in Japan, which you must check out. The best part is that the streets are almost entirely free from any vehicles so you can have a nice and easy walk around the village with your beloved. The daylight view offers a beautiful sightseeing. The mountainous terrain and rivers around the village are just… beyond what words can describe! The night view in Shirakawa-go is no less beautiful. Come and see!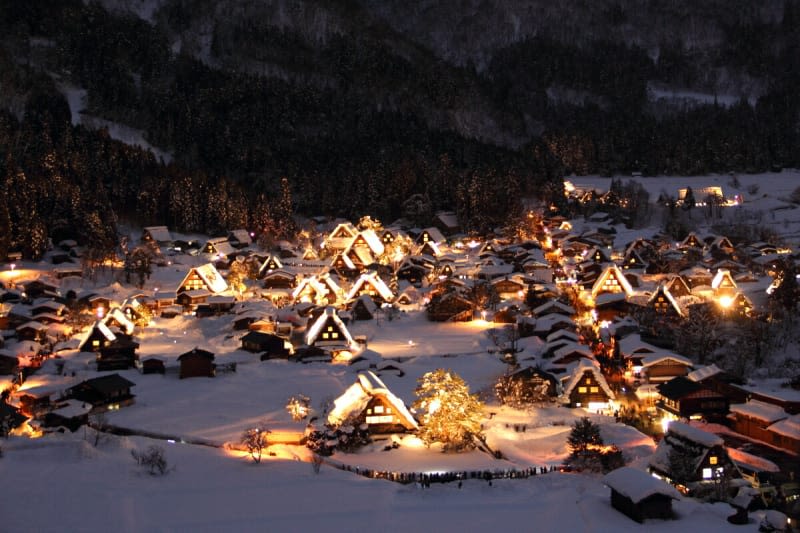 There is a winter event in this traditional village which you and your beloved must not miss, called the Shirakawa-go Winter Light Up. Here you will see lamps decorating the streets and houses in the village, making a very beautiful sight not only from inside the village but from far above too. This village is rather isolated, so the lights shining from it is very dominant in contrast with its surroundings. Enjoying this with your beloved will be a very special experience, worthy of a special smiley in your travel log! InformationAcess: Hokuriku Shinaksen from Tokyo – Kanazawa, then take a bus to Shirakawa-go - Takayama Illumination schedule: 18.00 - 19.30 every selected Monday and Sunday during January - February (Check full schedule here) Nearest halal restaurant:  Hidaya Sho
11. Romantic Ferris Wheel of Tempozan, Osaka
This last one might sound like something for kids. But kids know best how to have fun, right, so who cares! See the most genuine smile and laughter of your beloved, as you go up and down this 112 meters Ferris wheel in Tempozan, Osaka. While on top, make sure to take a glimpse of the great city of Osaka, as well as the oceans and mountains from afar.
This Ferris wheel is not too far from the city centre and is in the Osaka aquarium area. You should also visit this aquarium too: it's the biggest one in Japan! InformationAddress: 1-1-10 Kaigandori Minato-ku, Osaka City (5 minutes walking from Osakako Station) Opening hours: 10.00 - 22.00 Ticket fee: 800 Yen Have the most spectacular, unique, and romantic honeymoon with those 11 destinations! Combine sightseeing with new things and activities you never tried before, and feel a boost of warmth in your love with your beloved as you go through these destinations and return home after. Muslim couples should not worry, as there are numerous halal eateries and prayer rooms throughout Japan. For one app to find them all, download the Halal Navi app now!