10 Top Halal Restaurants In Tokyo
New year 2017 is here, yay! How did you celebrate your new year? Did you watch fireworks or stay at home with your family? Whatever you did, the new year moment is a good time to do self reflection and evaluation of what we have achieved the past year. And we don't want to be left behind too! We would like to use this New Year moment to announce the 10 Halal Navi's top restaurants in Tokyo 2016 before starting off another year with you! Are you as excited to see the most popular halal restaurants in town?  Who knows your favorite restaurant is on the list !
1. Naritaya, Asakusa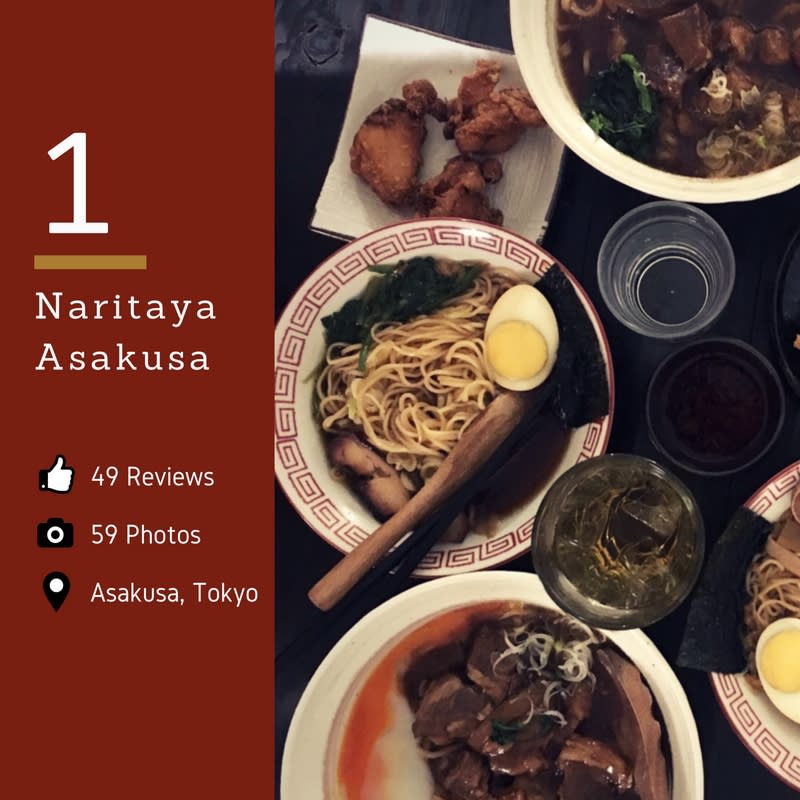 Are you ramen and japanese food lovers?  In Naritaya you can try different types of authentic local ramen made by their Japanese-Muslim owner.  You can never say you've been to Tokyo if you haven't tried Ramen in Naritaya!
Review on Halal Navi :
"My favourite in this summer heat is the miso-based cold ramen. The dish is served cold, like it just came out of the fridge and it's so refreshing. The cucumber is crunchy, the tomatoes are sweet, and the chicken is grilled just right with a slight smokey flavour. I love it so much I had it twice this week!" - Najah Nasseri
Information
Address : Asakusa 2-7-13, Taito, Tokyo
Phone : 03-4285-9806
Halal info : Certified Halal by Japan Islamic Trust More info about Naritaya Asakusa
2. Tanden, Yoyogi (Unfortunately, Tanden Yoyogi has closed down)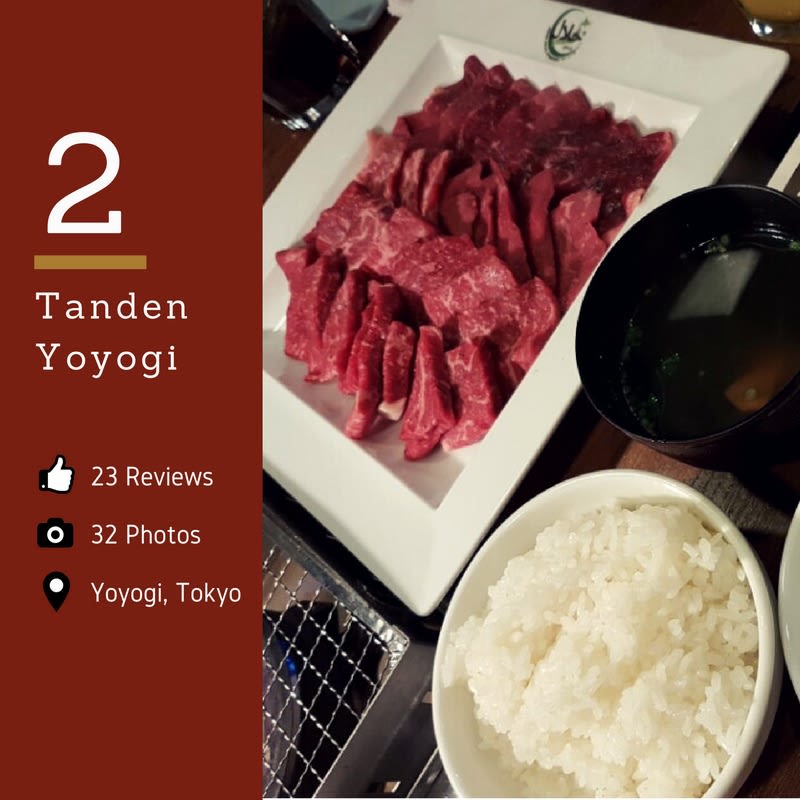 Tanden Yoyogi is one of the most popular halal yakiniku restaurant in Japan. The fresh and tender meat is just too delicious for you to miss. You can eat with its sauce or wrap it using lettuce and enjoy it just like in the Japanese and Korean movies 🙂
Review on Halal Navi :
"Finally get to try this out this time in Japan. Have to say the Wagyu meat are delicious! Advanced reservation needs to be made. They used separate utensils too. However one thing I hope they can consider is to have more vegetables options, they only have lettuce for wrapping meat. And some mushrooms will be nice as well. Their halal sauce also goes very well with the meat, which I bought one to bring home. Overall a satisfying dinner!" - Choon
Information
Address : Sendagaya, 5−21−12, Yoyogi Living 1F, Shibuya, Tokyo
Phone : 03-6380-6203
Halal info : Certified Halal by Malaysia Halal Corporation More info about Tanden Yoyogi
3. Gyumon, Shibuya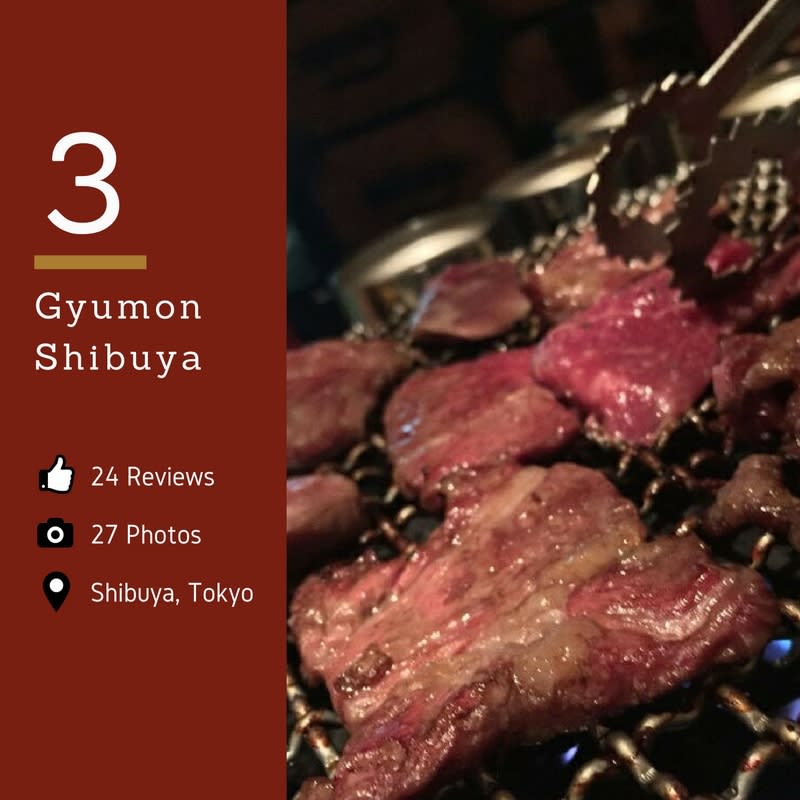 Gyumon is another popular halal yakiniku in Japan. There are so many Halal Navi users that can't resist to come back here after their first visit to Gyumon. Their portion is large and you can share it with your friends/ families and their staff speaks English to help you out !
Review on Halal Navi :
"We loved the place that much that we went back the day after with my wife. Careful, you need to book in advance otherwise you might be rejected (it happen to us the first time and took this opportunity to book for the next day). The BBQ is great and give you taste of authentic Japan meat gilled style. The owner is very friendly." - El Djazairi
Information
Address : 13-14-5 Shibuya, Shibuya, Tokyo
Phone : 03-5469-2911
Halal info : Muslim Friendly and the meat certified Halal by Malaysia Halal Corporation
More info about Gyumon Shibuya
4. Chicken Man, Ueno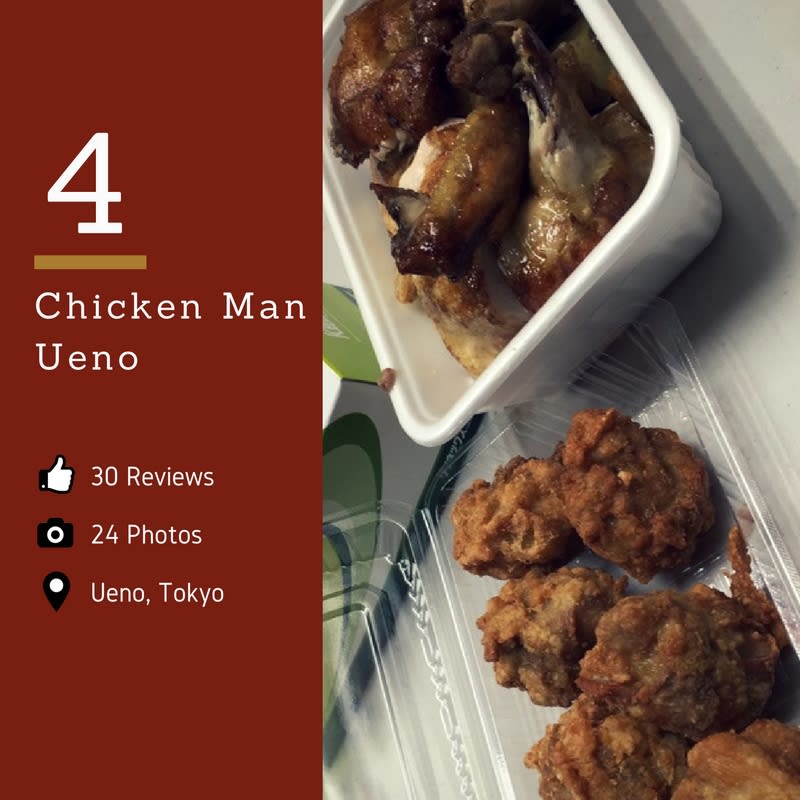 If you miss eating fast and instant fried chicken, you can always go to Chicken Man Ueno. The chicken is juicy and you will be entertained by their staffs who speaks all sorts of language! The price is also quite cheap for you who are on money diet :p
Review on Halal Navi :
"Best ayam golek. Ate it with Japanese nice and you have Nasi Ayam. They also have special sos, from sweet, non spicy, spicy to very spicy. Price was super cheap, we went there multiple time. Owner was nice & friendly." - Iqbal
Information
Address : 1F Center Building 4-7-8 Ueno, Taito, Tokyo
Phone : 03-3835-8089
Halal info : Certified Halal by Japan Halal Foundation
More info about Chicken Man Ueno
5. Shinjuku Gyouen Ramen, Ouka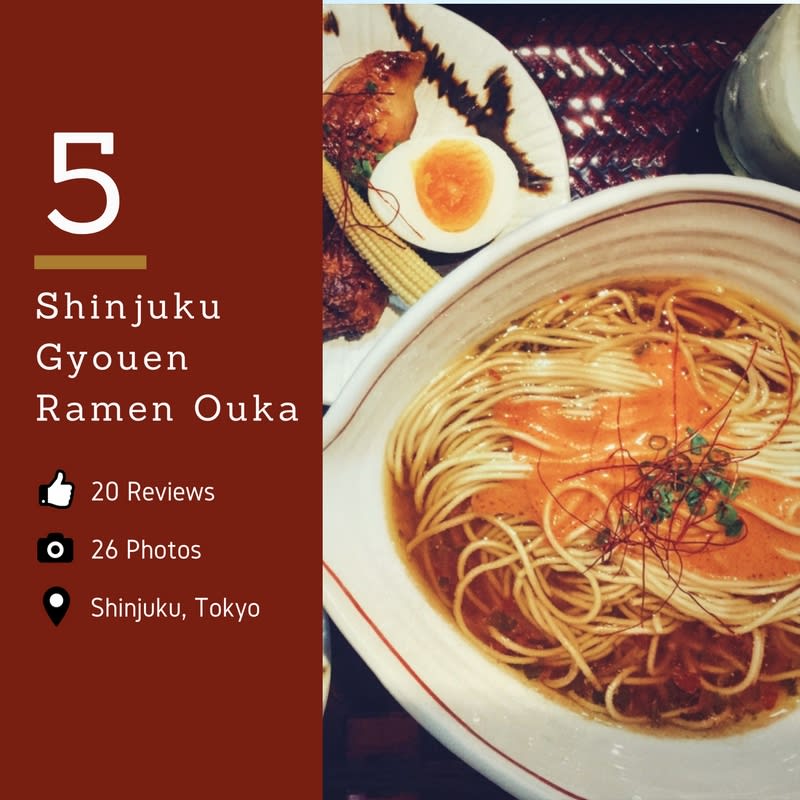 Just looking at the picture makes your mouth watering?  Customers usually order Ramen set that comes with roasted chicken, half boiled egg, grilled meatball and baby corn veggies. Sounds too much but they're just all that you need.
"One of the best ramen in town. The set come with roasted chicken.after finished the noodle ( ramen) the waiter teach us to eat rice with leftover soup from ramen. Their roasted chicken was soo good. People who come to this shop need to order one of the ramen set. (Mandatory) haha. Because they have limited space." - Mariam Roslan
Information
Address : Shinjuku 1-11-7 , Shinjuku, Tokyo
Phone : 03-5925-8426
Halal info : Certified Halal by  Japan Islamic Trust
More info about Shinjuku Gyouen Ramen Ouka
6. Manhattan Fish Market, Ikebukuro (Unfortunately, Manhattan has closed down)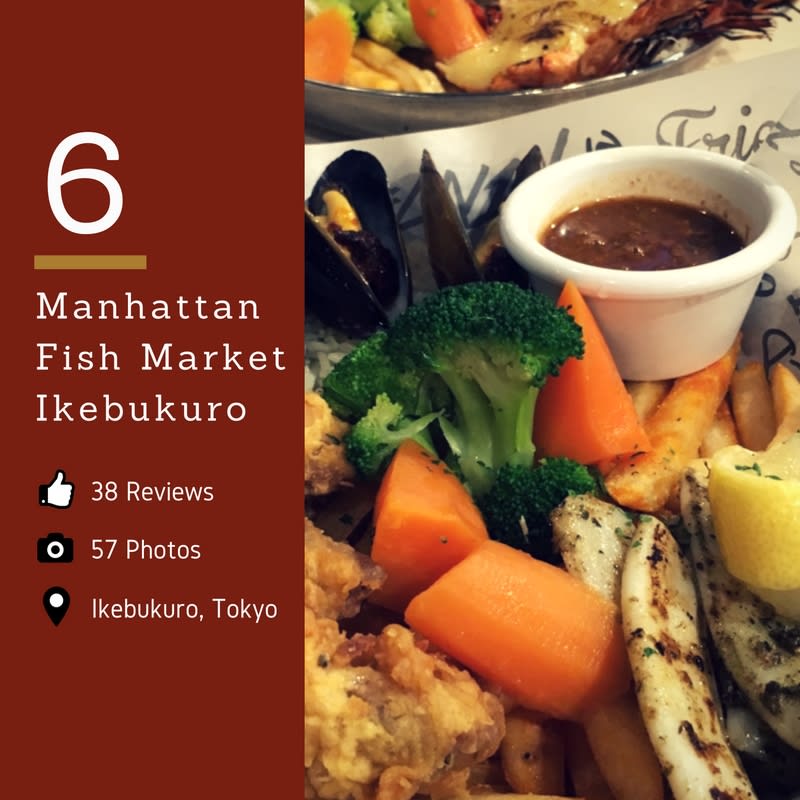 The place that has franchises in many parts of the world opens up franchises in Ikebukuro and Nagoya. This restaurant does not serve alcohol and pork, the owner and chef are also Muslim, so they might just be one of the few all-Halal restaurant. If you re a fan of seafood, Manhattan Fish Market is definitely the best place for you to go.
Review on Halal Navi :
"Yesterday, I got chance to go this restaurant. The variety of food is good. They use seafood on their menu. The price also affordable from ¥1000 and above. Many Muslim come here to eat and also their workers also can understand English so will be no problem to order. the service also good. if you like to have some seafood meal in western style, you can try here." - Mastura (マストゥラ)
Information
Address : Higashi Ikebukuro 1-4-2, Sankei 33 building B1F, Toshima, Tokyo
Phone : 03-6912-5996
Halal info : Certified Halal by  Malaysia Halal Corporation
More info about Manhattan Fish Market Ikebukuro
7. Kaijin Ramen, Shinjuku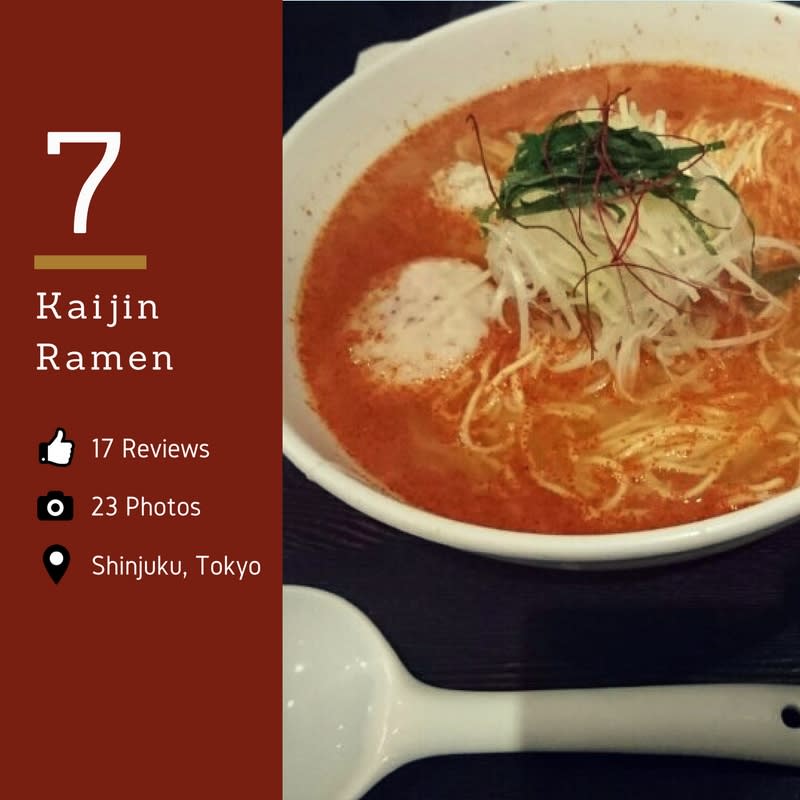 This is another place you should try to enjoy Japanese ramen. Its even highly rated by the locals! However their chicken ball is not halal, so you've got to be careful and don't forget to order without the chicken ball (sometimes they will let you swap to seafood ball) . But don't worry because the seafood ball and broth won't let you down 😉
Review on Halal Navi :
"Awesome fish broth ramen with al-dente noodles. There are original and spicy ramen broth, both equally good! Comes/served with shrimp ball and chicken ball. You might want to add the egg." - Shahidah Rolfe
Information
Address : Sanraku Building 2F, Shinjuku 3-35-7, Shinjuku, Tokyo
Phone : 03-3356-5658
Halal info : Soup is fish based but the chicken ball is not halal. Please order without Chicken Ball.
More info about Kaijin Ramen
8. Tokyo Chinese Muslim, Kinishico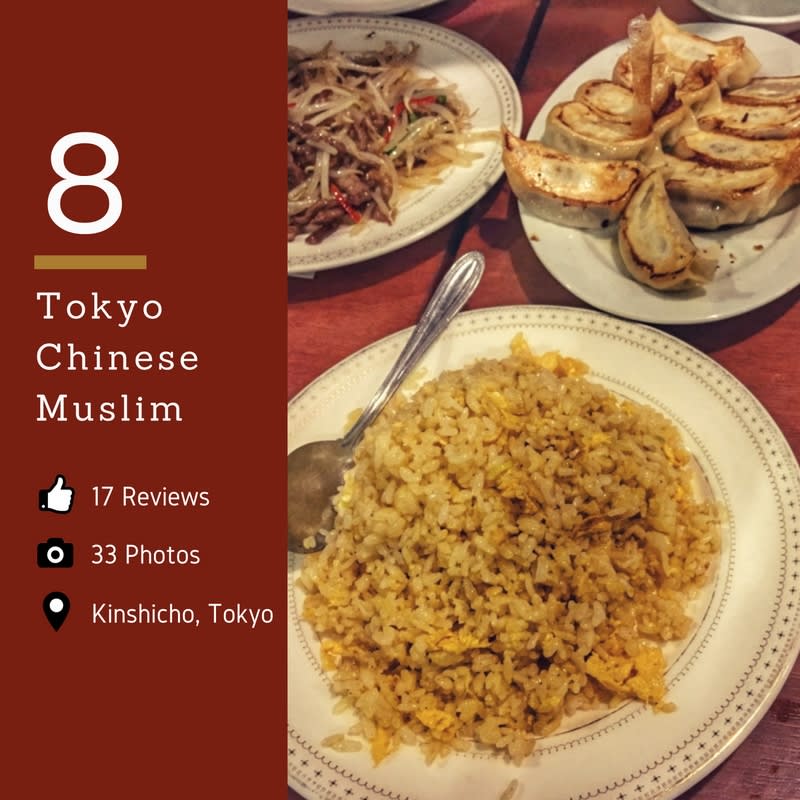 You are in Japan but craving for Chinese foods? Why not try this restaurant? The menu has lots of choices from fried rice, gyoza, Chinese signature veggies, various kind of chicken and meat menus, and many more! They also provide prayer space for their customers so don't worry about missing prayers while you're here!
Review on Halal Navi :
"Try this one! This restaurant is simple but has a yummy menu in a good price! I recommend egg fried rice, spicy chicken and gyouza. You can find the restaurant around Kinshico Station, it's about 6-7 minutes by walk. There are many shopping malls near the station. So, you can walking around or stop by for buying something, and then having lunch or dinner in this restaurant. The restaurant also has a space for praying." - Arienursanti
Information
Address : Kotobashi, 2-18-6, Sumida, Tokyo
Phone : 03-5669-0934
Halal info : Muslim Friendly
More info about Tokyo Chinese Muslim
9. Rasa Malaysia, Ginza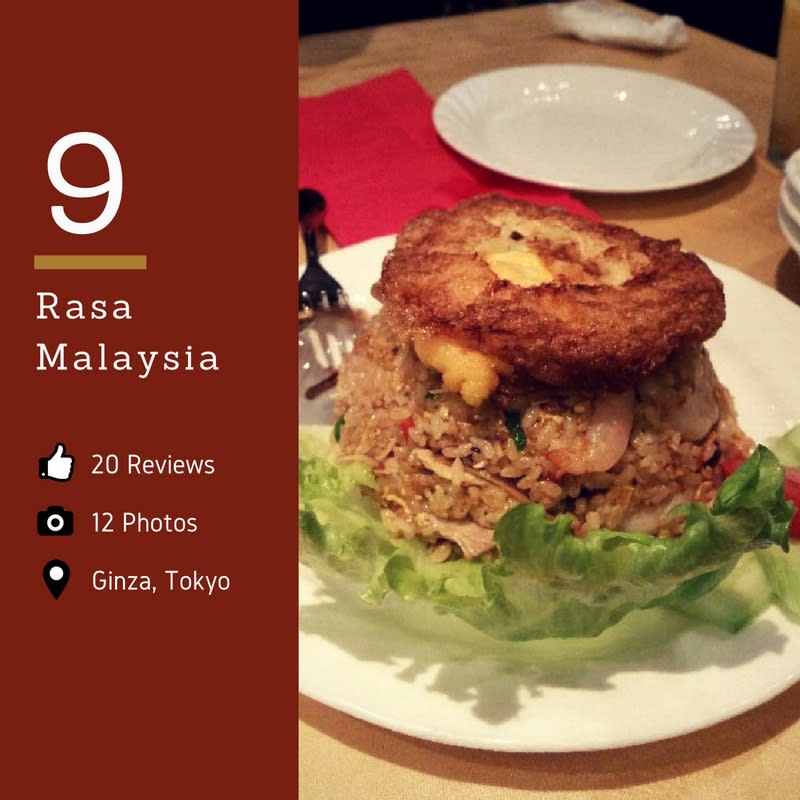 This restaurant is specially for those who miss Malaysian or Indonesian foods! They have variants of Malaysian dish that you can try one by one. Fried rice, kueh tiaw, soups, and many more. Who knows this will make you miss home a lil bit less?
Review on Halal Navi :
"Score 7/10 Me and my family had lunch there and I break the review into points: -Good diverse authentic Malaysian menu -Halal Certified and english speaking friendly crew -Fried rice and sweet chilli chicken drump sticks were delicious and the green chicken curry was good also. -Shrimps and chicken pieces to be cleaned better from inedible ligamints and parts. I can't recommend it over the close by resturants." - Abdulaziz Alsager
Information
Address : 8F Ginza Five-Star Bldg., 5-8-13 Ginza, Chuo, Tokyo
Phone : 03-3289-1668
Halal info :  Muslim Friendly
More info about Rasa Malaysia
10. The Oven Aquacity, Odaiba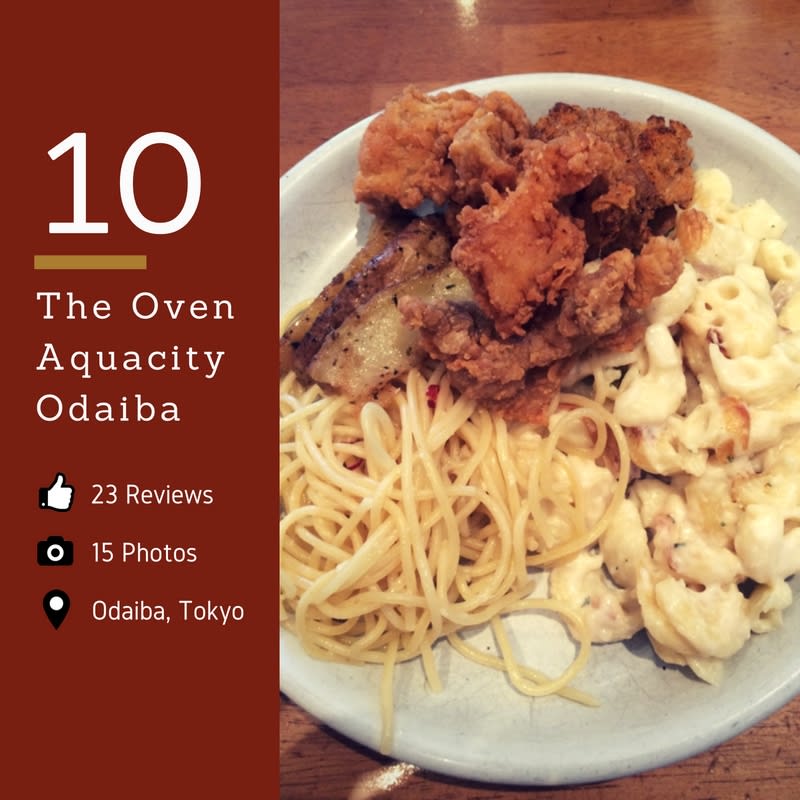 This is a western-style buffet (the Japanese calls it バイキング(viking-style)) that provides Halal menu in Tokyo. Be mindful as not all menus served are Halal. You can pick the chicken and meat menus that are labelled Halal or you can also try the seafood and vegetarian menus. Don't forget to have an empty tummy before going here or you'll miss out!
Review on Halal Navi :
"Buffet style. A nice view in the window. We can see the rainbow bridge! Unfortunately it was raining and cloudy outside when I came there. The taste of the food is not special I think 🙁 But I do recommend the sweets :9 yummy You can eat until you stomach so full. Boys surely will be happy 🙂 For ladies, please remember to eat some vegetables and fruit, OK? We went there at 2 p.m and chatted for about 3 hours. Then, at 4.30 p.m. the waiter told us to leave. Because the lunch time already over. Start from 5 p.m., the dinner's price will be started.." - Fadhila Zahra Humaira
Information
Address : 6F Aqua City Odaiba, 1-7-1 Daiba, Minato, Tokyo
Phone : 03-3529-2093
Halal info :  Muslim Friendly
More info about The Oven Aquaity Odaiba
So how was it? We are sure your mouth is watering seeing all those pictures. What's more important is that all restaurants we picked above are Halal or Muslim-friendly, so you can put your mind at ease. We noticed that our most popular restaurants are all based in Tokyo, as many of our foodies are located there. But worry not, we will definitely do a Kansai version of this article for you! And, if you want to find out more halal restaurants in Japan, don't forget to download our app, Halal Navi! You can check reviews and halal tips from other users about the restaurant, find halal restaurant nearby your place, and navigate to the restaurant location.