11 Stores In Tokyo To Cater Your Halal Daily Needs -Updated in 2019!-
Are you a Muslim living in Japan and having difficulties in finding Halal foods ingredients for your daily needs? Or are you a Muslim tourist and looking for stores that sell the famous Halal friendly snacks to bring back home as souvenirs? Don't worry, to save you from the troubles, Halal Navi had developed a feature to search for Halal stores around you and we have searched all over Tokyo to bring you these 11 stores that sell all Halal stuff that you need!
Credit to Giphy
1. Laox Shinjuku & Akihabara, Halal Snacks & Souvenirs
Souvenirs seem to be a mandatory item that must be brought after the holidays, right? Your holidays won't be complete without bringing some local snacks and souvenirs for your loved ones at home. Well, for those of you who don't know where to find Japanese Halal snack, you can go to Laox Shinjuku on the 6th floor & Laox Akihabara on the 4th floor. They have a dedicated Muslim Friendly corner that provides Japanese Halal foods and snacks such as Halal Udon, Soba and Ramen, Halal Matcha, Halal rice cracker, Halal friendly chocolate, and much more.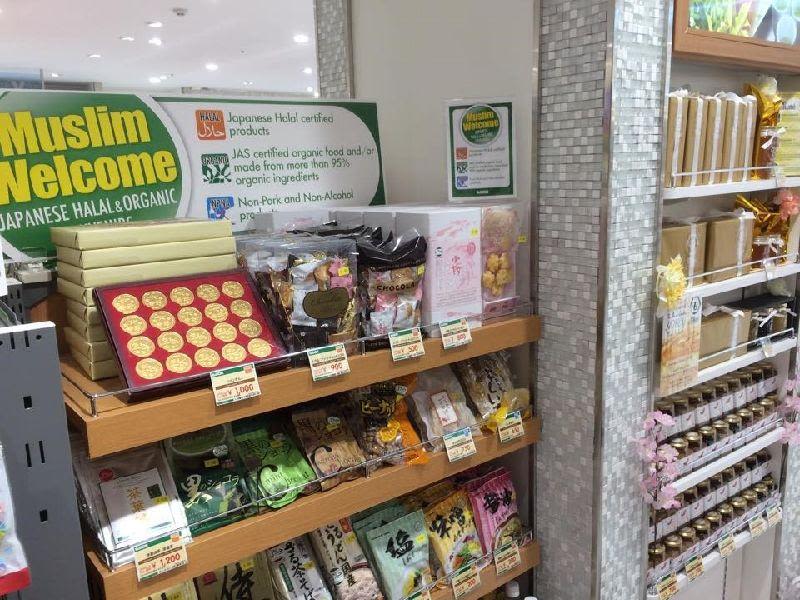 The two Laox branches also provide a prayer room to facilitate the Muslim visitors. The prayer rooms are on the 6th & 7th floor for Laox Shinjuku and the 7th floor for Laox Akihabara. To go to Laox Shinjuku, you just need to get off at JR Shinjuku Station and take the east exit then walk about 10 minutes. As for the Akihabara Laox, you can get off at JR Akihabara Station, take the electronic town exit and just walk for about two minutes. Information on Laox ShinjukuAddress: Kyodo Bldg. 5-8F, 3-1-20 Shinjuku,  TokyoOpening hours: Everyday 09.00 - 21.00More info: Laox Shinjuku Nearby Halal restaurant: Tempora Tendon TenyaInformation on Laox AkihabaraAddress: 1-2-9 Stokanda, Chiyoda, TokyoOpening hours: Everyday 10.00 - 21.00More info: Laox Akihabara Nearby Halal restaurant: Happy Kebab Turkesh Doner
2. Don Quijote Asakusa, Halal Snacks & Souvenirs
If you are around Asakusa area, come to Don Quijotte department store. They have a "Muslim-Friendly Goods Corner" located on the 2nd floor. This supermarket is very close to Sensōji Temple and Asakusa Engei Hall so you can stop by here to buy some souvenirs after strolling around Asakusa area.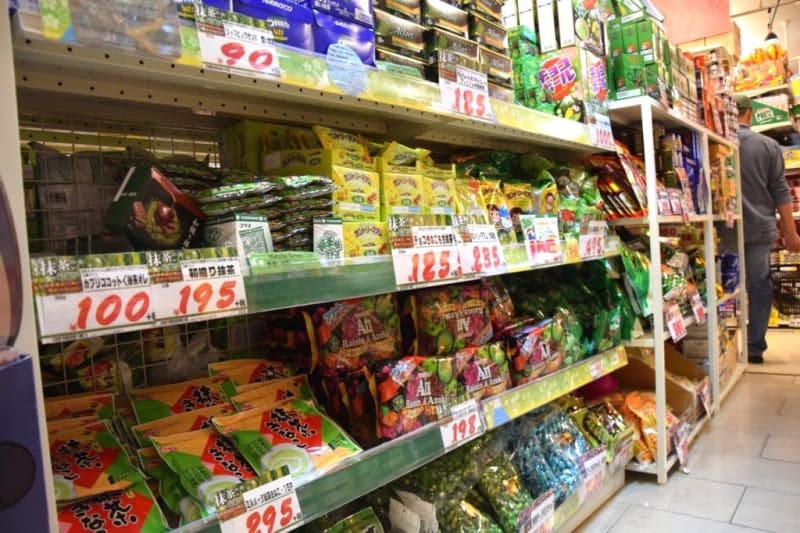 In this Muslim corner, you can find various Halal and Halal friendly Japanese snacks. Among the popular Halal souvenirs that you can find here are Hello Kitty Wafer Matcha, Samurai Ramen, and Garasha's original Japanese green tea. In addition to snacks, you can also buy a variety of traditional Japanese goods as souvenirs. Such as "Tenugui" a traditional Japanese towel, "Furoshiki" traditional Japanese wrapping cloth,  and "Kappabashi" a small key chain that replicates a variety of local Japanese foods. InformationAddress: 2F, 2-10 Asakusa, Taito, Tokyo Opening hours: 24 hours Everyday More info: Don Quijotte Asakusa Nearby Halal restaurant: Sushiken Asakusa
3. Nasco Halal food, Halal Meats & Spices
Now let's head to a Halal store that has served the Muslim Community in Tokyo since 1992, Nasco Halal Food. Nasco Halal Food or also known as Green Nasco is located not too far from Shin-Okubo station. This corner store sells a wide range of Halal food ingredients from the local meat, New Zealand mutton, Brazilian chicken, various spices from Pakistan and India, and several African food selections. If you shop in this store, you can try their delicious Kebab and Biryani in their restaurant right beside the stores.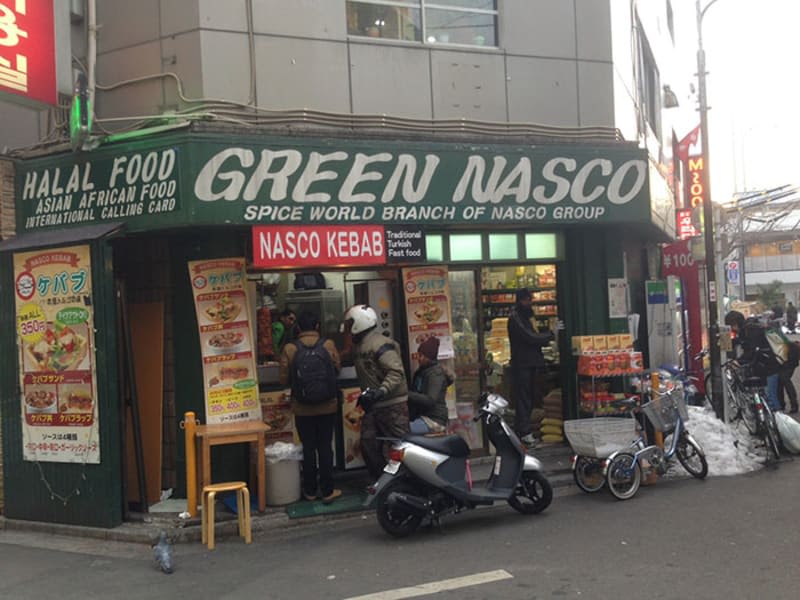 If you are not sure what spice or ingredients you need for your cooking, the staff will be happy to help you out. Nasco Halal food also receives online order and delivery service, all you need to do is place an order through their website.
InformationAddress :  百人町2-9-3, Shinjuku, TokyoOpening hours : 12.00 - 23.00 EverydayMore info: Nasco Halal Food Nearby Halal restaurant: Nasco Food Court
4. Nissin World Delicatessen, Halal Meats
If you prefer to shop conveniently in a modern supermarket, try to go to Nissin World Delicatessen. This supermarket is located in central Tokyo and only 3 minutes walk from Azabu-Juban train station. It is very famous for its top quality meat and they also have a Halal meat section in their meat corner on the 2nd floor.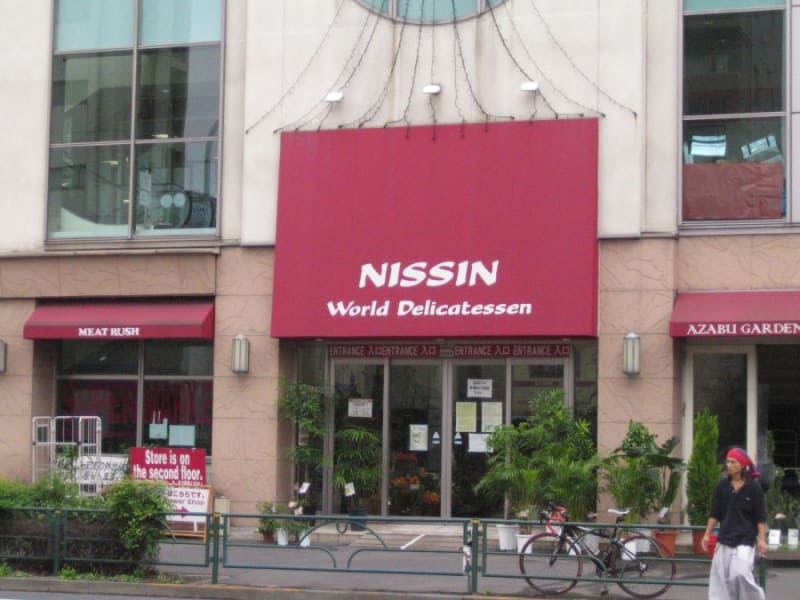 In addition, they also provide Halal mutton imported directly from New Zealand and Australia which are Halal certified. So you don't have to worry about the Halal status. If you shop in a big amount, you can also use their delivery services and they will send it to your doorstep. InformationAddress :  2-34-2 Higashiazabu, Minato-ku, TokyoOpening hours : 8:30 - 21.00 Everyday More info: Nissin World Delicatessen
5. Al-flah Supermarket, Halal Meats & Spices
Ikebukuro also has a Halal store that offers a variety of foodstuffs such as fish, meat, various Asian spices and many other Halal food products. If you are too lazy to walk to the store, they also take an online order by shopping through their website. Try to buy your groceries in a bulk and spend at least 10,000 yen, you will get free delivery service from them 😉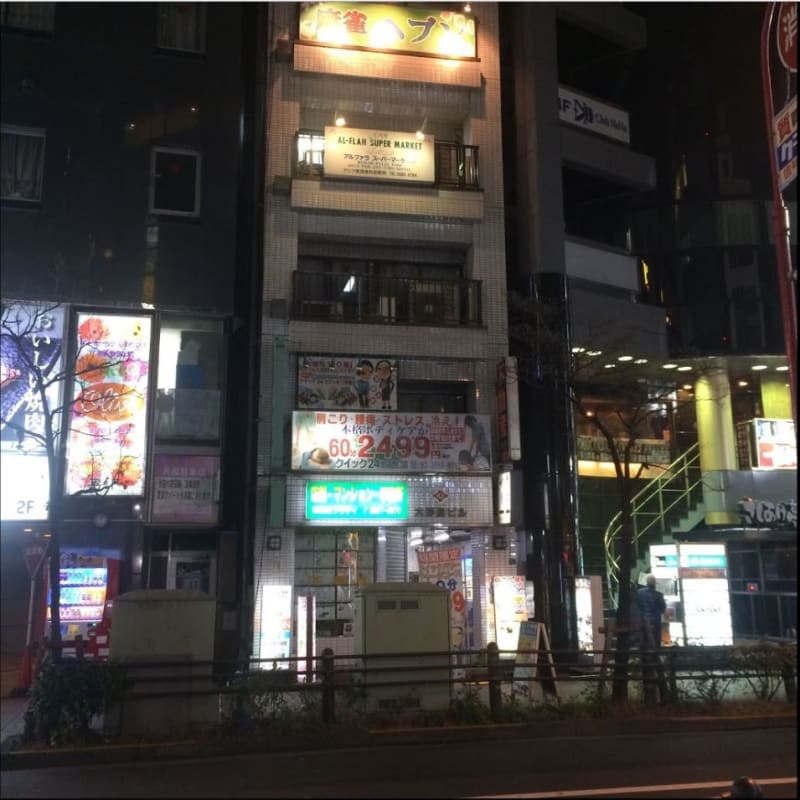 This shop is located on the 4th floor of Ohnoya building. It's just 4 minutes walk from Ikebukuro station Exit C9. This store also has a sister Halal restaurant Marhaba Pakistani not too far from there. You can take the time to enjoy the food at their Halal restaurant after finish shopping at this store. Information Address : Ohnoya Building 4F, 2-41-2 Ikebukuro, Toshima-ku, TokyoOpening hours : 11.00 - 23.00 Everyday More info: Al-flah Nearby Halal restaurant: Marhaba Pakistani
6. Nozawaya, Halal Meat & Spices
Now for you who want to cook Asian cuisines but don't know where to find the ingredients and spices, this place is just what you need. Nozawaya was formerly a seafood food store but as their Asian customers are increasing, they began to provide Asian spices and goods that are really hard to find in Japan. Among the stuff that will create a smile on your face are tempeh (soy cake), petai, melinjo, terasi (shrimp paste), Indonesian instant noodles, to Asian mortar and pestle. Yes we know it's incredible!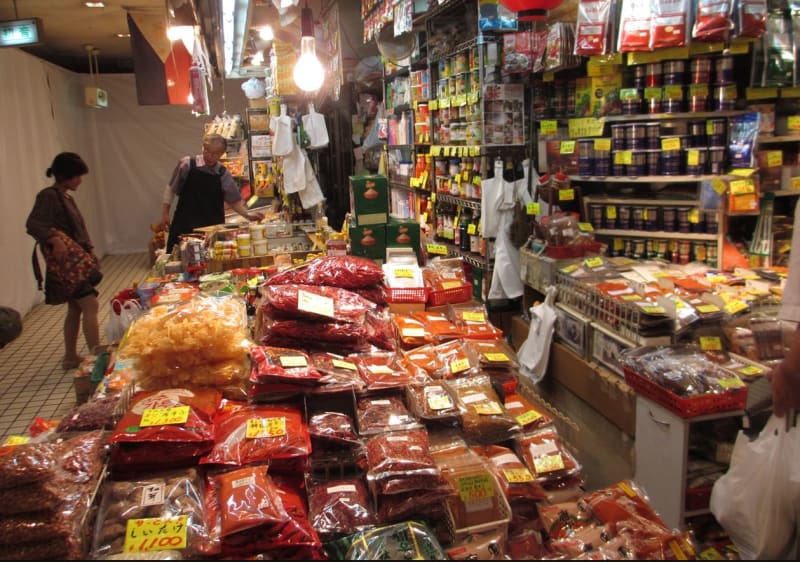 Not just Indonesian food, they also sell a variety of cooking ingredients from China, Philippines, Thailand, India and other Asian countries. A variety of fresh and processed Halal meats are also available here. Information Address : B1F-1F Ameyoko Center Building Ueno 4-7-8, Taito-ku,TokyoOpening hours : 10.00 - 20.00 Everyday More info: NozawayaNearby Halal restaurant: Chicken Man Ueno
7. Sunshine Halal Mart, Halal Meat & Spices
In addition to Alflah supermarket, there is also another Halal store in Ikebukuro you can visit, it's the Sunshine Halal Mart. This store is very easy to find because it is located right in front of the Sunshine City Building. From Ikebukuro station, you just need to walk for about 3 minutes from East Exit number 35.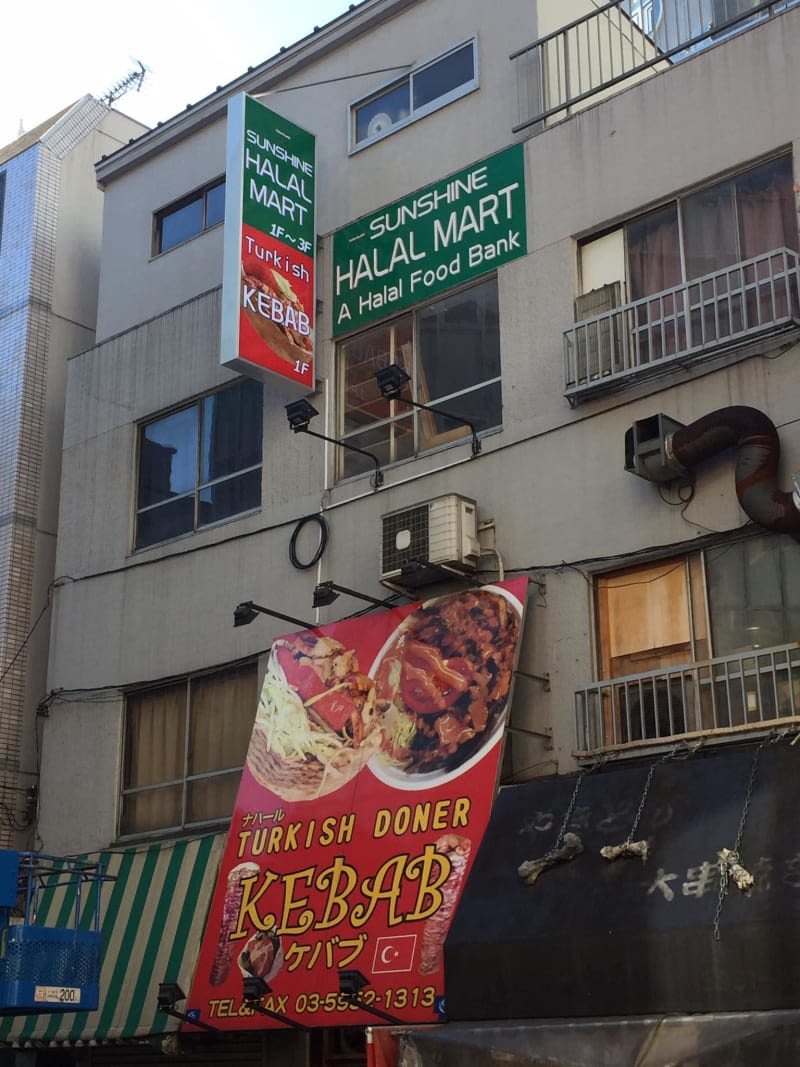 The first floor of the building is used for the Nahar Halal kebab restaurant, while the Halal grocery store is on the second and third floors. The shop is managed by a Muslim owner from Bangladesh and they sell a variety of Halal foods like meat, fish and Halal spices. Information Address : 2F-3F, 1-13-12 Higashi-Ikebukuro, Toshima, TokyoOpening hours: 11.00- 12.00 Everyday More info: Sunshine Halal Mart Nearby Halal restaurant: Nahar Turkish Doner Kebab
8. Maya Bazaar, Halal Meat & Spices
Maya Bazar is a popular Halal store among the local Muslim in Meguro. This store provides a variety of spices and instant Indian food such as Atta, Basmati Rice, Ghee, Chapati, Ready to Eat Curry, and others. They also sell  Halal Chicken, Halal mutton, Halal sausage and other Halal processed meat.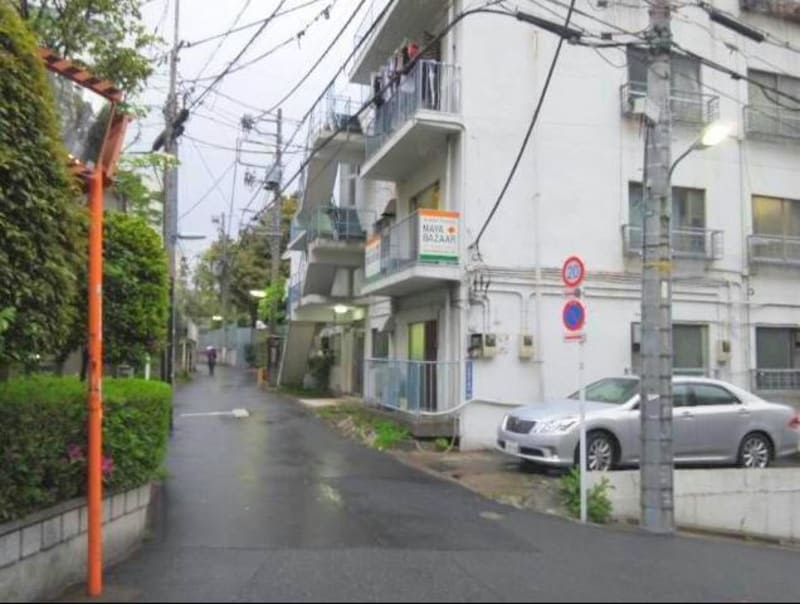 To go to this shop, you can drop off at JR Meguro Station from the East Exit and just walk for about two minutes till you find Nakajima Apartment. The building is behind the Resona Bank. Information Address: 2F Nakajima Building 203, Kamiosaki 3-10-1, Shinagawa-ku, TokyoOpening hours : 10.00 - 20.00 (Monday - Saturday) More info: Maya Bazaar Nearby Halal restaurant: Cabe Meguro
9. Holy Halal Food, Halal Meat & Spices
This store provides many Halal ingredients from Halal meat, chicken, fish, wheat, vegetables, spices to instant noodles. What makes them special is they slaughter the Halal meat they sell by themselves. So they bought live cows and chickens, then slaughtered and processed them according to the Shari'a to guarantee the quality of Halal meat they sell. And if you intend to buy in large quantities, you can bargain the price and who knows if you can get a special price! Cool right?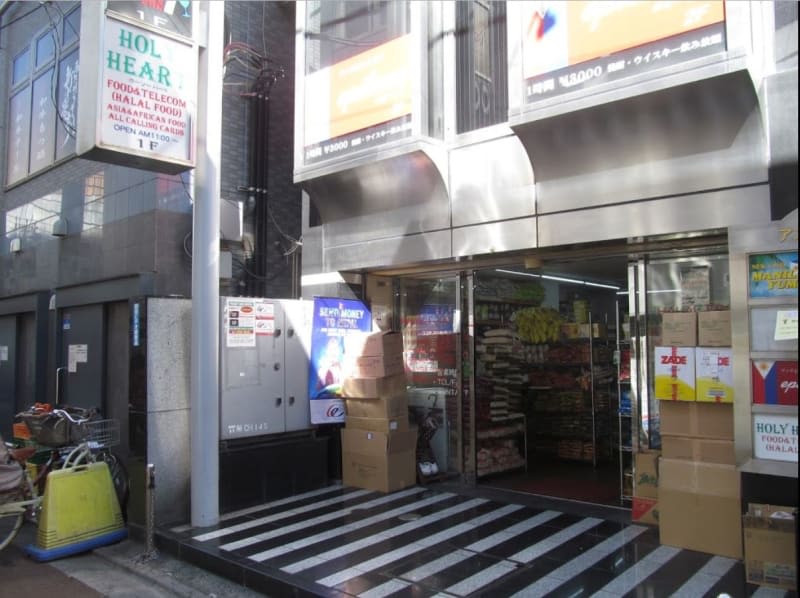 Information Address : 1-43-6, Shinkoiwa, Katsushika, Tokyo Opening hours : 11.00 - (not mentioned) More info: Holy Halal Food
10. Indo Bazaar, Halal Meat & Spices
Craving for some Indian foods with its rich flavour but you want to save some money and want to cook it yourself instead? Don't worry, you can buy all the spices that you need in Indo Bazaar. This shop is located near the JR Kamata station, only 2 minutes walking away from its East Exit gate. Don't worry of getting lost, the shop is just in front of the Fresa Inn Hotel which is very easy to spot.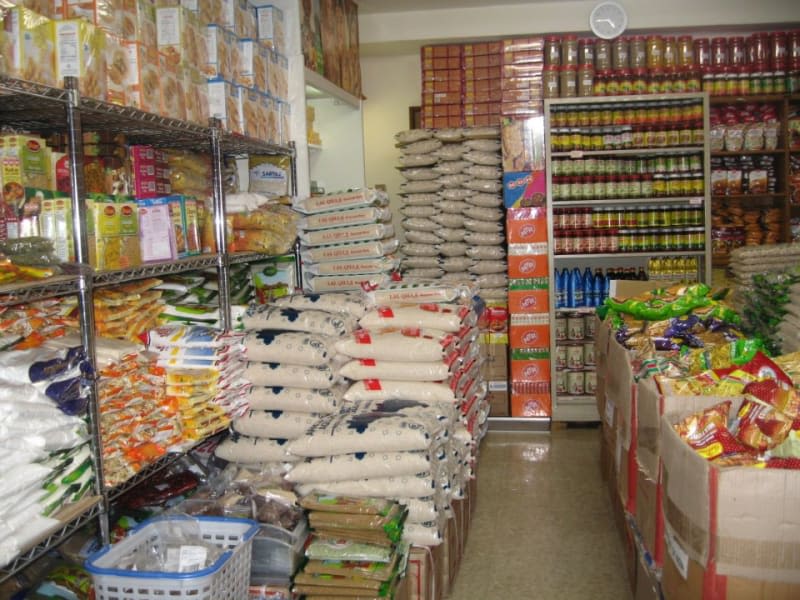 You can also find Halal chickens and Halal mutton that has been seasoned with Indian spices like Biryani, Qurma, etc. All you need to do is cook them and it's ready to eat! They also accept an online order and They are ready to give you a free delivery service for minimum purchase of 8,000 yen. Information Address :  5-20-6 Kamata, Ota-ku, Tokyo, JapanOpening hours : 2.30 - 21.30 Everyday More info: Indo Bazaar Nearby Halal restaurant: Fulbari
11. Sale Bazaar, Halal Meat & Spices-Updates on 3/10: This restaurant is no longer operating.
The last store to be featured is this Shop in Adachi that also sells Halal Kebab in their store. It is just 5 minutes walking from Gotanno Station and they have a variety of Halal products. From Halal spices, snacks, fish to Halal meat. A lot of Halal instant foods are also available here which is important to have it ready in your stock just in case the hunger pangs strike! Don't forget to try the Halal kebab that they sell in front of the store. It's good and affordable. Thumbs up!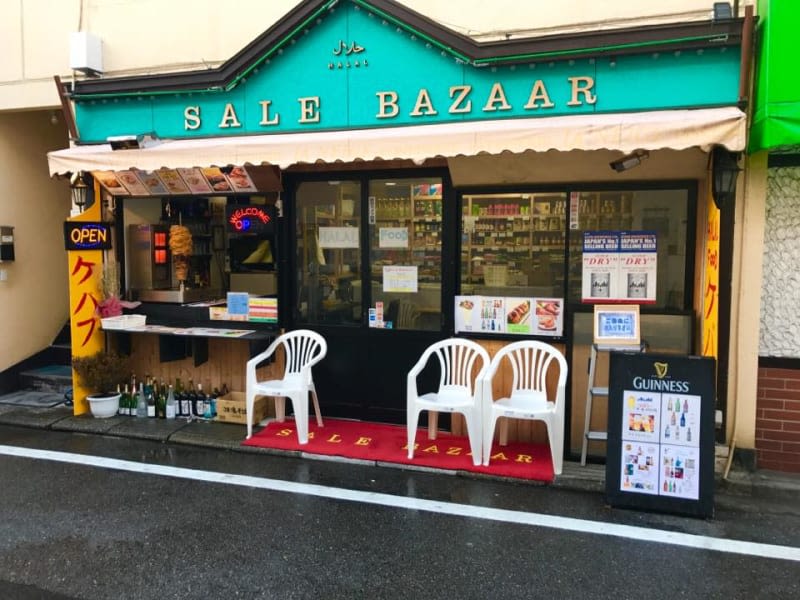 Information Address : 2-24-24snacksi, Adhaci-ku, TokyoOpening hours : 15.00 - 24.00 (Monday - Thursday), 12.00 - 24.00 (Saturday - Sunday), Closed on Friday and Public holiday More info: Sale Bazaar
-----
Still can't find the nearest Halal supermarket/stores near you? Worry not as there are more than 50 Halal stores in Tokyo that you can find easily in Halal Navi! Not to mention some other cities too! Just open the Explore tab, click the store column, and you can filter them based on the cities in Japan. You can even connect the address to your Google map to navigate you to the store. So easy, isn't it? And if you're a local who happens to know a halal supermarket/ store offering halal food do share with the community by adding it yourself (You can find the add places button in the profile tab)