Buat yang mau menjelajah kota Tokyo, Kamu nggak akan bisa lepas dari transportasi kereta. Kenapa? karena kebanyakan tempat hits di tokyo terhubung dan dekat dengan stasiun. Sebagian besar penduduk kota Tokyo juga menjalani aktifitasnya dengan mengunakan kereta. Tidak heran kalau stasiun di Tokyo di juluki dengan stasiun kereta api paling sibuk di dunia.
Credit to Giphy
Nah, kalau udah jalan-jalan naik kereta asiknya kalo bisa cari makanan Halal di sekitar stasiun kan biar nggak perlu jalan jauh-jauh lagi. Baiklah, disini kami akan bahas 10 restoran dekat dengan stasiun yang bisa Kamu jadikan referensi. Cekidot!
1. Singapore Holic Laksa, Stasiun Harajuku

Siapa sih yang nggak tau Harajuku? Yup gaya fashion Harajuku yang terkenal itu ternyata adalah sebuah daerah di Shibuya. Nah buat Kamu berada di stasiun Harajuku dan pengen cari tempat makan yang paling dekat, yuk langsung saja coba makan di restoran laksa Singapore yang hanya berjarak 200 meteran dari stasiun ini.
Foto oleh Rhyme pengguna Halal Navi
Untuk Kamu para pemburu makanan pedas, wajib mencoba laksa disini. Di tempat ini ada berbagai level kepedasan yang siap menantang Kamu. Tapi Kamu harus tetap waspada yah, jangan memesan menu ayam di restoran ini, karena ayamnya tidak Halal. Setelah perut terisi, Kamu bisa melanjutkan perjalanan ke Kuil Meiji yang tidak jauh dari restoran ini.
Foto oleh Ainunul Khalilah pengguna Halal Navi
Ulasan di Halal Navi
This is truly delicious and unique Halal food, right in the heart of Harajuku, cheap, and a welcome respite from all the boring kababs etc. Superb service too. 5 stars. -Usman Makhdoom
Akses dari Stasiun: Kalau Kamu naik Tokyo Metro, keluar dari Exit 3 yang akan membawa kalian tepat di depan Garrets Popcorn. Belok ke jalan antara Garret dan tempat Takoyaki, terus jalan kira-kira sekitar 3 menit dan Kamu akan sampai deh ke restorannya. Nah, kalau Kamu naik JR train, keluar aja dari exit manapun dan jalan menuju stasiun Harajuku, lalu ikuti petunjuk seperti sebelumnya.
Informasi
Alamat       : 1-13-21 Jingūmae, Shibuya-ku, Tōkyō-to
No. Telp     : 03-6804-1833
Harga         : Mulai dari 500 yen
Tips Halal : Menu dilabeli Halal, status Halal dikonfirmasi secara verbal oleh staff, menu seafood tersedia.
Info lebih lanjut mengenai Singapore Holic Laksa
2. Sushiken Asakusa, Stasiun Asakusa
Nggak lengkap kalau ke Jepang tapi belum nyobain Sushi asli Jepang kan. Nah, Sushi di Shushiken Asakusa ini memang paling recomended. Selain harganya yang terjangkau, rasanya juga benar-benar autentik. Apalagi buat Kamu yang kebetulan lagi di Stasiun Asakusa, cocok banget mampir kesini karena cuma 5 menit jalan kaki dari stasiun Asakusa. Sushiken Asakusa ini restoran sushi pertama yang disertifkasi Halal di Jepang loh.
Karena sudah bersertifkasi Halal, Kita bisa dengan tenang makan disini karena semua bahan yang digunakan Halal. Berbagai jenis sushi tersedia disini dan tentunya masih fresh karena baru dibikin setelah Kamu order. Tempat duduk di restoran ini dibentuk seperti bar dimana Kita akan menghadap chef yang lagi menyiapkan Sushi pesanan kita. Lumayan kan bisa liat pertunjukan sambil belajar cara bikin sushi gratis hihi.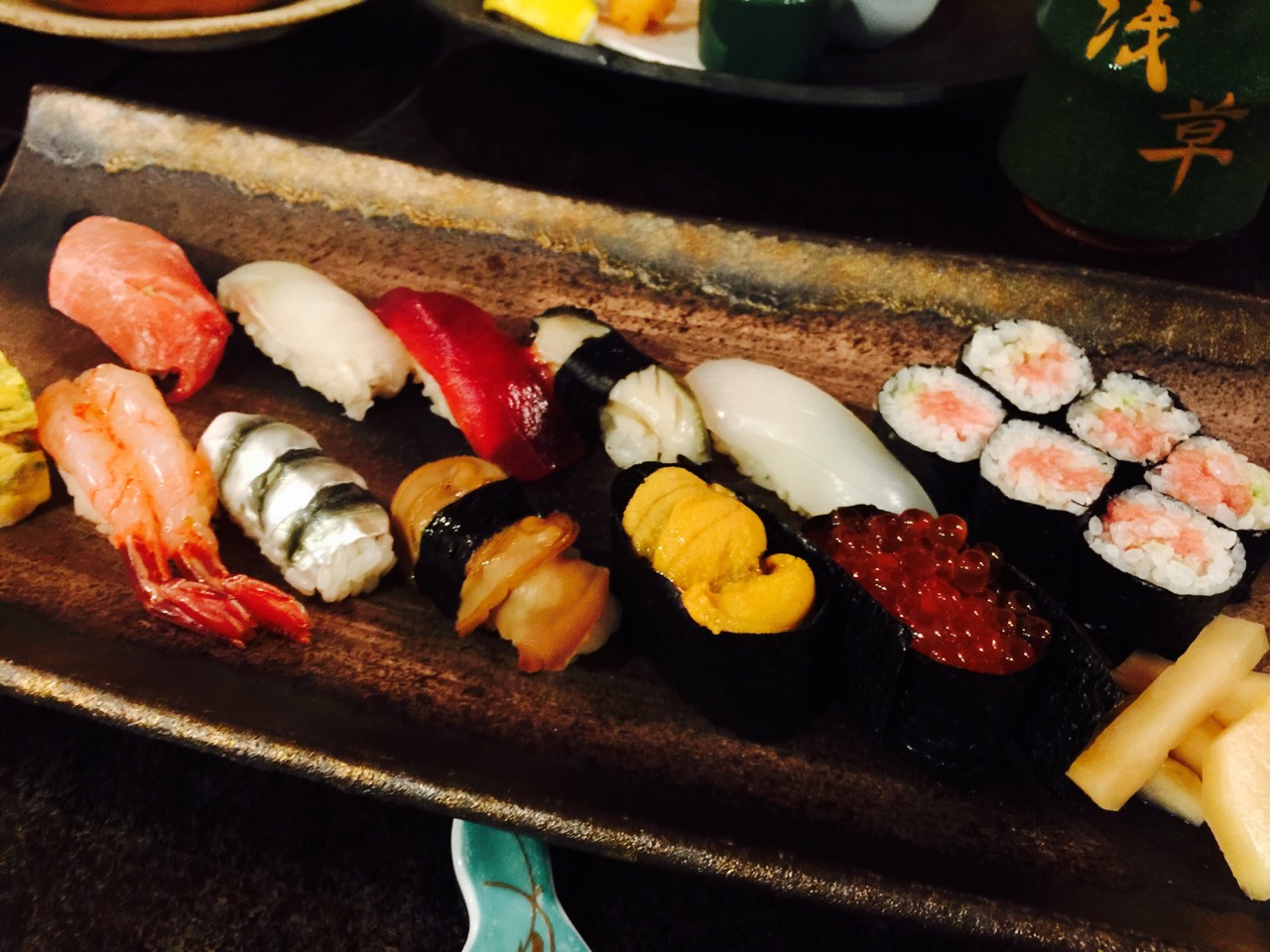 Foto oleh Aizad Dzulkilfi pengguna Halal Navi
Ulasan di Halal Navi
I've been here twice for dinner and the sushi never disappoints. The sushi sets are more than adequate, with chawanmushi and miso soup (extra yummy with the sweetness of the prawn head). The set with various washoku items lets you try different dishes in small portions (tempura, nikujaga, pickles etc) as well as sushi. -Najah Nasseri
Akses dari Stasiun: Dari Stasiun Asakusa keluar dari Exit 2 menuju jalan Kaminarimon. Jalan lurus sampai ke gapura Kaminarimon yang terkenal itu (jangan lupa foto-foto dulu ya!) lalu belok ke kanan sampai ke Nakamise Shopping Street. Nah dari sini belok ke kiri dan lanjut jalan sampai ke Asakusa Rox Shopping Mall. Dari Mall ini tinggal belok kanan di jalan Kokusai Dori, Sushiken Asakusa akan ada di sisi kanan jalan.
Informasi
Alamat       : Asakusa 2-11-4, Taito-ku, Tokyo, 111-0032 Japan
No. Telp     : 03-5246-6547
Harga         : Makan siang sekitar 1300 yen dan makan malam mulai dari 5000 yen
Halal Tips : terdapat sertifikat Halal, terdapat tempat untuk Sholat
Info lebih lanjut mengenai Sushiken Asakusa
3. Asian Kebab, Stasiun Roponggi
Lagi jalan-jalan di area Roponggi dan pengen ngisi perut dengan harga yang murah? Langsung aja cari Asian Kebab yang rasanya mantap dan harganya sangat bersahabat. Tortilla yang renyah dengan irisan daging dan sayuran akan cukup membuat perut kenyang. Selain Kebab dengan roti tortilla ada juga menu nasi loh, kalau Kamu datang dari Asia pasti nggak bisa kan makan tanpa nasi. Kamu juga bisa nongkrong dengan sahabat disini, karena tempatnya cukup cozy. Pelayanannya juga cepat, jadi Kamu yang lagi buru-buru nggak perlu khawatir untuk mampir sebentar.
Foto oleh iddaiffah pengguna Halal Navi
Akses dari Stasiun: Asian Kebab berada tepat di samping Stasiun Roponngi. Tinggal keluar dari eit 1A, belok ke kanan, nah Asian Kebab adalah toko kedua dari tempat kamu keluar tadi.
Informasi
Alamat        : Minato-ku, Tōkyō-to, 106-0032 Japan
No. Telp     : 03-5789-4766
Harga         : Mulai dari 500 yen
Halal Tips : Semua makanan nya Halal
info lebih lanjut mengenai Asian Kebab
4. Luna Hala, Stasiun Tsukiji
Udah capek keliling pasar ikan Tsukiji yang terkenal itu? Di dalem pasarnya sih ada lumayan banyak snack seafood yang bisa Kamu coba. Tapi kalo itu nggak cukup buat ngganjel perut, langsung saja dateng ke Luna Hala. Cukup berjalan kaki beberapa menit dari pasar ikan Tsukiji  Kamu bisa langsung sampai ke restoran ini.
Credit to Tabelog
Restoran ini memang sangat dekat memang dengan stasiun Tsujiki, tempatnya juga terbilang mewah, karena terletak di dalam hotel Tsukiji Ban. Tapi jangan khawatir, Kamu tidak diwajibkan menginap kok, cuma makan di restorannya juga boleh. Konsepnya yang seperti cafe juga nyaman buat nyantai. Tapi hati-hati ya karena nggak semua menu yang ada di restoran ini Halal. Jadi pastikan untuk ngecheck label yang ada di menu nya.
Credit to Tsukiji Business Hotel Ban
Akses dari Stasiun: Keluar dari pintu Exit 1 di Stasiun Tsukiji, belok kiri sampai ke perempatan. Di perempatan ini belok kiri lalu cari Hotel Tsukiji Business Ban yang berada di kanan jalan (hotel ini ada di seberang gedung Tokyu Stay dengan gambar ikan merah gedhe banget di bangunannya).
Informasi
Alamat      : Tsukiji, 3−17−10, Tsukiji Business Hotel Ban, Chuo, Tokyo, 104-0045 Japan
Telp           : 03-3543-8411
Harga        : 500-750 yen
Halal Tips : Menu dilabeli Halal, tidak semua menu nya Halal.
Info lebih lanjut mengenai Luna Hala
5. Red Lobster Aquacity Odaiba, Stasiun Daiba
Mengunjungi Daiba tak lengkap rasanya kalau tidak ke replika Patung Liberty dan menikmati udara di jembatan Odaiba yang begitu mempesona. Nah, tempat tersebut cukup dekat dengan Stasiun Daiba looh. Jalan-jalan boleh lupa diri tapi jangan sampe mendzholimi perut Kamu yah. Gak asyik kan kalo mau keliling tapi perut lagi minta perhatian. Nih solusinya, Kamu bisa langsung mampir ke restoran seafood paling yahud Red Lobster. Masya Allah seafoodnya bikin gagal fokus.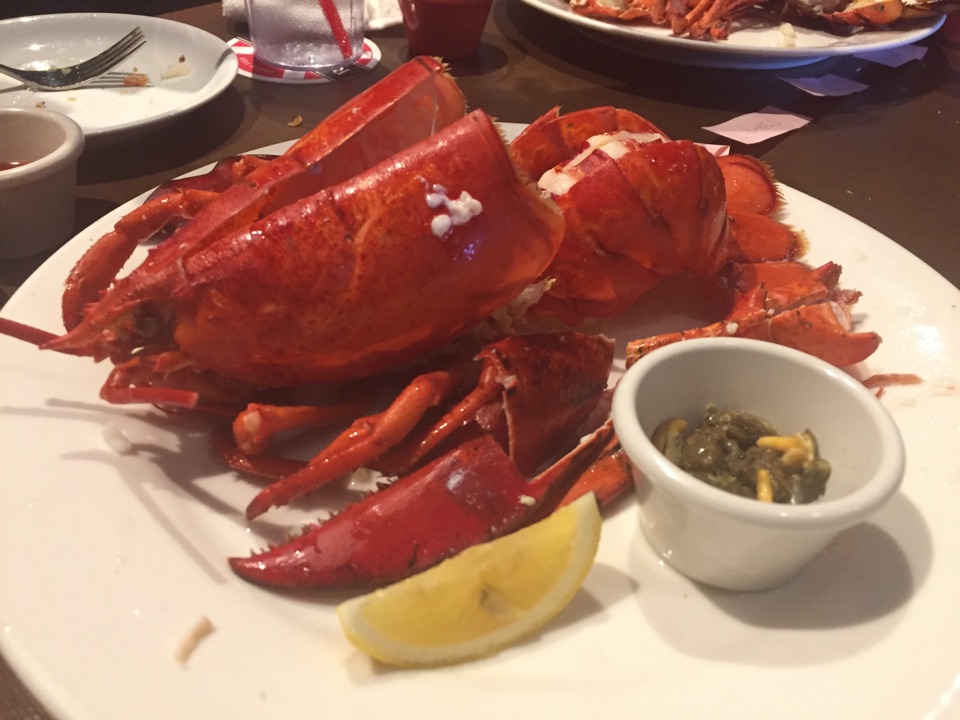 Foto oleh Amin Azizan pengguna Halal Navi
Di restoran ini Kamu bisa nemuin berbagai macam menu seafood; dari udang, cumi-cumi, kerang, kepiting sampai lobster juga ada. Menu favorit disini adalah lobsternya yang fresh. Selain ukurannya yang jumbo, udang lobsternya juga dimasak dengan berbagai macam style. Sekedar mengingatkan saja, tidak semua makanan disini Halal, terdapat berbagai makanan yang berbahan dasar dari daging babi. Jadi hati-hati ya, pastikan untuk memesan menu yang ada label Halal nya.
Credit to redlobster.jp
Ulasan di Halal Navi
Awesome seafood and magnificent view of the rainbow bridge. Staff are very friendly and even caution us on the food that has pork, like chowder soup and cheese fries. Should try and their range of seafood here. Their prices are quite ok. -Sujak
Akses dari Stasiun: Setelah keluar dari Stasiun Daiba, ambil North Exit dan ikuti petunjuk menuju Aqua City Odaiba. Restoran Red Lobster berada di dekat pintu masuk Toysrus di lantai pertama.
Informasi
Alamat      : Daiba 1-7-1 Aquacity Odaiba 6F, Minato-ku, Tokyo, 135-8707 Japan
No. Telp    : 03-3599-5521
Harga         : 3,000 – 9,000 yen
Halal Tips : Makanan Halal sudah di labeli, terdapat juga makanan tidak Halal, menyajikan alkohol
info lebih lanjut mengenai Red Lobster Aquacity Odaiba
6. Minokichi KEIO, Stasiun Shinjuku
Kalau Kamu pengen Menyaksikan keindahan Tokyo dari atas, Kamu bisa coba pergi ke Tokyo Metropolitan Government Building atau yang biasa disebut Tokyo Tocho. Nah, nggak jauh dari tempat itu ada restoran Jepang Minokichi KEIO yang lazis dan nggak boleh Kamu lewatkan. Di restoran ini kamu akan disuguhkan full course dining loh. Dimulai dari menu pembuka yang terdiri dari jus dan mochi. Kemudian menu utamanya beraneka ragam seperti Sashimi, Tempura, dan Bamboo gohan (menu nasi yang dimasak dalam bambu dan disajikan dengan sup). Tak lupa hidangan penutup ada cemilan khas Jepang Dango yang disajikan dengan buah segar.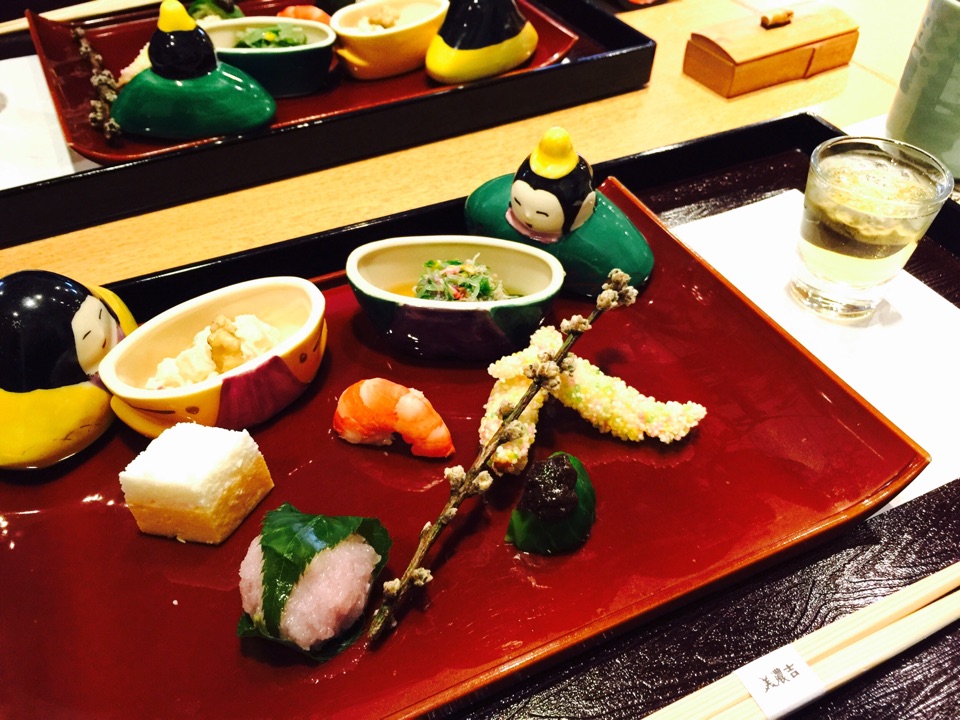 Foto oleh Najah Nasseri pengguna Halal Navi
Tak lupa juga Matcha yang disajikan oleh chef dengan presentasi yang luar biasa. Kerennya lagi, teknik penyajian makanan disini pakai seni loh, biasanya di sebut Kaeseki. Jadi selain bisa menikmati kelezatan makanannya, Kamu juga bisa menyaksikan seni penyajiannya. Restauran ini  membutuhkan waktu 2 hari untuk reservasi menu Halal, jadi pastikan untuk menelepon sebelum datang ya.
Foto oleh Najjah Nasseri pengguna Halal Navi
Ulasan di Halal Navi
This was my first time trying Kyoto keiseki and I was blown away. For the Halal menu, a few days notice is required and we made our reservations at the Shinjuku restaurant due to its proximity to where we were.  The menu varies from one season to another, and this week's menu was still based on autumn, so you'll see autumn staples such as chestnut making an appearance as well as garnishings like momoji leaves. – Najah Nasseri
Akses dari Stasiun: restoran Minokichi terletak di Departemen Store KEIO yang terhubung langsung ke Stasiun JR Shinjuku melalui pintu keluar barat. Restoran ini terletak di lantai 8 KEIO.
Informasi
Alamat      : Spice Ikebukuro Tobu 15F, 1-1-25, Nishiikebukuro, Toshima-ku, Tokyo
No. Telp    : 035321-5969
Harga        : Mulai dari 7,560 yen
Halal Tips : Menyediakan menu Halal, menyajikan menu non-Haal
Info lebih lanjut mengenai Monokichi KEIO
7. T's Tantan, Stasiun Tokyo
Kalau Kamu udah pernah ke Tokyo sebelumnya, Kamu pasti setidaknya pernah lewat ke stasiun paling sibuk di Tokyo yangmenghubungkan berbagai moda transporasi ini. Berita terbaru dari pemerintah Jepang, mereka baru saja membuka ruangan khusus untuk sholat yang berada di Marunouchi North Exit. Nah ketika di stasiun ini, Kamu bisa berkunjung ke restoran ramen vegetarian T's Tantan yang bisa dijadikan pilihan untk mengisi perut.
Foto oleh Sarah Khalilah pengguna Halal Navi
Restoran ini berada di ujung Keiyo Street dekat dengan South Yaesu Exit. Harga ramen disini juga ramah kantong loh, salah satu menu andalannya ramen wijen hitam hanya dibandrol 880 yen. Nggak cuma ramen, mereka juga menyajikan menu lain seperti nasi kari, sup, gyouza dan karage yang kesemuanya vegetarian. Mereka juga menyediakan menu bahasa Inggris, tinggal minta aja sama petugasnya ketika masuk ke restoran.
Foto oleh Sarah Khalilah pengguna Halal Navi
Ulasan di Halal Navi
I thank them for opening this vegetarian restaurant at Tokyo Station ーthe central mobility of the city, so it's very convenient for Muslim and vegetarian travelers who want to enjoy Japanese dishes while sticking to their dietary habits. I saw many foreign faces when I was there. Their specialty is ramen, and they serve also some other 'fake meat'-based menus like gyoza and karaage that are all actually made from soybeans. To me, the karaage tastes like "tempeh", and it's oishii! The price is quite good.
-ndanazihah
Akses dari Stasiun: T's Tantan berada di dalam Stasiun Tokyo. Cari pintu keluar Yaesu South Exit dan dari sana Kamu bisa menjumpai Keiyo Street. Di Keiyo Street inilah T's Tantan berada.
Informasi
Alamat     : Marunouchi 1-9-1 Keiyo Street, Chiyoda, Tokyo, 100-6701 Japan
No. Telp   : 03-3218-8040
Harga        : Harganya berkisar antara 800 yen sampai 1500 yen.
Halal Tips : Tersedia menu untuk vegetarian
Info lebih lanjut mengenai T's Tantan
8. Chicken Man Ueno, Stasiun Ueno
Setelah berkeliling ke berbagai tempat di Ueno seperti Ueno Park dan Tokyo National Museum, Kamu bisa coba mengunjungi restoran Chicken Man yang ada di dekat stasiun Ueno ini. Menu makanan di restoran ini semuanya berbahan dasar ayam; mulai dari ayam barbeque, ayam pasta, nasi ayam, burger ayam, dan masih banyak lagi.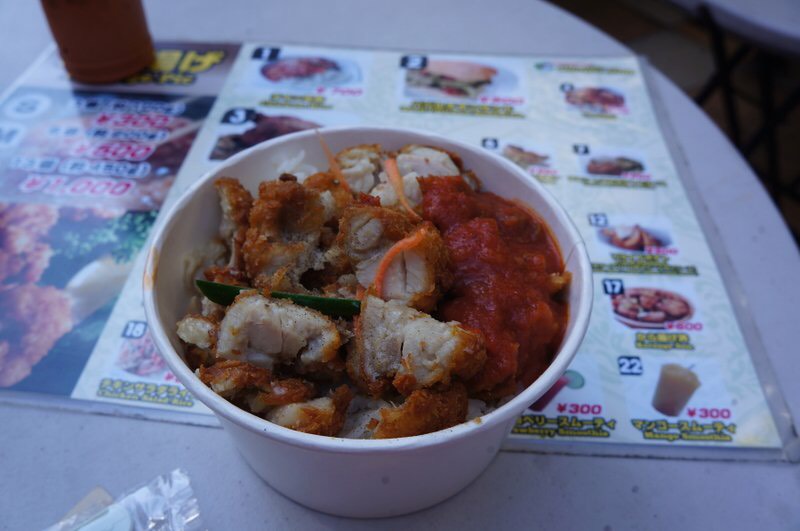 Foto oleh Idaiffah pengguna Halal Navi
Menu di Chicken Man Ueno ini juga murah-murah banget loh, Kamu bisa dapetin tiga potong ayam cukup dengan 300 yen #Wow. Nggak gampang loh cari makanan murah di Tokyo. Selain itu mereka juga menyediakan menu burger dan kebab dengan harga 500 yen. Cocok banget buat Kamu yang lagi pengen ngirit setelah ngabisin duit di Tokyo.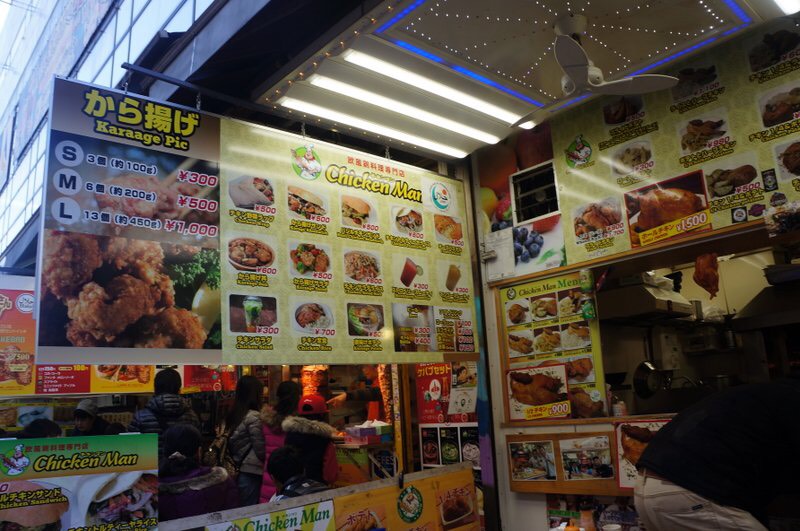 Foto oleh Idaiffah pengguna Halal Navi
Ulasan di Halal Navi
Best ayam golek. Ate it with Japanese nice and you have Nasi Ayam. They also have special sos, from sweet, non spicy, spicy to very spicy. Price was super cheap, we went there multiple time. Owner was nice & friendly. – Iqbal
Akses dari Stasiun: Keluar dari Exit 5B, jalan sampai kamu melihat toko mainan yang lumayan besar Yamashiroya. Dari sana, belok ke kiri lalu jalan melewati pasar Ameyoko yang terkenal menuju ke gedung Ameyoko Centre. Chicken Man Ueno berada di lantai pertama bangunan ini.
Informasi
Alamat    : 1F Center Building 4-7-8 Ueno, Taito, Tokyo, 110-0005 Japan
No. Telp  : 03-3835-8089
Harga      : Mulai 500 yen sampai 1600 yen.
Halal Tips : Sudah terdapat sertifikat Halal, pemiliknya seorang muslim
Info lebih lanjut mengenai Chicken Man Ueno
9. Nasco Food Court, Stasiun Shin-okubo
Kamu pecinta gila K-Pop? Jangan lupa mampir ke Korean Town yang berada di dekat Stasiun Shin-Okubo. Disana banyak toko-toko yang menjual barang-barang Korea mulai dari CD, DVD, poster yang masih banyak lagi. Suasana Korea terasa banget deh ketika jalan-jalan di sana. Setelah puas jalan-jalan, Kamu bisa sempatkan diri mampir di Nasco Food Court.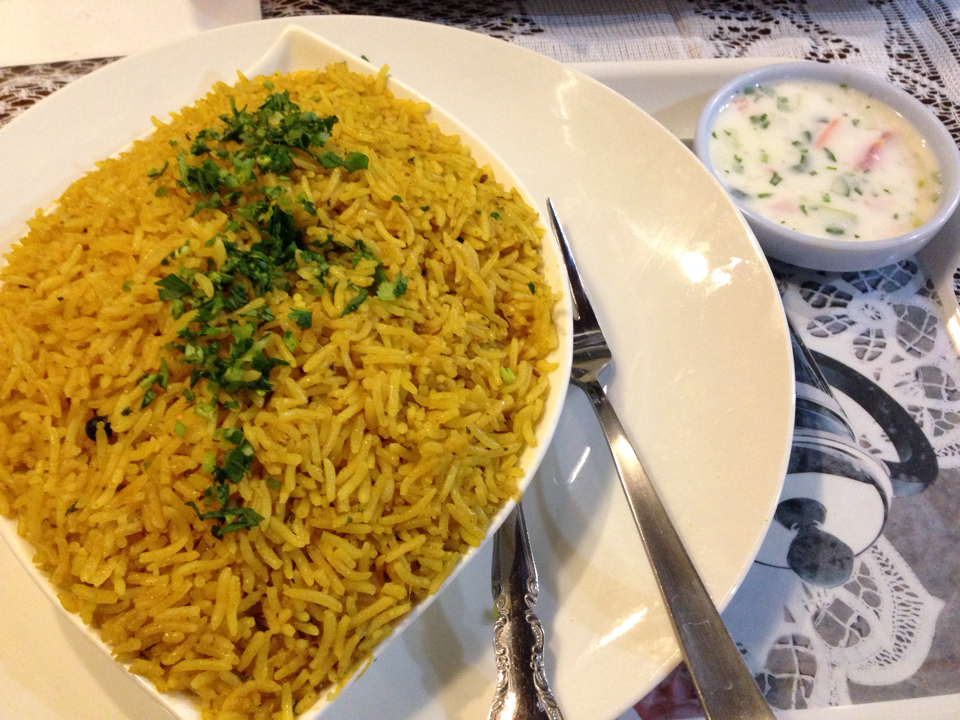 Foto oleh Nur Safira Assifah pengguna Halal Navi
Di restoran ini menu khas timur tenggah banyak tersedia dan berbagai varian yang pasti bikin Kamu bingung memilih. Mulai dari nasi biryani, curry ayam, couscous, dan ayam panggang. Kamu juga bisa mencoba nasi biryani dengan ayam, telur atau daging domba dengan harga 600 sampai 800 yen. Nasco Food Court juga menjual bumbu dan bahan-bahan Halal di Toko Nasco Green yang berada satu lokasi dengan foodcourtnya.
#Tips: jangan lupa mencicipi Yakitori (Ayam barbeque) dengan harga 150 yen dan diskon 50 yen kalau dibungkus
Foto oleh Muhammad Gilang Pratama pengguna Halal Navi
Ulasan di Halal Navi
They have 4 kinds of biryanis and barbecued chicken only. But all of them are so tasty and very affordable. I can strongly recommend this place. -Nyudo
Akses dari Stasiun: Saat keluar dari Shin-okubo stasiun (yang cuma punya 1 pintu keluar), langsung sebrangi jalan dan belok ke kiri sampai ke toko Tax-Free Matsumoto Kiyoshi (dekat dengan parkiran sepeda). Dari sini belok ke Kanan lalu jalan sekitar 150 meter sampai kamu nemuin Nasco Food Court di sebelah kiri jalan.
Informasi
Alamat    : Initial Building Annex 1F, Hyakunincho 2-10-8 Shin-Okubo, Shinjuku, Tokyo, 169-0073 Japan
No. Telp   : 03-4086-8631
Harga      : Mulai dari 600  yen
Halal info : Terdapat sertifikat Halal
info lebih lanjut mengenai Nasco Food Court
10. Chandrama, Stasiun Simbashi
Kalau kalian kebetulan lewat Stasiun Simbashi dan ingin berburu kuliner lezat, tidak usah berfikir panjang dan langsung saja jalan kaki ke restoran India Chandrama. Restoran in terletak di gedung Shimbashi lantai 4 yang berada tepat di sebelah stasiun Simbashi. Tempat makan yang banyak menyediakan menu kari ini pasti akan mengugah selera makan Kamu dengan masakannya yang kaya akan rempah.
Credit to Chandrama Restaurant
Menu yang di tawarkan disini tidak jauh dari biryani, tandoori, naan, kari, dan maskan khas India lainnya. Tempat shalat juga tersedia di bangunan yang sama di lantai 5, jadi nggak perlu bingung cari tempat untuk sholat setelah puas makan disini.
Credit to Chandrama Restaurant
Ulasan di Halal Navi
We have tried their set of naan and tandoori with variety of curries. The starter salad dressing is perfect, naan is superb and curries are really tasty. You can choose from 5 levels of spicy hot. I also enjoyed their mango lassy which is freshly prepared. And they also offer prayer room in their office within the same building. -Thuaibah
Akses dari Stasiun: Keluar dari pintu Karasumori lalu sebrangi jalan melalui Zebra Cross yang berada tepat di depan pintu keluar. Di sebrang jalan ini adalah gedung Simbashi dimana restoran Chandrama berada.
Informasi
Alamat     : New Shimbashi Building 4F, 2-16-1 Shimbashi, Minato, Tokyo, 105-0004 Japan
No. Telp   : 03-6268-8339
Harga       : Mulai dari 1200 yen
Halal Tips : Menu dilabeli Halal, pemiliknya muslim, semua daging yang digunakan Halal
Info lebih lengkap mengenai Chandrama
Oke baiklah, itu lah 10 restoran di dekat stasiun kereta di kota Tokyo yang nggak boleh Kamu lewatkan. Nggak cuma enak dan Halal, kamu nggak perlu jalan jauh-jauh untuk mencapai restoran tersebut. Kalau Kamu masih bingung cari lokasi makan yang deket dengan tempat Kamu jalan-jalan selama di Jepang, pastikan aplikasi Halal Navi ada di genggaman tangan untuk cari lebih banyak restoran Halal lainnya. Selamat liburan!
*Halal tips di dalam arikel ini adalah kontribusi dari para pengguna Halal Navi. Pembaca disarankan untuk mengkonfirmasi ulang dengan pemilik restoran.
Eat • Pray • Connect